Having a website with a thousand high-ranking pages begins with a single optimization. Although major SEO gains take time, you can start to optimize for SEO ranking factors today.
SEO is all about improving your organic rankings because getting from #15 to #1 on a SERP could possibly mean hundreds of extra visitors a month to your site. You improve your rankings by considering SEO ranking factors—a list of metrics that search engines like Google use to rank web pages. Although search engines don't really tell us what these ranking factors are, certain things like a site's age, content quality, or backlinks definitely factor into the equation.
Improving on these SEO ranking factors should be a long-term goal for your site. However, there are many small things you can do today to boost your SEO rankings, sometimes with only a couple minutes of work. The payoff in actual ranking gains may take time to hit the SERP, but these small optimizations for SEO ranking factors can pay dividends over time. With continued effort, you can raise your SEO and dominate the search rankings of your niche.
1. Content Quality: Remove Low E-A-T Content
Google trusts websites that give it consistently good content. In Google's eyes, good content is content that demonstrates its principles of E-A-T (expertise, authoritativeness, and trustworthiness). When your content embodies these standards, it improves your site's overall domain strength, which can help your individual posts rank higher.
The quickest way to improve the general quality of your site's content is to do a content audit and get rid of anything low quality. In particular, remove all of your thin content—content that adds little or no value to readers. Thin content is also poorly written, contains plagiarism or incorrect statements, and is written for search engines, not readers.
By removing thin content—either the entire page or just the sections within pages—you'll quickly raise your content quality standards.
As a more long-term approach to improving your content quality, create all of your content with E-A-T in mind.
This includes:
Creating good content is hard work. If you find your quality is slipping due to deadlines, consider cutting the number of posts you create so you can focus on making each of your posts valuable to readers.
2. Site Speed: Optimize Images
Ever since Google's Page Experience Update, the issue of page speed as a ranking factor has resurged. Search engines like Google want websites that load quickly because they know that every extra second in loading frustrates users. For instance, Google found that when mobile load time increased from 1 to 10 seconds, bounce rates skyrocketed 123%.
Fixing site speed issues on your site often require technical solutions. However, there's an easy way to drastically improve your page load speeds: optimize your images.
Images often account for a large percentage of page load. By removing irrelevant images and optimizing valuable ones, you can slash page load times drastically.
The first step is to go through your top pages and remove any images that aren't adding value. Good images add additional context, evidence, or a new way of looking at the content you are presenting in your text. For instance, in our article on thin content, we include a graph showing how traffic dropped in 2015 after a Google update: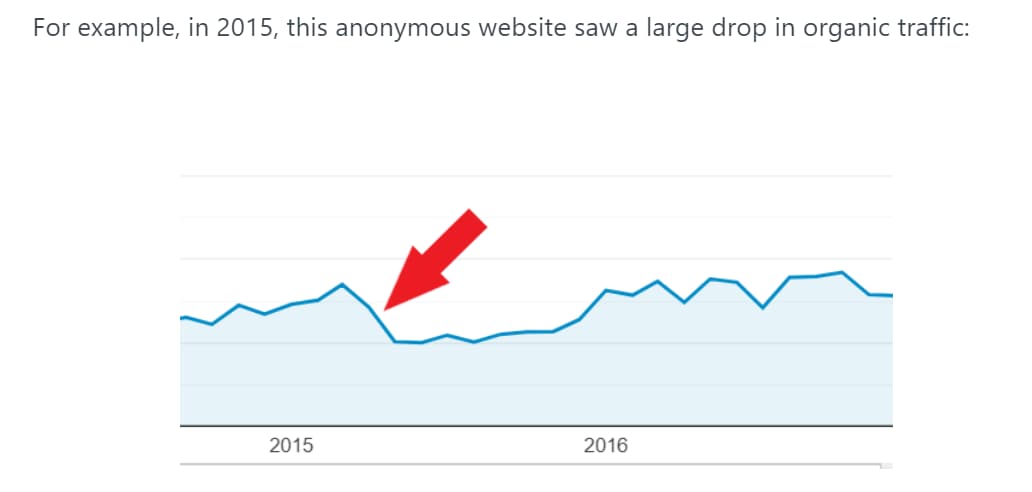 This image gives evidence for our claims and should be kept. In contrast, sometimes images are just window dressing to break up the text, like this example from a recipe for making blueberry pancakes: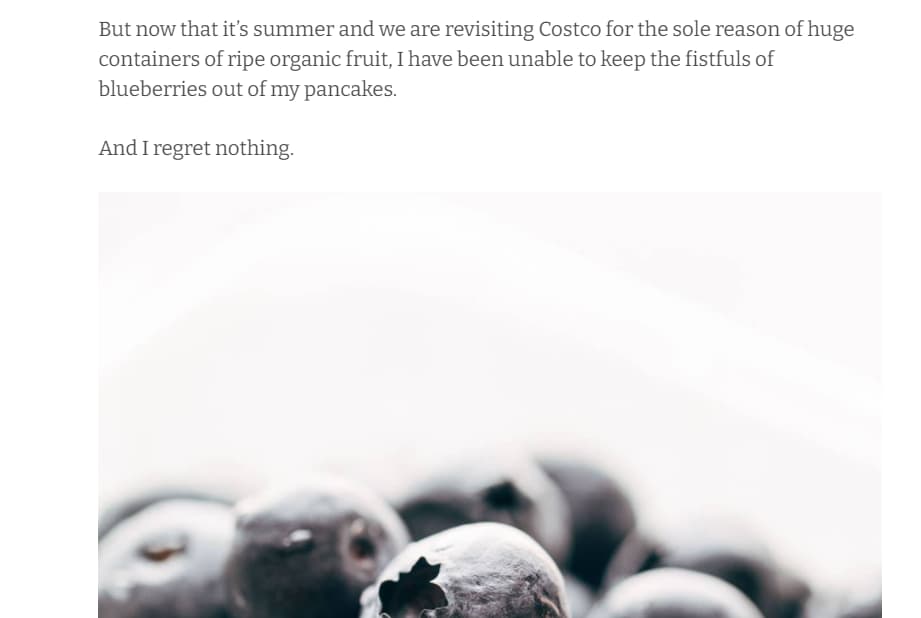 This image of blueberries doesn't add any value to the page. We know what blueberries look like, so this image can be safely removed to improve page speed. After you've culled bad images, optimize the images you've kept. Optimizing images is incredibly easy:
Right-click on your image and select "Save image as..."
Open an optimizer program like Squoosh
Upload your image
Download the new optimized version
Re-upload the image to your web page
The whole process should take a minute or so per image. If you've got a big website, focus on your most important pages and start to work through your domain. To test how well your optimizations are working, check out Google's PageSpeed Insights for a live test of your page speed and tips on what you can do to improve.
If you're going to work on your images, consider reading our guide to image SEO to see how you can reduce load times and boost organic traffic on your site through images.
3. Backlinks: Cut Spammy Links
Backlinks help Google understand which websites are the most trustworthy on any given subject. If multiple websites in a niche are all linking to a single page, that indicates to Google that this page's content (and possibly this website) is a trusted source by the industry at large.
Since backlinks are valuable trust signals for search engines, you need to make sure that your backlink profile is only filled with relevant links from legitimate and authoritative sites.
To improve your backlink profile, your best short-term goal is to disavow all bad, spammy links to your website. These links are unhelpful, and they can potentially earn you a penalty from Google for participating in a link scheme (even if you're not). To disavow bad backlinks, you first need to find them. Use a backlink checker to comb through your backlink profile and find spammy-looking links.
SpyFu's Backlinks tool was made primarily for backlink discovery, so it focuses more on links you want to chase. However, with a little creativity, you can weed out some lower-value links that you're getting to your site.
Specifically, look for websites with uncommon top-level domains, low domain strengths, or a large number of outbound links. With SpyFu, the easiest way to find these links is to enter your domain into our tool and then sort your links by Domain Strength (with the lowest at the top of the page).

When we look at this backlink profile, we see there are a couple of bad links. This link from one-tab.com has no domain strength and over 5000 outgoing links. If you click through, you see the page is literally a list of links. This page looks spammy and should be disavowed.

The next step is to remove these bad backlinks. The first thing you should do is reach out to the linking domain's webmaster and politely ask for the link to be removed. If this doesn't work, use Google's disavow tool. Be sure to read Google's documentation before you use their tool to make sure you do everything correctly.
With your backlink profile properly pruned, your long-term goal should be to grow the number of high-quality backlinks to your site. Learn how to grow high-quality backlinks with our article based on an interview with an expert from 360Learning.
4. Topical Authority: Improve Your Internal Linking
Websites are rarely experts on all matters. Google knows this and will take into account whether you're a known expert in a field when considering your rankings in that field (remember E-A-T). So if your website specializes in soccer, you're more likely to rank for an article on new soccer lineups than sock crochet patterns. This is called topical authority, a measure of how trusted and knowledgeable you are in your niche.
The easiest way to boost your topical authority is to strengthen internal links between all of your relevant pages. For example, if you have several pages on your website devoted to a single subject (also called a topic cluster), each of those pages should be connected by internal links (hyperlinks between pages within your site).
Creating internal links between your pages helps readers find more relevant pages on your site, and it helps search engines understand how much you've written on a given subject. When you link your pages together, it also sends "SEO juice" from one page to another, helping the lower-ranking page compete better on the SERP.
To see how this works, look at the first two paragraphs of this section—we include two internal links to pages on "topical authority" and "topic clusters." You might have clicked on these as you were reading to get more information. They also show search engines we are authorities in our SEO niche by linking to our relevant pages on the subject.
When linking between your pages, remember to keep some best practices in mind:
Internal links are an easy way to get started on improving your site's overall topical authority, but there's much more you can do. Consider submitting a sitemap to Google and other search engines, or work towards optimizing your site structure through hub and spoke tactics or topic clusters to give your topical authority an extra boost.
5. Mobile Experience: Fix Google Search Console Mobile Issues
Google is now a mobile-first indexer, meaning that Google will look at your mobile page before your desktop version. If you're solely optimizing your site for desktop browsing, this could hurt your rankings.
It's hard to diagnose mobile problems on your site. To make your life easier, Google has updated its Google Search Console (GSC) to alert you to mobile problems and provide you with fixes.
Start by logging into your GSC account and clicking on "Mobile Usability" on the left-side menu. On this screen, you'll see all the mobile issues on your site.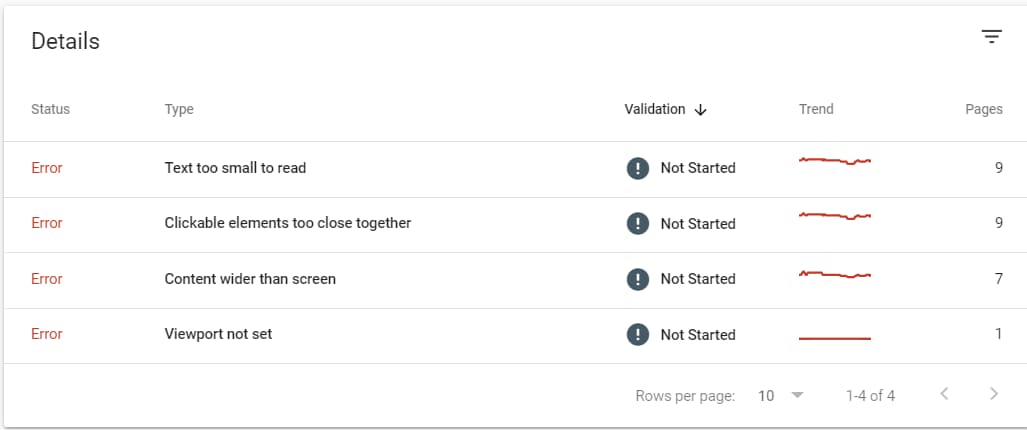 If you click each error, you'll be taken to a screen that shows you the affected pages. You can also go to Google's Mobile Usability report documentation to learn how to fix most of these issues.
Some of these problems should be easy to fix, like increasing the size of your text on mobile or making sure that clickable elements are spaced out better. If you find a problem that you don't know how to fix, you're probably not the only one. Try Googling the mobile error or reading through Google's documentation.
When you've fixed the error, validate the fix on GSC by clicking on the error on the Mobile Usability report, then click the button that says "Validate Fix." Note that it can take up to 28 days for Google to reflect your change.
To learn other ways to improve your site's mobile-friendliness, take a look at our guide to Mobile SEO.
6. On-Page Basics: Use Headers, Alt Texts, and Keywords Wisely
On-page SEO basics are important because they help search engines index your content properly. To make things as easy as possible for search engine bots, there are some best practices that every website should implement. Once you learn the importance of these on-page elements and the roles they play, it should only take ten minutes or so to update one of your pages.
Don't fall into the habit of rolling these on-page elements into one concept. For example, some people confuse title tags and H1 tags, so arm yourself with a good understanding of how they differ. Title tags tell search engines how to display your title on the SERP, and H1 tags are visible on your page. We like this guide on header tags for deeper explanations of how they all work together.
Every page you intend to rank on a SERP should:
When you finish these basic tasks, consider reviewing how well you've optimized that page for its chosen keyword. If your page isn't getting as much organic traffic as you'd like (use Google Analytics to check), then consider optimizing for a new keyword. Do this by:
When optimizing for a keyword, don't stuff them wherever you can. An unnaturally high keyword density can hurt your SEO because it may seem like you're trying to cheat the system, and it doesn't make for a good user experience.
We've gone through a lot of things here, and there's a lot more you can do to improve your on-page SEO. We've written up an on-page SEO checklist to make sure you don't miss anything. To keep things manageable, start by optimizing your most important organic traffic pages, but make it a long-term goal to work through all of your content as soon as you can.
7. Dwell Time: Make Good First Impressions
User experience is one of the top ranking factors, but how does Google measure something as nebulous as user experience? One way Google allegedly measures user experience is through a metric called dwell time. Dwell time is the time that occurs between when a searcher clicks on your link on the SERP and when they return to the SERP. When searchers stay on a page for a long time, it sends a positive signal to Google that your content has helped them successfully satisfy their search.
One way to quickly improve your dwell time is to reduce instances of quick bounces. When people load your site and then bounce back to the SERP almost immediately, it affects your dwell time metrics. Fix this by optimizing everything "above the fold" on your most popular pages. "Above the fold" refers to everything users see when they first load your page—consider it the first impression your page gives to readers. You want readers to see your page and trust that they've found what they're looking for.
Improve your first impression by:
Improving your title: Concrete numbers, statistics, and action words help make your title more grabbing.
Making sure your title matches your meta-description: If your meta-description (the description on the SERP of your page) doesn't match the gist of your title, searchers may feel cheated and bounce immediately.
Writing a gripping hook: Your hook is your first sentence, and it sets the tone of your article. Consider using a statistic, an interesting fact, or a unique observation to grab your reader's attention.
Making everything look professional: Any images, logos, and menus that load above the fold need to look good—giving readers confidence this page was written by an expert.
Your goal with all of these tactics is to prove the worthiness of your page. The best way to accomplish this is to understand search intent—the reason why people are searching and landing on your site in the first place. Once you've determined the search intent behind a keyword, tailor your hook, title, and the rest of your article to satisfy that intent.
The better job you do in matching and satisfying search intent, the longer people will read your content, improving your dwell time and SEO.
As a quick fix, work on the "above the fold" content on your top articles. However, over time, you'll want to make search intent central to creating new content to improve your overall site-wide dwell time.
Improving Your SEO Rankings Requires More than Quick Wins
Although you should always look for quick wins in SEO to make the most out of what you already have on your site, long-term planning and strategies will reduce the need for quick wins in the future. One way to pick the right strategies is to stay on top of SEO trends. If you want to get a glimpse at what's coming next, check out our guide to the latest SEO trends.