We hear this from people building up their content. How do you come up with new ideas to write about?
Let's not hide it: this isn't always the easiest thing. Even for people who can express their thoughts so clearly, they need help finding inspiration for what to write about.
That's the goal of these resources. Bookmark this page and use it to come up with new topics for blog posts, videos, infographics, or snippets to break apart in social posts. You can do this!
Turn Numbers and Data into New Ideas
To help content creators keep their content calendars loaded with engaging ideas, we're sharing a full list of resources, starting with "tools, trends and observations."
1. Offer an 'Inside Look' at Your Business
You don't have to search far and wide to think of post topics. Create content based on what's currently happening at your business, whether that's a new product release or the products your teams use.
Consider the product intelligence platform Amplitude and its post, How Amplitude Uses Amplitude to Drive Impact. The company wrote about using its own platform to identify its top metric and develop its product.
Your blog is an excellent venue to post about upcoming product or feature launches. Tell your customers what they can expect to see in the coming weeks or months and the new product's potential benefits for their company.
You might also write about your internal processes, offering an "inside look" at how your teams work. Animalz, a content marketing company, posted about how it uses idea farms to track and develop blog post ideas.
An added bonus? Writing about your business requires less research because you already know the topic so well.
2. Pull Insights from Your Customer Data
Put your internal data to good use by making it the basis of your content. You might write about trends you've seen or A/B tests you've conducted. Use data you already have on hand, or set up an experiment that addresses a common customer question to pull new data. Report your process and the results.
We used this method for our post, Does Duplicate Content Hurt Your SEO? We took a common customer question and designed an experiment to test the effect of posting identical content on both our blog and on Medium. We then posted the results on our blog.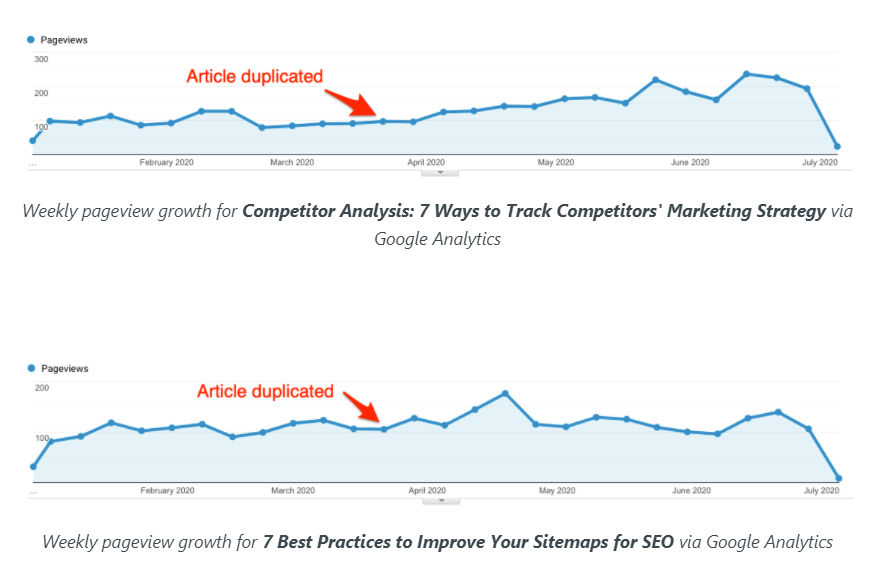 Make sure the customer question or pain point is one you can answer fully with the data you collect. Otherwise, you'll need to pull additional information from another source, which lessens the "exclusive" feel of internal data-based content.
Another option is to work with your current customers to write data-backed case studies. Use your internal customer data to identify your most active users, and reach out to them first since they will likely have more to say about working with your product than a customer who only uses it occasionally.
The data dashboard company Geckoboard ran a series of articles based on customer interviews, like this one. An added advantage of case studies is the featured company is likely to share the post once its published, extending the article's reach.
3. Set Google Alerts
Create Google Alerts to track how people are talking about you and your competitors and to see what other companies in your field are posting.
Set alerts for your company and product names to see when people post or ask questions about your brand. Use blog posts to address the most common questions or concerns. With this content, you'll help customers solve their pain points and boost your brand image.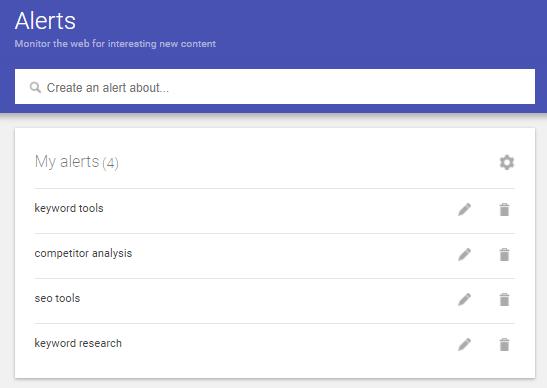 Likewise, set alerts for specific keywords to see the latest articles, newsletters, and forum posts. Forums can be perfect for content ideas because you can see what questions people are asking that are related to your core keywords and create content that answers those questions.
Check out this resource for more information on using Google Alerts for marketing.
4. Look at What Your Competitors Are Posting
Check out your competitors' top content for topic ideas. Look for subjects that resonate well with their audience since many of those readers are your audience as well. See what topics generate the most comments and shares.
Don't copy their content, of course. Instead, use their successes to find general ideas you could expand on to create unique content. Say, for example, a competitor has a popular post discussing the top three tools for sales teams. You might create an "ultimate guide to sales tools" with 10 or more examples.
Consider running a competitor analysis to look at the top keywords competitors are targeting that you may not be. Each keyword you come up with is another potential topic idea.
5. Check Industry Publications
Subscribe to several industry-specific publications to see what people in your area are discussing. Look for common themes. If multiple publications are writing about the same topic, chances are it's a popular industry subject you should be writing about as well.
Look at the articles on the publications' websites to see which ones have more engagement, and skim readers' comments. If readers ask for more information, you could do a post expanding on the topic.
Sign up for both broad and specific newsletters, so you can get niche topic ideas as well as general ones. Digiday, for example, is a general marketing and media publication, and Financial Marketing SmartBrief focuses on the smaller marketing realm of finance. Look for niche industry newsletters that most closely match your audience's interests.
6. Monitor Social Media Insights
Track social media posts to see what topics are the most popular with your followers, and try to create blog articles based on these ideas. For example, say your most popular tweet is a list of the top five marketing influencers who inspire you. You could expand that into a listicle of the top 15 marketing influencer to follow on Twitter or LinkedIn.
Start with posts that have a high number of shares and comments as higher engagement indicates audience interest. Facebook, Twitter, Instagram, and other social platforms offer analytics tools to help you quickly identify your most popular posts.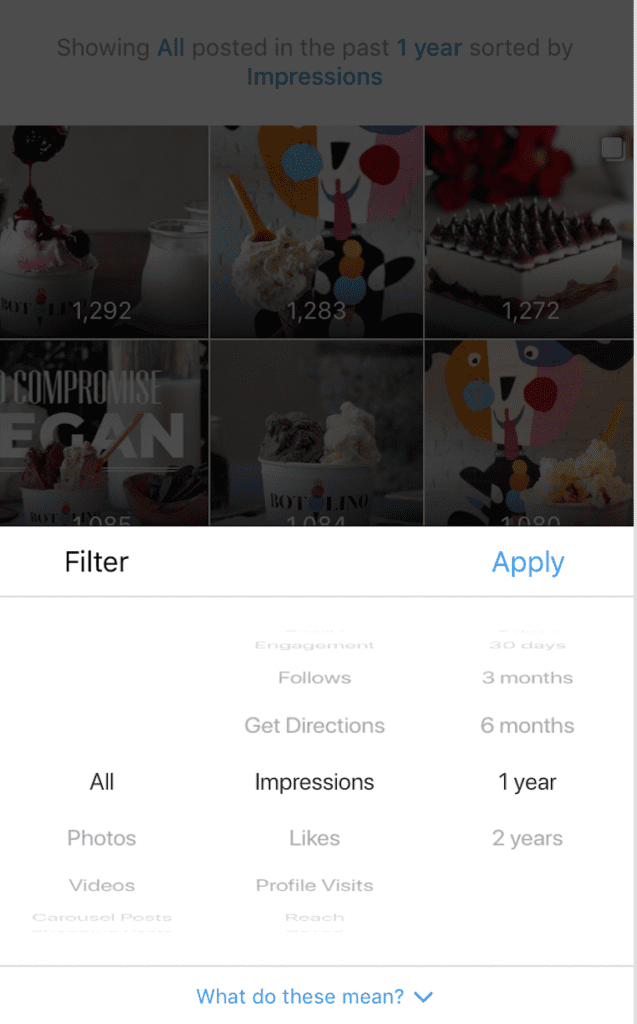 While not all social media posts will translate into full-length articles, they provide an excellent jumping-off point for idea generation.
7. Create a Batch of Related Keywords
Choose articles or topics that are popular with your audience, and use them to create batches of related keywords. You don't need to target every keyword on the list, but a keyword batch can show you different topics you may not have thought of that would work for blog posts.
In the example above, you can see several long-tail keywords you could use for a series of related but still unique blog posts. For example, instead of just targeting "running shoes," you could create an article about the "best running shoes for women" and another on the "best running shoes for men."
Run your currently top-performing posts through a keyword research tool and see what related keywords you might find. These can give you ideas for spin-off posts on a topic you know is interesting to your audience.
8. Check Current Trends
Use Google Trends or other trend-checking tools to see what people are searching for and to get ideas on topics you know are currently popular. While Google Alerts will show you current articles that use your key terms, Google Trends will highlight the popularity of those keywords and offer suggestions for other popular search terms.
In Google Trends, you can search for your top keywords and use the "related topics" and "related queries" sections to find relevant trending searches. A search for "running shoes," for example, shows that a good topic idea might be a breakdown of the best cheap running shoes for men.

BuzzSumo has a Content Discovery section you can use to find the hottest topics right now. Of course, they won't all be relevant to your blog, but you can sort by specific topics to find trending stories in your industry.
Social media sites like Facebook, YouTube, Twitter, and Pinterest also have Explore sections where you can find popular posts by topic or Trending sections that display the most popular videos or posts right now.
If you'd like to learn more about using Google Trends and how to find true trends and avoid passing fads, check out this resource.
9. Refresh Aging Content
Sometimes you don't need to search farther than your own blog for content ideas. Look for old content that is losing traffic and update it.
"Freshness" is part of Google's search algorithm, so updating old content is an excellent way to give your content's rankings a boost. Refreshes are especially useful for topics that frequently change, like "popular Netflix shows." If your older articles use date-stamped examples, update them with recently published sources and new examples. This tip goes for date-stamped articles as well. For example, if you have a post about "Google Ads Updates to Watch for in 2021," you should update it each year. Change the year in the title, and refresh the information in the piece to reflect any changes that occurred after you published the original.
As you update your article, check all the links and update any broken ones. Make sure any research you cite is still current and valid.
If your older piece is optimized for a keyword but isn't ranking well, look at the current top-ranking content for that keyword to see how it differs from your original article. Then update your article to reflect current search intent.
For example, if your keyword is "running shoes" and the top content is all listicles, but yours is not, consider changing your article's format. Keep in mind that your goal isn't to copy the current top content but to investigate current search intent.
Get Great Content Ideas from People
Find a stream of ideas by looking in places with people who are engaged and involved in the topics you want to talk about. This ranges from anonymous reading to full-on conversations that could trigger some paths to follow down the road.
10. Interview Your Teams
Other people at your company can be valuable sources of content ideas. Talk to different teams about their experiences in your industry, or ask for their thoughts on your company's progress.
For example, at the end of the year, ask your executive team to reflect on the business's progress over the past year and offer predictions for the next. You could also ask your CEO about other industry-related topics. Since they're an expert in the field, they likely have interesting insights.
Think about your audience's interests and interview teams with relevant experience or insights to share. If you have a sales-focused audience, talk to your sales team about the tools they use and what they like (or dislike) about each one. Not only will your content offer valuable information for your readers, but it will also have a personal touch.
Interviews aren't the only type of content you can create with other departments. Collaborate with your sales team to create content they could use in sales processes, or talk to your marketing team about what campaigns have been successful with prospects. Use those trends to generate ideas.
11. Ask Your Audience
A recent survey from the Content Marketing Institute found that 90% of the top-performing B2B content marketers focus on topics their audience wants or needs to learn about rather than mainly emphasizing sales messages or company promotions. To find out what type of content your audience wants to see more of, consider asking them directly.
Send a poll to your customers asking what questions they wish you would answer or what topics they'd like to know more about. You could send out a full customer feedback survey, do a quick social media poll, or post a question on social platforms. If you're an ecommerce business, you might tweet, "what are your biggest shopping headaches?" and use your customers' responses to find content ideas.
You could also post a question or request feedback on your community page. Geckoboard, for example, uses its community page to ask for information or examples from its customers, which the company can then use in articles.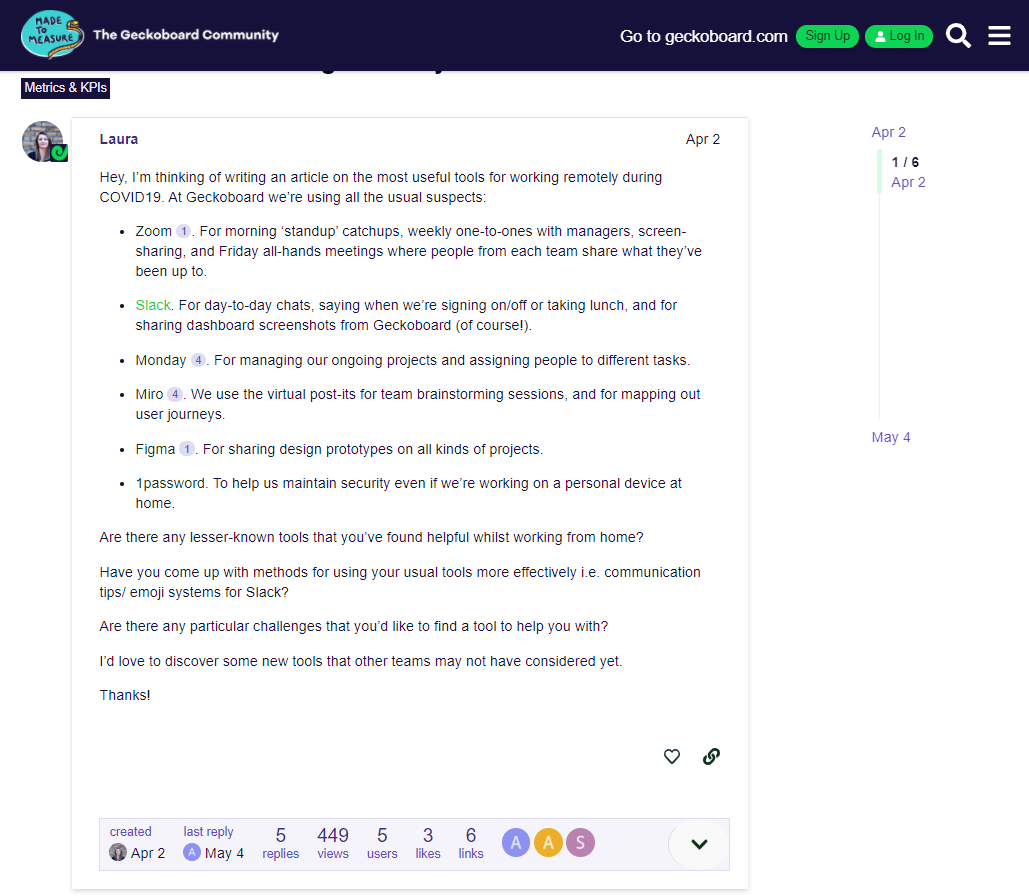 If you ask your audience what topics they would like to see on your blog, prioritize subjects that appear the most frequently.
12. Read Website and Social Media Comments
The comments on your website and social media pages are another way to see what topics your audience wants to know more about. Start with your more popular social media and blog posts and see what people are saying. If followers ask questions or request more information, you have a solid starting point for an article.

A commenter might offer a perspective on the article topic that you hadn't considered before and that you could explore in another article. Comments can also indicate popularity—if a piece gets an overwhelming amount of positive feedback, you might want to cover the topic again from a different angle.
Does your website have a community section where customers can ask questions and seek information from other users? This is another excellent source of content ideas. If multiple people ask the same questions about your product, you have an opportunity to create content that directly addresses customer pain points.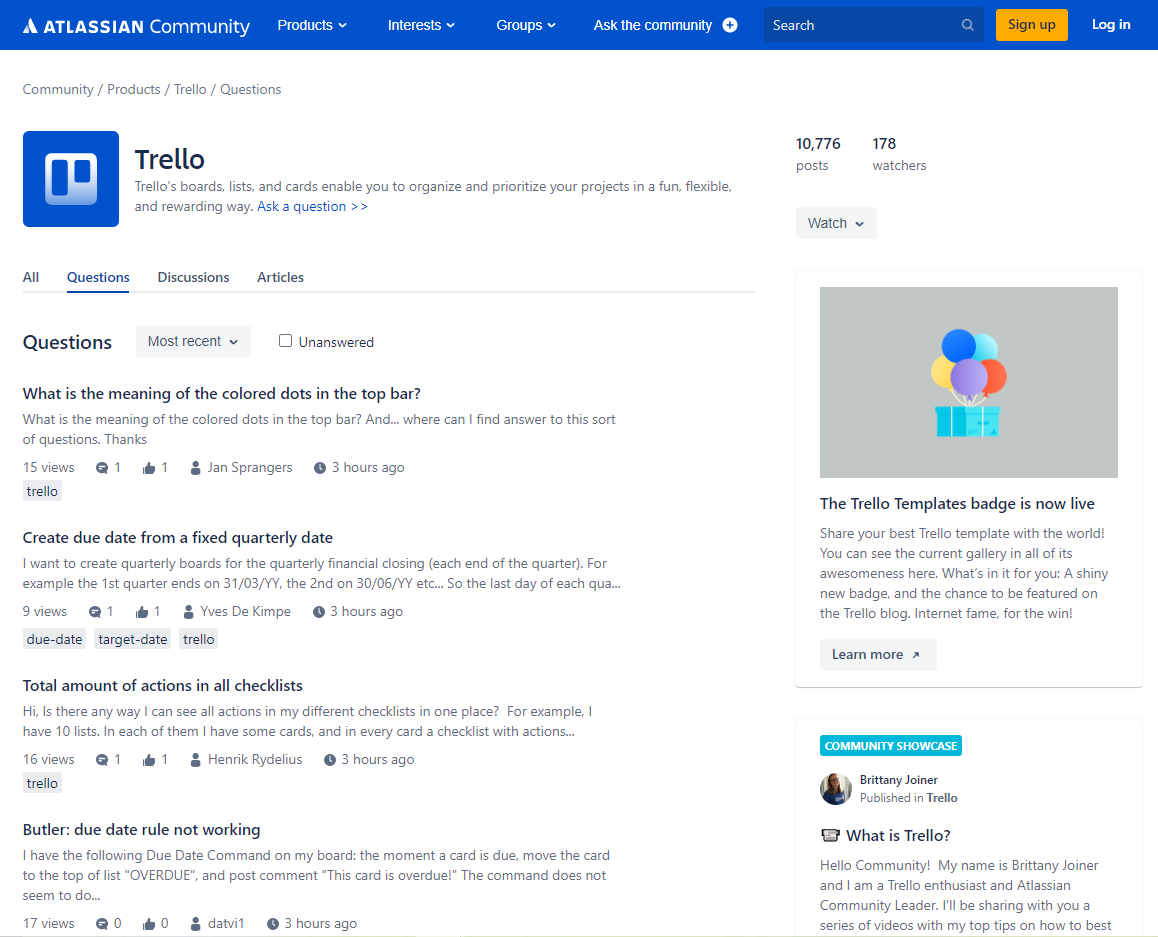 If you find a series of frequently asked questions (FAQs) that aren't, individually, enough for full articles, you could create a "you asked, we answered" piece answering the top five or 10 customer FAQs.
In the section ahead, we talk about pulling ideas from social media. That's a helpful suggestion, but the potential rabbit hole paths on each one can make that suggestion lose its power. That's why we're including examples in this article as well as a more detailed set of steps here for pulling content ideas from social media.
Subreddits (the smaller pages that aggregate posts within Reddit) provide access to potentially millions of other people, each with their own thoughts and views on topics important to their sphere. The unfiltered and organic nature of Reddit can make it controversial, but it also makes it fertile grounds to find new ideas just waiting for you to discover them.
This video walks you through the steps to find content ideas from Reddit.
How to Find Content Ideas on Reddit
Start by signing up for an account so you can subscribe to and keep track of the most useful subreddits in your industry. These are parts of Reddit dedicated to a particular topic or group, and they are formatted with r/topic like "r/travel" and "r/automotive."
Pay attention to the number of members in each subreddit. Smaller numbers aren't bad (especially when you try to find more niche groups), but you also want there to be a decent number of posts each day to check out.
Click "Related Subs" to see a list of subreddits that are affiliated and related to your topic (like r/travel).
Watch for posts with comments. Those can be the source of topic ideas through tips, suggestions, clarification and questions.
How to Find Content Ideas on Quora
Quora lets people pose questions to other users in a way to crowd-source an answer or explanation. Since there's no limit to what you can ask, Quora lets you explore what people are asking about nearly any topic.
Type your topic into the search bar, and browse the questions. Here's where you can get some new ideas in Quora:
Answer the question yourself (in your article or video)
Challenge someone's answer with a different perspective of your own (again, in your article or video)
Use someone's answer as your starting point. Elaborate in your own content to explain it with more detail.

How to Find Content Ideas on YouTube
Probably because we're so familiar with YouTube, this filters option is easy to overlook. But if you search a topic on YouTube and narrow your choices by Upload Date, you might find videos that would have otherwise been buried.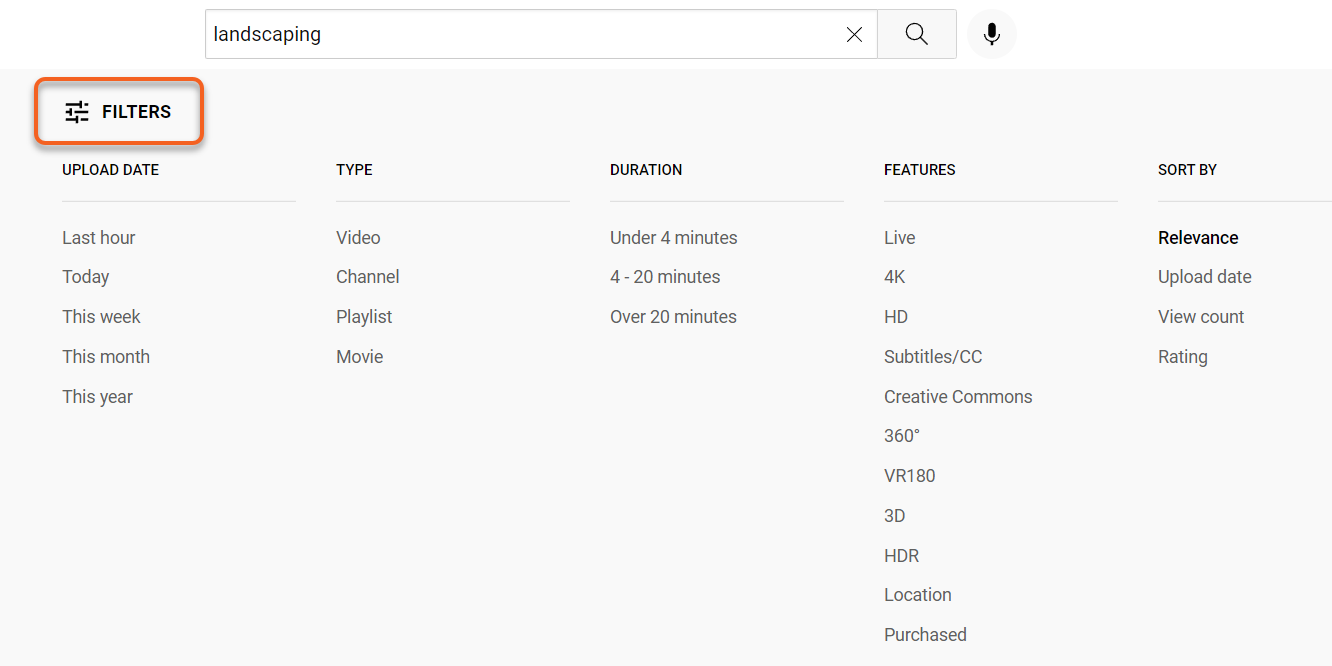 Find a video that piques your interest, and let the content give you some ideas. That's the start. Next, jump into the comments to catch different perspectives and opinions that might trigger some content ideas. You will never have a shortage of opinions in the comment section.  
After You Come Up with Content Ideas, Build a Content Calendar
Now that you know how to come up with content ideas, the next step is to incorporate them into a content calendar. Choose when to publish different types of content based on your audience's habits and the content's purpose. If you're writing about a feature release, for example, you might want to schedule the post to go live a few days or even weeks before the release to help build anticipation.  
Share your calendar with your internal content team. This transparency will help you keep everyone on the same page and your content creation and publication running smoothly.
Keep a Running List
Content ideas can hit at any time. If you keep a digital file (Evernote, Notes app, etc.) you can add ideas as they pop up. I'm a pencil and paper kind of a person; I rely on notebooks and sticky notes. I also keep digital notes. I combine the two by listing--in the digital version--where my other notes come from. After a list of ideas, the final entry might say "more ideas in your red notebook." Unless you share this file with someone else, it only has to make sense to you. Occasionally, transfer the paper ideas to digital.
Final Thoughts
Sourcing new content ideas can be a frustrating battle for content creators. So we often fall back on the same old methods to find new things to write about. Often, it isn't a bolt of inspiration or an algorithm that comes up with our best content ideas; but your hard work makes it seem like it is.
With the right game plan, you can load up a regular posting schedule. No matter what industry your business is in, you can use these methods to create meaningful, relevant content to engage your audience.