Did you know that video will constitute 82% of all global IP traffic by the year 2022?

This clearly shows how important video content will be in the near future and why you should incorporate it into your content mix. Video content should be an integral part of your content strategy and should play a key role in your marketing initiatives.

However, it is not as simple as creating and posting videos and expecting overnight success. You also need to ensure that your videos rank for relevant search queries and are viewed by your target audience.

For this, you need to have a clear video SEO strategy to help you ace your video marketing game.
What is Video SEO?
Video SEO refers to the tactics that marketers use to optimize their videos to get more visibility and get higher SERP rankings. It is essentially the same as traditional SEO, but for videos.

Given the importance of videos today, it has become crucial for marketers to think of video SEO separately. And, it is also important to have a video SEO strategy to get the best results.

In this post, we will discuss the steps required to create a powerful video SEO strategy. We will then move on to discuss the best ways to optimize your videos to rank higher on the SERPs.
How to Create a Video SEO Strategy that Actually Works
A video SEO strategy basically acts as a guide to help you get the best results out of your video content. It helps you keep things organized by defining key objectives and processes to help your day-to-day efforts.

There are certain elements that are crucial for an effective video SEO strategy and that is what we will discuss in this section.

Here are the key stepping stones to build a powerful video SEO strategy for your brand:
Define Your Goals
The first thing that you need to create a video SEO strategy is to define your goals. You need to start planning your video SEO strategy by first understanding what you want to achieve.

There could be different goals that you can achieve by optimizing your videos, here are a few to get you started.

Rich Snippets
One of the key reasons why marketers use videos is to get them featured in rich snippets on Google's search engine results pages (SERPs).

Rich snippets are essentially enriched page descriptions that you can sometimes see on the SERPs. Results that use rich snippets appear differently from your regular search results and stand out. This lends them a higher probability of getting a click, thus improving search rankings.

Now, let's understand how using and optimizing videos can help you with this and why this should be a goal of your video SEO strategy.

Video rich snippets allow your videos to not only rank on the Google SERPs but also stand out from other results. And, your videos will rank not only when a user is specifically searching for videos but also text queries on that topic.

To add a video rich snippet, you need to add a piece of code called a "schema" to your website's HTML code. If you are not an expert and want an easy way to do this, you can simply use schema.org. This lets you create and add schemas for different types of rich snippets, including for videos. And, you don't need any coding knowledge for this, so it is quite easy to use.

Once you add the code, your video will appear on the SERP like the example shown below.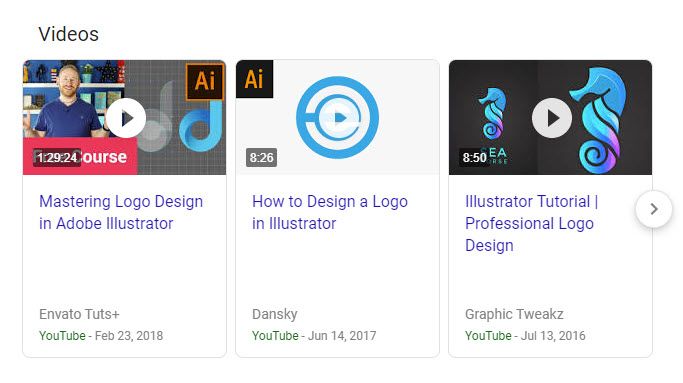 Conversions
One of the main goals of any video SEO strategy is to get more conversions. The purpose of SEO is to get more visitors to your website and then engage those visitors enough to drive conversions.

And, there is nothing that engages people more than a good video. That is why it is important to use videos on your landing pages to engage your website visitors. If you are able to keep your website visitors on your landing page longer, the chances of conversions increase.

Another way that you can use videos to drive conversions is by creating product videos explaining your products and how to use them. This is especially useful for ecommerce retailers as these videos help their users make better and quicker purchase decisions.

One important thing to do, if conversions are your end goal, is to add a CTA to your videos and descriptions. Something as simple as a link to your website, social media profile, or other relevant content should be enough. This is necessary to direct people to take the next step, whether it is to check out your products, view another relevant video, or something else.

Overall, there are several ways in which you can use videos to drive conversions. Therefore, this should be one of the goals of your video SEO strategy.

Brand Awareness
Videos are one of the best content types for telling your brand story or explaining your products. They can also help you show why your products are better than those of your competitors.

This is especially helpful for new companies that want to build awareness about their brand. It is also useful for spreading awareness about a new, innovative product that people might not understand easily.

Videos can make it easier for people to understand what your brand or product is all about. For product videos, you can use bullet points to cover key features, why it is better than the alternatives, or other key points. This will help people understand your product better.

Videos that show the people behind your brand can also help consumers feel more connected with your brand. These kind of videos shouldn't be point-based and mechanical. In fact, these should be like a conversation or a story that helps people connect with your brand.

Link-Building and Social Shares
This is another goal that marketers hope to achieve through their videos and often incorporate into their video SEO strategies.

Videos are a good way to build valuable links to your website and, thus, increase website traffic. However, you do need to create an exceptional video and promote it properly to take full advantage of this.

If you want people to share your videos and link back to your website, you need to offer something truly valuable. It could be an educational video, a product tutorial, or something really entertaining. Otherwise, this strategy will more likely fail.

That said, let's assume that you know what you're doing and create a good video. The next step is to make it easy for people to share it. Don't forget to always add a link to your website in your videos and video descriptions. You can also add a CTA asking people to share the video if they liked it. This will help you generate backlinks and also get you a lot of social shares.
Understand Your Audience
The next step towards creating a powerful video SEO strategy is to know who you want to target through your videos. You need to know who you're making your videos for before you actually create your video content.

There are several ways to gain audience insights including A/B testing, social listening, and other analytics tools. Also, don't do this in a silo and involve your sales and customer service teams in the research process. Ask them about the common customer problems. It is also a good idea to conduct surveys and directly get in touch with your customers.

Understand who you're targeting first and then move on to how you want to target them.
Create Video Content Based on Your Audience and Goals
Now that you understand your audience and have clear goals, you're all set to start the actual content creation. Your video SEO strategy should include the type and frequency of video content that you plan to create.

Just like for any other type of content, you should make a content calendar for videos as well. This should have details on the type of content, topics, dates of posting, platforms, etc.
Choose the Right Video-Hosting Platform
Another important aspect of any video SEO strategy is selecting a video-hosting platform. You can either choose to self-host videos on your website or use a third-party platform like YouTube.

There are obvious benefits to self-hosting videos as they can easily rank and appear as rich snippets. However, there are workarounds to get your YouTube videos to rank as well (using the Yoast plugin, for example).

This selection also depends on your marketing goals. If your goal is simply to create brand awareness, YouTube or any other video-sharing platform can work. However, if your goal is conversions and website traffic, then it is better to self-host the videos on your website.

Overall, you need to do some research on the pros and cons of both and then select the option that suits your needs the best.
Have a Clear Promotional Strategy
Your video SEO strategy will not be complete without a clear promotional strategy in place. It's not enough to create good video content and expect people to find it on their own. You need to distribute your content and promote it on the right channels to get more views.

You can post teasers of your video on your other social media profiles, for example, to direct people to it and get more views. You can also send a newsletter or email to your subscribers informing them of your latest video. Or, you can choose to share the video on other platforms like YouTube, apart from posting it on your website.
Tips for Optimizing Your Videos
Now that you have a video SEO strategy in place, it's time to take things to the next level and start thinking about what more you can do. In this section, we will discuss some tips to further optimize your videos to get the best results.
Add Subtitles to Your Videos
A lot of people prefer to watch videos with the sound off to avoid disturbing others. This is especially true when people watch videos without headphones in a public place.

In such cases, adding subtitles to your videos helps people to watch them without disturbing anyone or requiring headphones. If a video does not have subtitles, chances are that people will skip it instead of finding headphones to watch it.

Not having subtitles may cause you to lose a share of your prospective audience. But that can be easily avoided. So, start adding subtitles to your videos to get more views and make them accessible for a larger audience.

Another benefit of adding text to your videos is that they are easier to find as search bots get additional information about your video. So, from an SEO perspective also, this works in your favor.

You can add subtitles to your videos by manually creating an SRT file and uploading it with the video. Most video platforms allow this. Or, you can use a tool like 3PlayMedia, which can make video transcripts for your videos. This saves a lot of time and doesn't cost much.
Use an Interesting Thumbnail
When your videos rank in Google's search results, it is shown with a thumbnail, along with a description of the video. This is your one chance to make a first impression and encourage people to click on your video.

You also need to stand out from other ranked videos to ensure that users choose your video over others.

One effective way of doing that is to choose an interesting thumbnail image that will get people's attention. People usually make this decision within seconds and sometimes won't even bother to read the full description.


That makes selecting the right thumbnail even more important as it could be the deciding factor for whether people click on your video or not.

Here are a few quick tips for selecting the right thumbnails.

It should be relevant to the topic.
The picture quality should be high and the key elements should be clearly visible.
It always works in your favor to add a human, instead of a boring inanimate image.
Make it a point to take photos especially for your thumbnail, instead of just taking a still from the video.
Make it attention-grabbing and engaging and visually-appealing.
Write Attention-Grabbing Titles
Titles are also equally important when it comes to making the right first impression and getting more clicks. Most people will simply look at the thumbnail and read the title before selecting a video.


So, your title should not only grab attention but should also reflect the value that your video will provide. It should be relevant and should clearly explain what the video is about.

And, just like for any other type of content, video titles also play an important role in your search rankings. Titles should be optimized for the keywords that you're trying to rank for. Your video titles are what search bots will look at to determine what your video is about and which search queries it should be shown for.

Therefore, you should always include your primary keyword in your video titles. This will help you rank for the right search queries and help you to reach a more relevant audience.

Here are some quick tips to optimize your video titles that you should include in your video SEO strategy.

Don't write long titles, keep them crisp.
The title should clearly explain the video's content.
Titles with numbers in them work better.
Add a shocking fact or statistic in your title to make it more interesting.
Asking a question in the title can also pique audience interest.
Always add your primary keyword in the title, preferably in the first three words.
Use a headline analyzer tool, like CoSchedule, to create the best titles from an SEO perspective.

These are just some of the ways in which you can optimize your video titles. Overall, the key is relevance and the ability to draw attention.
Optimize Your Video Descriptions
As we have mentioned earlier, people don't often look at video descriptions while making the decision to watch a video. However, video descriptions are still quite useful from an SEO perspective.

Video descriptions may not always help viewers, but they definitely help search engines to better understand your video content. And, using the right keywords in your video descriptions can have a lot of impact on your search rankings.

Therefore, it is important to optimize your video descriptions with the right keywords to ensure that they rank better and for relevant search queries.

Here are a few tips to help you optimize your video descriptions that you should include in your video SEO strategy.

Use long-tail keywords as they can help your videos rank for more relevant search queries.
Also use secondary keywords in your descriptions, apart from the primary keyword.
Use video descriptions to direct your viewers to other related content.
Video descriptions should clearly describe the video and should give people a reason to watch it.
Make the first two lines on your description especially engaging as these show in the search results.
You can add time-stamps for long videos to help viewers find what they're looking for.
Embed Videos That You Want to Rank First
This tactic is only for situations where you have more than one video on a particular page on your website. Google usually indexes only a single video per page, therefore, it is important to tell it which one to index.

You should always select your best-performing video for this and not a random video.
However, as a rule, it is preferred not to have multiple videos on a single page. For the best results, you should have a single video on a page and ensure that it is relevant to the content of the page.

But, if you do need more than one video on a page, ensure that you embed it so that the search engines know which one to show in search rankings. Also make sure that you don't embed the same video for multiple pages as that would just amount to competing against yourself. This would be a waste of time and effort and should be avoided.
Cross-Promote on Other Platforms
No matter what platform you choose for posting your video, it is a good practice to cross-promote it on other platforms as well. Social media platforms are excellent for this as you can post your videos there and bring-in valuable social traffic to your website.

You can also hire influencers to promote your videos to reach a much larger audience. Of course, you need to be careful in your selection of influencers and ensure that they are relevant to your brand.
Optimize Your Videos for Mobile Viewing
Most video-sharing platforms like YouTube and Vimeo are already optimized for mobile viewing. But, if you have chosen some other video-hosting platform or are self-hosting your videos, ensure that they can be easily viewed on mobile devices.

If your videos don't play well on mobile devices, you might end up losing a huge chunk of potential viewers. So, make sure that your video player and website are both mobile-responsive.
Conclusion
Use this post as your ultimate reference guide while preparing your video SEO strategy and executing your video marketing campaigns. It has everything that you might need to create and execute a powerful video SEO strategy that actually works.

So, if you haven't yet started creating videos, it's high time that you incorporate them into your content marketing mix. What are you waiting for? Get started planning your video SEO strategy and get more views on your videos.