It's common knowledge that rankings in Google search results are influenced by a number of factors. You're probably aware of the importance of keywords and creating high-quality content to improve Google rankings. But besides these basics, there are several other factors and tactics you should consider if you want to learn how to boost your rankings.
Let's take a look at some tried and tested ways to improve Google rankings and gain more visibility for your website.  If you're just starting our view our what is SEO guide.
Let's jump right in:
#1: Optimize with Conversational Phrases
Voice search is becoming more popular among internet users worldwide. With the development of voice-enabled speakers and improvements in voice search engines, we should expect to see more growth in the coming years. According to GlobalWebIndex, 20% of online adults use mobile voice search at least once a month.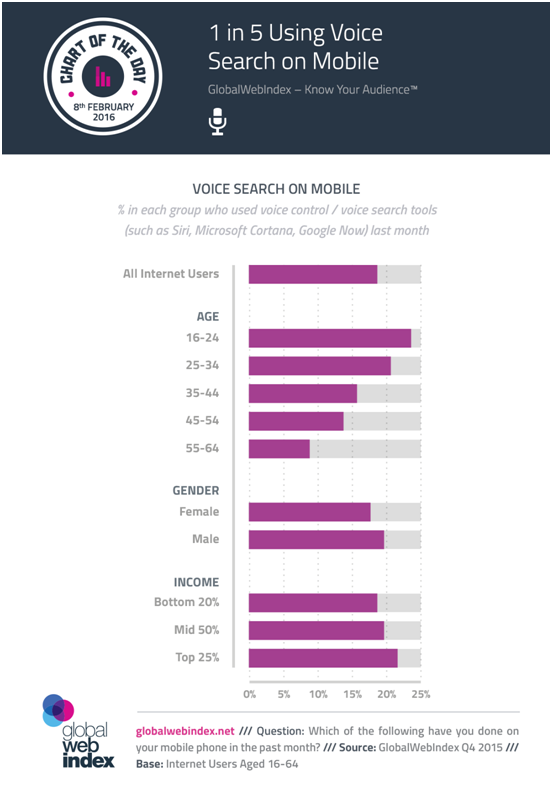 Image Source: GlobalWebIndex
Catering to these voice searchers will give you more visibility in voice search results and drive traffic to your site. In turn, this will help you improve Google rankings. Catering to voice searchers involves optimizing your content with keywords and phrases they are more likely to use.
The way people conduct voice searches isn't the same as how they conduct regular searches. 41% of voice-activated device owners say that using their device feels like talking to another human being.
This suggests that people use conversational phrases when they conduct voice searches. So instead of "best cakes in Kansas," they will say something like "Which bakeries have the best cakes in Kansas?"
So put yourself in the shoes of your audience and think about what terms they might use to conduct voice searches. You can use platforms like Answer the Public to discover popular conversational phrases relevant to your chosen keywords. Pick out the best, most natural phrases and use them to optimize your content and improve Google rankings.
#2: Target Your Competitors' Keywords
Getting ahead of the competition is a major goal for anyone who wants to improve Google rankings. After all, it wouldn't really be an ideal improvement in your rankings if you're still ranking below your competitors.
That's why it's crucial to keep a close eye on the competition and one up all of their strategies to improve Google rankings. This includes monitoring the keywords that they rank for, and re-engineering your own content to challenge them. So you'll need to create better, more informative content than your competitors using the same keywords they're using.
You can use SpyFu's Competitor Analysis feature for this. You just need to enter your competitor's URL in the search bar and the tool will pull up all of the details of their search engine performance. This includes the top organic and paid keywords for which they're ranking and how many clicks they're getting for those keywords.

Image Source: SpyFu
Besides this, you'll also be able to discover your competitor's top competition in the same report. This is great for discovering more competition that you weren't aware of. You can extend your research to these competitors as well and re-engineer their keywords list as well. So you'll be able to effectively improve Google rankings and stay ahead of the competition.
#3: Add Social Sharing Buttons
Social signals may not directly improve Google rankings, but they amplify the factors that do improve your rankings. Social shares give visibility to your content, helping you reach a bigger audience. As more people see your content on social media, they will likely click on the link to view the content and increase your website traffic.
And we all know just how big of an impact traffic can have to improve Google rankings. Plus, more visibility for your content means there's a better chance of people seeing it and linking back to it. Since your link profile is a crucial ranking factor, there's a good chance this will also improve Google rankings.
Matthew Woodward, for instance, experienced a drastic increase in rankings for one blog post as a result of social shares. Once someone shared the post, people kept sharing it over and over again until it finally reached George Takei, who shared it on his Facebook page. The post received more than 31,000 Facebook shares and eventually climbed to the second position in search results.
After one and a half years, it even had the Schema markup and was prominently visible for the search term "unhealthiest foods."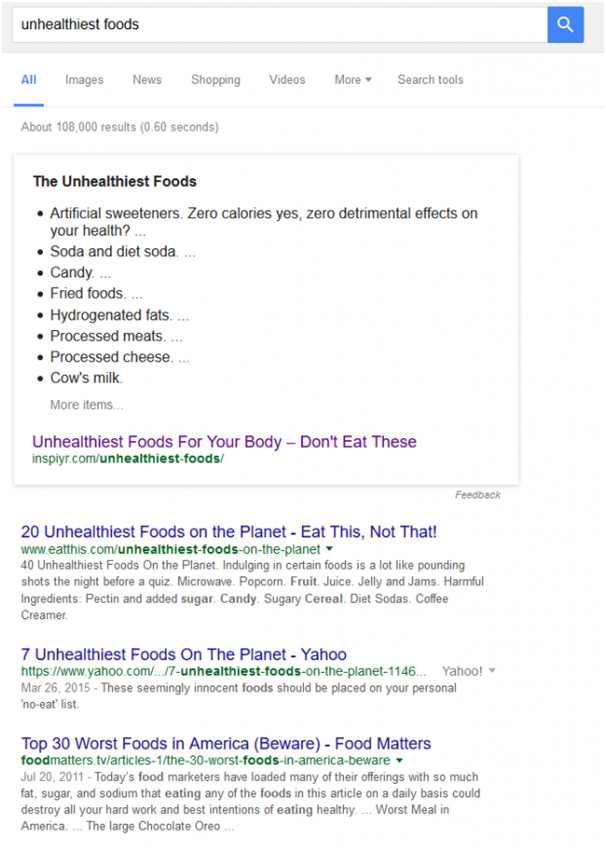 Image Source: Matthew Woodward
So in addition to creating high-quality content that people will want to share, you should also make it easier for people to share your content. This means adding social sharing buttons to your blog posts and other interesting pieces of content. You can use the WordPress Social Sharing plug-in for this.
#4: Link Out to Relevant Authority Sites
The presence of outbound links to relevant sites with a high Domain Authority will send trust signals to Google. This can improve Google rankings because the search engine considers your website as credible and relevant.
A study by Reboot on 10 new test websites proved this hypothesis, with five of the sites with outbound links ranking higher than the other five without outbound links.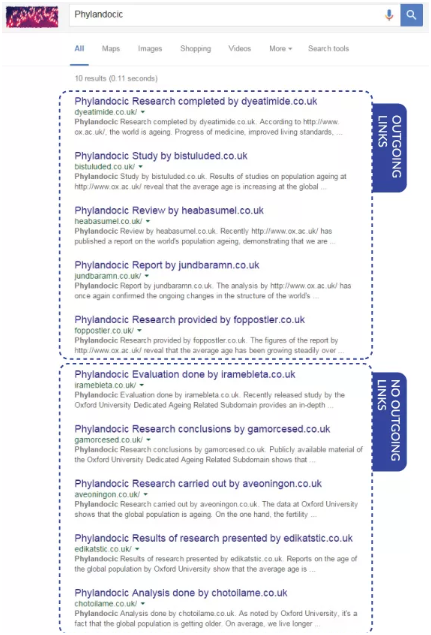 Image Source: Reboot
So whenever there's an opportunity, make sure that you link out to high-authority websites that are relevant to your industry. But that doesn't mean you should stuff your pages with outbound links. Too many dofollow links to other websites will leak your PageRank and have an adverse effect on your page rankings.
Only add links to pages that are relevant to the topic at hand. You could link to studies and examples supporting your points. Or you could link to blog posts that could elaborate on a certain topic that you briefly mentioned. And make sure every outbound link is nofollow. You can use WordPress plugins that will let you turn your outbound links into nofollow links.
#5: Improve Content Readability
Visitor engagement is another critical search engine ranking factor. According to Backlinko, Google pays close attention to engagement on your page. It considers how much time searchers spend on your page to understand where you should rank.
When people spend more time on your site, Google takes it as a sign that people find your content interesting and relevant to their search. So it'll place more importance on your page in other relevant search results and improve Google rankings.
But when visitors bounce almost immediately after landing on your site or they don't visit any other page on your site, it will consider your page as either irrelevant or non-engaging. So high bounce rates will drastically hold you back in search engine rankings.
Improving this take a blended approach. First, you need to set the searcher's expectation about how your page matches their search intent--what they hoped to find. Optimizing your meta description can help. Your meta description is a summary that often* appears on the SERP as an explanation of what your page is about. (* I say often, because Google can decide to show an excerpt from your page if that seems to match the search better.) If the reader has a good sense of what to expect, AND your page sounds compelling, then you get a that sweet SEO combo: a user who is engaged from the start.
If the first part of the approach is getting them to the page, then the second part of the approach is making them want to stay.
It's simple. Make your page easy to read, and offer engaging content.
Readability is an important factor that can affect reader engagement. If your content consists of huge blocks of text and complicated sentences that are difficult to understand, there's a good chance people wouldn't want to finish reading it. So even if they are interested in the topic, they'll probably leave soon after landing on your page.
Improving your content readability will help you engage visitors better and improve Google rankings. Divide your content into smaller paragraphs and bullet points to avoid huge blocks of text. Make sure your sentences are short and concise, and that you use uncomplicated words. You can also add relevant images to break up blocks of text.
In addition, run a test using the Readability Test Tool from WebFX. Just enter the URL of the webpage you want to test, and the tool will analyze how easy it is to read the content. Make sure your score is mostly green. Red and orange scores signify that a piece of content is difficult to read.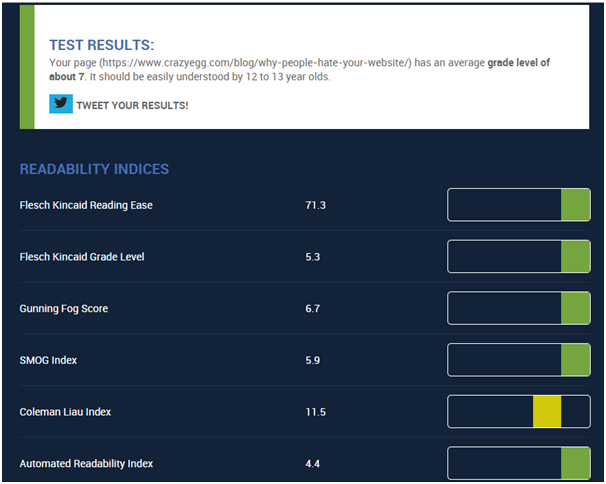 Image Source: WebFX
#6: Improve Site Usability
Another factor that affects dwell time is the usability and navigation of your website. Your website should be easy to navigate and help people to easily find what they're looking for if you want to improve Google rankings. This way, they'll be more inclined to check out various pages within your site to learn more about your products and services.
If they have a hard time finding even just one button, they may quickly get frustrated and eventually leave without finding the information they needed. In the case of SwingbySwing, making improvements to on-site user experience resulted in several improvements.
It decreased the bounce rate by 35% and increased time on site by 95%. The website also saw a 25X increase in the number of keywords for which it ranked on Google.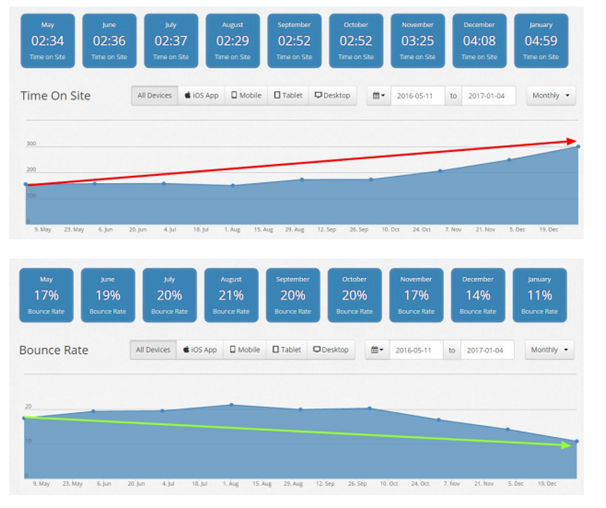 Image Source: Ezoic
There are several ways to improve site usability and improve your rankings, starting with mobile responsiveness. Make sure your webpages are designed to adapt to the devices used by people to access them. You could also test out different layouts and formatting to find out which of them would be best to enhance user experience and improve Google rankings.
You could add drop-down menus so your content is neatly organized for visitors to discover. Even a prominent search bar could work wonders in improving site usability. To get an even better idea of what needs improving, you can use usability testing tools like Optimizely and Five Second Test.
#7: Identify and Fix Broken Links
Broken links are one of the most common reasons for a less than ideal user experience. No one likes to click on a link hoping for more information, only to reach a page that doesn't exist. And since user experience is crucial to improve Google rankings, you'll need to resolve all of your broken link issues.
It's time-consuming to go through all of the links on your site to manually identify the broken ones. So simplify the process using the Link Checker from W3C. Just enter the URL you want to test and this tool will analyze all of the links on that page or site to identify the broken ones.
It will also give you the status of those broken links and specify whether it's a 404, a 403, a 505, etc. so you'll know exactly how to fix them.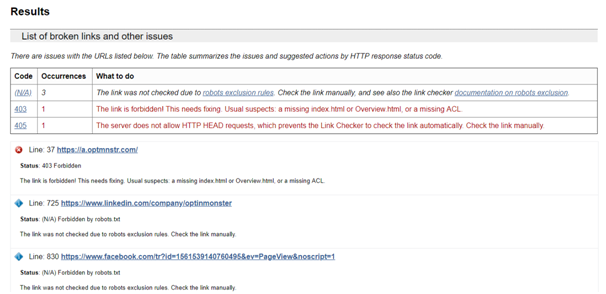 Image Source: W3C
#8: Get Backlinks from Site Mentions
You already know the importance of quality backlinks to improve Google rankings. You may even have an effective backlink strategy and are getting links from several high authority sites. To further amplify your efforts, you could look for opportunities to get more backlinks through site mentions.
There may be publications and websites that mention your brand or business without linking back to you. Reaching out to them and asking for a link back can significantly help you improve your backlink profile and improve Google rankings.
You could set up Google Alerts to get instantly notified about new mentions of your site, business, or brand. Once you get these notifications, examine each mention to identify which sites aren't linking to you. Then analyze the quality of those mentions. Are they relevant and positive?
If they are, determine the Domain Authority of the site using the Domain Authority Checker from Small SEO Tools. If it has a high DA (at least 50), reach out to the editor or site owner to request that they link back to your site. If they do, it can help improve your rankings.

Image Source: Small SEO Tools
Make sure you use a polite and friendly approach to improve your chances of getting a backlink. And don't forget to thank them for the mention.
Even if they don't name your site, you can find these opportunities off of relevant topics that you cover in your content.
#9: Increase Your Content Length
Long-form content is essential to improve Google rankings. This is mainly because it's more likely to be informative with in-depth insights backed by credible research. So in terms of Google trust signals, long-form content will have a much bigger impact.
Interestingly, longer content tends to get more shares on social media, according to a BuzzSumo analysis of the top 10% most shared articles. Articles between 3,000 and 10,000 words got the most shares, followed by 2,000-3,000-word articles, and so on.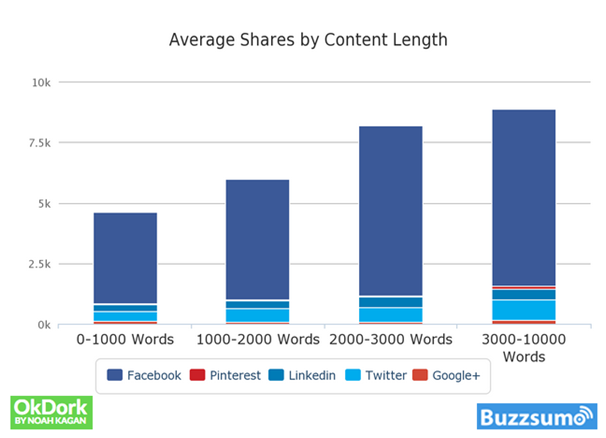 Image Source: OkDork
As discussed earlier, more social shares will equate to higher content visibility. This will, in turn, drive more traffic to your site and improve your rankings. So you need to create more long-form content if you want to improve Google rankings.
In addition, look through your content archives to see if there are any shorter pieces that you could improve on. Increase the word count of your shorter articles and turn them into 1,000+ and 2,000+ words with in-depth insights and actionable ideas.
This will also help you maintain content freshness – another factor that Google considers when ranking your website. So improving your content by increasing its length is a great way to boost your rankings.
#10: Turn Your Old Posts into Infographics
You're probably aware that people love visual content. While you may be doing your best to add images to your blog posts, you can go one step further by creating infographics. Instead of coming up with fresh ideas entirely, you could start repurposing some of your old blog posts into infographics.
This is a great way to strengthen your internal linking structure, as you'll be able to link to the old blog post from the new infographic page. Plus, you'll save a lot of time in the content brainstorming process because you will already have the outline in place.
Infographics are a highly visual way of promoting your content on social media and through other publications. They can help you instantly capture the audience's attention, engage them, and possibly get them to visit your site.
The best part is that this tactic improves Google rankings as well because infographics can drive more social shares. The BuzzSumo analysis also found that infographics were the most shared type of content, surpassing list posts and videos.
And, as discussed earlier, social shares can indirectly boost your ranking by amplifying other ranking factors.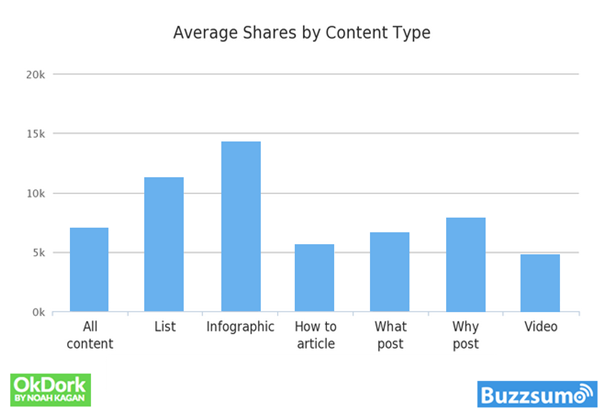 Image Source: OkDork
You can further optimize your efforts by reaching out to reputable publications and submitting your infographic. Some publications may be more enthusiastic about publishing infographics than guest posts since they too understand the value of visual content.
Not to mention how it's a refreshing change from the onslaught of text-based guest post submissions the publisher might be getting. They too might be looking to add a bit of variety to their content. So it's a great way to get more backlinks from authority sites and improve your rankings.
You don't even need an in-house graphic designer to create infographics. You can use tools like Piktochart to easily develop high-quality infographics. There are plenty of pre-designed templates to choose from and customize. But you can also create your design from scratch using their easy drag-and-drop feature.
Final Thoughts
While ranking high in Google may require long-term efforts, there are quick wins you can incorporate into your SEO strategy. These include optimizing your website's meta titles and descriptions, improving internal linking structure, fixing broken links, and ensuring mobile-friendliness. By addressing these issues, you can quickly improve the overall user experience and technical aspects of your website, which can positively impact your rankings in the short term.
As you can see, these aren't very difficult tactics, especially since you can use relevant tools to simplify each process. But as easy as they are, they can have a significant impact on your search engine rankings – whether it's directly or indirectly. So use these tips to get the most out of your SEO efforts and improve Google rankings.