Imagine a completely free tool that could help you build traffic and search for marketing opportunities. You might even be using it in a basic sense, because these are Google Alerts. By using Google Alerts for marketing, you can track mentions of your brand and look for new focus areas for your campaigns.
The versatility of Google Alerts is what makes them especially useful. You can see instant results for your keywords or track them over time by setting up email alerts. We'll show you how to take those alerts and turn them into tangible marketing opportunities. Learn how using Google Alerts for marketing can help you build backlinks, track industry news, and find new content ideas.
We've also created a list of Google Alerts alternatives, including prices and features, so you can make an informed decision about which tool is right for you.
Table of Contents:
Backlink Opportunities
Set Google Alerts for the names of your company, products, and top executives to find opportunities for backlinks. High-quality backlinks boost your ranking on Google's search engine results page (SERP). They also make it easier for Google to find and map your site and for customers to navigate to your site from outside pages.
Consider these 3 levels of monitoring:
Your name
Your content
Your keywords/topics
First, your name: Start by looking for mentions of your company that don't include links on the name. Reach out to the site owner or manager and ask if they'll add a link.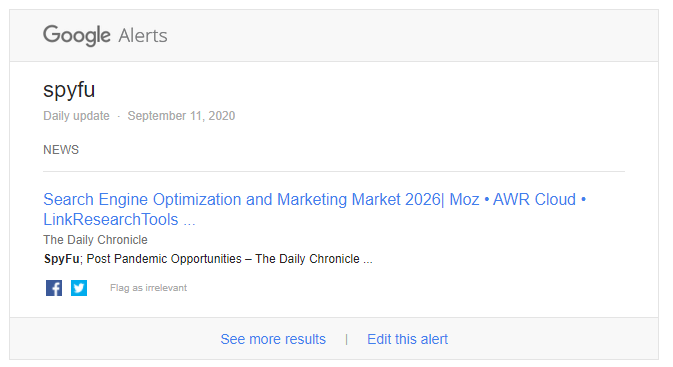 Since the writer already mentioned your company, adding a link to your page takes relatively little effort, especially for a blog post.
Next, your content: This could take some finessing and updating over time, but start with alerts on your content titles. With alerts like these, you can watch for more evergreen content that wouldn't necessarily be on your active radar. As people discover and share it, you can identify any new mentions or links that may have been missed.
Then, your keywords and topics: Google Alerts can also help you find guest-posting opportunities. Set alerts for your top keywords to watch for sites that post third-party content on your subject areas. For example, as a keyword research tool, we would track "keyword research," "competitor research," and "seo help."
Of course, you already know that your competitors post about similar topics, and their sites likely won't make for good guest-posting opportunities. Fortunately, you can exclude specific domains from your Google Alerts.
To exclude a domain, simply type "-site:domain.com" (where "domain.com" is the website you want to exclude) next to your keyword in the Alerts bar.

Use this feature to exclude competitor websites and poor-quality, third-party websites where you would not want your content featured. For example, you might want to exclude websites with excessive pop-up ads or other barriers to a positive user experience.
If you find yourself receiving too many alerts from a poor-quality site, you can update your alerts at any time to exclude that domain. This will help narrow down the results you get and prevent your email from being cluttered by alerts that you can't use for guest-posting opportunities. At the same time, track phrases like "write for us" and "guest post by." These phrases indicate the blog is actively looking for and publishing guest posts.
If you successfully land a guest post and write an article that links to multiple pages on your site, you just created several backlinks, thanks to a single Google Alerts result.
Finally, watch for questions on forums such as Reddit, Quora, and Yahoo Answers.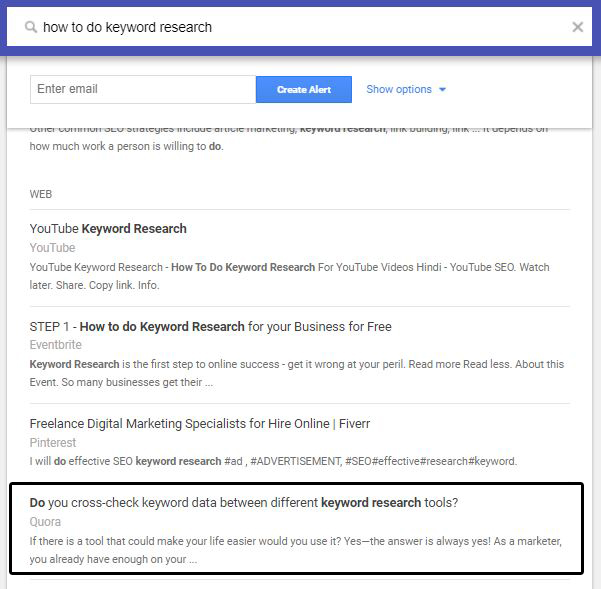 When you see questions within your field of expertise, jump in and answer. Include links to your pages as part of your answer, or add a link to your company name when you identify yourself.
How to Set Up Google Alerts for Backlinks
The basic steps for setting up Google Alerts are always the same, but there are different filters you can set, depending on the type of backlink opportunity you're searching for.
Here's how you track company mentions: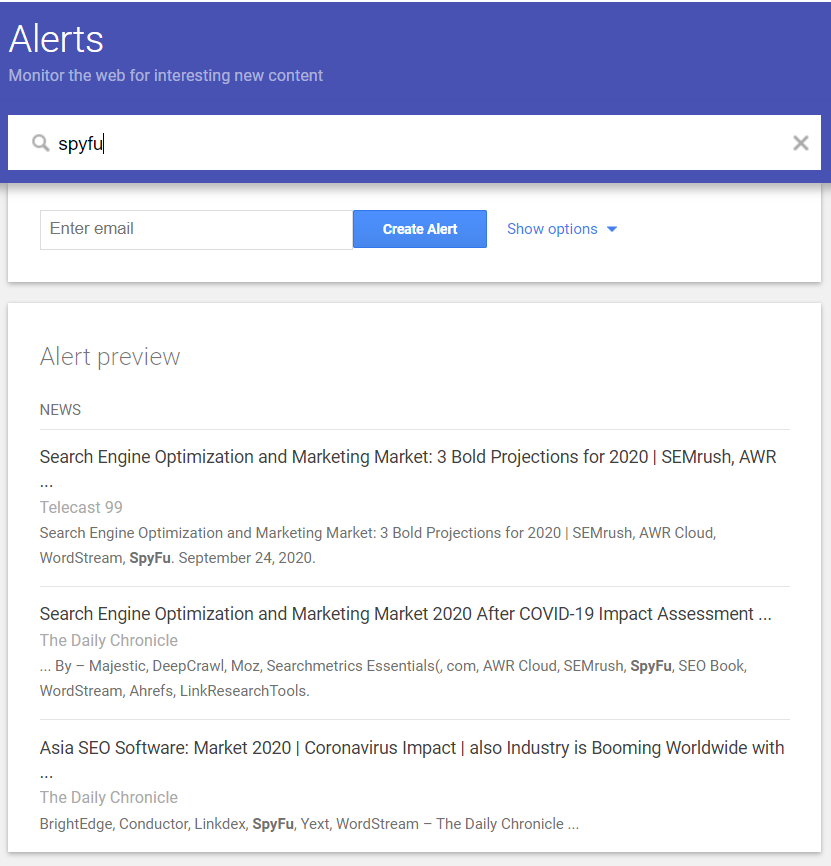 Go to Google Alerts.
Type in the name of your company.
Right away, you can see a preview of current results. To schedule recurring alerts, type in your email address, and choose how often you want to receive emails.
Repeat steps two and three for the name of your product or C-suite executives or other terms you want to track.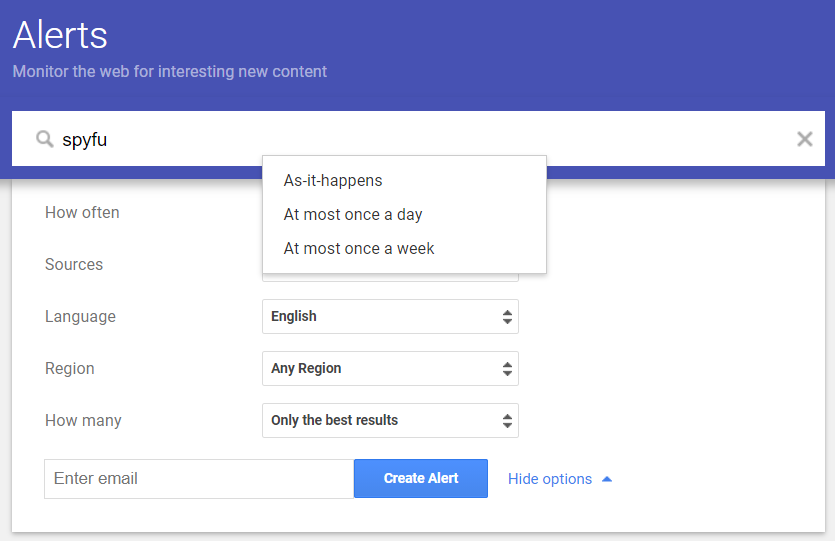 Next, you can add filters to watch for guest-post opportunities:
Set up alerts for your top keywords and for phrases indicating blogs are looking for guest posts.
Change the "sources" filter to "blogs."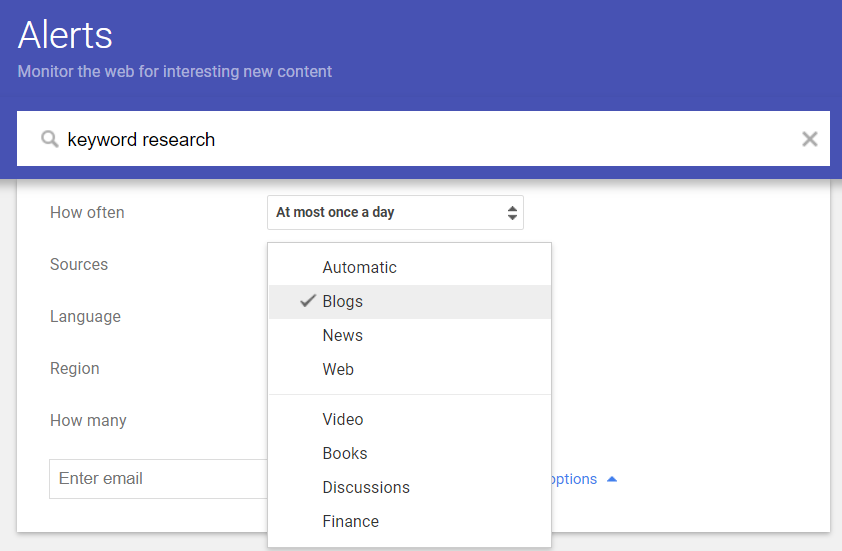 3.  Use "-site:domain.com" to exclude competitors and poor-quality websites from your Google Alerts.
4.  Check your alert results regularly and update excluded domains as needed.
Focusing your search keeps the results relevant. That way, you don't have to sift through news and discussion results to find legitimate guest-posting opportunities.
To watch for questions on forums, set up alerts for your top keywords, and change the source to "discussions." Alternatively, you can leave it on "automatic" to capture a wider range of discussion forums. Discussions in the comments section of another article, for example, may slip through the "discussions" filter.
New Content Ideas
Google Alerts is also an excellent tool for finding new content ideas and potential keywords to target. Keep an eye on discussion forums to see what questions people are asking about your product or the problems your product solves. Then, brainstorm content that answers the questions. Watch for niche and long-tail keywords to target.
For example, are people asking, "How do I research competitor keywords?" Make an article that directly answers that question rather than targeting a broader term like "competitor research."
Check for subtopics within your broader area of expertise. We searched for "keyword strategy," and the second article was about how connected social media is: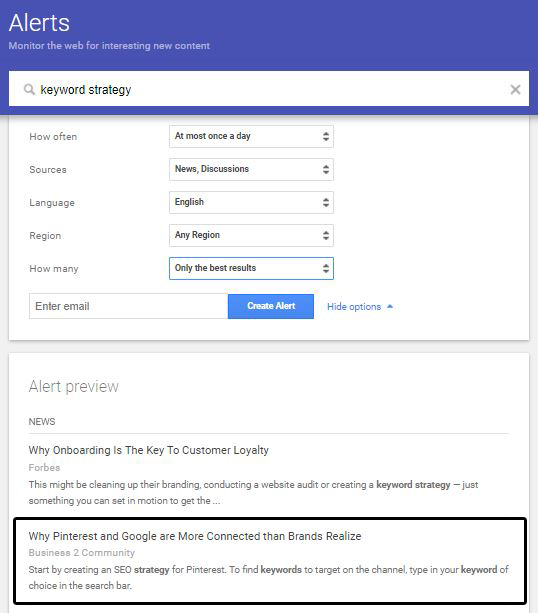 The piece itself is not about keywords, but it mentions the idea of social media keyword strategy. Thanks to Google Alerts, we now have an idea we can use to find relevant keywords and narrow down angles for article topics. Finding high-volume keywords will help you gauge the interest in specific areas of the idea you're investigating.
If we found, for example, that "social media seo strategy" had a high search volume, but "pinterest seo strategy" had a very low volume, then we might want to write a broader post encompassing multiple types of social media and not a series of posts focusing on individual platforms.
Google Alerts are excellent for brainstorming and idea generation, but it's important to follow up your ideas with keyword research and search intent research in order to accurately gauge your audience's interests.
Another way to brainstorm content ideas is to see what others in your field are writing about right now. Popular content topics are ever-changing, and it's vital to stay on top of what your competitors are publishing. Monitoring how their topics change from week to week can help you gauge what your target audience is reading and make adjustments to your own content strategy.
Track competitors' blogs to see what they post and what keywords or general topics they're targeting. Alerts will show you a preview of recent results. If there aren't any recent results, Google will show you existing content on the blog.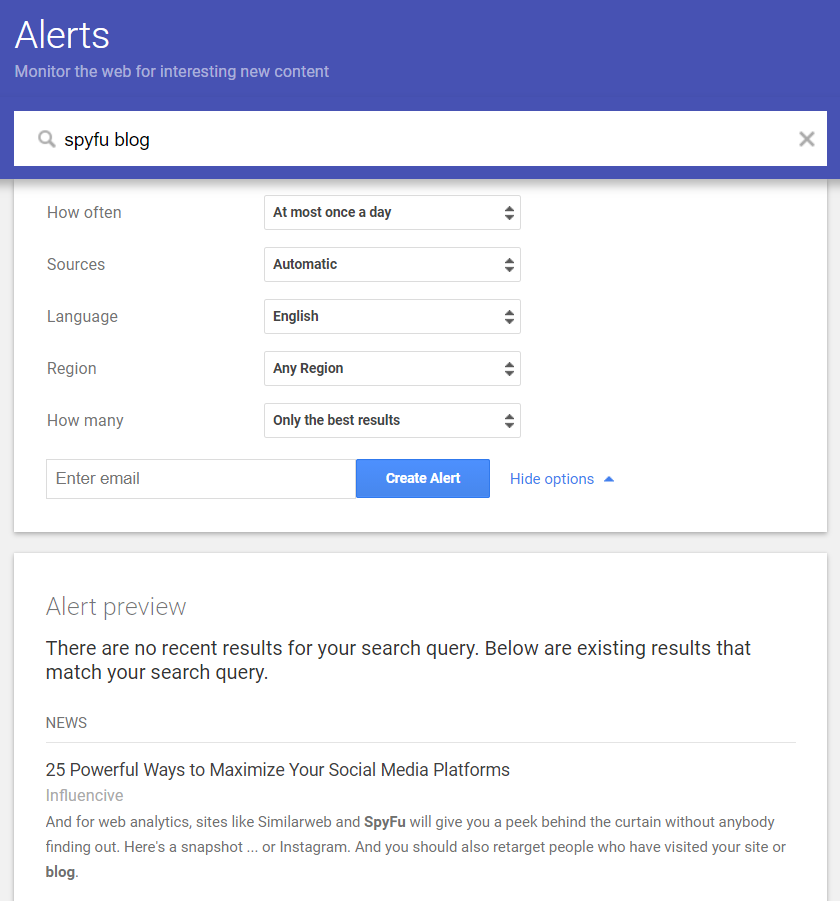 You can use this information to target similar keywords or look for keywords they haven't targeted yet.
Alerts will show you new and high-performing competitor articles. Run these through a keyword research tool to find potential keywords and keyword groups.
Google alerts can also keep you on top of a competitor's such product launches, marketing campaigns, or changes in pricing. This information can help the you make strategic decisions and stay competitive in the market.
Set alerts for general keywords to watch for content lanes that are already popular. These might include keywords such as "research tools," "seo," or "google serp." The exact keywords will depend on your industry.
Look at what people are discussing across multiple channels, and use those topics to inform your next round of content.
How to Set Up Google Alerts for Content Ideas
The setup process for generating content ideas is similar to setting up industry news alerts, but the filters will differ depending on your goals.
Here's how to track competitor blogs and news:
Make a list of competitor names, and set alerts for the company and for "[company name] blog."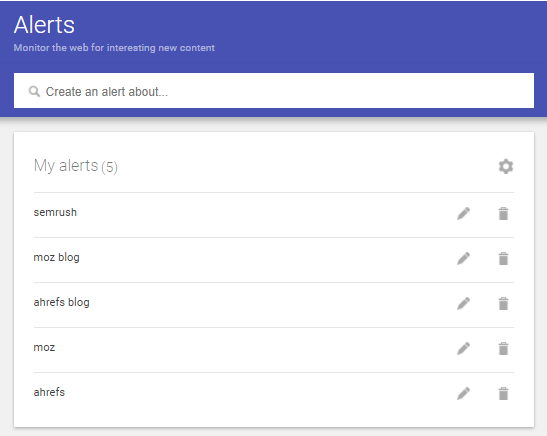 2.  Leave the filter on "automatic" to capture all mentions. Select all except "discussions" to limit results to media, blogs, and news stories.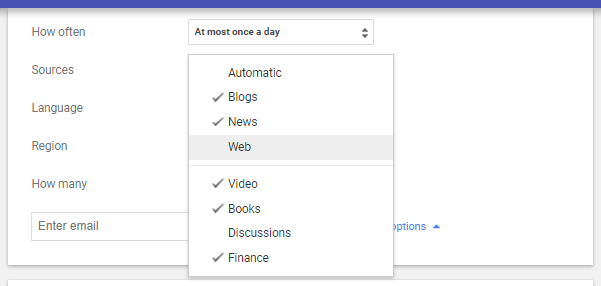 3.   Set recurring email alerts, and check them regularly. Watch what your competitors are publishing and where they appear in the media.
Finally, set up alerts to watch for topic-based content ideas:
Choose several overarching topics related to your industry and area of expertise.
Set alerts. Leave the filter on "automatic" to capture forums and discussions as well as news, media, and blog posts.
Monitor discussions to see what issues people are bringing up in your field that your content could address.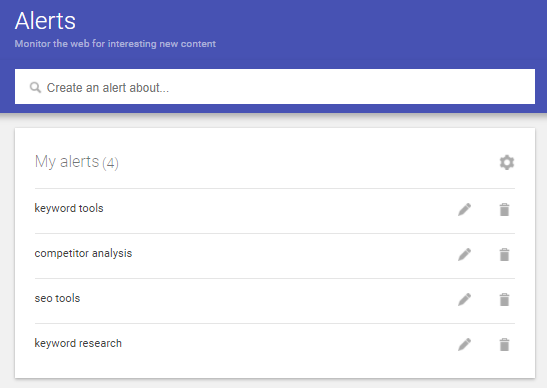 Set alerts for your product names. Filter for news and discussions to see what people are asking. This can help not only with content ideas but also with choosing new features to develop and promote.
Industry News
Next, use Google Alerts to stay on top of what's going on in your industry. Watch for "state of the market" reports, trending articles, and news stories featuring you or your competitors.
Track top industry keywords along with your company keywords. For example, we track "SEO software" and "competitor analysis tools."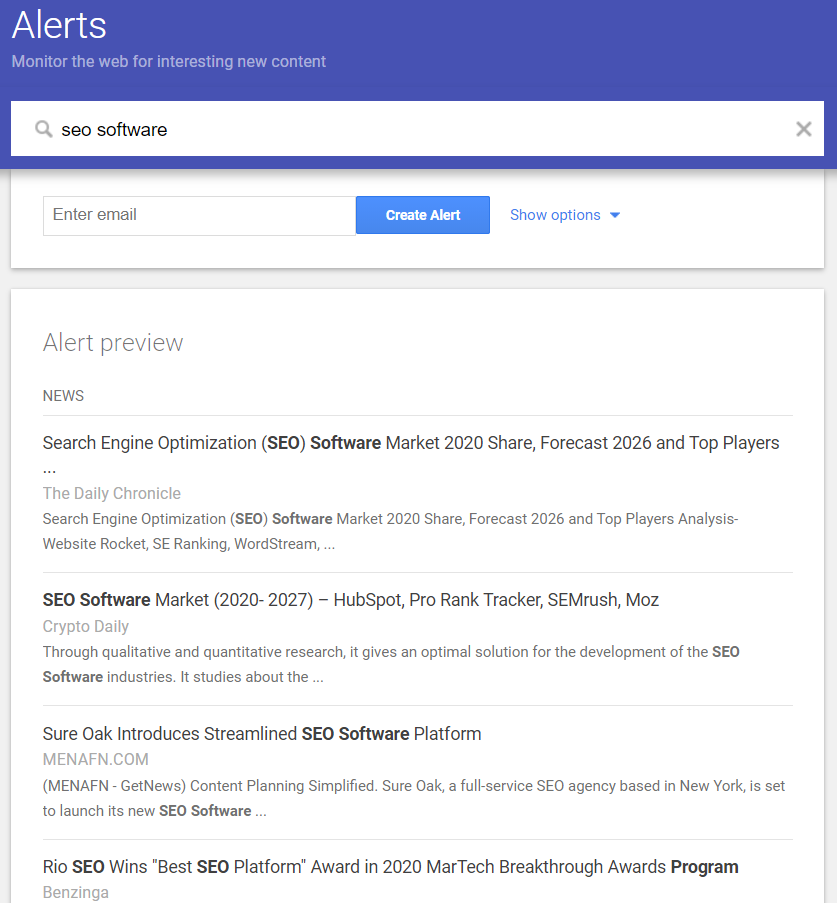 News alerts will help you keep track of general industry market predictions.
Industry news will also show you how people discuss your business vertical as a whole and which subtopics come up most often. You can use this information to set business goals based on what features people seem to want. You can also use it to guide what parts of your product to highlight in upcoming marketing campaigns.
Using Google Alerts for marketing makes it easier to watch for new competitors in your field and look for news stories featuring current competitors. With alerts, you can track new products, mergers, and other news that affects your competitive sphere.
To watch for this kind of news, set alerts for your competitor's company name and the names of their top products. You can also track top industry sites by setting alerts for the names of magazines, newsletters, or other media.
Set alerts for your competitors' top executives to see how they are featured in the media. Do the same for your own executives. This, along with tracking your own company mentions, will help you monitor how people perceive your brand.
Monitoring conversations about your brand--positive or negative--can help you understand how far certain marketing efforts are reaching. For example, your ads may use different headlines and talking points than what you have in a more nuanced article. You can set up alerts with your brand name and specific phrases that tie to different campaigns. That lets you trace the origins more easily.
Also, time is often a factor. It's important to hear what people are saying when they say it. That way you can be part of the conversation in a more timely, relevant way. That's especially important with negative news that you'll need to respond to and possibly react to on your end: policy changes, refund, customer outreach, etc.
How to Set Up Google Alerts for Industry News
To monitor industry news, use the filter settings to narrow down the types of information and current conversations you see:
Set up alerts for competitor names, the names of C-Suite executives, and top industry keywords.
Change the filters for each keyword, depending on the type of result you want to track. To see how people are talking about your industry in published media and forums, check "news" and "discussions."
3.  To track industry news just in your geographic area, change the "region" filter.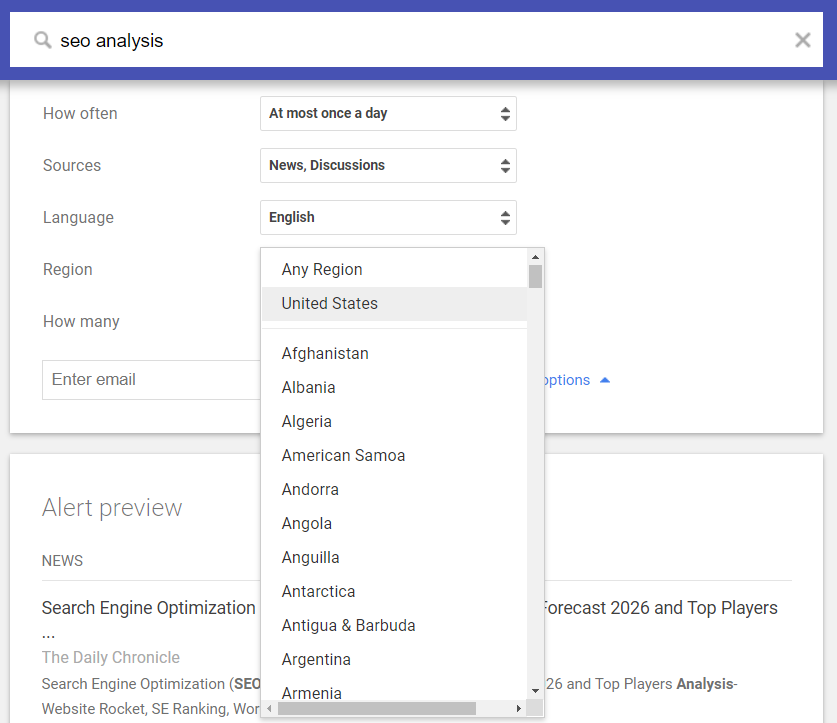 Limiting your region is useful for tracking local industry and product changes. It also shows you what subtopics people in your area are interested in. This is invaluable for brainstorming ideas for local marketing campaigns.
Google Alerts Best Practices
Obviously, we're fans of using Google Alerts in your marketing. We've shared a lot of information that you can take as a whole or just grab parts. As you choose how to use alerts, it helps to adopt these practices to make it more manageable.
Remember Misspellings
Include common misspellings of your search terms. By doing so, you can capture mentions of your brand or industry that might otherwise be missed.
Watch for Odd Matches
Use quotation marks around multi-word search terms to ensure that your alerts include only that exact phrase. This is especially useful when searching for specific topics or phrases.
Create Variations
Create multiple alerts to cover different variations of common search queries. By doing so, you can ensure that you're capturing all relevant mentions of your brand or industry.
Dedicated Folder(s)
As you take this advice, you're going to have a massive heap of alerts coming in. If it's so much that you start to ignore the alerts, then you might as well have not signed up at all. Do avoid drowning in alerts, we recommend making dedicated email folders for your different alerts. Yep, plural. You don't need one for each alert, but you can find categories like "brand mentions" vs "news" or "competitors."
Once you set up your folders, use automatic rules in your inbox to sort them for you. Your email management system can "read" the alert and drop it into the right folder to save you from one more step.
Frequency
How often your check your alerts depends on two things: your individual needs and the number of alerts you receive.
It's helpful to review them on a daily basis to stay up-to-date with the latest information relevant to your interests. If you let them go too long (close to a week), you start to lose some of the benefits of using Google Alerts for marketing strategies. We touched on some alerts that require urgency and timeliness. Give those a dedicated folder that you can check daily, and allow yourself a little more time with others. Don't let too much time go by so that you are overloaded in alerts.
11 Google Alerts Alternatives
Now that you know how to use Google Alerts for marketing, let's look at some of your other options.
Google Alerts is a handy tool, but it does have its limitations. For example, it isn't as effective in monitoring social media conversations, which can provide significant keyword insights. It also offers limited filters, so you can end up with a lot of irrelevant alerts in your inbox.
The good news is, there are quite a few Google Alerts alternatives in these social media monitoring tools. To help you find your ideal option, we made a list of 11 of the top keyword alert tools and ranked them in order of price, from lowest to highest.
1.Social Mention: Free

Social Mention (by Brand Mentions) is an easy-to-use tool that searches news and social media sites for your keywords. It pulls data from social media platforms like blogs, Twitter, Facebook, and Instagram, and it allows you to switch languages and countries to monitor your brand in multiple regions.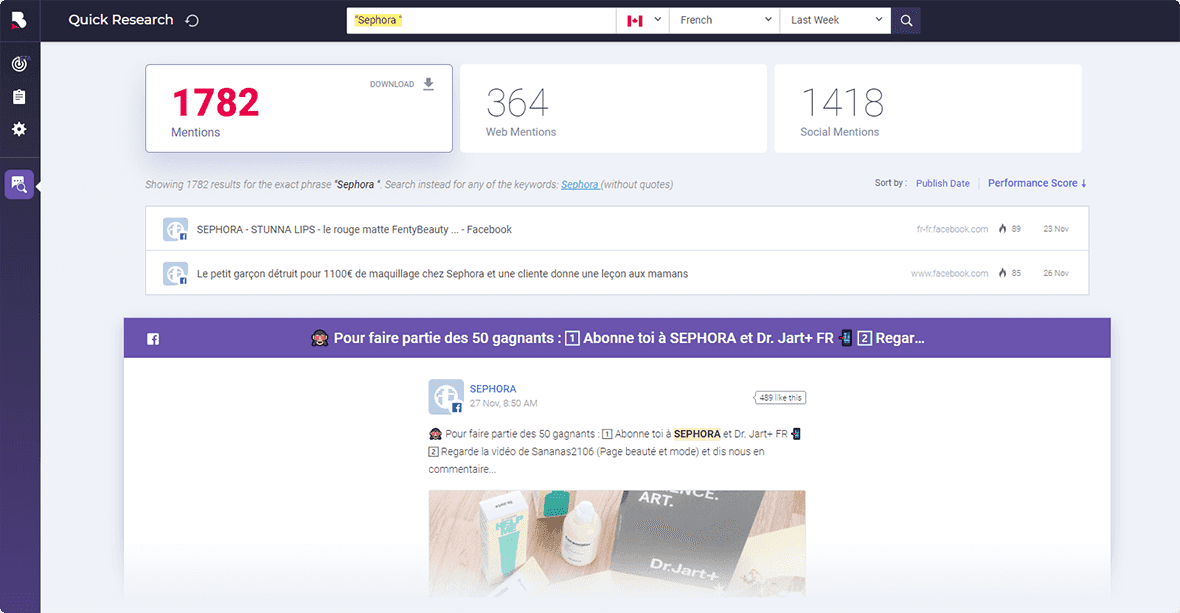 Along the left-hand side of the results screen, Social Mention offers additional insight into how your keyword is being used.
"Strength" identifies the likelihood that your keyword is being used, based on the number of mentions in the past 24 hours. Social Mention also measures:
Sentiment: how positively or negatively people are talking about your keyword
Passion: how likely people are to mention it multiple times
Reach: how many different users reference your keyword ("reach")
You can set alerts for your keywords to get regular updates or use the search bar to check real-time results.
2. IFTTT: Free with Paid Upgrade Options

IFTTT, which stands for "If this, then that," is a highly customizable and affordable tool, but it is a little less straightforward than many web monitoring solutions. It's a platform for creating custom "applets" that connect your apps and social media platforms in whatever way best suits your business.
Say you're mainly interested in getting email alerts when your brand name is mentioned. You could use IFTTT to create a program saying, "If [your brand] is mentioned on reddit, send me an email."

IFTTT has a significant set of integrations that makes it easy to create connections and set up tailored notifications without extensive coding knowledge.
3. Social Searcher: Free with Paid Upgrade Options

Social Searcher is another Google Alerts alternative focused on social media mentions. You can search for specific keywords or people (say, the CEO of your company) or look at general trends for brands and products.
This tool crawls major websites and social media platforms in real time. It presents the results as a series of "cards" that make it easy to identify the URL where the keyword is being discussed. You can click on the URLs to see the discussion in context.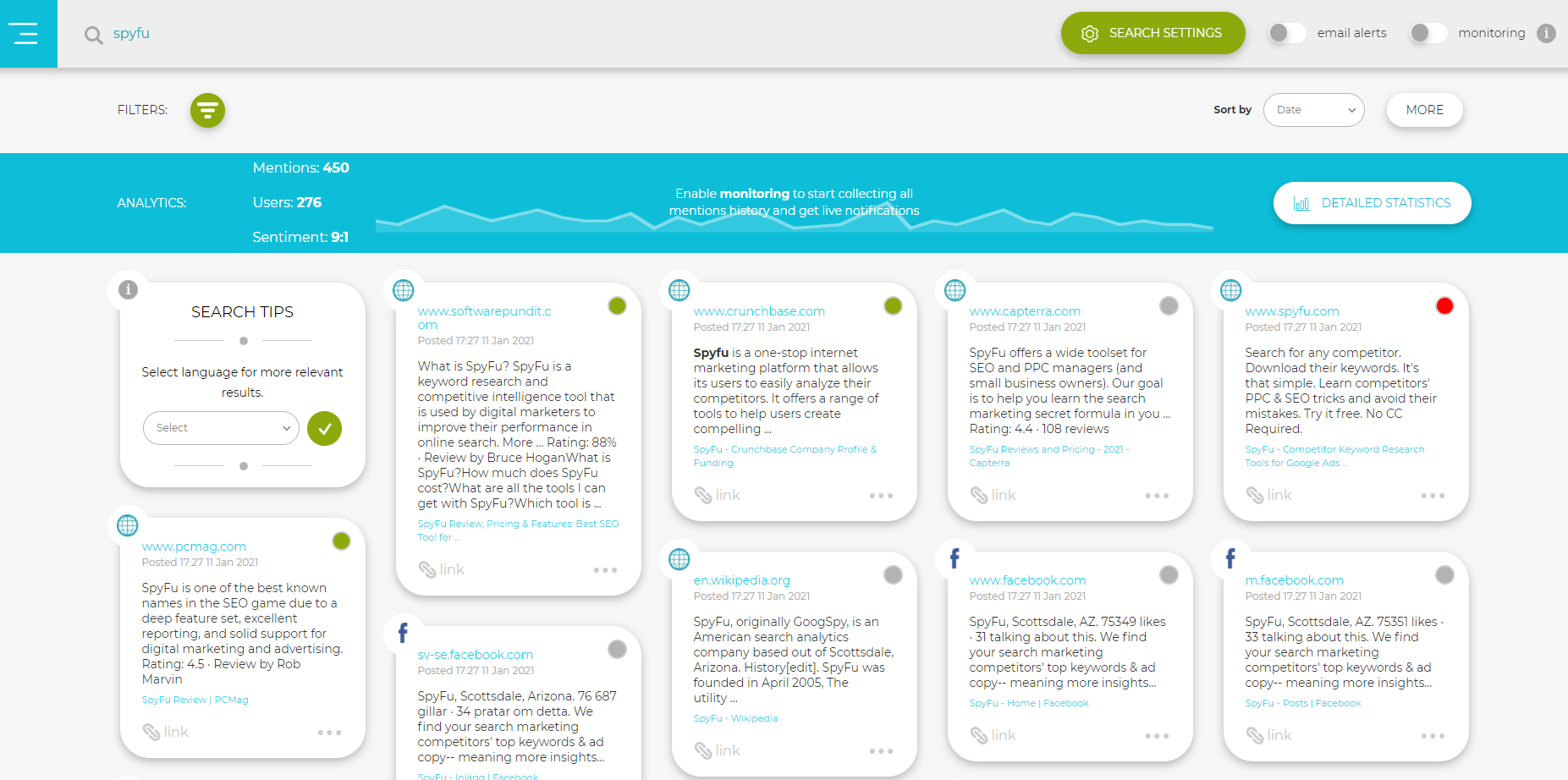 Filter the results by post type or source to narrow your search.
The free plan includes email alerts for up to two keywords. Upgraded plans start at 3.49 € ($4.25) per month and include notifications for all web mentions and additional allowances for searches per day, email alerts, and saved posts.
4. Talkwalker Alerts: Free with Paid Upgrade Options

Talkwalker tracks mentions of the keyword you search across the web and on Twitter. To sort through the mentions, the tool looks for posts, articles, or discussions with the highest engagement levels and consolidates these into regular email alerts.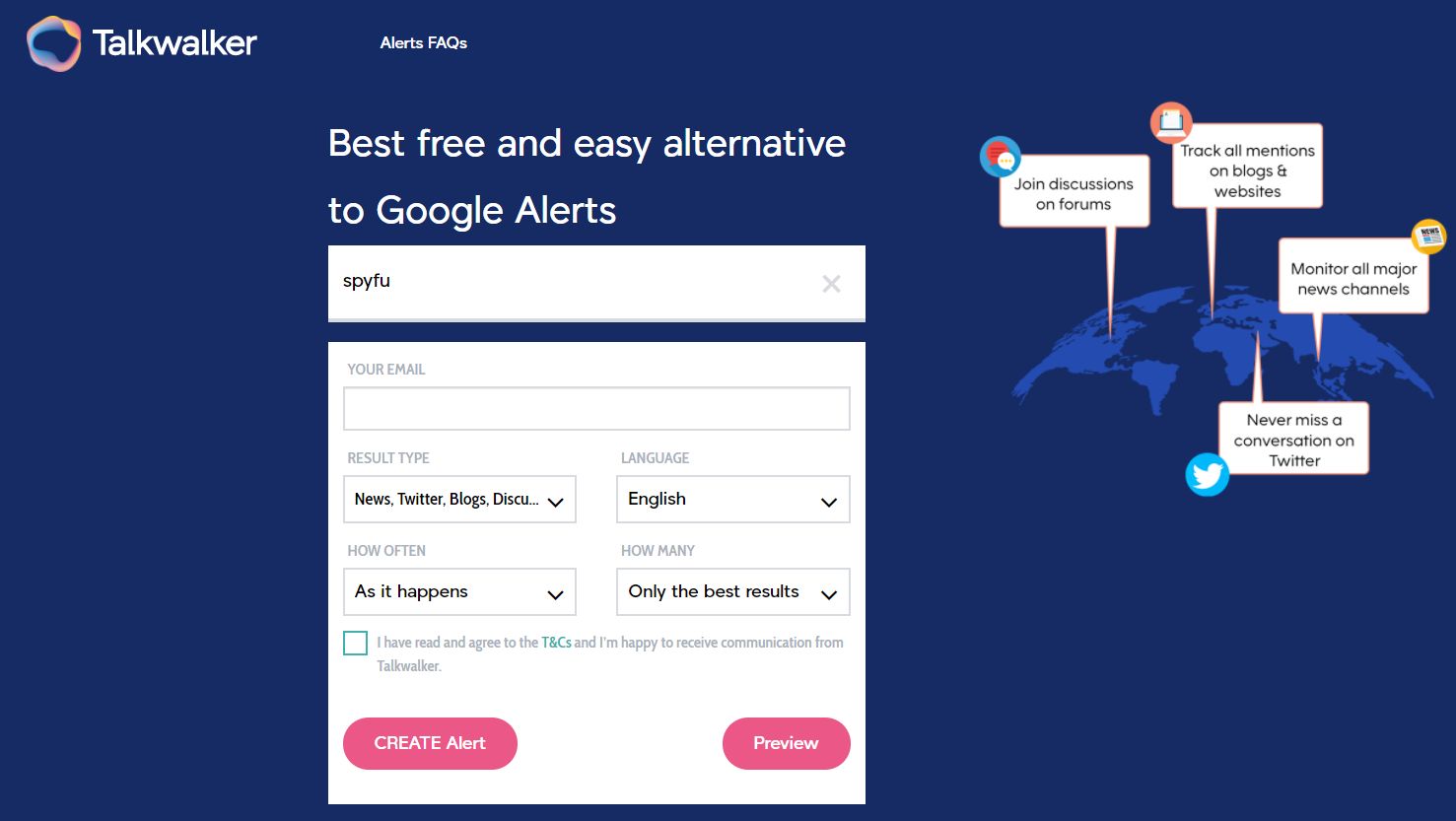 Like Google Alerts, you can filter by result type and set the quantity and frequency of alerts you want to receive.
Talkwalker offers paid upgrade options if you want to expand your analytics or access reports and a consolidated dashboard.
5. Mention: Starts at $25/month

Mention tracks keyword use across blogs, social media, news sites, forums, and review sites. With its advanced keyword search tool, you can track multiple keywords or complete phrases and exclude terms from your search results. Narrow your search further by using source, country, or language filters. You can block specific sources or choose only to search certain sites.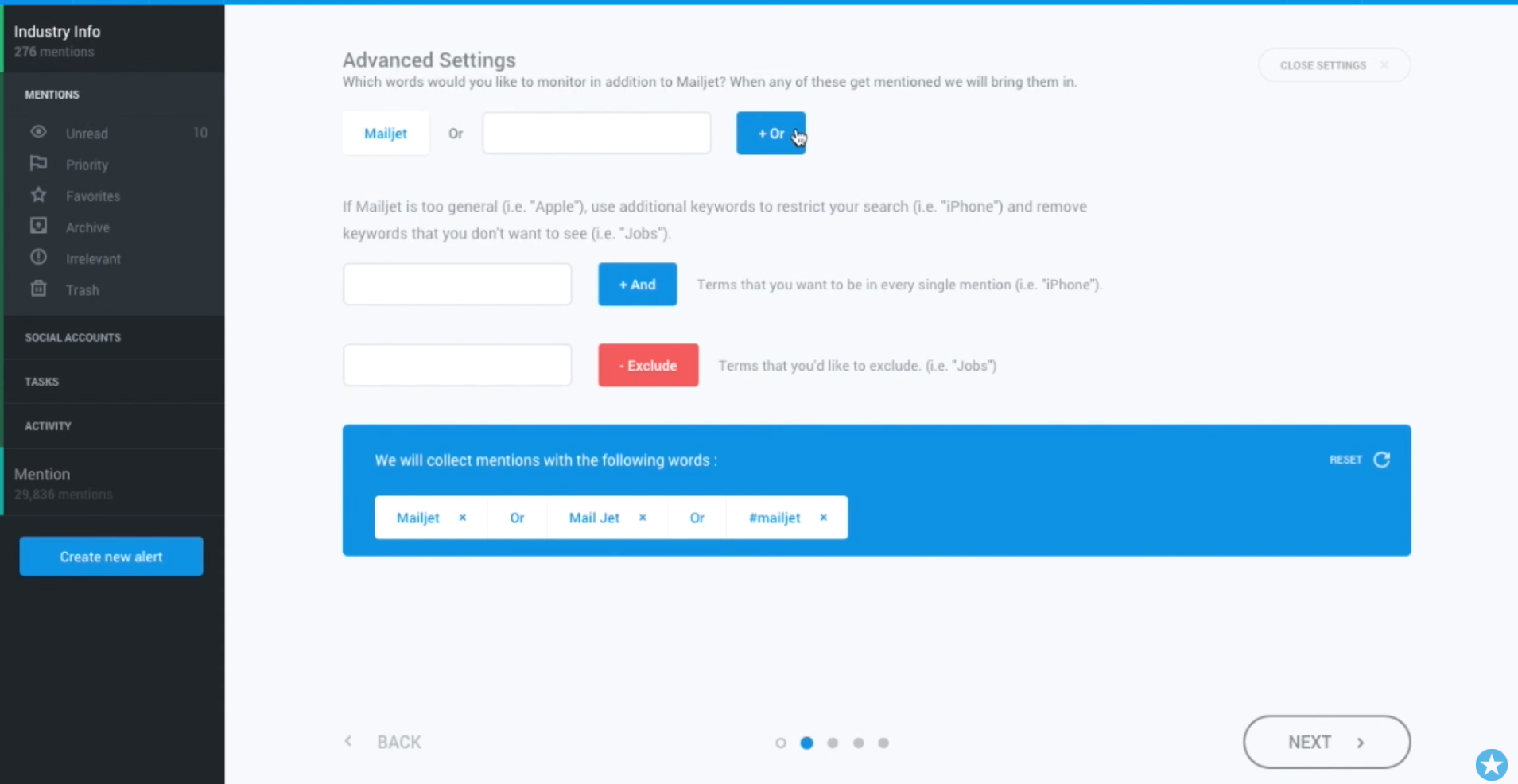 Part of the reason why Mention isn't free is that it's more than just a social listening tool. It also has social media analytics and reporting capabilities and a scheduling feature to help you plan and publish social media posts.
6. Awario: Starts at $29/month

Awario offers real-time results from all major social media platforms as well as forums, news sites, blogs, and other sites around the web. It includes additional insights into how your keywords are being used, allowing you to sort by sentiment (positive, negative, or neutral) and track keyword usage changes over time.
Sign up for daily or weekly emails to receive regular alerts about your keywords.
7. Sendible: Starts at $29/month

Sendible is focused on monitoring the top social media platforms: Facebook, Instagram, Twitter, LinkedIn, and YouTube. You can use Sendible's dashboard to track mentions of your brand and keywords and respond to comments and direct messages from multiple sources.
The dashboard also offers keyword analytics, including sentiment analyses and how sentiment has changed over time.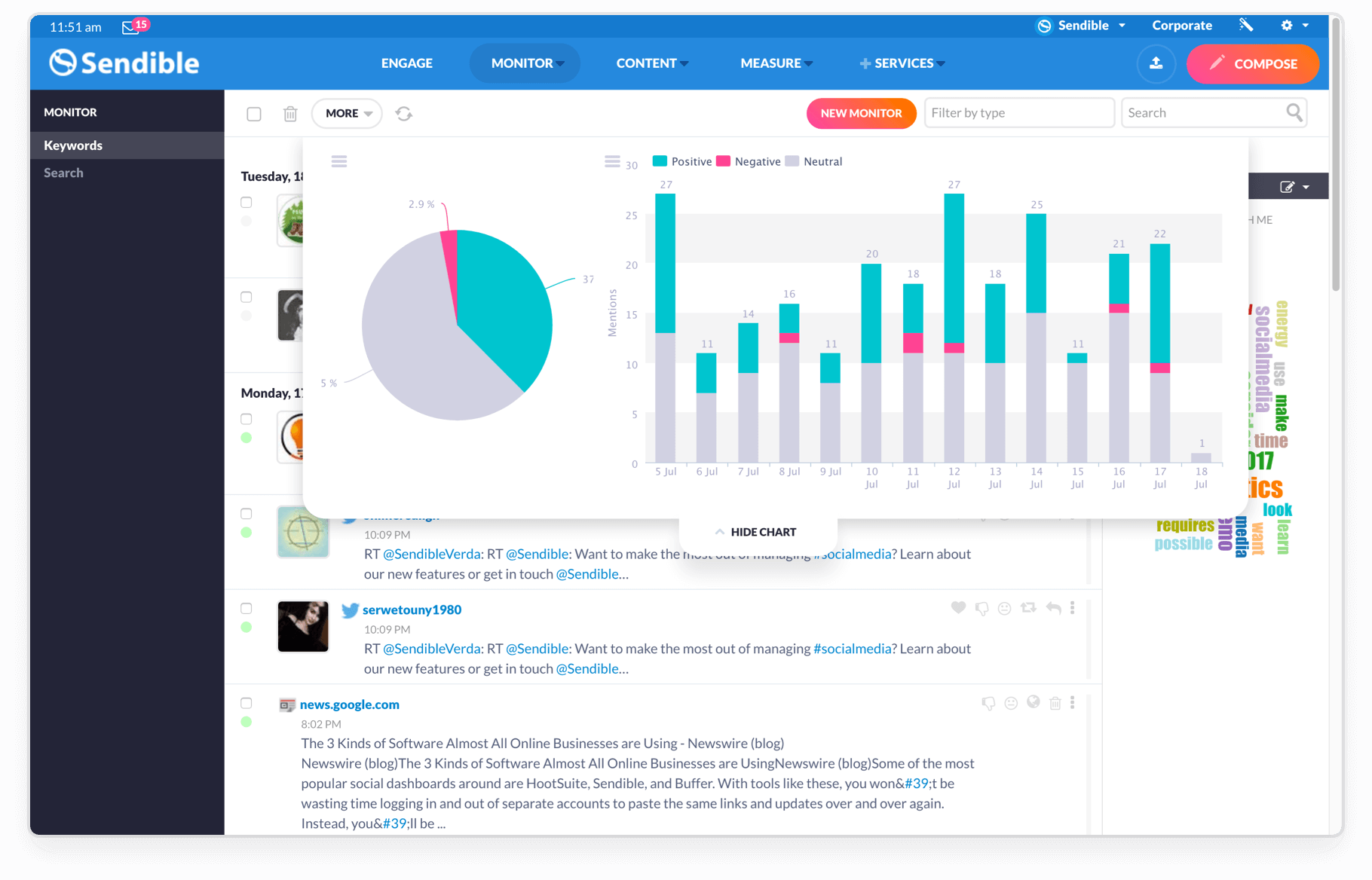 In addition to email notifications, you can send keyword alerts to Slack or set alerts to show up within Sendible's dashboard.
Sendible is designed for teams. Assigning alerts to specific people allows them to respond to the comments or messages right away. This instant-response capability is a distinct advantage over the more passive Google Alerts, and it is invaluable for brand reputation management.
8. Brand24: Starts at $49/month

Brand24 is designed for tracking mentions of your brand or product, but you can also use it for competitor or keyword monitoring. It searches blogs, forums and message boards, news sites, social media, review sites, and more, and offers a sentiment analysis for each mention it finds.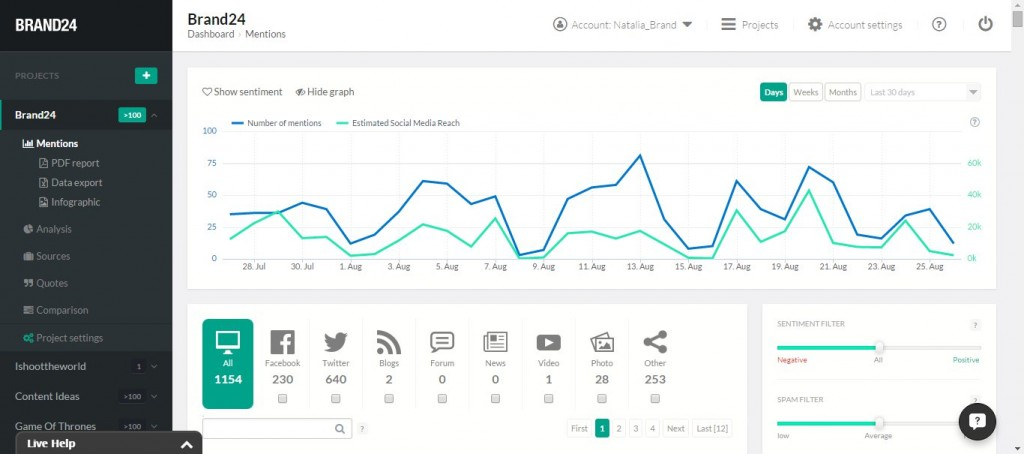 With Brand24's analytics, you can:
See how discussion volume and sentiment have changed over time for your keyword
Sort mentions by source and sentiment
Determine whether social media mentions are coming from influencers
When reviewing this data, you can analyze a set period of time rather than only viewing recent posts.
9. Sprout Social: Starts at $99/month

Sprout Social is a social media management platform with a robust social listening tool. In addition to basic keyword tracking and sentiment analysis, Sprout Social suggests related keywords and hashtags. If your main focus is social media, you can narrow your search to just hashtags and filter out general mentions of a term.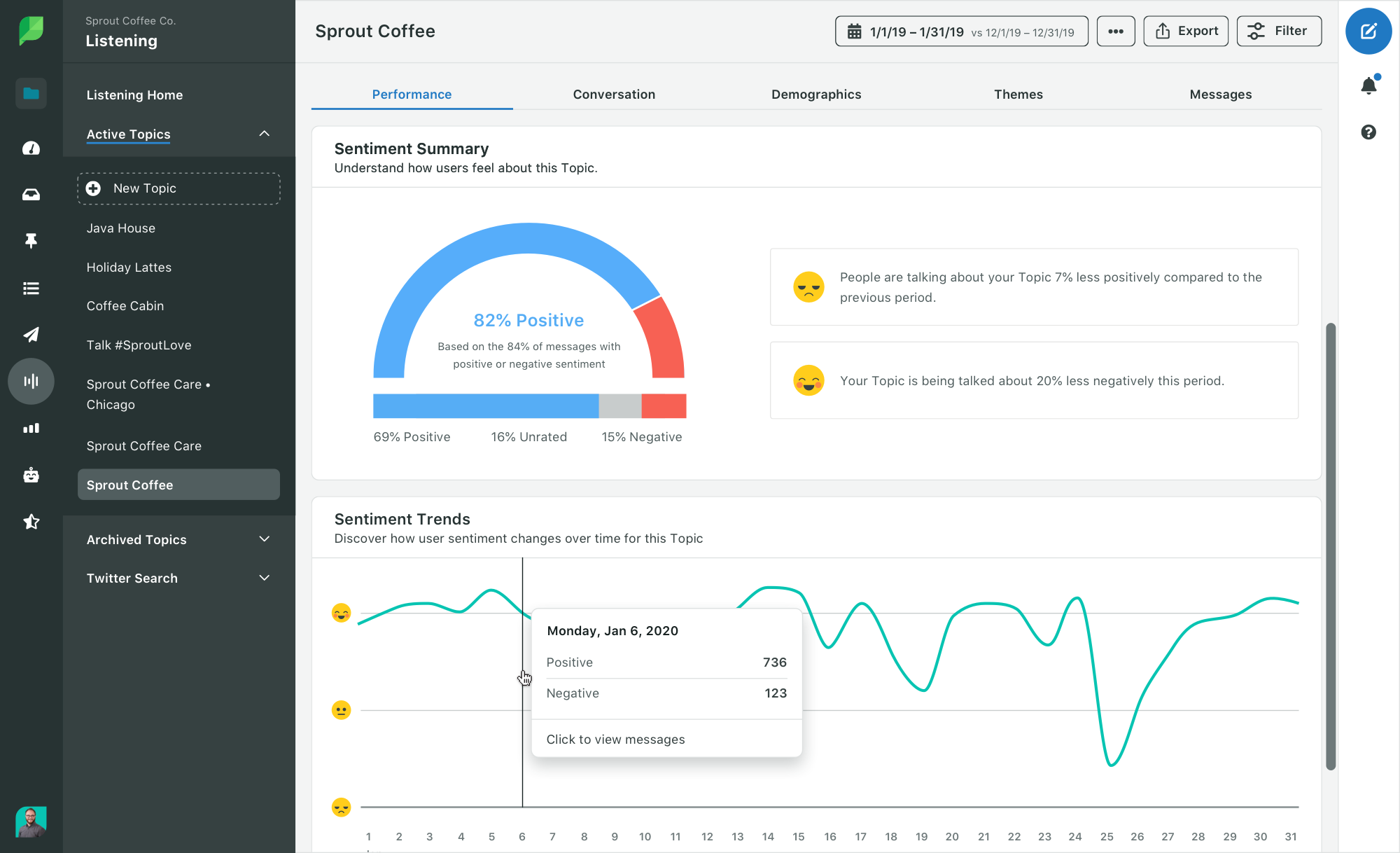 Sprout Social also enables you to look at general topic trends in your industry to identify potential new content lanes. Its analytics show how engagement with a topic has changed over time, and it identifies the most popular sub-topics by highlighting high-engagement related keywords.
Sprout Social goes beyond just keyword alerts. It offers tools for scheduling and publishing social media posts. This is great if you're looking for a social media management tool, but if all you want is keyword tracking, it is a much more expensive option than other tools.
10. Brandwatch: Pricing on Request
Brandwatch is a consumer intelligence platform that offers keyword tracking and analytics, with both historical and real-time data. Track how topic trends have changed over time and break down conversations into subtopics to look for relevant niche or long-tail keywords.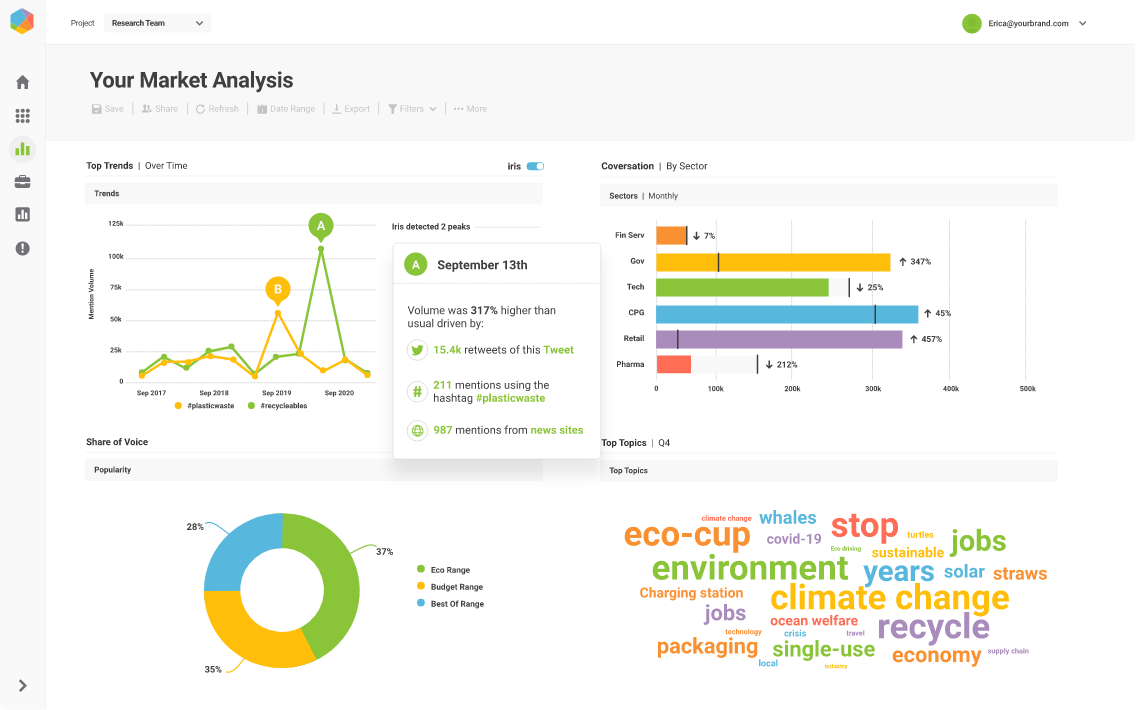 You can even dig deeper into sudden changes in mention volume and see what caused the change, such as a sudden spike because of a viral tweet.
Brandwatch24 is designed more for teams and larger businesses than for small businesses or individuals. If you're just getting started with keyword research, you might prefer a simpler, less expensive tool.
11. Meltwater: Pricing on Request

In addition to the social media and news sites, Meltwater also monitors print media, videos, and podcasts for discussions of your company or keywords. The company has a mobile app so you can track your results from anywhere. Sign up for email alerts and mobile notifications for when your keyword is mentioned.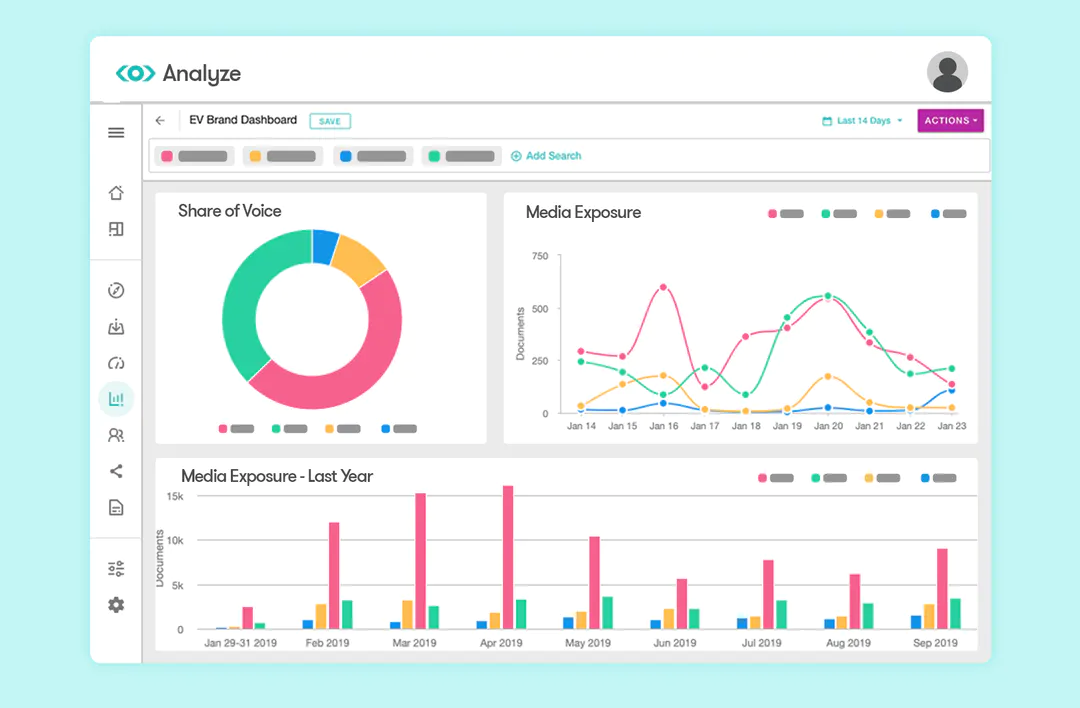 You can track all of your metrics on Meltwater's sharable dashboard and export the information in multiple formats, depending on who you're sending it to.
Meltwater includes features for campaign planning as well as keyword monitoring and may be too expensive or unnecessarily extensive for small-medium businesses.
Save Time by Using Google Alerts for Marketing
SEO is time-consuming. Even once you publish a great article, it can take around 10 weeks to see traffic build up from backlinks. And that doesn't even include the time it takes to research what's hot in your industry right now and brainstorm new content ideas.
But Google Alerts enables you to speed up this process. Topic-based alerts can help generate ideas and speed up the brainstorming process. Monitoring for backlink opportunities can help you build more links without waiting for other sites to link to you of their own accord. By using Google Alerts for marketing, you can cut down the time it takes to see value from your content.