The web isn't as wild as it once was. Long gone are the days when you could brainstorm some search terms for your site, mix them into your content (or advertising copy), and test to see what worked. In today's market, a website thrives on data-backed decisions. Data points like keyword difficulties, CPC, monthly search volume, and more inform what content you're making and how it gets made.

To get the right data to make those decisions, you need the right keyword tool so you can identify keyword opportunities you otherwise wouldn't have considered. This way, you can use only the best keywords at the core of your SEO and content strategy. Great keyword tools also save you a lot of time. You no longer need to scour the web for hours to understand what is and isn't working. A tool can do the hard work for you and present the data so you can make the right decisions fast.

So how do you choose which keyword tools to use for your research? Making that determination requires an understanding of what each tool can do and how you can turn that data into real-world results. That's why we've put together this in-depth guide on the best keyword tools the market has to offer. When you make the right decision, you're setting yourself up to build the most effective keyword strategy possible.

Table of Contents:
Why You Need a Keyword Tool That's Not Made by Google
Keyword research tools are how you find the keywords that will drive traffic to your site, whether that's from a search engine like Google or a social media site like Pinterest. But, for many people, it can be tempting to leave your keyword decisions to chance (not a good idea) or to the free offerings from Google like with their Keyword Planner.

On its face, Keyword Planner seems ideal: made by Google, free, and widely used. But, while their tool is helpful in creating a baseline understanding of certain keyword qualities, its data will never help you uncover the kind of valuable insights that other tools provide. This is due to the fact that Keyword Planner is notoriously inaccurate, and it was built to surface insights for advertisers first. Their lens will always be pointed somewhat in that direction. And while those insights may be valuable for organic search results, it's not the whole picture.

Let's say you have a website that offers people building plans, materials, and kits to help your customers build their own wooden shed. You don't sell or install the actual wooden sheds, but you do sell everything that a DIY builder needs to make one of their own.

If you type wooden sheds or a similar long-tail variant into Keyword Planner, Google will provide you with a list that looks like the graphic below. The tool may think the keywords are relevant to your search term; however, they're either very general or more related to selling completed sheds than to building them.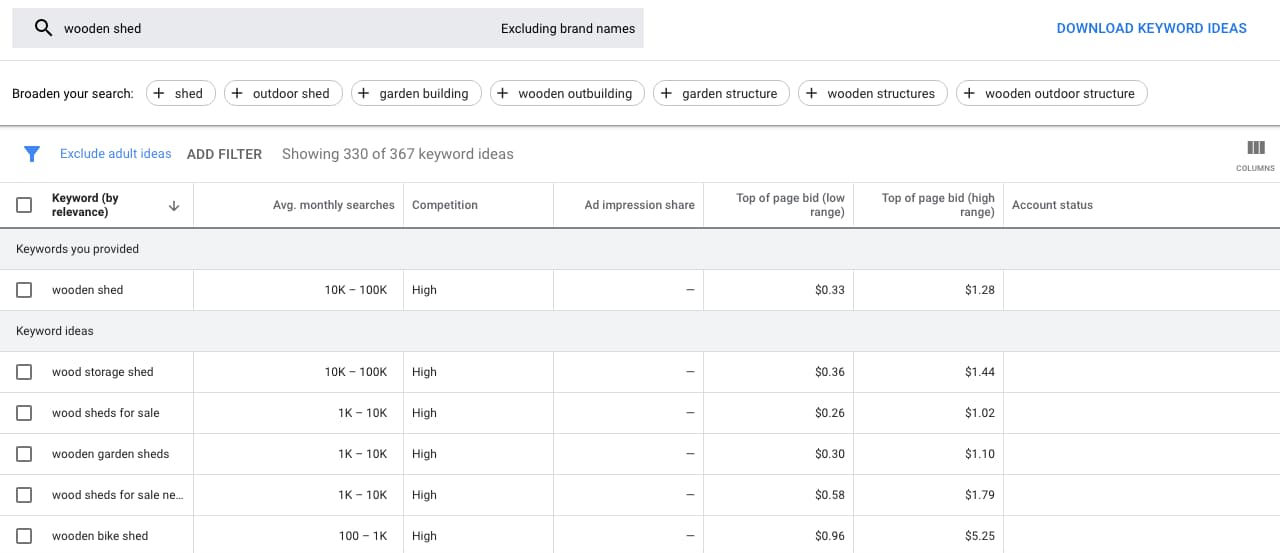 Maybe you'll be able to sell a few shed kits to people who searched for wood sheds for sale, but more often than not, you'll spend your ad budget for visibility with the wrong type of customers. Basically, you're throwing money away.

The same goes for organic search traffic. The people who land on your website after searching wood sheds for sale aren't interested in your product. There may be a few users who stick around to learn more about your product, but most won't.
A much better strategy would be to target customers searching a term like building a wood shed.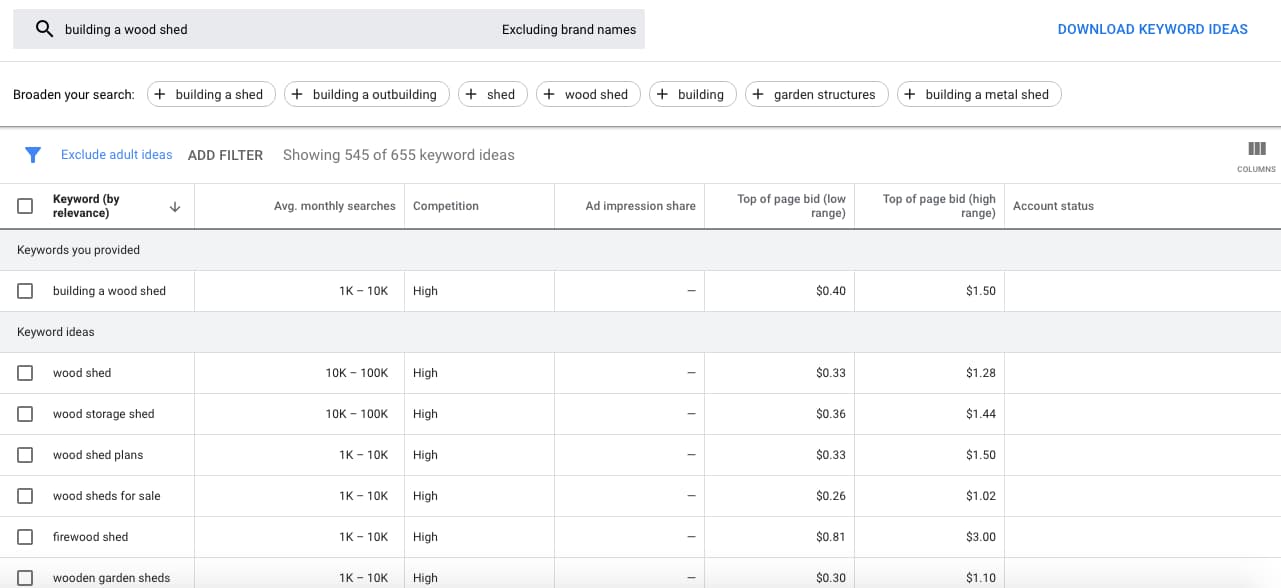 Even though we've matched the intent better with our second keyword, the results from Keyword Planner are largely unchanged. The keywords Google provides are base level at best, and they won't help you flesh out a more substantial list. When you're getting started with keyword research, the more relevant topics you include, the better off you'll be when it comes time to start creating content.

And if you're only relying on what Keyword Planner has to offer, you're going to spend the same amount of time putting together a strong keyword list. Any additional insights on competition, intent, or the overall value of your keywords will still need to be done through manual keyword research.

Other flaws of Google Keyword Planner include:

You see a very limited selection of keywords which makes it tough to find new keyword ideas.
You are required to have a Google Ads account to use the tool. While you don't have to bid on ads, you'll still need to set up an account for your company website.
Google controls the flow of information. You won't see terms from other search engines or terms that haven't been used in paid ads. That's a significant amount of data that's being overlooked.
Monthly search volume (MSV) averages are broad. It's impossible to tell how useful a keyword is if you only know its MSV is between 100–1K or 1K–10K.
You'll never know if the data for monthly searches could be based upon seasonal results or temporary spikes.
Competitor information is bypassed entirely. You may be able to make educated guesses based on the results, but you won't know which of your own competitors have used the search terms in the list.
Google doesn't help you understand search intent for your site when they show you results.
With so many keyword tools available on the market, both free and paid, why would you restrict yourself to a single platform? In the next section, we'll walk through the various different keyword tools available to you right now and explain how you can use them to level up your keyword strategy.

What Makes a Great Keyword Tool
There are five key components you can use to determine the value of any keyword tool. The best types of tools help you build a data set that's relevant to your SEO goals while also making it easy to analyze results:

Depth of results: Each keyword tool you use needs to pull data from as many sources as possible. Limiting your results to a single search engine, a single algorithm, or a single type of user will have a negative effect on your ability to gain valuable insights. Look for tools that cite a number of different data sources and provide a comprehensive overview of how they calculate their results.
Consistency of results: The monthly search volume, keyword difficulty, and overall popularity of every keyword change constantly. The tools you use need to update their information as often as possible to ensure that you're always following the correct trends. When you're creating an SEO or PPC strategy, you can't afford to focus on keywords that are no longer relevant to your target market.
History of results: Without search history, it's impossible to make good decisions with your data. You'll never be able to understand the context around why certain ranking factors exist if you can't see how they've changed over time. Make sure the keyword tools you use include a searchable history so that you'll be able to adjust for changes in volume due to seasonality or shifting trends.
Unbiased results: While Google accounts for 85.6% of all searches, it's not the only search engine that exists. You need to track trends across Bing, Yahoo, DuckDuckGo, and whatever other platforms you know your audience is using. This is even more important for international companies. Many keyword tools will provide you with the ability to filter your results based on platform or country.
Both SEO and PPC Ad results: Organic and paid traffic are very different things. If you focus too much on one of these channels, you're leaving lots of potential opportunities on the cutting-room floor.
You're setting yourself up to see more keyword opportunities when you use a keyword tool that has these traits. When you're getting started with keyword research, it's a good idea to have a wealth of data. You can always narrow down what is truly valuable, but you can't see data you don't have access to.

Cross-Platform Keyword Tools
Cross-platform keyword tools are the Swiss Army Knife of keyword tools. They usually have multiple tools aimed at getting you the best keywords regardless of where you are using them, be it social, search, ecommerce, or something else. If you want to invest in only one platform for all of your keyword needs, these are your best bets.
SpyFu
SpyFu blends historical data and competitive data to help you identify keyword opportunities across a number of different views. Using these views, you can filter your results to find keywords that are more likely to pay off for you in both SEO and paid advertising.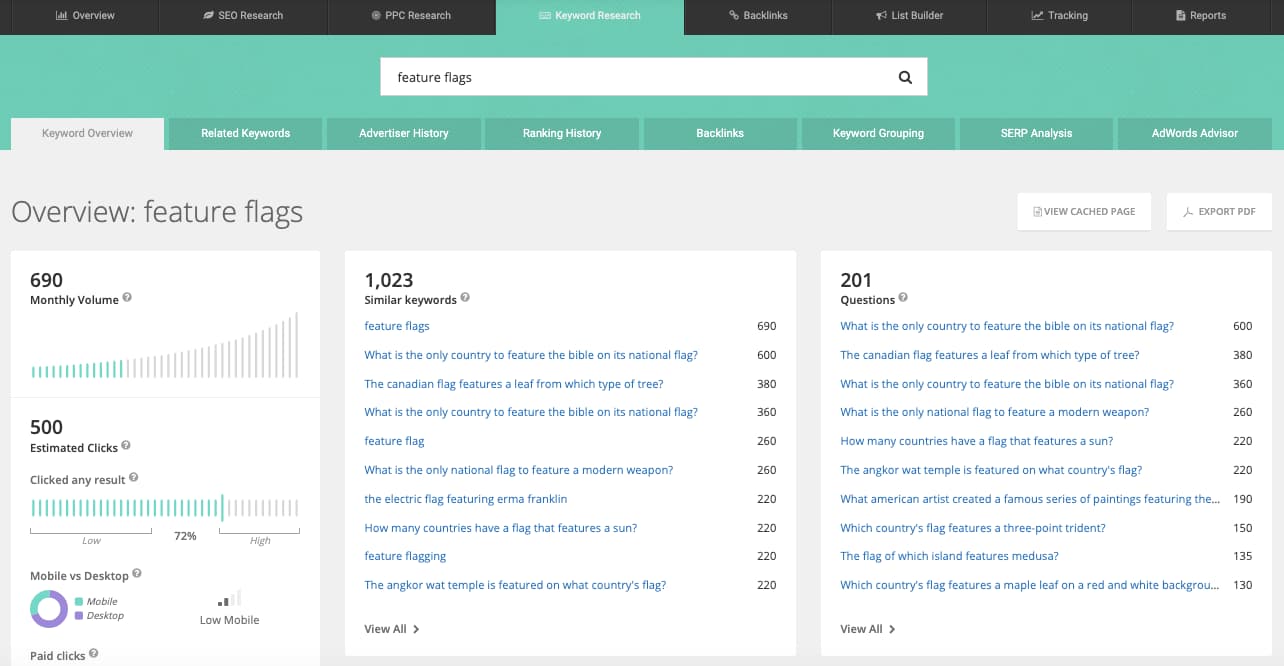 SpyFu excels at SEO and PPC research. With multiple views and a number of ways to filter data, it helps you find the best keywords for your digital marketing strategies.
SpyFu has its deepest history for US and UK markets. It is continuing to add more countries like Australia and Canada to its data set, and it will grow history for those countries over time.
Ahrefs
As a full-service SEO tool, Ahrefs has a lot of different features for you to dig into. They use their own search crawlers as well as third-party services to compile and update data on a daily basis. Check out their Content Explorer to find the most-shared content for a particular keyword. This angle takes the focus off of the SERP ranking and inspires content that gets its traffic heavily from social networks.

One of the main advantages of Ahrefs is that it has a huge amount of data. In fact, it sources data from 10 global search engines and can be filtered by 229 countries. It also does a great job of visualizing this data so you can sort out all of the noise to find what you really want.

Ahrefs is quite expensive, and if you aren't willing to shell out for their top-tier plans, you won't get access to all the data they're bringing in.
Keywords Everywhere
Keywords Everywhere lets you see related keywords and keyword data directly on the SERP. This browser plugin provides you with the estimated MSV, CPC, and competition for any search you perform across a number of different platforms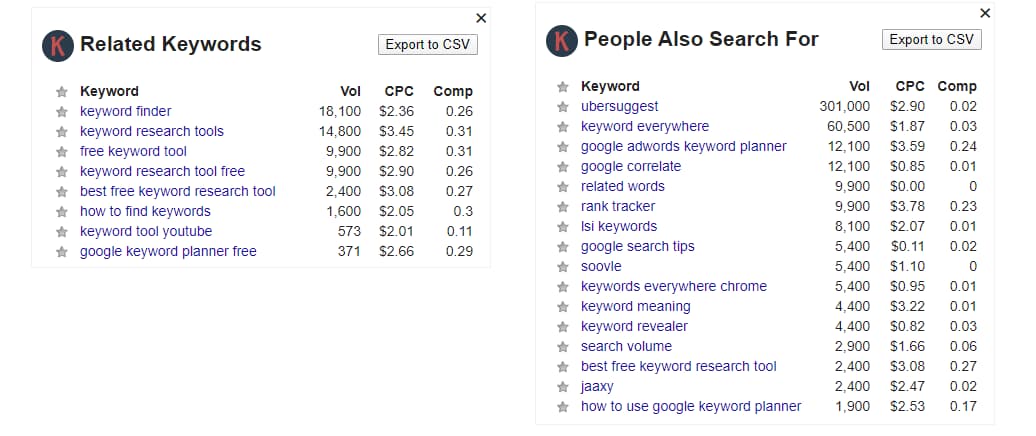 It has its keyword metrics directly in the SERP, which is a huge time saver. Seeing related keywords and topics on the SERP also helps you understand keyword intent better for that keyword in a convenient way.

However, some people might find the page shift caused by their plugin to be off-putting sometimes. Their credit-based pricing can also get expensive fast if you don't remember to turn the plugin off.
Keyword Tool
Keyword Tool is a freemium tool that helps you create keyword seed lists based on the auto-complete features of various search engines and platforms. Using this tool, you can create long-tail keyword lists to provide additional context around your target keywords.


Keyword Tool's freemium plan offers a lot of functionality to help you get started with keyword research. It incorporates Google Suggest to extract the keywords people actually search for.

The downside of this platform is that it is focused more on Google properties than anything else. Further, specific metrics related to MSV and CPC are limited on the freemium plan.
Majestic
With an emphasis on backlink research, Majestic's keyword tool helps you see what keywords help those domains rank higher in the SERP. Majestic helps you gain additional data on your competitor's backlink profiles, which you can use to understand how their content ranks in the SERP.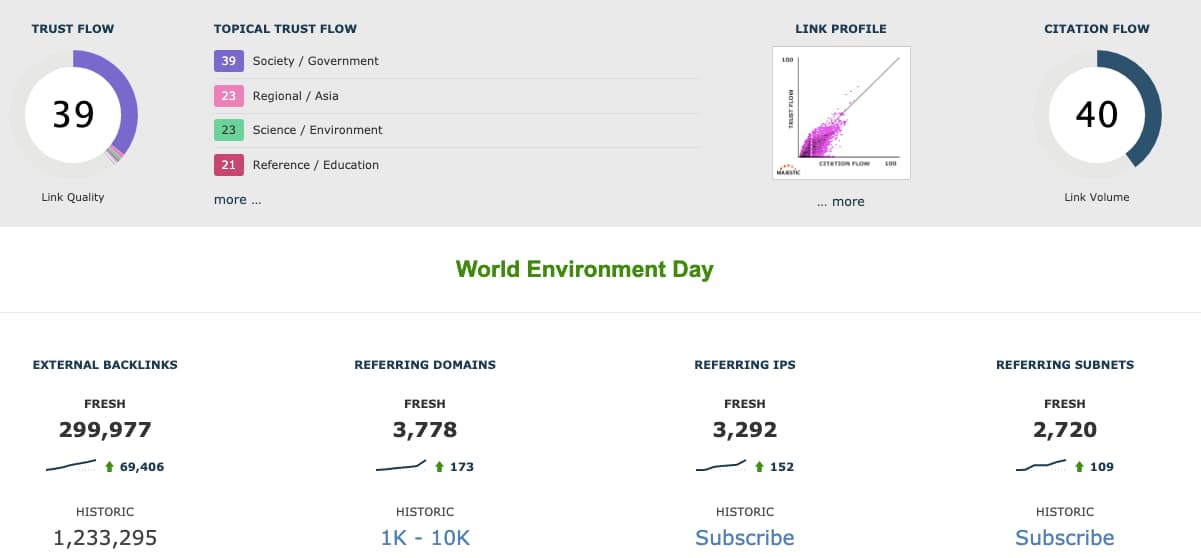 Majestic's robust backlink profiles help you see the value of a great link structure. It also provides granular data on international traffic to your target website.

One issue with Majestic is that it really only serves one purpose: backlinks. For this reason, it doesn't help you understand search intent for any keywords you surface with their tool.
Moz Keyword Explorer
Specific to SEO metrics, Moz assures high accuracy on its monthly search volume stat and includes domain and page authority on its SERP overview. With both free and paid tools available on its platform, Moz also has the potential to grow with SEO marketers as their needs evolve.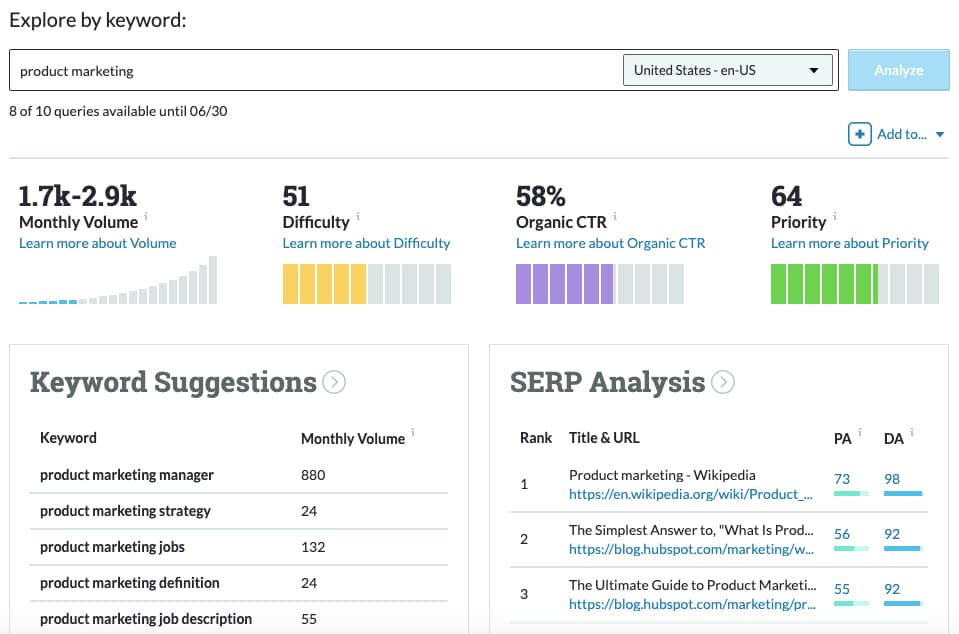 Moz's biggest advantage is that it has a number of metrics not available in other tools. It also boasts an incredibly clean interface which makes it easy to do research quickly.
Unfortunately, Moz's free plan is fairly sparse. Their free plan limits the number of queries you can make to 10 per month, so you'll need to pay to see real results.
Raven Tools
Raven Tools focuses on SEO keyword research and can alert you to issues that might harm your rankings. Its keyword tool is secondary to the main platform but is helpful if you already rely on Raven Tools' link data.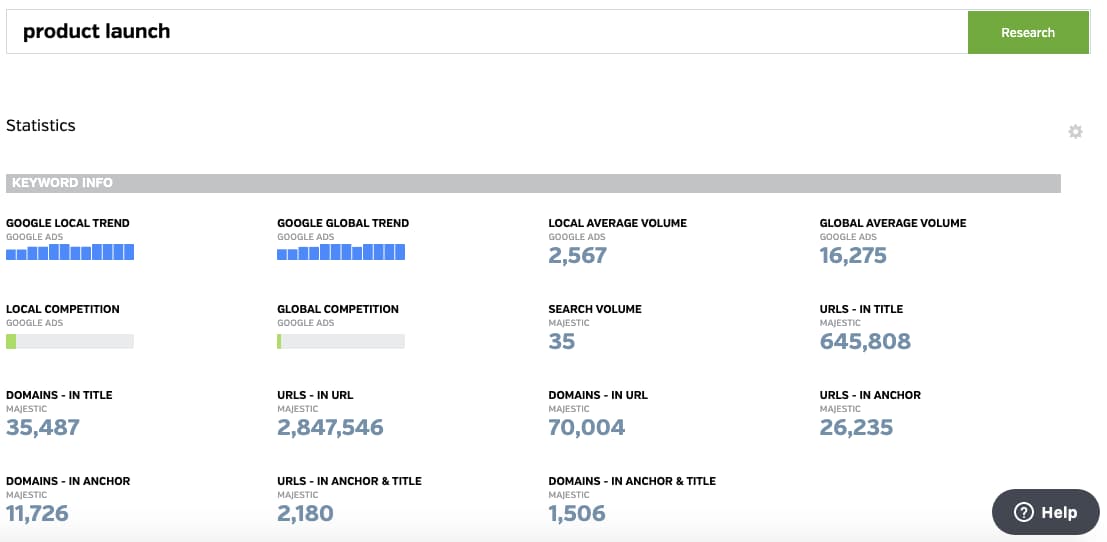 Raven Tools includes lots of data on how the keyword is used by other websites. It's also nice that it pulls in Google Trends data to help you track seasonality and changes in performance.

Like other items on this list, Raven is held back by the limits of its free trial. Unfortunately, it's limited to only a seven-day free trial, which is a high barrier to entry for new SEO professionals. Raven's UI is also more difficult than it should be, making it difficult to understand how to find what you need.
Semantic.io
Semantic.io is a keyword generator that helps you create lists of long-tail keyword variations for whatever short-tail keywords you enter into the tool. Consider this a great supplementary tool that can be used to make your research quicker when you decide to look up MSV or KD stats.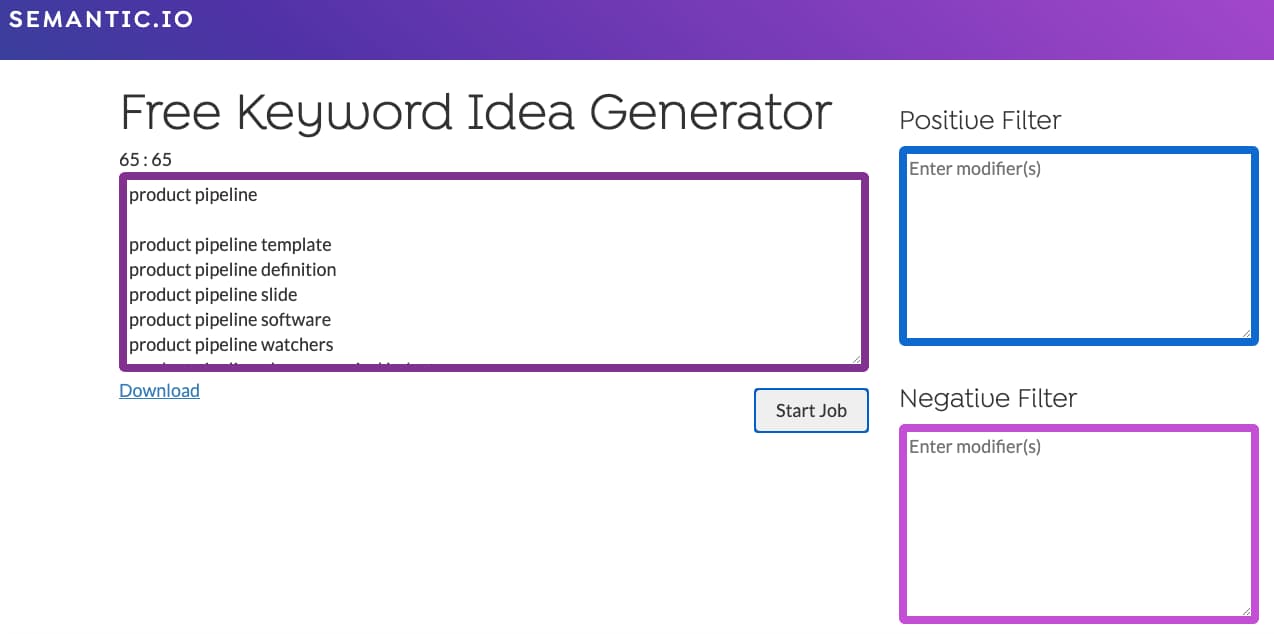 WordStream
WordStream's keyword research tool offers keyword suggestions which you can filter based on specific industries and locations, making them more relevant to your target market.


Amazon Keyword Tools
Picking the right keywords to get your products and business more exposure on the Amazon marketplace can help any ecommerce company flourish. These keyword tools specialize in researching Amazon-specific keywords so you can get your products in front of more consumers that are ready to buy.
Sistrix
Sistrix is an ecommerce-focused keyword tool that helps you track the keywords your competitors rank for and how those rankings change over time. Entering a competitor's URL into Sistrix will give you a wealth of information on how they structure their site and opportunities for you to outmaneuver them.

Sistrix is a great example of a keyword research tool that helps you with both SEO and ecommerce. It also helps you filter results based on geographic location so you can tailor your strategy to where your audience lives.

Each subset of its tool is a paid upgrade to your account. It also requires a phone number for signing up, which can be annoying to some users.
Sonar
Sonar is a free keyword research tool that allows you to optimize your listings based on a target keyword or a competitor's Amazon Standard Identification Number (ASIN). When you're looking at how competitive the market is for your ecommerce product, the suggestions Sonar makes can cut down on the amount of time it takes to complete your research.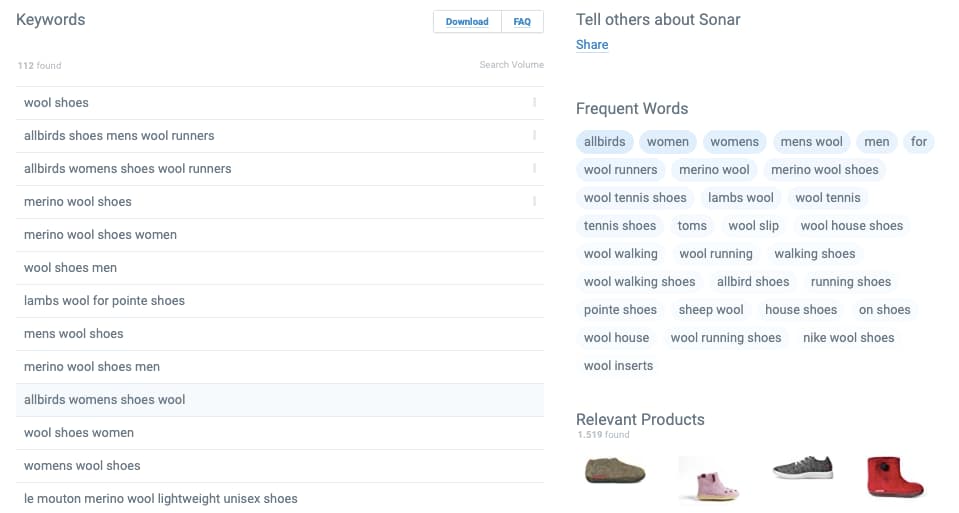 If the ability to search by both keyword and competitor ASIN sounds like a dream, this keyword tool is for you. It's also convenient that they include links to similar products as a result of your search.

A thing to note with Sonar is that it has limited search metrics, which don't provide a lot of context on MSV or CPC. As well, it requires a credit card to download the full results of your search.
SellerApp
SellerApp is an Amazon keyword tool that helps you increase the visibility of your listings based on the type of product your company sells. It helps you find keyword variations on Amazon with the highest search volume, lowest CPC, and most estimated orders per month.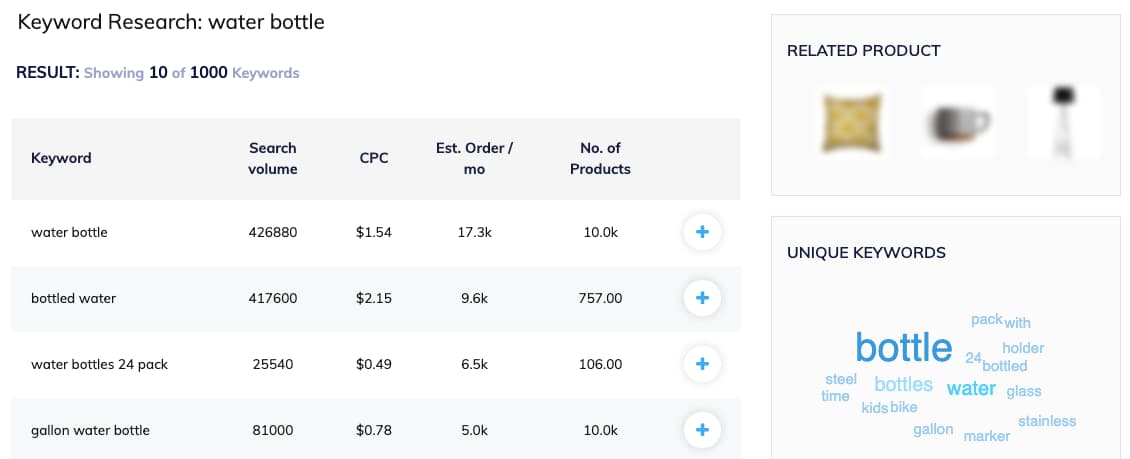 While its free trial is somewhat limited (only 10 searches), this is a great platform for understanding the landscape of certain Amazon products and sellers. Another consideration is the price, which starts at $49 a month for its pro lite package.
Google Keyword Tools
Google remains the dominant search engine in the world. Getting to the top of the SERP for relevant keywords will boost your brand exposure and bring in relevant leads for your business. These tools will help you find the best keywords to conquer Google.
AnswerThePublic
Visualizing the connections between certain keywords and keyword groups is difficult. AnswerThePublic helps you overcome these difficulties by creating trees based on your inputs. This tool is a great way to determine the search intent behind specific keywords, with the option to upgrade if you require more in-depth data.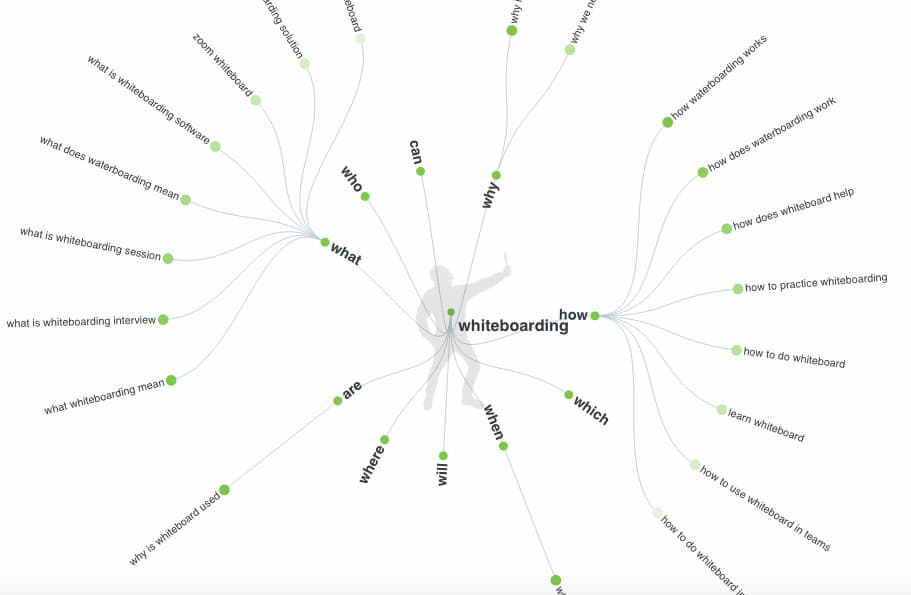 The way it displays data in a word web makes it easier to see the connections between various questions based on your keyword. It also includes the ability to filter by prepositions and comparisons like no other tool does.

However, it does not include search metrics in the results when you search for a target term. As well, you can't compare results on the free plan, making its usefulness more limited compared to other tools.
Ubersuggest
Marketing entrepreneur Neil Patel's tool pulls together a number of different data points in Ubersuggest to help you learn more about your competitors and their keyword targeting. If you're just getting started with keyword research, Ubersuggest is a great place to see how trends and seasonality affect your target keyword.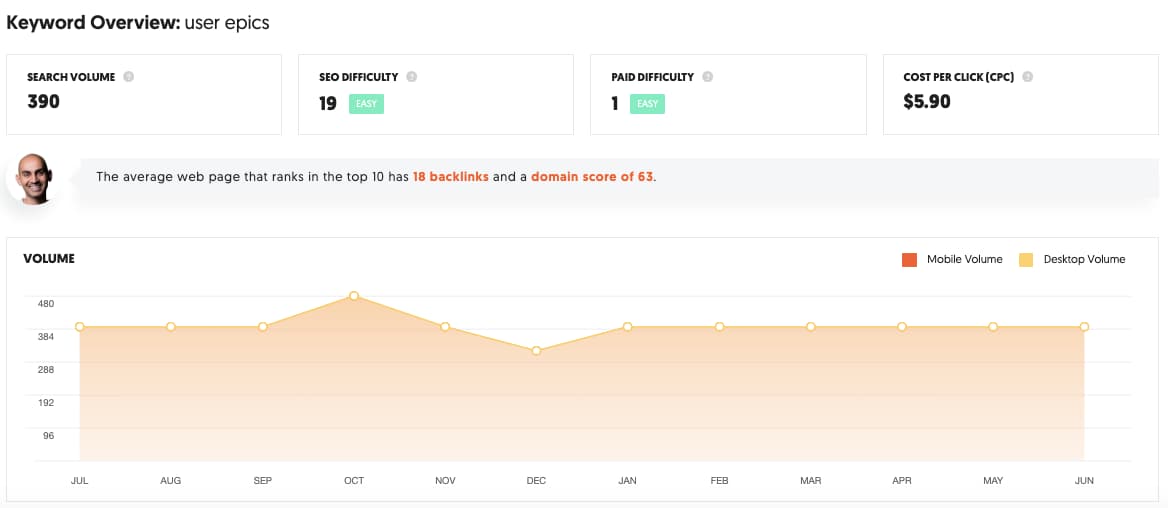 Ubersuggest's simple interface makes it easy to understand the data being presented. Also, its more affordable price tag makes it a great entry-level keyword tool.

If you need a more professional service, though, it can be less stellar. To access more in-depth data, you'll need a paid account. The platform also doesn't provide context for how their results are calculated, which is concerning.
Yoast Suggester
Yoast Suggester is bare bones, but if you just need quantity over everything else, this tool delivers. It builds on your root keyword to give you an export-ready list of long-tail versions of that term. The expanded sub-suggestions are a bit confusing at first, but they help you organize different types of keywords quickly in the early stages of your research.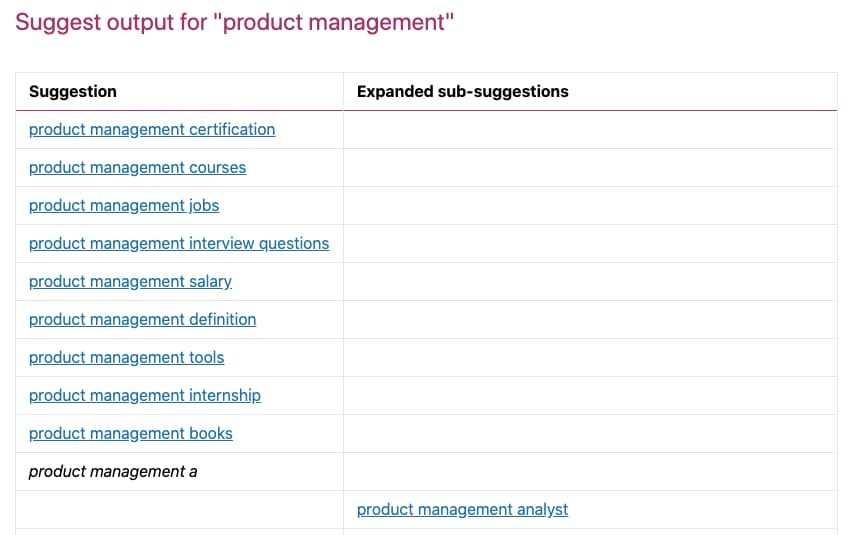 Yoast Suggester is great if you need keywords fast. It includes hyperlinked keywords so you can rerun your search on a new keyword quickly. As well, it automatically populates long-tail keywords, which makes the research a breeze.

Unfortunately, its speed comes at a cost. Yoast Suggester doesn't include important search metrics for any results. It also won't highlight related keywords that don't include the text you input into your search. These drawbacks hold it back from being a truly great tool.

YouTube Keyword Tools
YouTube is the second-most visited website in the world behind Google. Often, people treat YouTube like a search engine, using it to answer their questions in video format. These keyword tools specialize in seeing which keywords work best for your company to improve your video SEO strategies.
VidIQ
VidIQ's keyword tool helps you see which keywords are the most valuable on YouTube based on the type of content you've created. After searching, you'll be able to see which tags popular video producers use in your market and optimize your own tagging and video metadata accordingly.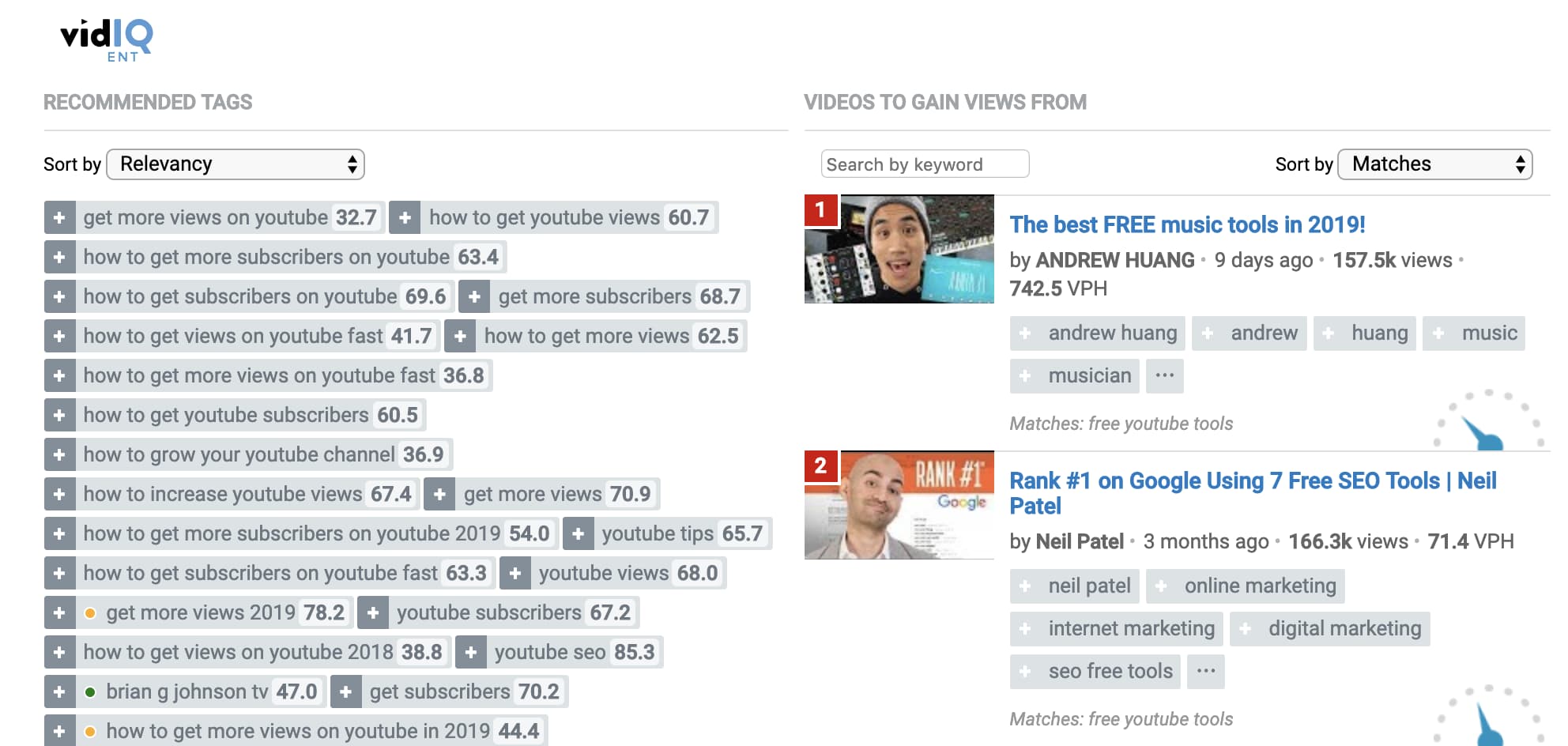 This tool lets you sort by a number of different metrics, including relevancy and views. It also provides a difficulty score and MSV so you can better prioritize your keyword strategy.

VidIQ's largest drawbacks are in its UI and price. The interface is clunky and feels outdated. As far as price, it can get terribly expensive once you reach higher tiers.
TubeBuddy
The TubeBuddy free browser extension highlights various keywords, as well as other important information that helps you increase organic traffic to your videos.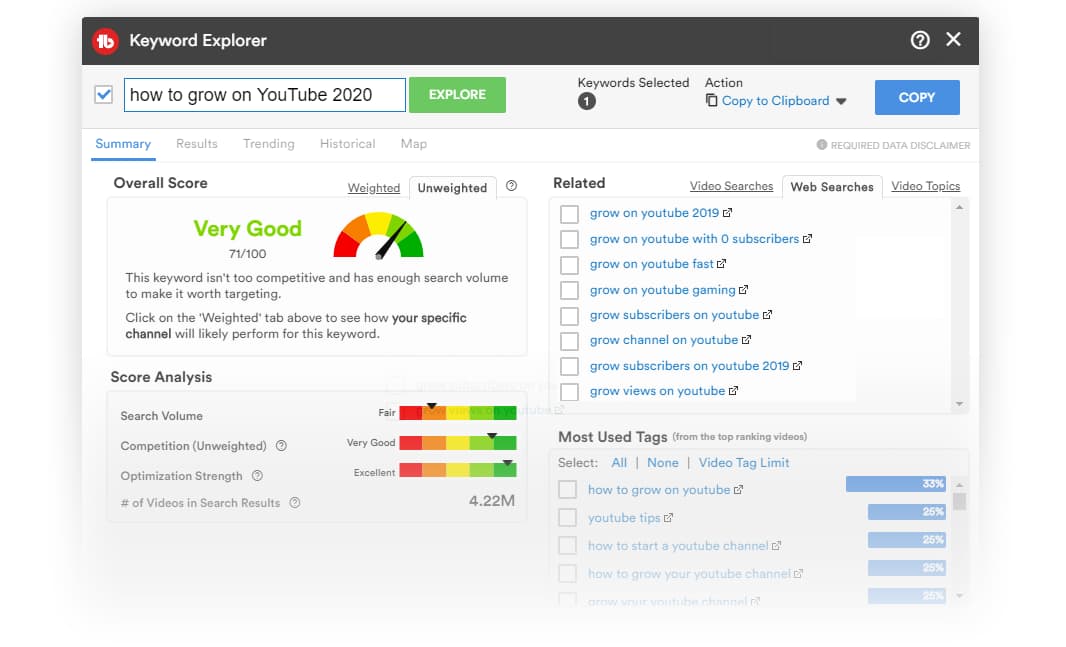 TubeBuddy is a great way to track different metrics directly in your browser without the need for a stand-alone app since it works through Google Chrome.

However, if you're looking for something free, most of TubeBuddy's best features are paid. And, unfortunately, these features aren't a la carte, so you might end up paying for features you don't need.
Bing Keyword Tools
Bing might not be the top search engine, but among certain demographics, it still brings in a good amount of traffic. These Bing keyword research tools made by Microsoft will help you find keywords that Bing's users are searching for.
Bing Keyword Research Tool
Like Google Keyword Planner, but for Bing. If you're optimizing your site for Bing, this is a great place to start. You'll gain a greater understanding of how keyword ranking works on this platform.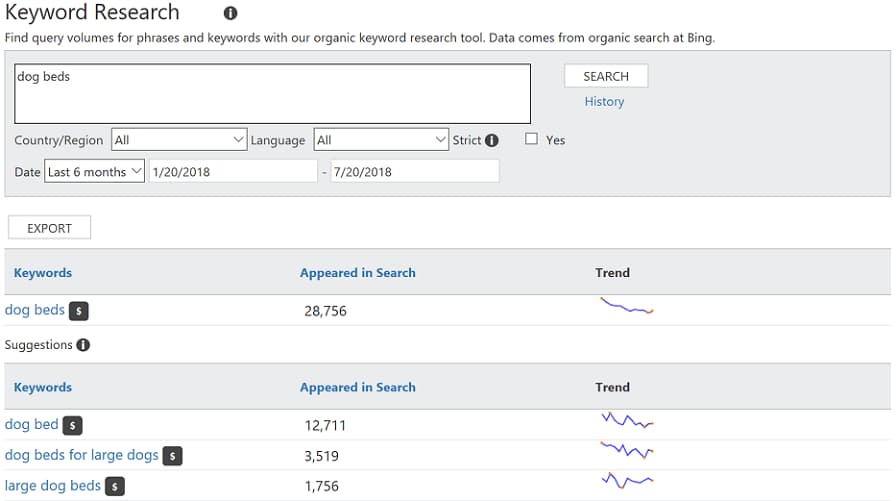 It provides in-depth data on keyword performance specific to Bing and highlights trends and changes based on the date range you can specify.

However, like Keyword Planner, it presents only neutral keyword data, which doesn't always show the whole picture. Learning more about specific search terms requires that you click through to each directly, which can be a pain.
Microsoft Advertising Intelligence
Microsoft Advertising Intelligence is targeted at advertisers and PPC campaigns. This keyword tool provides insight into how different competitors are running their advertising on Bing.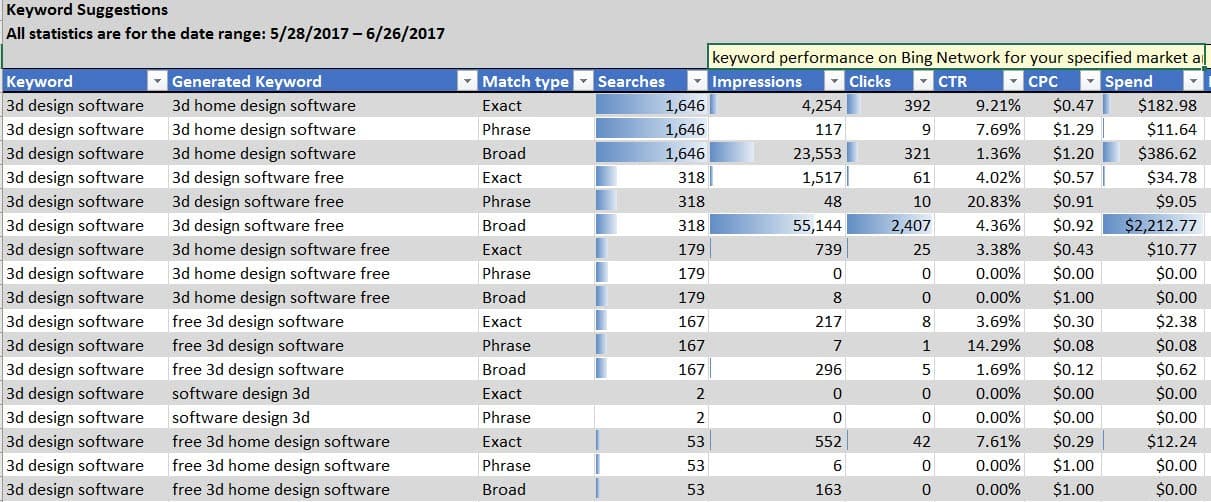 This tool is perfect if you live and work in the Microsoft ecosystem. It's free, integrates with Excel, and helps you create advertising budgets and plan bid amounts.

If Microsoft advertising isn't what you do or you don't have Microsoft Excel, then you'd be better off with something else.
Etsy Keyword Tools
Etsy is the website for selling hand-made goods, but if your business is on Etsy, you need to optimize your presence just like you would anywhere else on the web. These Etsy keyword tools will help you find the best keywords for boosting your traffic on the Etsy platform.
eRank
The eRank tool helps Etsy sellers optimize their content to rank better by analyzing the top 100 ranked listings for a given keyword. When you register for an account, you're given access to a number of different features, but the paid platform is where eRank really starts to shine.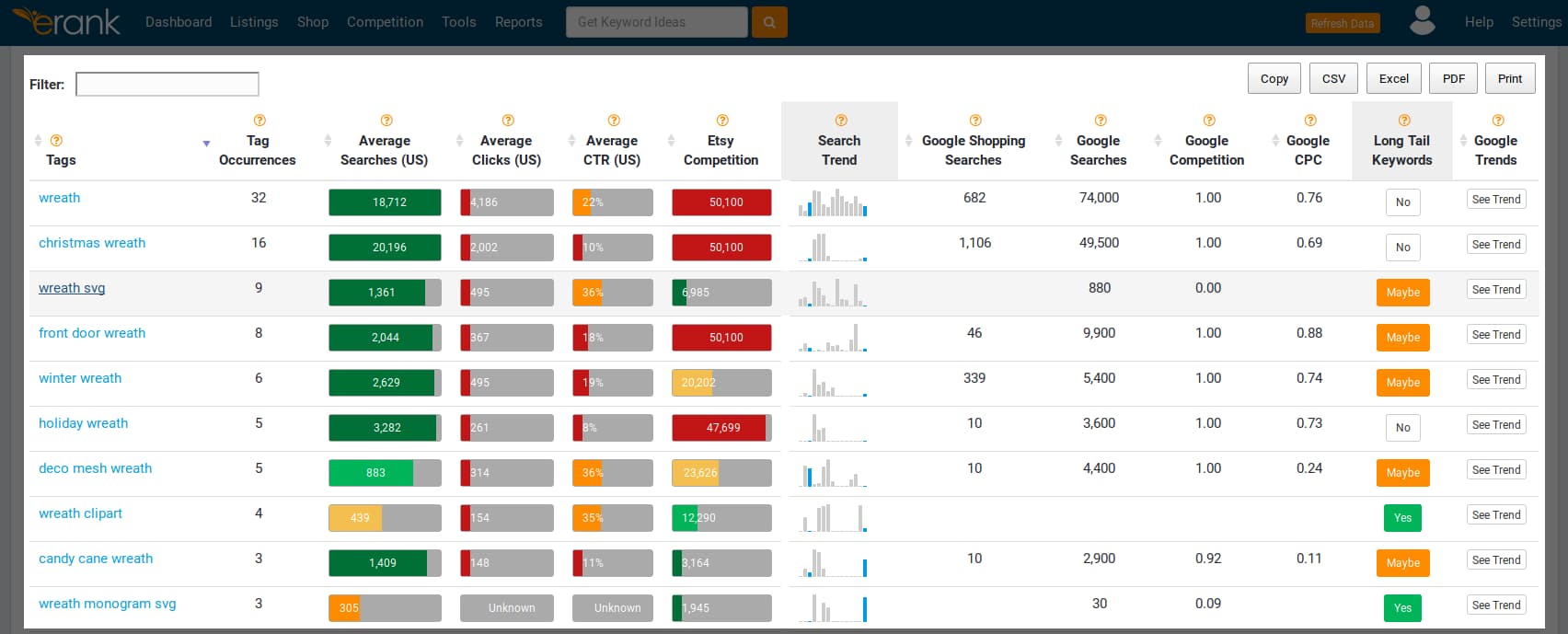 With its reasonable price, eRank is a great tool to use for people just starting out. Further, with a lot of granular information on search volume, clicks, and overall popularity, you can really optimize your Etsy presence.

The biggest downside is its filtering process. Since there is so much to look through, it can take time to filter it all out to find what you need.
Marmalead
Marmalead is one of the more robust options for Etsy. This tool helps sellers analyze their target markets and provides suggestions based on a machine-learning engine. If you're a serious Etsy seller, its platform offers many different features to support and provide context for your keyword research.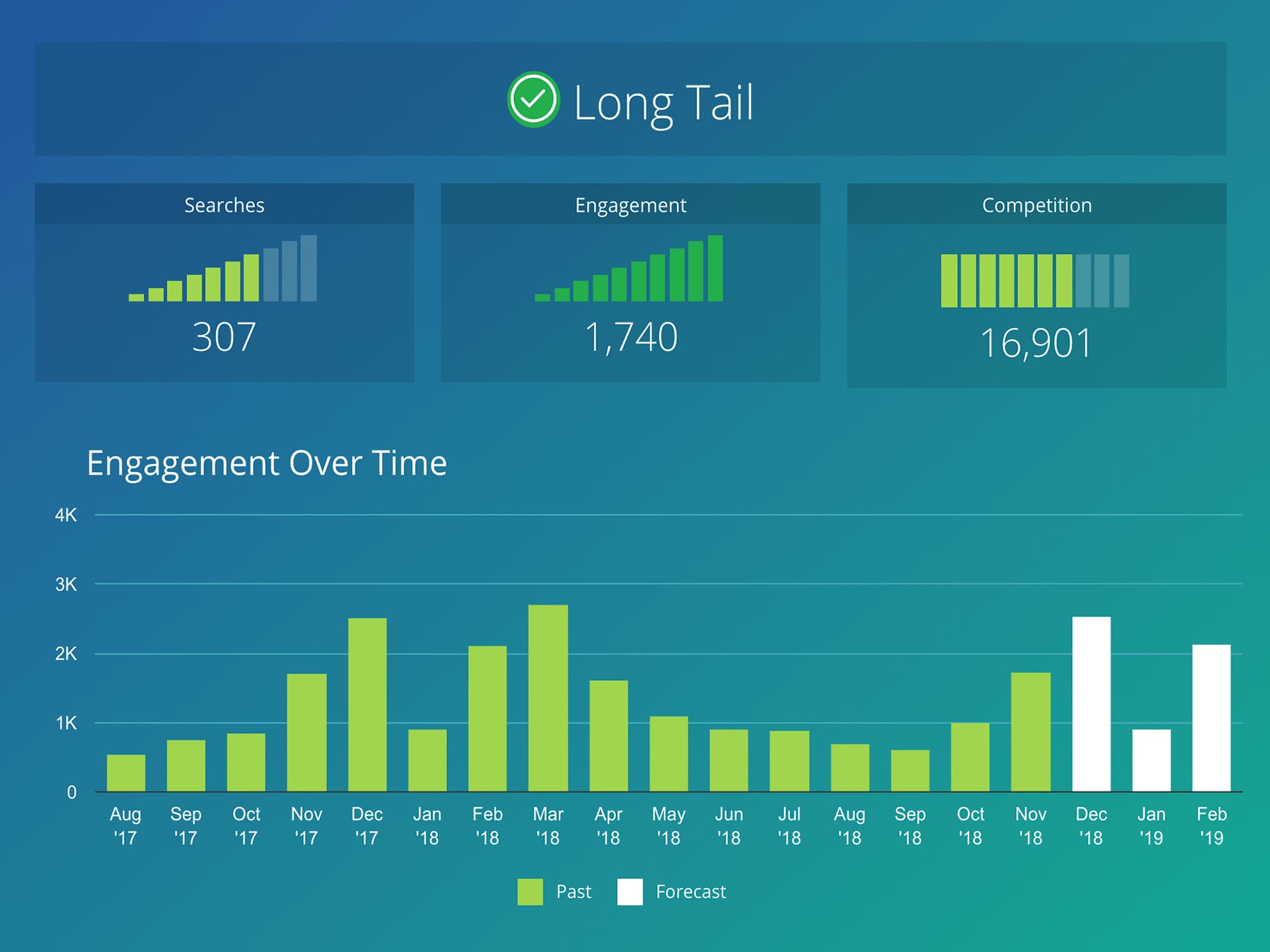 It gives you access to all the search metrics you could possibly need. Combine that with great data visualizations that make it easy to surface insights about your product, and you've got a winning combo.

The only downside is the price. If you aren't serious, this may be more tool than you need.
Pinterest Keyword Tools
Pinterest may not be the first place you think of when drawing up your digital marketing strategy, but it could be one of your most important traffic sources depending on your audience. 77.1% of Pinterest users are women, making it one of the best places to reach out to women online.
Pinterest Keyword Tool
The Pinterest Keyword Tool helps you find long-tail keywords, view keyword search history, and download them for faster analysis. If you're looking for a single-use tool for Pinterest marketing, this is a great option.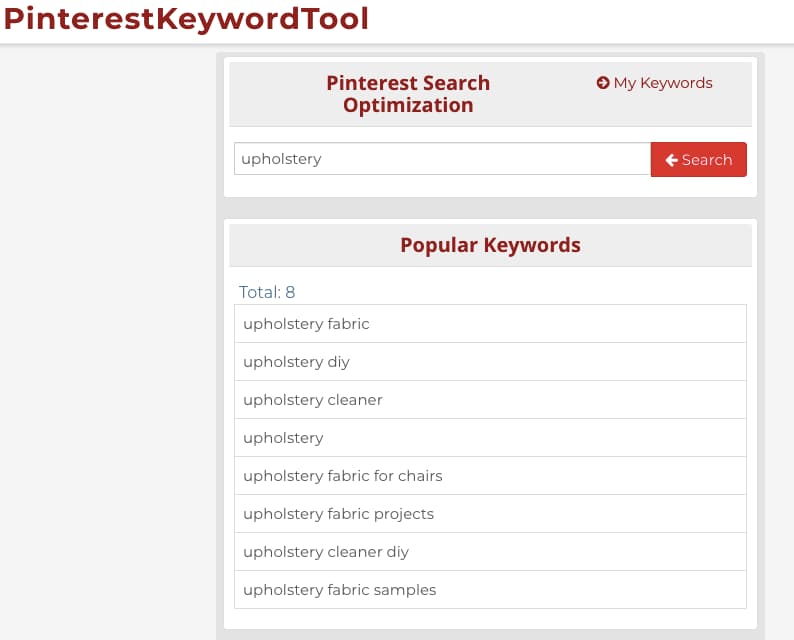 Its biggest advantage is its ease of use. Everything is obvious and clear, so anyone can use this tool. Simplicity is also this tool's biggest downside. There are no metrics to speak of, which makes it of little use to serious Pinterest marketers.
KeySearch
KeySearch is a more all-around Pinterest keyword tool that helps you get more in-depth data on Pinterest keywords. This includes trend data broken down by the month, CPC costs, keyword suggestions, and difficulty ratings. If Pinterest is your main bread and butter, this tool needs to be in your arsenal.

This tool gives you keyword data for free with no need to sign up. When you do pay, you get a good amount of metrics and data that can be used across multiple platforms, including YouTube and Etsy.

For users more used to search engine SEO platforms, this tool might feel a bit outdated, and much of the good stuff requires you to pay for it. But if you can move past these issues, this is a compelling choice for Pinterest.
Is There a Keyword Tool to Rule Them All?
While there's no single tool that can provide you with all the information you need, the keyword tools discussed today will provide you with enough information to make smart decisions for your business.

When you understand the functionality of each keyword tool that's available in the market, it helps you choose the right one for your exact situation. Sometimes that might be a single tool, or it might be a combination of a few tools, but no matter what, you're always setting yourself up for success.

It's also important to remember that a tool is only as good as the research you do with it. Read our guide to keyword research to learn how to find the best keywords for your business.