PPC strategies help brands to increase their exposure, generate more traffic, and promote their services and products. The most popular types of PPC advertising are Facebook Ads, Bing Ads, and Google Ads.
When compared to the traditional methods, well-crafted paid ad campaigns helps brands to gain more visibility in search engine results rapidly... Also, it enables you to control the web pages you want your target audience to see. You can decide based on demographic, behavioral, and geographic targeting options.
An effective plan invests in strong points along the funnel to help you increase conversion rates. Traffic generated through PPC converts 50% better than organic traffic. Also, brands can create $2 in revenue (on average) for every $1 invested. It also helps brands to increase their visibility and stand way ahead of the competition.
At this point, you don't need convincing. You're probably more interesting in how to map that plan. Follow along with these six actionable and powerful tips to create an effective PPC strategy.
1. Define Goals
It's very important to decide the goals and objectives of your ad campaign before you start with the rest of the steps. Having defined goals will help guide you through future decisions in your campaign.
These decisions might include choosing the ad types and platforms that are most suitable for your products, services, and audience. By defining goals, your efforts will be more organized and well thought-out since you'll be focused on the end result. That gives you clarity that can keep you from getting pulled down in the weeds.
For instance, if your goal is to raise brand awareness, then display and social media ads would a better fit. However, if you aim to boost your sales of a product line, then you would invest your money in product listing ads (PLA).
Also, if your main goal is to generate leads, then you need to put your money on Facebook Ads and target a highly relevant audience based on their interests or characteristics.
Defining and prioritizing goals will be like having a reliable map for your Google Ads strategy.
2. Optimize Your Keyword Strategy
The next step to bolster your shot at Google Ads success is to create a list of highly relevant keywords to target.
Before creating any PPC ad copy, you need to define which keywords would be associated with the ad. We'll repeat this as often as possible: the ad copy should be relevant to the keyword that the reader searched.
Keyword research is a continuous process, and yes it can be time-consuming. However, a more organized approach can simplify it for you.
You need to create a list of relevant and effective keywords for your ad campaign at the planning stage itself. Put yourself in the shoes of your target audience and create a list of keywords that they might use. Make sure that you collect lower-cost, yet highly relevant and high-performing, long-tail keywords for your PPC campaigns.
It's a bit of a unicorn combination, so let those be guides for you. Relevance is key. Relevance will drive performance. Long-tail keywords will be more relevant. Longer-tail keywords should be less expensive.
Don't forget to review the cost of under-performing keywords and remove them from your list. By doing this exercise, you will get highly relevant keywords that will help you earn a high-quality score and further optimize your PPC strategy. This, in turn, will help your ad to gain more visibility in Google Ads rankings.
Don't overstuff the keywords in your ad and keep your keyword list to a maximum of 15 per ad group. Make sure you write relevant copy and meta descriptions that carefully implement these keywords. This will help your ads perform better since the audience will find your copy helpful.
They will get an idea of whether the ad is relevant to them and click on it only when it's truly relevant. So you won't be wasting money on clicks that immediately bounce after they realize that the ad was promoting something that's not relevant to their needs.
You should also understand the breadth of keywords that your competitors advertise on. SpyFu's PPC Keywords Tool can help you analyze this by ad group. The Ad History tool lets you see the dominant message for each of these groups, too. All of that contributes to the defensive part of your strategy. When you understand exactly how your competitors are presenting themselves in their Google Ads campaigns, you can answer their efforts by matching the keywords or presenting stronger answers to customer pain points.
Further, this also gives you the necessary intel to create some stronger ad copy than what your competitors are running. If you are feeling cheeky--and you stay on top of their current message--you can even address their ads in yours.
See how these HubSpot competitors put some doubt about HubSpot's costs and bulkiness into the minds of potential customers.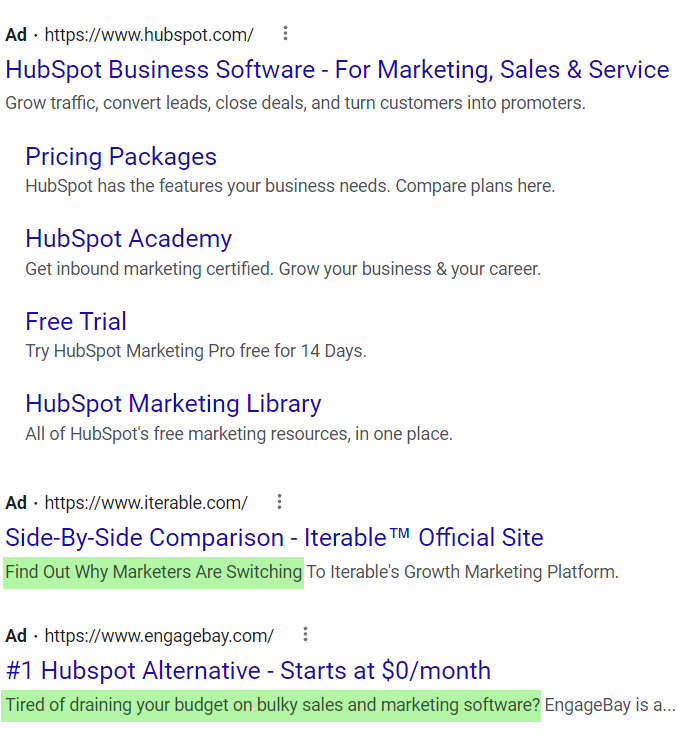 Your costs should be part of your campaign strategy, too. These days, beginners can lean on Google's automation to help with those choices. Instead of targeting a specific CPC bid for every keyword, you can ask Google to aim for a more rounded approach. It lets you set goals for ROAS or Cost per Acquisition (CPA), and its systems calculate the bids for you.
3. Strategize Your Ad Content
Now that you have defined your goals and have a list of relevant, low-cost, and high-performance keywords, it's time to create appealing content. When you create the copy for your ad, you need to think critically like your target audience to get the best results.
Identify their pain points and create copy that the target audience would find relatable. Think of creating ad copy that will make them think "this is exactly what I was looking for." Create ad copy that will address their pain points and resonate with them.
Google Ads allows you 70 characters per ad as a limit for ad text. And the character limit for headline and display URL is 25 and 25 respectively. So, it would be best if you created engaging ads within the 70-character limit while trying to capture the attention of your target audience. This can get quite challenging.
Image Source - Google
It's important to get straight to the point, use active voice, and ensure that your ad text contains the keyword at least once. Also, add strong action words like "buy now" or "sign up today" and a call-to-action at the end of the text. This will encourage your target audience to click on the ad and visit your website.
4. Design and Create Engaging Landing Pages
A good PPC strategy doesn't end with selecting a keyword or even its ad copy. Yes, getting the keyword and ad copy combination is a critical part of getting PPC right. However, it's equally important to get the landing page right. You have to carry that same message to the page where your audience lands once they click on your ad.
If the searched phrase (keyword) is the question, the ad teases the answer, and the landing page fulfills the promise. To you, the objective of the landing page should be to convert the customer who clicked your ad.
To generate more conversions, you need to create persuasive, compelling, and strong copy for your landing page. Also, make sure that you optimize the content for relevant keywords and create an effective campaign.
This will help Google to understand that it's associated with your ad and will help you gain a higher ranking on relevant search results. When you create content for your landing page, make sure you highlight solutions to your audience's pain points.
Follow the top best practices below to create engaging landing pages:
Don't forget to add clear conversion points like a contact number or form to your PPC landing page. This will help your potential buyers get in touch with you or vice versa. If you add the phone number as a conversion point, this should be a Google tracking number. This will allow you to log the phone number as a conversion in your campaign.
In addition to this, always include some visuals in your landing page content. Visuals help you get the attention of your target audience. As a result, it will motivate them to read the whole content and take the required action.
For instance, you can see a screenshot of a landing page from Teambit, an HR software. The landing page has visuals which are easy to understand. There's also a very simple signup process that allows customers to start a free trial of the software. (Image Source - Teambit)
Avoid adding any sort of distraction away from your key message that can confuse your target audience on the landing page. You should have a focused, consistent message that directs the reader to a conversion. Avoid multiple options that are separate from signing up (or buying) your product. You need to keep the landing page not only attractive but also organized and systematic to enhance the experience of your visitors.
5. Focus on Quality Score
Developing a strong Quality Score will be a critical part of your PPC strategy. This specific metric determines how other factors play out. Your QS will affect:
The actual cost you pay for a click (CPC)
Which ads can be run on a keyword
Where your ad is placed relative to other advertisers
It measures how relevant your ad and landing page are to what the user searched. Google needs enough data before assigning a score, and each keyword in the advertiser's account gets a score out of 10.
Google breaks down the Quality Score into three important factors -
Expected Click Through Rate (CTR)
The number of clicks Google is expecting for your keywords.
Ad Relevancy
The relevance of your ads to your landing pages/keywords.
Did you use keywords in your ad?
Do your keywords appear on your landing page?
Landing Page Experience
The relevance of your landing page to the keywords/ad group.
Keyword density.
Do you have a clear conversion point?
Is the content well-organized and unique?
In addition to these important factors, there are other factors such as your ad's geographical and historical performance.
So, ensure that you closely monitor the Quality Score as it will help you figure out issues early on and address them. If you have a high-Quality Score, then you have a lower Cost per Click (CPC), lower overall bid estimates, and better ad position.
6. Review and Repeat
After you implement all the strategies as mentioned above, it's important to review your Google Ads data. Google Ads campaigns create (and thrive on) a feedback cycle. You should put your best attempt forward with competitive keywords and well-written ads. As you get back results about how those ads convert and which keywords triggered your ad, you can adjust your campaign details accordingly. You can review your real-time data to understand how it's performing.
Cost per click and keywords will change and Quality Score will shift over time. So, you need to be ready to react and take necessary action based on these shifts. Also, keep an eye on the conversion rates as well.
If you're attracting the wrong audience, you might be able to get many clicks but little to no conversions. In some cases, lower conversion rates may also be because your landing page is not engaging or appealing enough.
To simplify the process, you can set reminders to monitor and review your PPC campaign performance data. You can review the data every week or every 15 days. This will help you make the required changes and stay ahead in the competition.
If the landing page is not generating enough results, then try to modify the content with a different relevant keyword. Even these small changes can make a big difference and improve the results of your PPC strategy.
Final Thoughts
These are the six important steps to create an effective and successful PPC strategy. Even before you start creating your ad copy, it is important to identify your PPC goals. Once you have defined your goals, it will help you choose the right platform and ad type.
Then you need to do thorough keyword research and monitor your competitors as well. This will help you optimize and strategize your ad content. In addition, you need to create an engaging landing page relevant to your ad. Review the data generated every week or every 15 days. This will help you take the necessary action and stay ahead of your competitors.
Over time, all of your efforts will start to compound upon themselves so that you're always improving and enjoying your gains.