Even if you're not familiar with Intercom as a company, you've probably encountered their product on more than one occasion. As an industry leader in live chat and customer messaging, they've built a well-established place in their market through smart content marketing. In today's teardown, we're going to find out how.
The core of Intercom's content strategy is storytelling. They're masters at creating a narrative around people and experiences that provide actionable insights for their customer personas. In doing so, they're creating evergreen content that appeals to an actively engaged audience, making Intercom one of the top content companies in their industry.
By telling stories that people want to hear, Intercom has grown their backlink profile in such a way that they're always staying top of mind in their customers' conversations. Combine that with smart keyword targeting and PPC advertising that support the brand, and Intercom is building a content machine that grows not only their business but also their brand.Using SpyFu's competitor analysis tools, we're going to dig into the data to find out how.
Let's dive in!
Organic Performance That Elevates the Intercom Brand
Customer messaging isn't a sexy industry, so doubling down on content marketing might not seem like the best strategy at first. But if you think about it, messaging is really all about telling a story, which is what Intercom is really good at. And their organic search strategy revolves around these stories as a way to elevate their brand to the trust and respected leader in all things customer support.
The way they do this is by tapping into high-value keywords with click value, building a backlink profile that lends social proof and link equity to their blog, and leveraging the power of strategic page-one rankings.
Tie this all together and you can see how Intercom has built an organic search strategy that not only elevates their rankings in the SERP but also positions their brand as the go-to expert in the industry. Those two things are the key to Intercom's impressive growth and the backbone of their customer messaging brand.
Organic Keywords: 10,428 Keywords For $1.79M in SEO click Value
While Intercom doesn't rank for as many keywords as LiveChat, one of their top competitors, the keywords they do rank for generate an estimated $1.79 million in SEO click value. That's a substantial return on their 10,428 ranking keywords and helps Intercom maximize the impact of their keyword strategy by focusing the type of content they create.

Keeping their targeting narrow ensures that every piece of content Intercom creates is both on-brand and valuable for their readers. As a company that's known for high-quality content, that's really important. If they chose to go after a wider base of keywords, their writing wouldn't be as focused. And they wouldn't be able to experiment as much with more long-form content.
Outside of the blog, Intercom has one of the most robust content programs we've seen—publishing books, guides, webinars, and more to educate and connect with their target audience. Becoming a trusted resource for all things customer management isn't an easy task, especially when the responsibilities of support teams become increasingly diversified.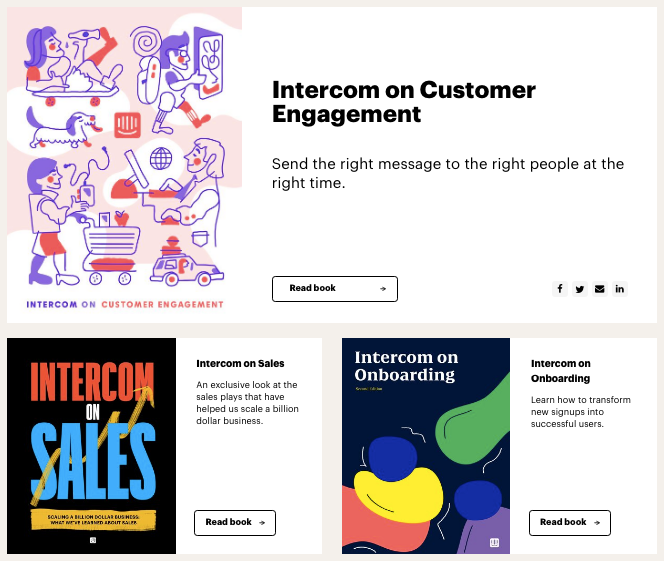 Publishing these books also helps Intercom solidify their position in the SERP by allowing them to create dedicated landing pages for each different resource. Take this landing page for their Intercom on Customer Engagement book: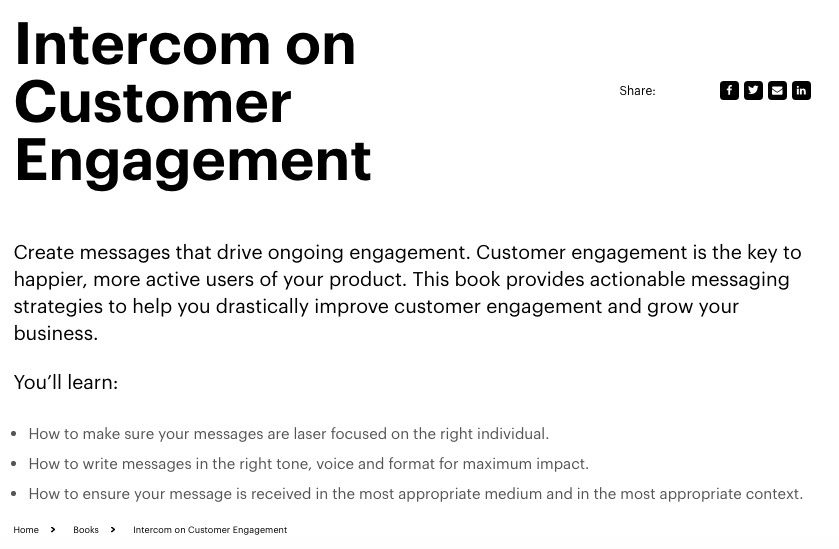 By optimizing the on-page structure, Intercom is able to hypertarget a specific set of customer-engagement keywords, including the following:
customer engagement
Drive ongoing engagement
More active users
Messaging strategies
Improve customer engagement
Ranking for any of these keywords will have a compounding SEO value on Intercom's site while also communicating the value of their content to potential readers. When you combine this smart targeting with the high-quality storytelling Intercom provides, it's no surprise their backlink profile is a stunning example of link equity.
Backlink Profile: Most Inbound links Come from Other Blogs
Approximately 90% of backlinks to Intercom's content comes from other blogs. That's an impressive achievement for any content-focused brand, and it speaks to how relevant and engaging Intercom's writing is for their core audience. That's why it's no surprise that their website brings in an estimated 1.82 million SEO clicks every month.

When you take a look at the estimated monthly page clicks, you'll see how this value compounds with every backlink. Whether it's 12, or 55, or 1,400 clicks per month, that's an additional visitor that's directed back to Intercom's content by another trusted source.
And that's the important part: A backlink from a blog someone trusts will always carry more weight than a click-through from the SERP. There's an established relationship between the reader and the publication that lends credibility to Intercom as a blog and, by extension, a product.
By telling stories that resonate with their audience, Intercom is also building more awareness and trust in their brand. As a company that focuses so much on crafting engaging narratives for their readers, getting these backlinks is a signal for readers that what Intercom puts out there is actually worthwhile.
Many of the blog posts you see in Intercom's backlink profile are recommendation-based as well, meaning someone out there is actively telling people how great Intercom's product is. When you look at that alongside the relative Domain Strength of their top backlinks, it's easy to see how Intercom's content program is effective at building a strong and engaging brand.
Page-One Rankings: 1,301 Rankings on a blog with 99% organic inbound traffic
When we take a look at Intercom's blog domain independent of their website, 99% of total inbound traffic comes from organic sources. That's an incredible thing to see because it means their content is driving almost all of the inbound clicks from the SERP results.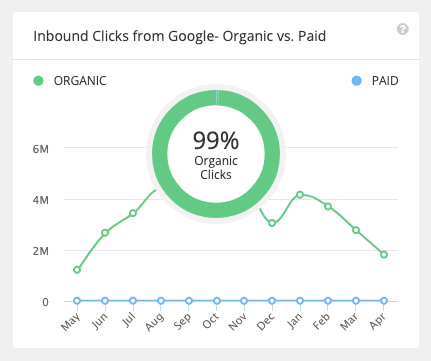 Combine that with 1,301 first-page keyword rankings and you really start to see the strength of Intercom's content strategy at attracting inbound traffic. Some of these rankings are for Intercom's branded keywords, which is to be expected, but others speak directly to their product value.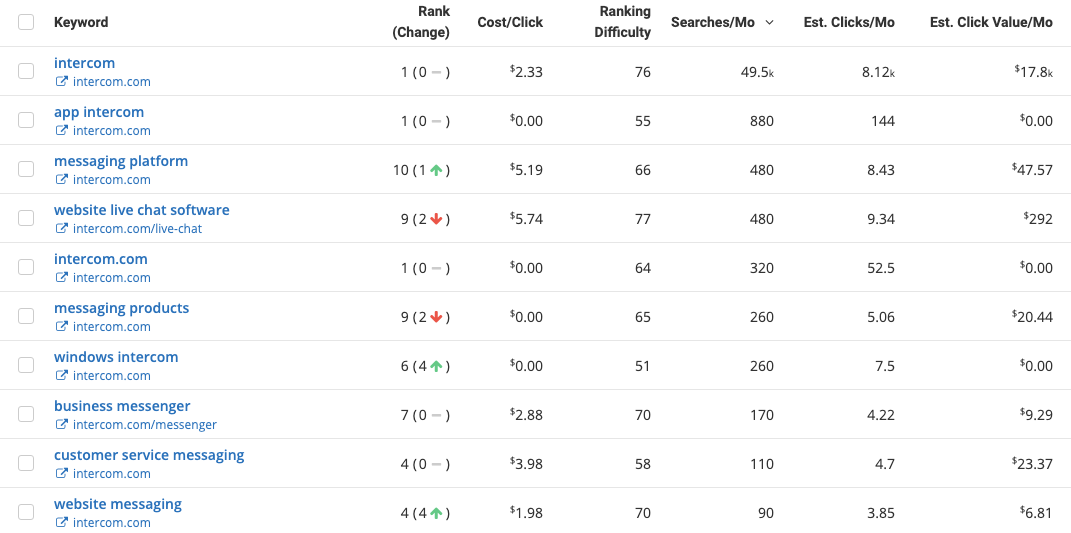 Ranking on the first page for keywords like messaging platform, website live chat software, and customer service messaging means that their brand is always present in the SERP for people seeking out Intercom's tools. These rankings also support Intercom's position as a leader in content marketing by spreading their message to a larger network of potential customers.
When you're in an industry with such competitive keywords (everything in the screenshot has a difficulty above 50), ranking with organic content is only part of the equation. You need to support those rankings with paid advertising that puts your brand in front of more searchers, and that's what we'll dig into next.
Paid Performance to Support Their Content Goals
Intercom built their paid strategy with the goal of supporting their organic content's performance. By focusing on high-quality ranking content that tells a story about their brand, all Intercom has to do is promote these stories in the right place. Doing so puts their brand in front of potentially interested customers and helps evangelize the product to a wider, more engaged market.
That said, Intercom's ad spend is relatively modest in relation to most of their competitors, especially when you consider their foray into the marketing-automation space. Entering a new market with such established incumbents can be daunting, so it's important to consider how your paid strategy will affect the perception of your brand.
Which is why Intercom focuses on doubling down on the value they provide through their content and targets long-tail and branded keywords. This helps the company be more specific with the kind of ads they create and helps them focus on elevating and solidifying their position in a larger market.
Ad spend: An estimated $42.5K per month
Owning the organic traffic for their industry helps Intercom keep their paid acquisition strategy modest in relation to many of their competitors. GetResponse, one of their competitors in the email marketing space, is already paying over $54K monthly. Intercom's modest budget also helps them maximize this spend where it really matters: supporting their brand's position and doubling down on awareness.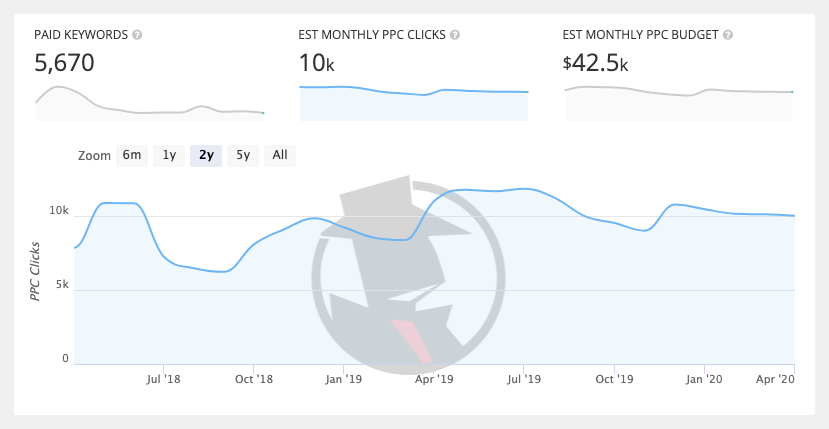 That $42,500 monthly budget is allocated across 5,670 paid keywords, which narrows down Intercom's targeting strategy even further. They're only going after approximately half of the organic keywords their content ranks for. So, in many ways, keeping tight control of their spend is also a forcing function for creating more sharable, organic content.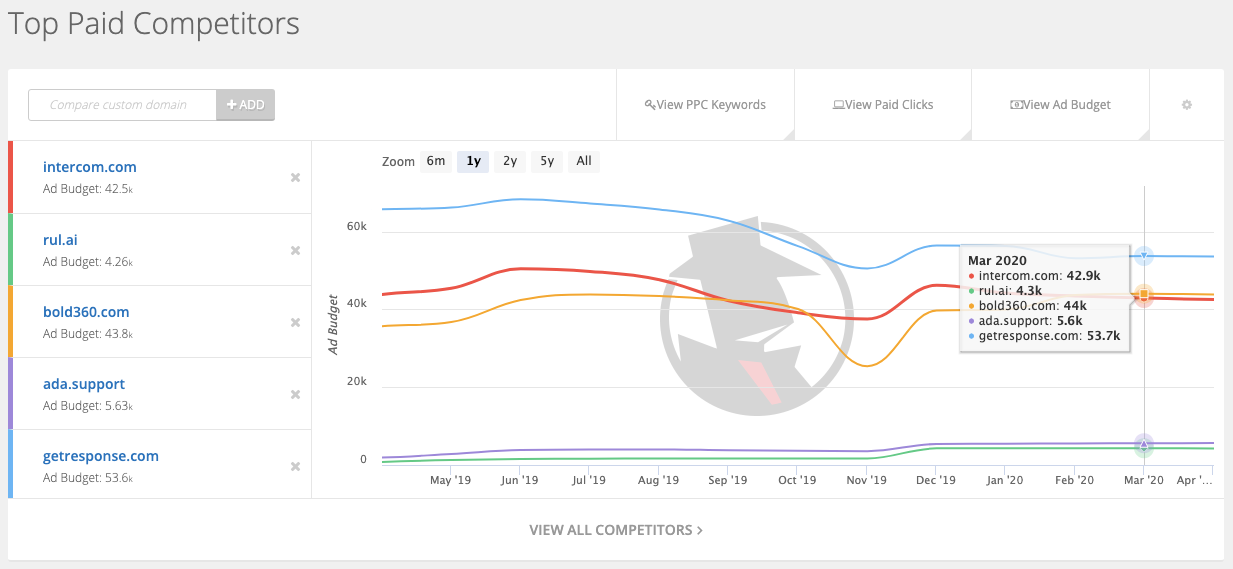 What's interesting about this graph is that we're seeing competitors in a slightly different market category from Intercom, specifically GetResponse, an email marketing company. It makes sense that their budget would be much higher due to the fact that they have to compete with companies like Mailchimp and ConstantContact, who are much larger.
As Intercom moves more into the marketing automation space, they'll have to consider those budgets and adjust theirs accordingly to remain competitive.
Long-tail Keywords: Focusing ad coverage on more targeted keywords
One of the ways Intercom expands their presence in a new market is by targeting long-tail keywords that are relevant to a wider audience. In doing so, Intercom will often end up spending more money on individual keywords, but the results are worth it. These long-tail keywords help Intercom create ads that speak directly to the value of their content and their product.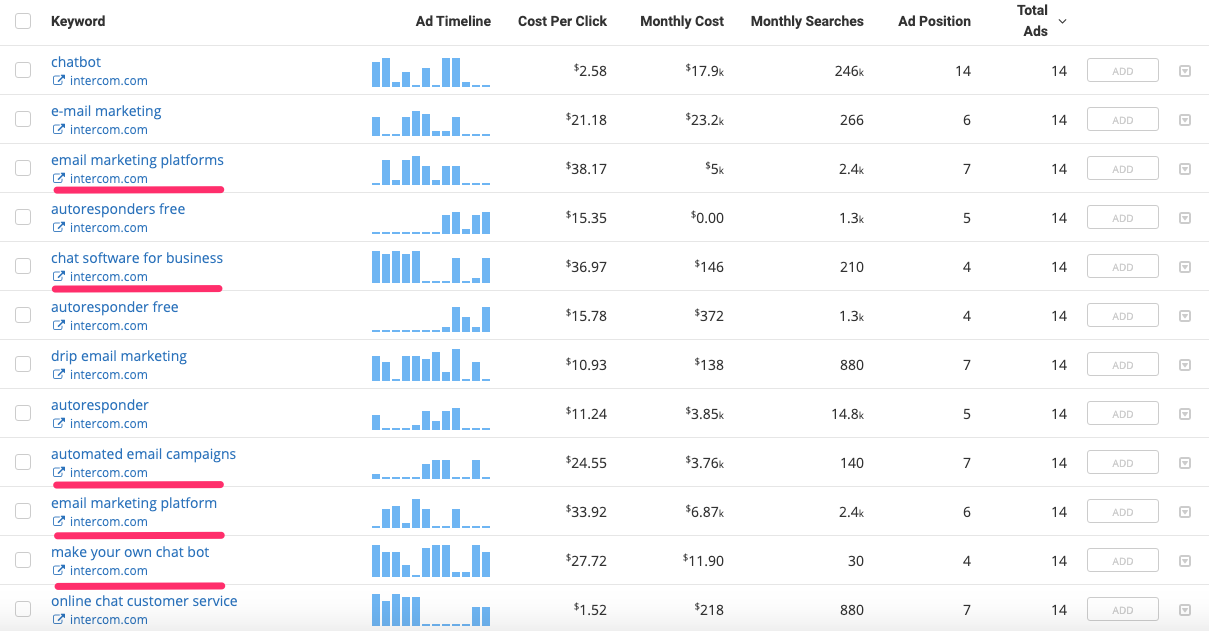 Targeting long-tail keywords also helps Intercom get more granular with the type of ads they create, helps them appeal to additional buyer personas. Keywords like email marketing platforms, chat software for business, automated email campaigns, and make your own chatbot can really help potential customers understand the type of product Intercom provides.
When you're making the move into a new market, like Intercom is with their email automation feature, it's important to make sure your brand is present and accounted for in the SERP. Take these paid results for the automated email campaign keyword.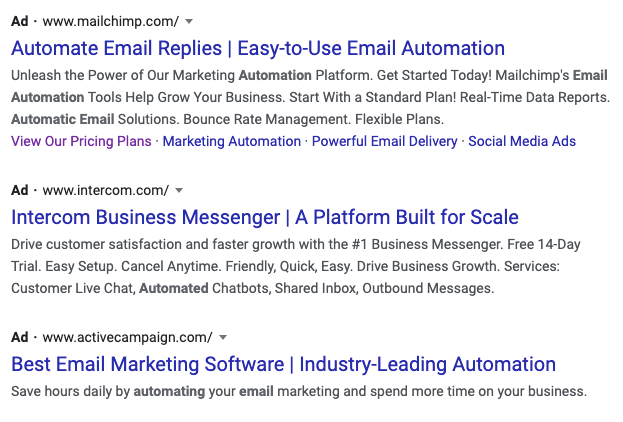 Intercom has their brand in the ring with Mailchimp and ActiveCampaign, two well-known and established providers in the market. This signals to potential searchers that Intercom is worth their time, even if it's just to check out what features their product provides.
Targeting more long-tail keywords doesn't mean that Intercom isn't also going after shorter keyword variants as well. It's just that they can be more specific with the kind of ads they create and speak directly to various different aspects of the value of their service.
Branded keywords: ad targeting that boosts their brand
Intercom spends approximately $16K of their $42.5K monthly ad spend on branded keywords—keywords that include the word intercom. Doing so ensures that their content always appears for potential customers searching for their brand and strengthens Intercom's position in the SERP.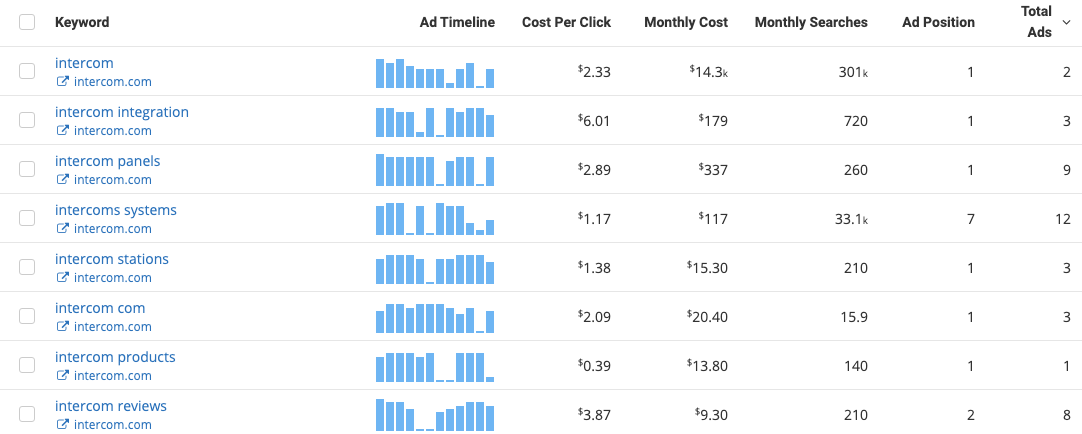 While this may seem like an interesting tactic for such a well-known brand, allocating some of their ad spend to branded keywords helps Intercom target individual search queries with specific ad copy. As a well-known brand in the customer-communication industry, many of their competitors also bid on Intercom's brand name. So it's a good idea for them to allocate spend to ensure their ads appear as well.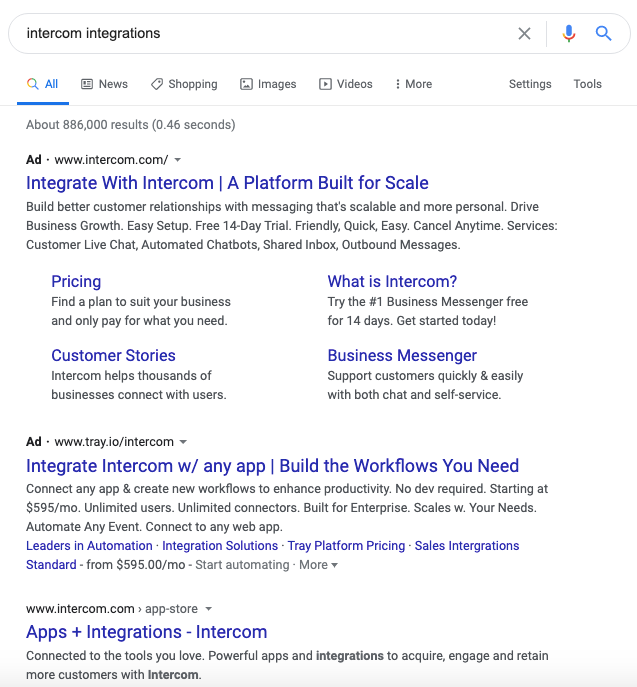 Going after branded keywords also helps Intercom own more space in the SERP with different types of content. Instead of relying only on their content marketing articles, books, and guides, Intercom is able to promote their brand via targeted ads based on their brand power alone.
All that helps Intercom reinforce their brand and the value it provides to potential customers with more specific questions on their mind.
Intercom's Content Strategy Helps Tell a Story About Their Brand
When you tell a compelling story, whether it's about your brand, your product, or another area of your customers' interests, it helps you build a stronger relationship with your audience. And that's exactly what Intercom did with their content strategy. By focusing on organic search growth, they've built a brand that's widely known in their market as both a valuable tool and expert resource.
But building their brand is just part of the equation. Elevating their position in the SERP through organic content helped Intercom gain their foothold in the market; paid advertising ensured their message would reach a wider audience.
Combing these two tactics together has been one of the most successful growth levers for Intercom, which has turned a simple customer messaging platform into one of the most authoritative voices in their market. They're a great case study in the power of using targeted organic content and paid support to weave an engaging narrative about their brand.