We're enamored by this story of Allbirds—the direct-to-consumer (DTC) shoe brand that has taken the market by storm with their wool-based, sustainably sourced footwear. In an industry that's dominated by well-known and mature brands, like Nike, Adidas, and Reebok, finding their place was no easy feat.
Along the way, Allbirds also had to compete with established ecommerce platforms like Zappos and Amazon, two powerhouses in DTC shoe sales. Although the brand faced seemingly insurmountable odds, Allbirds grew from a Silicon Valley darling to a $1.4 billion valuation in 2018. That's incredible for a four-year-old startup—which is why we wanted to understand how they did it.Here, we'll take a look at how Allbirds built their DTC shoe brand, focusing on both organic and paid channels.
We analyzed data from SpyFu to identify patterns in their organic search performance and advertising strategies that led to such insane growth in their market.
Let's dive into the data!
Organic Performance That Drives Brand Awareness
Allbirds' organic search strategy is all about building brand. In a market that's saturated with well-known and respected incumbents, they needed a way to differentiate themselves from the competition. The key to this strategy is evident in their messaging.
By doubling down on their value as a comfortable and sustainably-minded alternative to more mass-produced options, Allbirds was able to keep their keyword targeting narrow. That helped them capitalize on the benefits of owning a given set of keywords entirely.
Leveraging their affiliate network was the next step. It helped them signal-boost their message of comfort and sustainability while increasing brand awareness and boosting their backlink profile. Combine those strategies together, and Allbirds was building out an organic search campaign that elevated their brand.
One way Allbirds did this was by optimizing the structure of their site.
Site Structure: Targeting High-value Keywords with Specific Content
Outside of their base domain, most of the top-ranking pages for Allbirds' website are targeted product or collection pages for a specific type of customer. By structuring their domains in this way, they not only improve the ranking ability of each individual page but the entire site as a whole.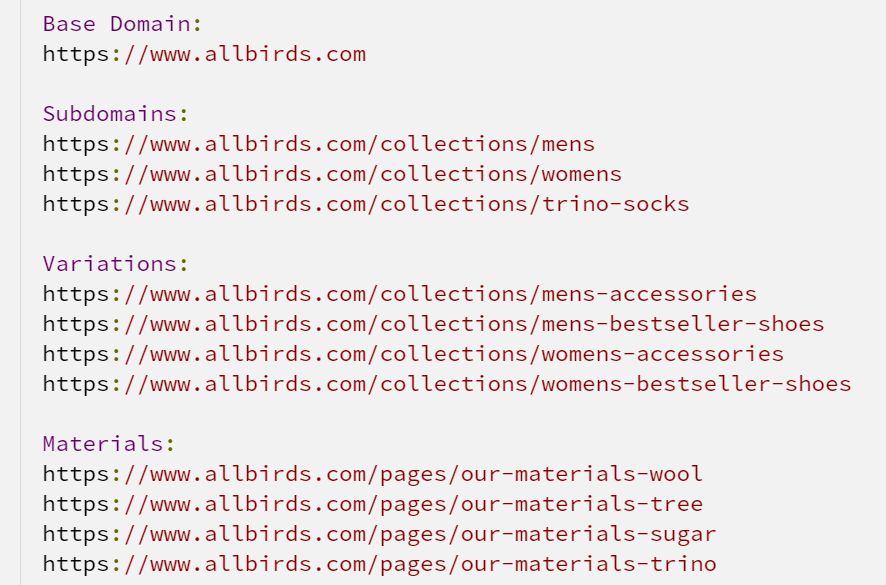 Grouping similar products together like this are standard for ecommerce websites, where search intent is highly transactional in nature. And the benefits can be seen in the Top Pages report.
Allbirds' base domain understandably brings in the most estimated monthly SEO clicks, but it's followed immediately by their collection pages.
/collections/womens = 34.8K estimated monthly SEO clicks
/collections/mens - 23K estimated monthly SEO clicks
Combined with the base domain, these three pages bring in over 120K estimated monthly SEO clicks. That's approximately one-fourth of their entire monthly click volume. You can see this value reflected in the Most Valuable Keywords report as well: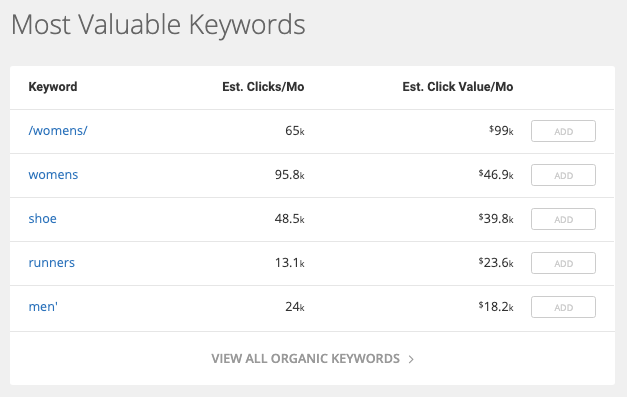 Structuring their site in this way makes it easy for Allbirds to capitalize on the incoming search volume for the most valuable keywords they have access to. They're creating an overall website experience that makes discovering new products, learning about them, and purchasing them as simple as possible.
Outside of their base domain, many of the top pages for Allbirds are targeted landing pages for a specific style of shoe. This domain structure not only helps improve the ranking for each individual page but the entire site as well. When you combine this with their affiliate marketing strategy, it helps create a growth engine that consistently brings in new potential customers.
Affiliate Traffic: Using Customers to Boost The Allbirds Brand
For a brand like Allbirds, getting the word out about the brand is an important first step. From there, they need to get those people to trust them, which they accomplished through the use of an affiliate program. You see the results of these efforts in both their backlink profile and social content.
Approximately 25% of backlinks to the Allbirds' website contain affiliate links: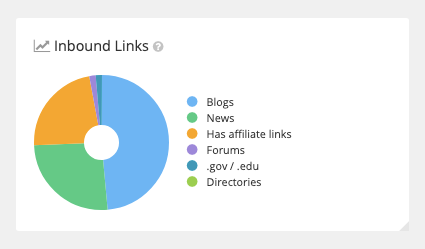 As with many ecommerce and DTC brands, we see the majority of links coming from blogs. Whether these are touting the benefits of the shoes or talking about Allbirds as a company, they boost brand awareness just the same.
Affiliate link traffic brings in about a quarter of their overall inbound links. And the sites that provide these links are all helping to showcase the overall authority of Allbirds. Most of that has to do with the linking website's Domain Strength.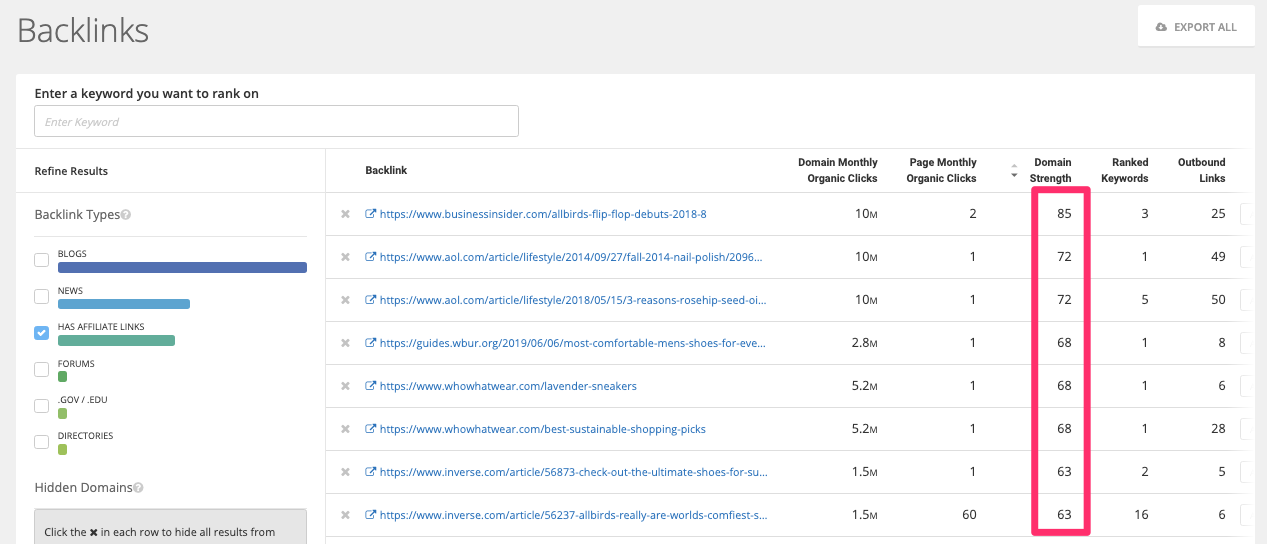 Each of these sites contains at least one affiliate link, and all of them have the domain strength, typically over 60, to signal relevance to various search engines.  Whether it's Business Insider talking about a new type of Allbirds shoe or WhatToWear discussing how stylish Allbirds' lavender sneakers are, there's positive link equity that flows back to Allbirds' site as a result.
All of this link equity adds up and informs search engines that Allbirds is relevant and worth a searcher's time. When you understand how search engines work, it's easy to understand how getting customers to talk about your product on authoritative domains is a great organic marketing tactic. Done right, an affiliate program can skyrocket your domain authority while also boosting awareness of your brand.
Site Localization: Understanding What it Takes to be a Global DTC Market
Something interesting happens when you take a look at the top organic competitors for Allbirds. Four out of the top five are also Allbirds, just with a different top-level domain designation. That's because Allbirds localizes their website to better target customers in the different countries they sell to.

Localizing their site in this way helps Allbirds capitalize on the specific Keyword Universe they want to own. As you can see, they share a number of common keywords with each top-level variation of their home page. This ensures that they won't have as hard of a time competing with other companies because they're only "competing" with themselves.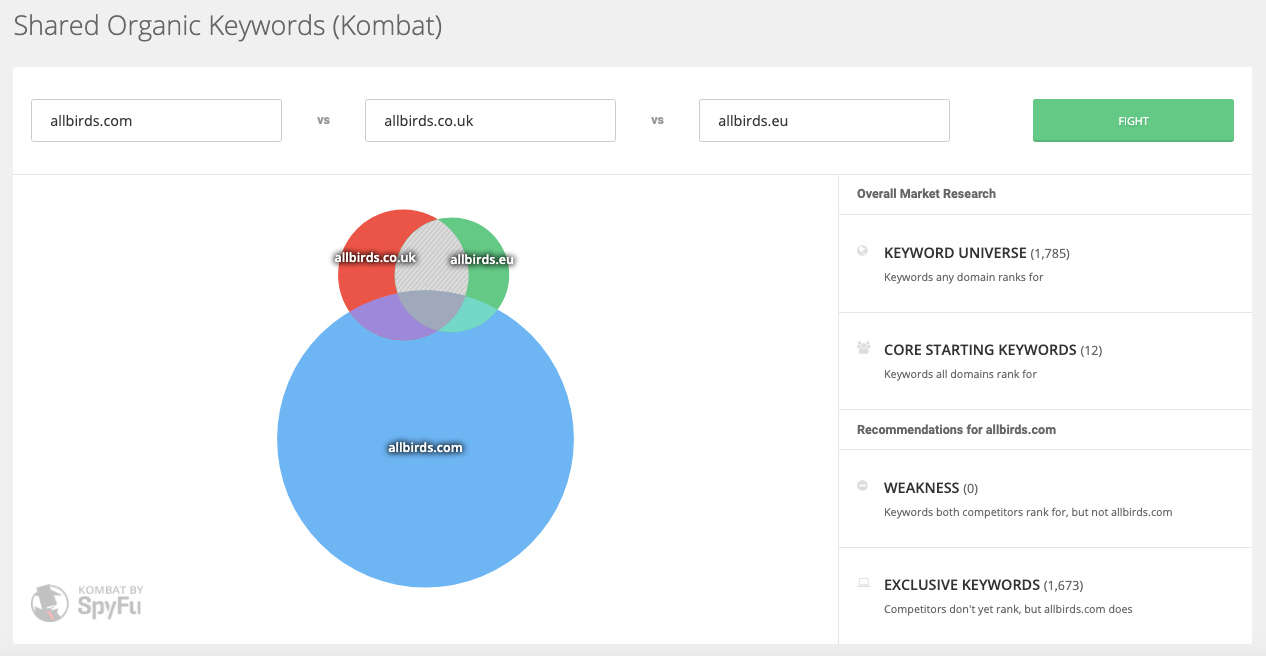 Localizing their product in this way also gives Allbirds the ability to localize their prices, which is a great way to boost revenue across the board. They can easily adjust their pricing based on the specific needs of their audience in different markets.
All of this comes together to give Allbirds a way to own a specific subsection of the keyword universe. That cuts down on competition and can potentially decrease the overall costs of various keywords as well. We see some of the benefits of this tactic in the following section on paid performance.
Paid Performance That Doubles Down on Relevant Keywords
For being in such a highly competitive market, Allbirds doesn't actually spend a lot on their paid advertising strategy. In the same way as their organic strategy, Allbirds' laser-focused targeting of high-value and relevant keywords means they can easily maximize the impact of every dollar spent.
This restraint also helps Allbirds target the competitive keywords that might otherwise have been out of their reach. Going after a term like "sneakers" or "comfortable shoes" will be difficult for just about any brand, and Allbirds coming into this conversation decades after their top competitors doesn't help.
Narrowing the focus of their ad-buying strategy also informed their overall branding strategy, which is clean, to-the-point, and recognizable. Keeping content cohesive across a number of different channels works to their benefit.
Ad Budget: Restraint Helps Allbirds Optimize Spend on High-Value Keywords
Allbirds pays an estimated $28.7K per month on PPC advertising. That's less than one-third of the $123K per month their top competitor, Orthofeet, pays. While this might not seem like the most competitive strategy out of the gate, this tactic helps Allbirds maximize the impact of every dollar they spend. That, in turn, gives them an advantage over other competitors in the market.
That's because Allbirds can easily spend more on high-value, expensive keywords like "comfortable shoes" or "wool shoes."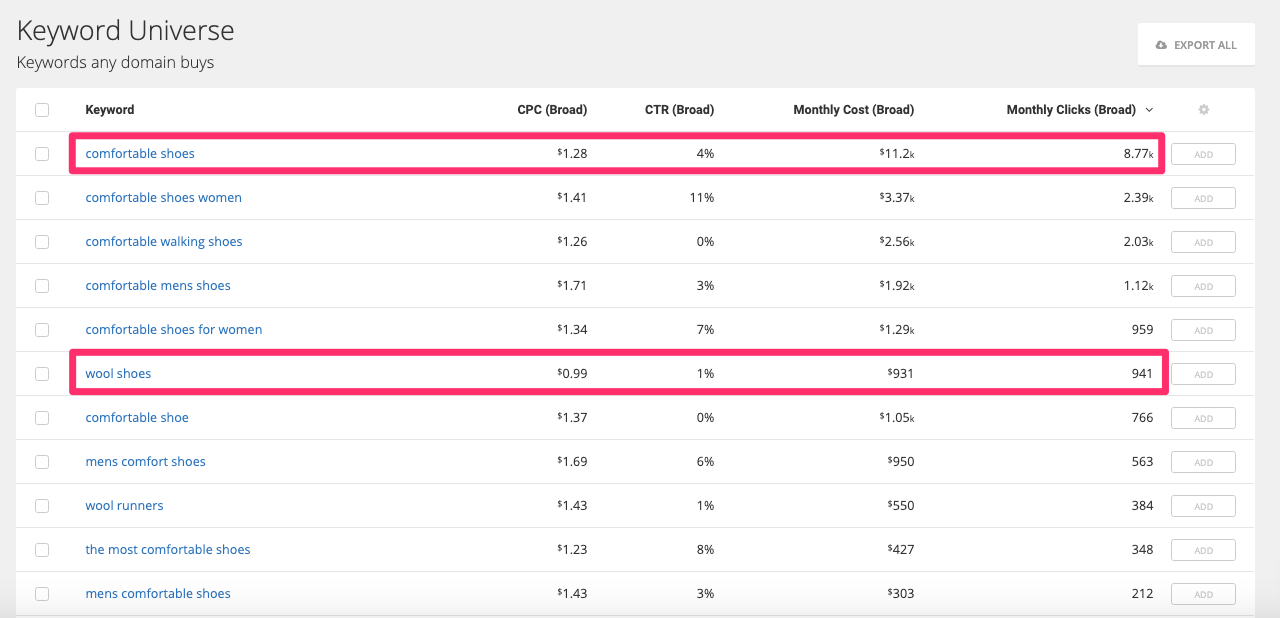 When you look at the types of keywords that Allbirds bids on, the overall estimated monthly clicks tend to be on the higher side, which  helps them keep a tight budget, while at the same time ranking better for specific keywords. It's all about focus.
These valuable keywords are also a part of what appears to be a larger strategy based around exclusivity. Starting out as a cult brand gave Allbirds a way to infuse their products with a sense of exclusivity while also talking about their comfort and sustainability. It's these three pillars that we see cropping up again and again in both their paid and organic strategies.
Exclusive Keywords: Spending PPC Dollars where No One Else Does
Allbirds spends their PPC budget on 1,401 keywords that their competitors don't buy. Doing so ensures that they can make a meaningful impact on rankings by creating on-brand and valuable content at all times.
And they obviously know what works for their brand. Whether it was early budget constraints or simply a function of their overall branding/advertising strategy, Allbirds goes in on keywords that are specific to their product and their company values.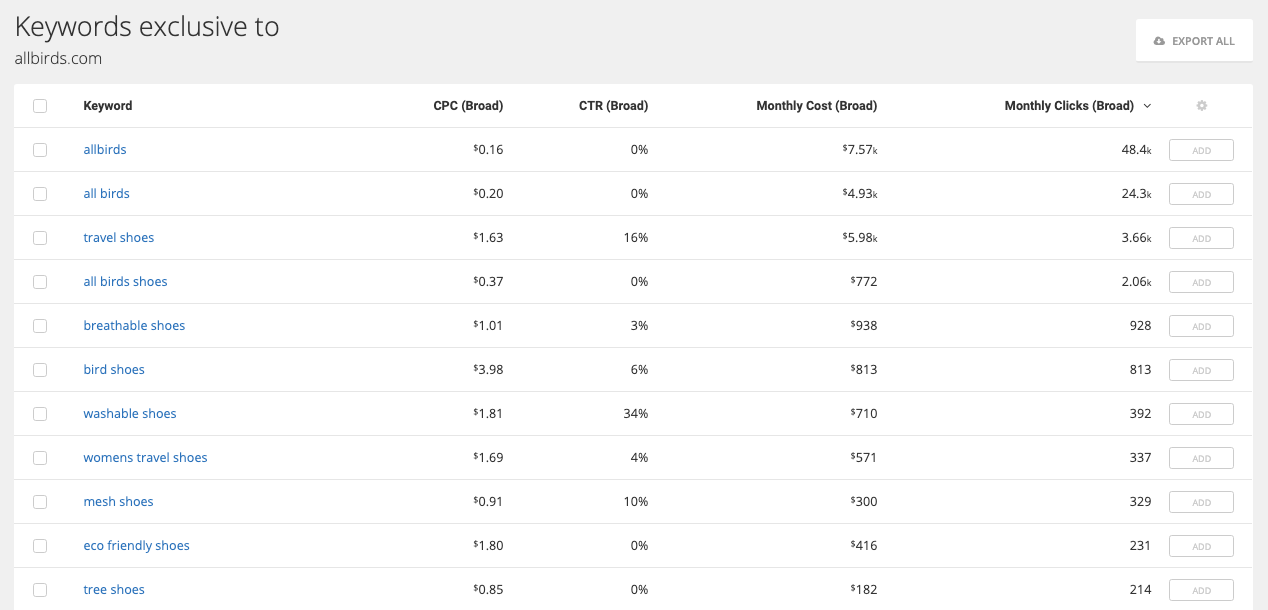 We see some interesting variations of their brand name in this keyword list and others that tap into why the Allbirds product is so valuable to their customers. Whether it's "travel shoes," "washable shoes," or "eco friendly shoes"—Allbirds is connecting their brand with themes that appeal to a certain type of customer.
Doubling down on buying those keywords shows us that Allbirds absolutely understands how their customers speak about their brand. Instead of going after their competitors' branded keywords, which is always a viable strategy for DTC brands, Allbirds focuses on owning every aspect of their brand.
By following this strategy, Allbirds is elevating their brand presence in the wider market and making sure their product stands out. More brand awareness is always a good idea for DTC brands.
Ad Copy: Consistent Messaging That Reinforces Their Brand
Allbirds creates ads that are brand-focused and laser-targeted at specific keywords at all times. By restraining their overall spend, they can focus on what really matters and move past other types of content that might not be as relevant to their audience. They're turning their cult brand into a DTC powerhouse, and a lot of that process is dependent on speaking consistently about their product.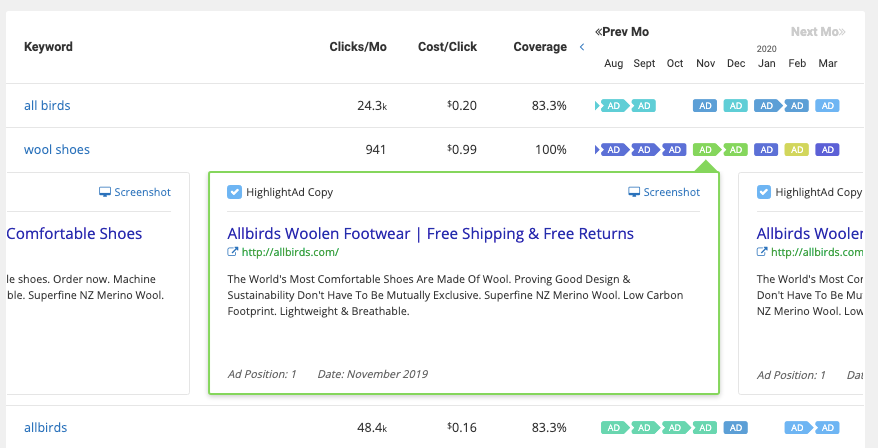 Whether they're targeting wool shoes or their own company name, it's easy to see Allbirds' consistent messaging. Here are a few select ads from Google and Facebook: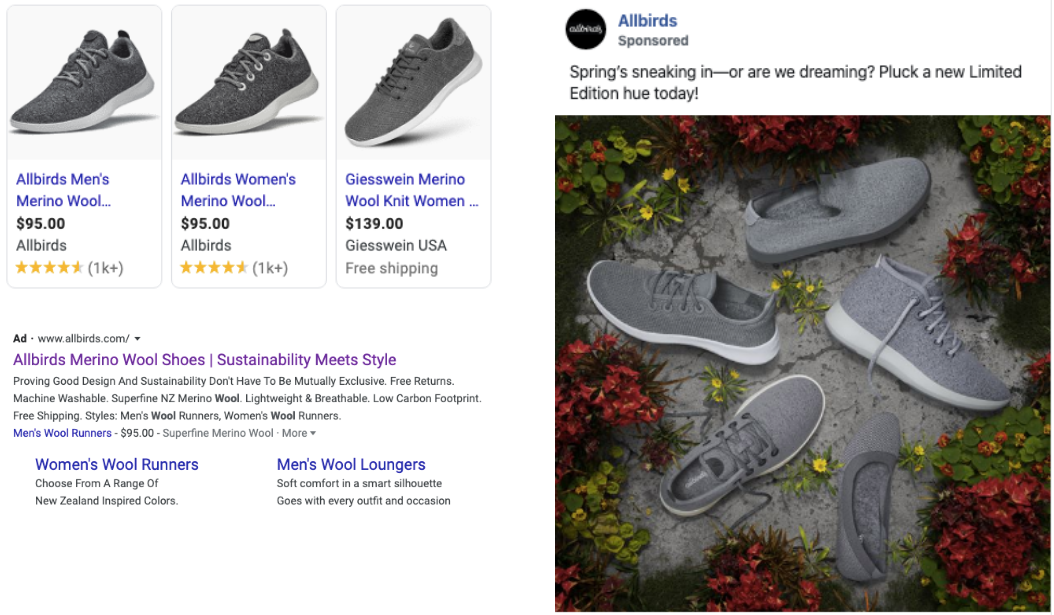 A consistent effort to reinforce their message of comfort and sustainability means that Allbirds often has 100% ad coverage across a number of their exclusive target keywords.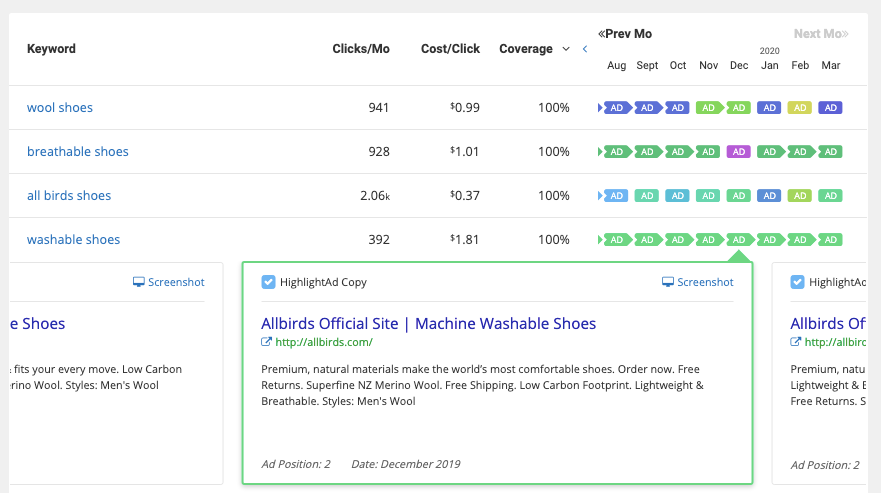 This means that they're always top-of-mind in the SERP and for people searching for a specific kind of shoe. All that consistency also shows in their branding, which is more important for DTC brands that live or die based on their brand.
Overall, Allbirds' paid strategy and organic strategy work together to ensure that the brand is immediately recognizable and in front of potential customers at exactly the right time.
Allbirds' Restraint Helps Them Focus on What Matters
In the DTC market, differentiation is everything. By focusing their organic and paid search efforts on a specific keyword base and style of content, Allbirds carves out their own secure space in the online shoe market. They know they can't compete on volume, like Zappos or Amazon, so being constrained with their content and targeting ensures that Allbirds is only spending money where it counts.
As a result, they're able to get their ads in front of the right people at the right time when potential customers are most likely to purchase. Allbirds is a great case study on how to double down on what works and leverage ownership of a specific market segment to find their customers.