Achieving a high search engine rank is one of the top priorities for website owners and digital marketers. It boosts organic website traffic, thereby increasing brand awareness and credibility.
In addition, it also helps generate leads for your business and convert them into paying customers. It is highly cost-effective and offers several long-term benefits such as reinforcing customer loyalty and audience engagement.
That is why search engine optimization (SEO) is an indispensable part of every digital marketing strategy. SEO refers to a set of techniques focused on driving increased organic traffic from the search engines to your website.
In other words, SEO enables your website to grab a prominent position on the search engine results pages (SERPs).
Broadly, SEO can be divided into two crucial components – on-page SEO and off-page SEO. Off-page SEO focuses on improving your website's inbound link profile by attractive authentic, relevant, and high-authority backlinks.
On the other hand, on-page SEO stresses the importance of the content and HTML source code of individual web pages.
A strong inbound link profile has a tremendous impact on your website's search engine rankings. However, it is the on-page SEO checklist that forms the backbone of your SEO strategy.
Before we outline a comprehensive on-page SEO checklist, let's take a look at why it is so important.
New to SEO? Start with our what is SEO guide.
Let's jump right in:
On-Page SEO Checklist: Understanding Its Importance
In order to realize the importance of on-page SEO, let's dig deeper and find out how search engines work. Search engines use programs called web crawlers or spiders to find new web pages on the internet.
They use databases known as indexes to store these web pages. Whenever a user enters a search query, the web crawlers search the indexes to determine which web pages are relevant.
The main advantage of on-page SEO is that it lets you convey important information about your website to the search engines. If web pages are optimized for relevant keywords, it becomes easier for web crawlers to determine what the page is about.
This, in turn, makes it easier for the search engine to understand whether a particular web page is relevant to a user's search query.
It is evident that on-page SEO is crucial to ensure your website's visibility in search results. In its absence, even the most powerful backlinks won't be able to grab you a top spot on the SERPs.
Therefore, a solid on-page SEO checklist is crucial for improving your website's search engine rankings.
A Comprehensive On-Page SEO Checklist
On-page SEO depends on a number of factors including your target keywords and the quality of your content. It is equally dependent on site architecture and the overall user experience delivered by your website.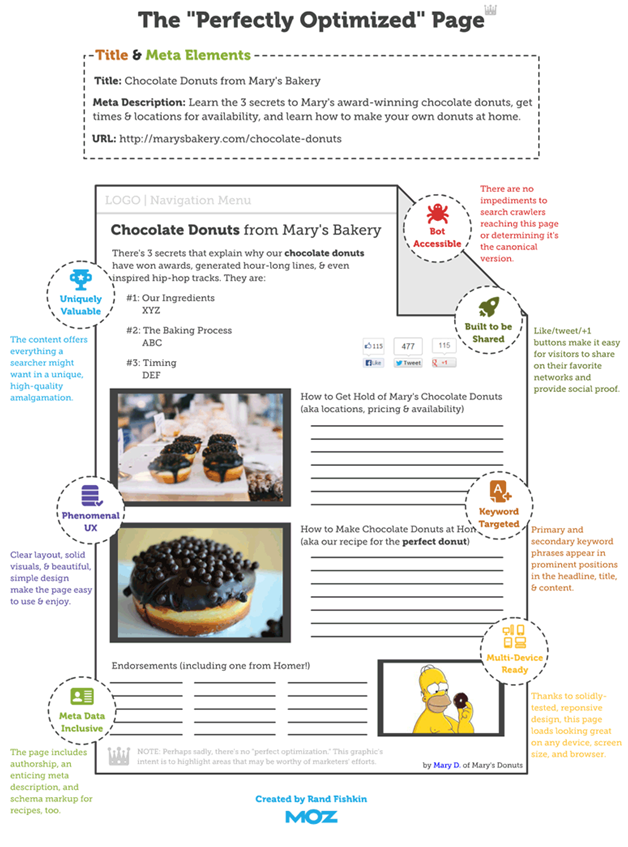 Image via Moz
Perform Thorough Keyword Research
The first step is to identify and select the keywords you want to rank for. These are the terms and phrases your target audience is likely to use in their search queries.
Keyword research and selection requires a thorough understanding of your target audience and where they are in the buyers' journey. To do keyword research, you can use tools such as the Google Keyword Planner or independent 3rd party keyword tools.
Once you have identified your keywords, you should analyze them to understand whether it is worth targeting them at all.
In addition, you should take into account all possible voice search queries your potential customers are likely to use. Such queries are usually longer and conversational in nature. They are mostly in the form of questions.

Here's our comprehensive SEO audit checklist to boost your rankings.
Evaluate Your Competitors
Pick any one of your target keywords and run a quick Google search using it. Analyze the first few search results to understand how they are integrating the keywords into their content, titles, URLs, etc.
Analyze their content and identify questions/topics about your keywords that aren't already covered by the top search results. Addressing these topics increases your chances of outranking your competitors and securing a higher search engine ranking.
You can easily evaluate your competitors' keywords by using SpyFu's Competitor Analysis feature. This feature helps you discover the top organic and paid keywords for which your competitors are ranking.
Use Appropriate Title Tags
Your web pages must have proper titles that clearly communicate what they are all about. Search engine bots use title tags to determine the relevance of a web page with respect to a search query.
Therefore, it is recommended that you use your keywords in the title tags of your web pages.
Moz, for instance, crafts their title tags very well. Each tag is displayed completely and has the focus keyword right at the beginning of it.
You also must make sure that the keywords are incorporated into the title in a natural manner.
Search engines usually allow a limited number of characters (mostly between 50 and 60) in the title tags.
You should try not to exceed this limit; otherwise, the remaining characters might get excluded from search results.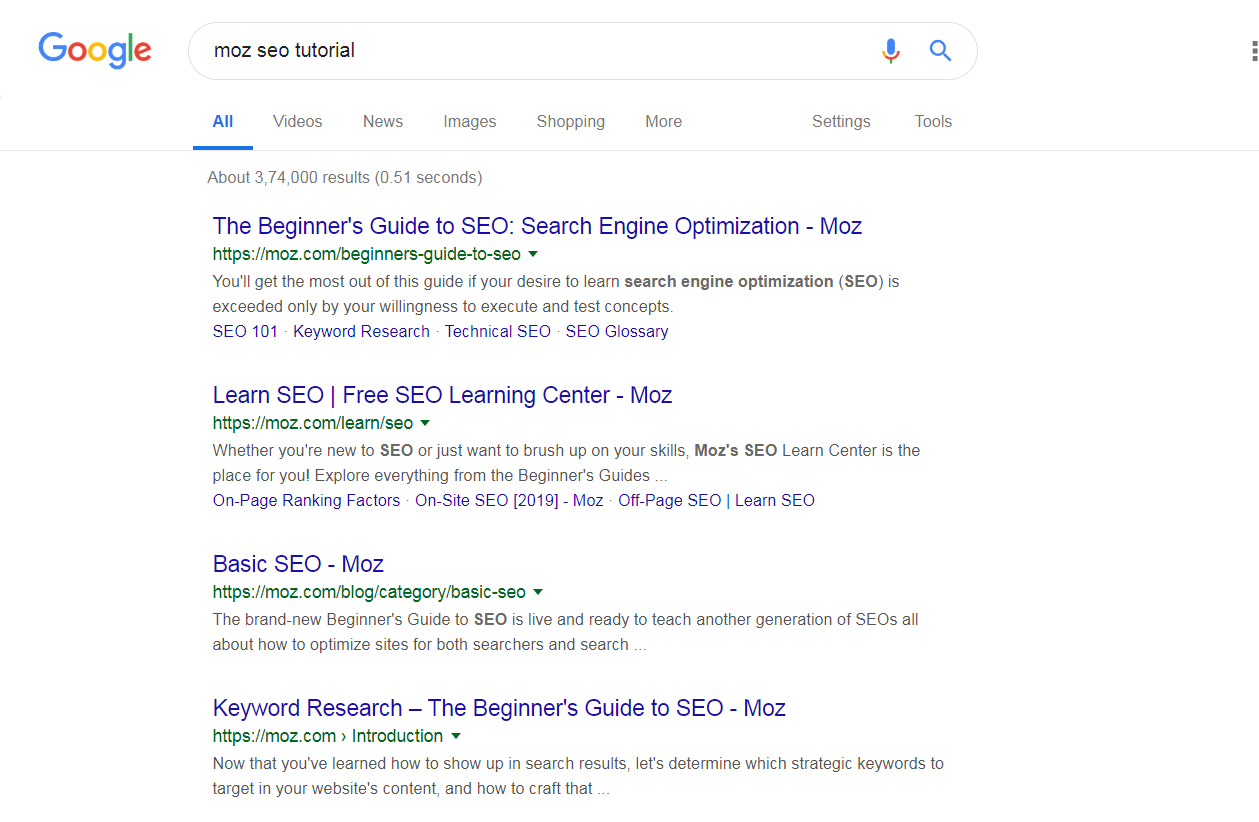 Image via Google
Craft a Lucid Meta Description
The meta description is an extremely important component of your on-page SEO checklist. It is the snippet of text that is displayed below the page title in the search results pages.
It is used by the search engines to understand what a web page is about. Therefore, your web pages must have crisp meta descriptions that incorporate relevant keywords in an organic manner.
In addition, a well-articulated meta description also has a positive impact on your CTR. This, in turn, boosts organic website traffic and improves your search engine rankings even further.
It is important to limit the number of characters in the meta description in order to prevent it from being cut off in search results. For instance, Google allows only 150-170 characters for meta descriptions.
Sephora, for example, writes precise meta descriptions that are catchy and include all of the necessary information. Each meta description also consists of their target keywords such as "makeup," "skincare," and "fragrance."
This ensures that their website ranks high for the most relevant keywords.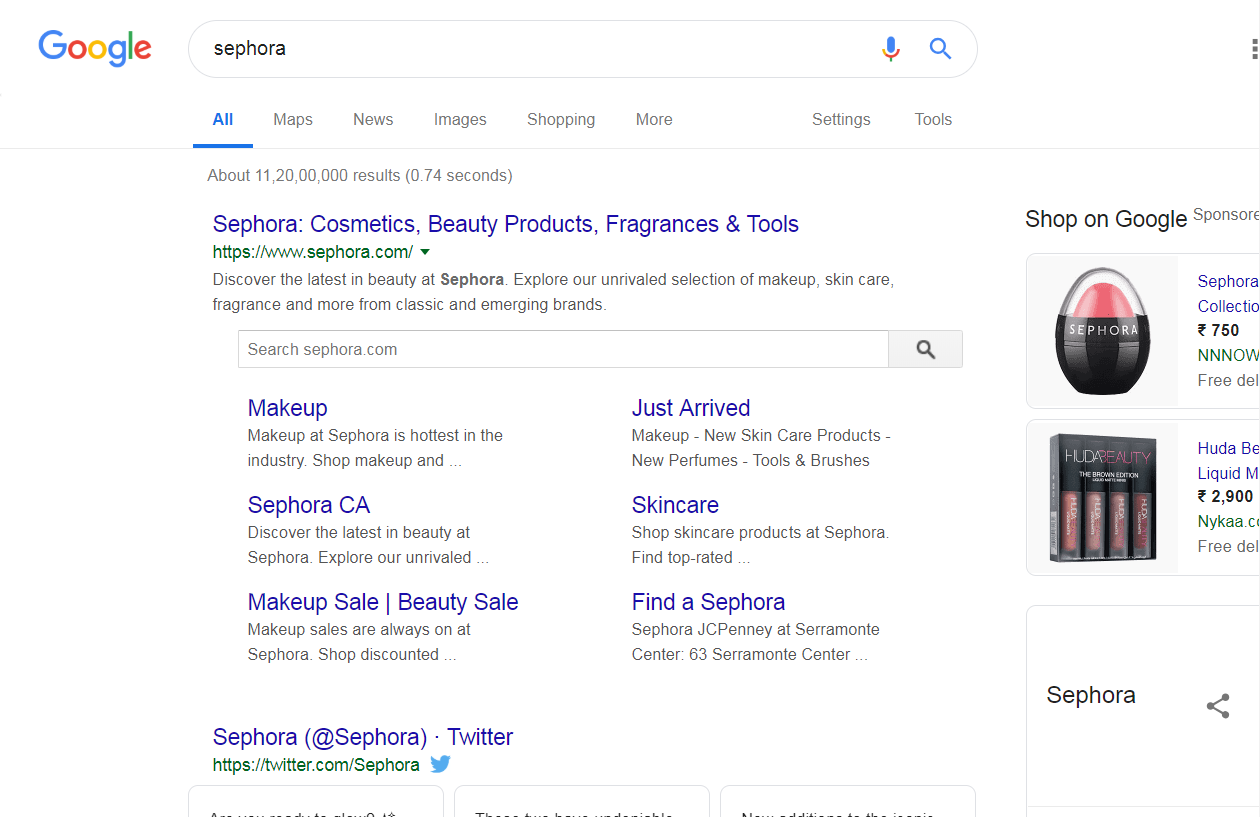 Image via Google
Use Descriptive URLs
Former Google techie, Matt Cutts revealed that the leading search engine prefers URLs with 3 – 5 words. Therefore, it is important to keep your URLs short and simple.
In addition, it should accurately explain what the web page is about. You should also ensure that the focus keyword is present in the URL of a web page.
Neil Patel creates URLs which are short and give the gist of the article as well. Not only does this make it easier for the search engines to read it, but it's easier for users to read as well.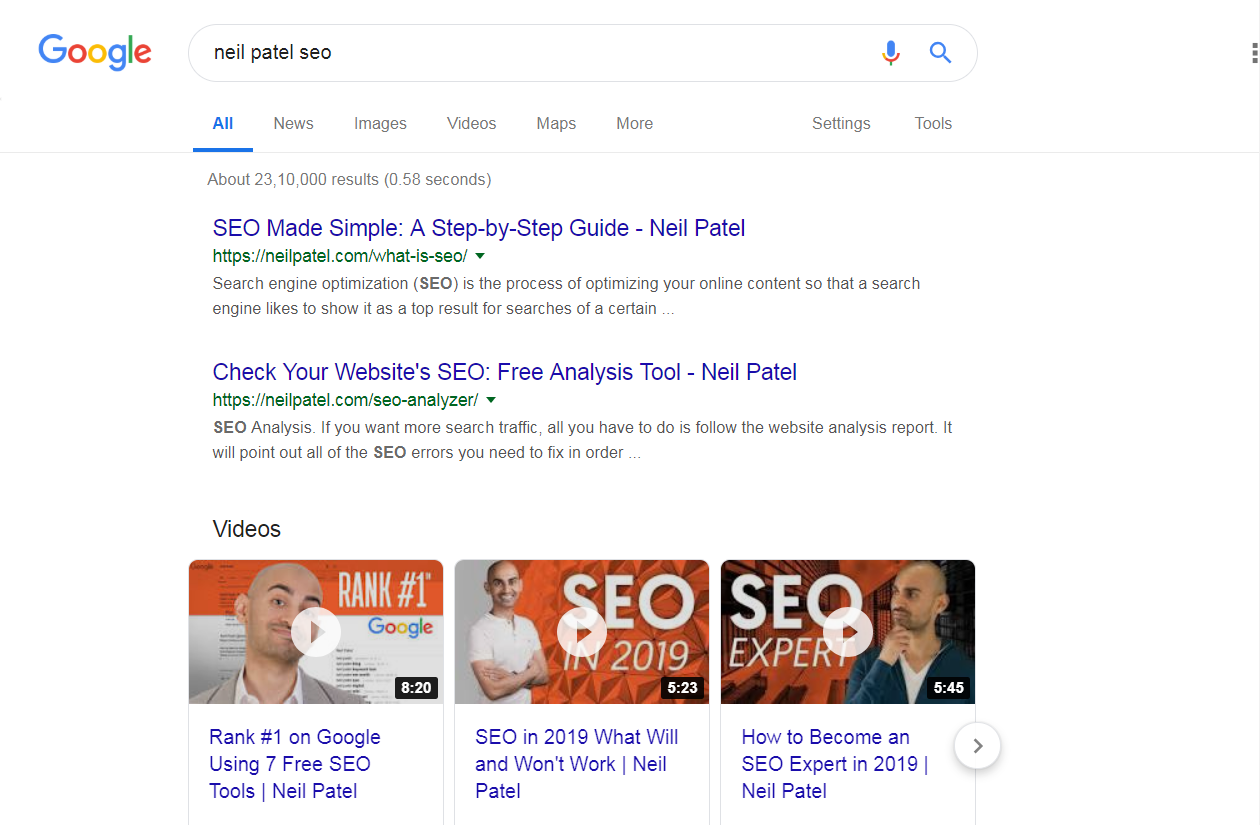 Image via Google
Add Suitable Modifiers
Modifiers are terms like "best," "top," "review," "tutorial," etc. that are used to create long-tail variations of your target keyword.
Run a Google search for your target keyword and look into the "searches related to" section to find relevant modifiers. It is recommended that you use appropriate modifiers in your page title, H1 tags, meta description, and content.
The use of modifiers helps search engine bots gain a deeper understanding of your web page. In addition, it lets you experiment with different keyword variations in your page titles and content. It also helps optimize your website for voice search queries.
Lonely Planet uses the words "Top" and "Best" frequently for their articles to give Google a better understanding of their article's content. This also makes it attractive for the readers who are looking to find the very best of things on Google.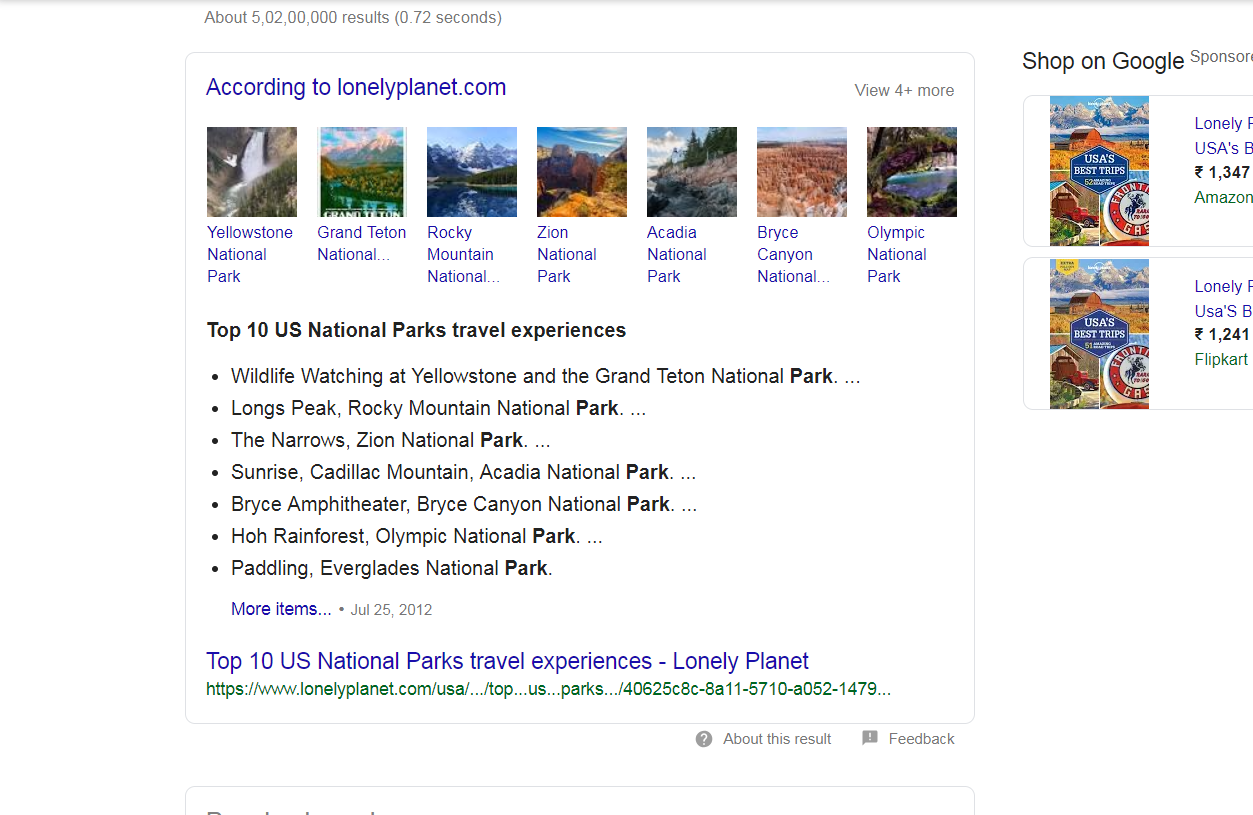 Image via Google
Use H2 and H3 Tags
H2 and H3 tags refer to the subheadings in your content. You should use appropriate subheadings to divide your content into logical blocks.
They are useful in structuring your content to aid scannability and readability for human readers and search engines alike.
This, in turn, ensures that readers spend more time on your website, thereby improving dwell time and reducing bounce rate.
It is recommended, though not mandatory, that you use variations of your focus keyword in the subheadings.
Make sure that the use of keywords in your subheadings is not forced and redundant. Unlike the H1 tag, you can use multiple H2 and H3 tags throughout your content. This gives you ample scope to make your text keyword rich.
Expedia, for example, uses H2 and H3 headers to make the article more readable and user-friendly. This is in line with a study by the Nielsen Norman Group which found that people read through a page in a rough shape of "F."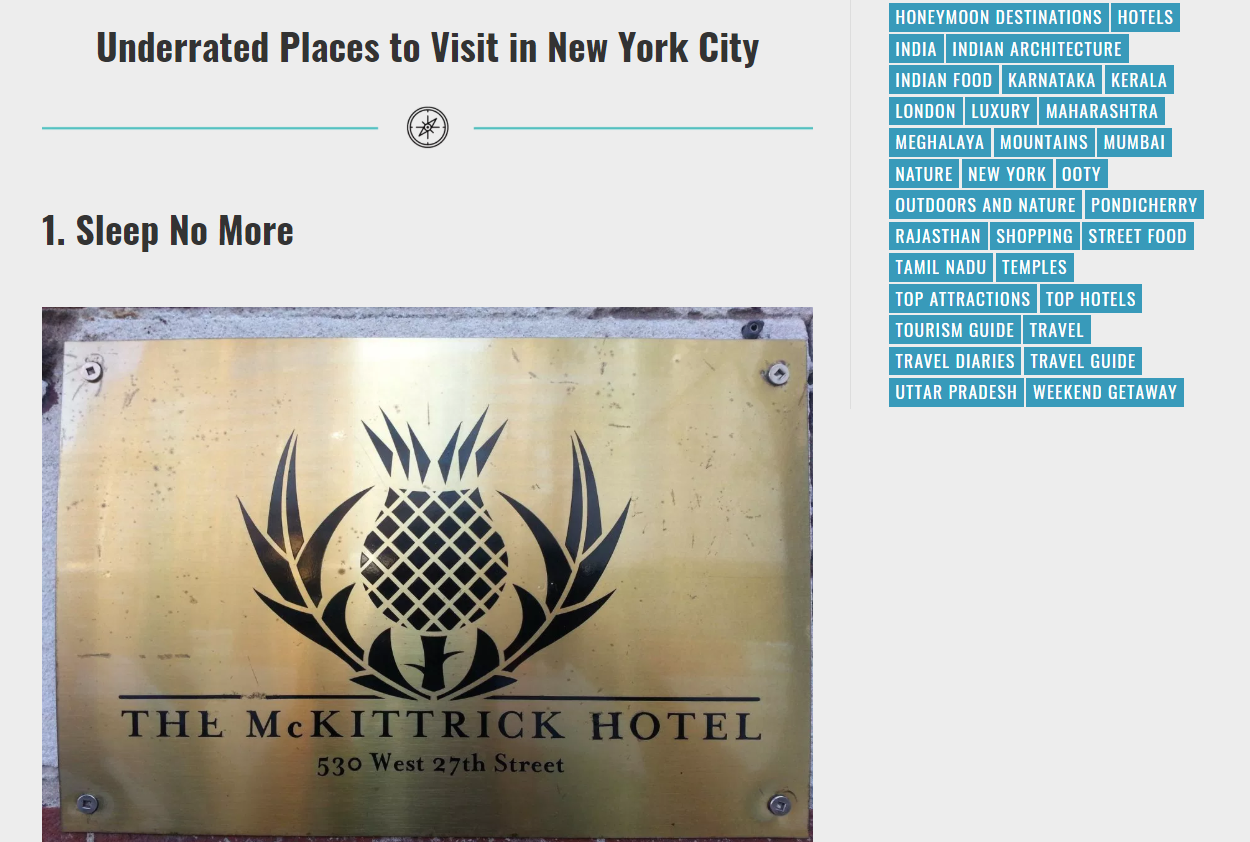 Image via Expedia
Publish High-Quality Content
Be it a detailed blog post or a concise product description – make sure that your content is of unparalleled quality. It has been observed that long-form content (2000 words or more) generally outperforms short-form content (1200 words or less).
However, you should prioritize relevance, consistency, and quality over length. In addition, you should integrate variations and synonyms of your target keyword in the content in an organic manner.
You should also ensure that your content is insightful, valuable, and completely original. Focus on answering questions that your potential customers are most likely to ask.
In addition to creating new content, you should update existing posts to ensure that they don't become outdated. You can also create evergreen and timeless content such as beginners' guides, tutorials, and listicles.
Leverage Internal Linking
Use your content to link to other blog posts and pages on your website. This keeps visitors hooked to your website for a longer duration, thus improving bounce rate and time-on-site.
In addition, it also ensures that web crawlers spend more time on your website, navigating from one page to another. This is useful in getting your web pages indexed.
Shane Barker, for example, uses internal linking very well on his blog. This ensures that all his pages are indexed easily on Google.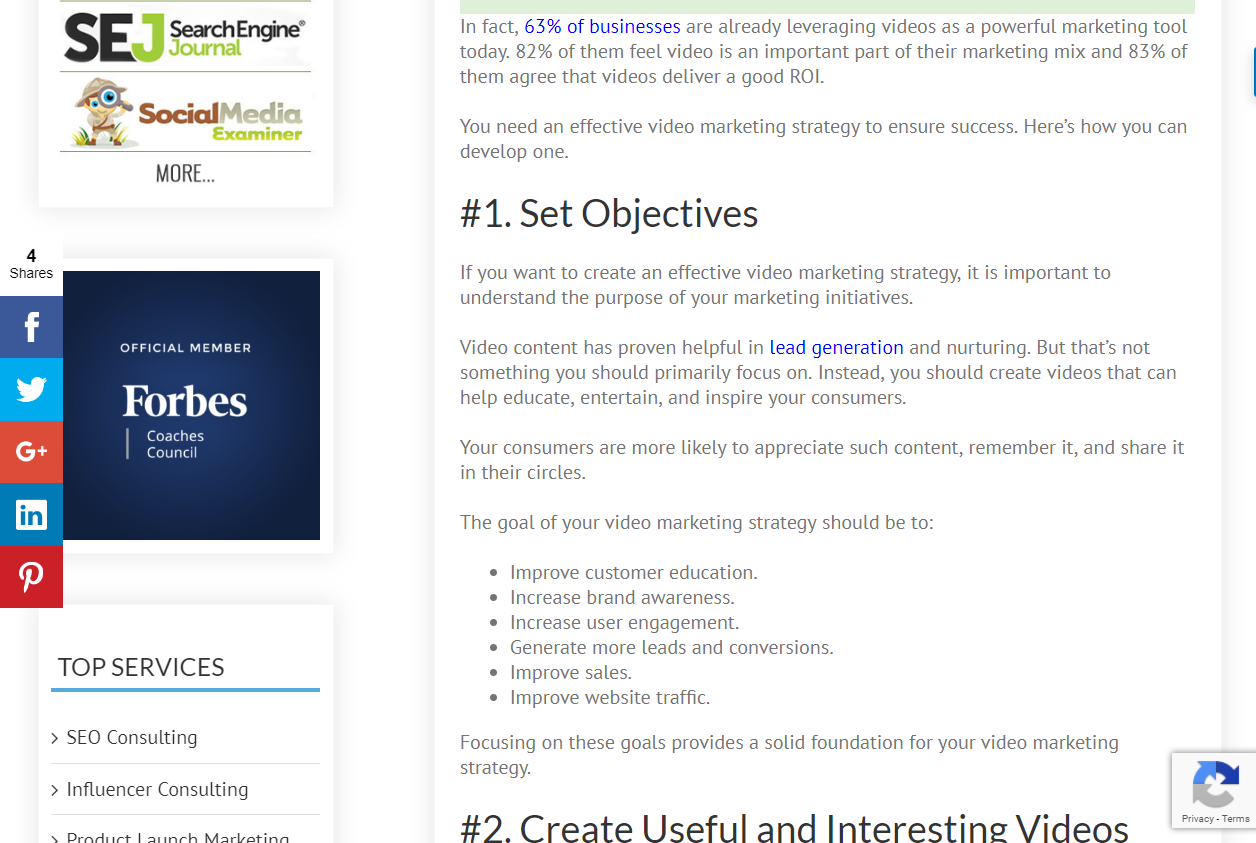 Image via Shane Barker
Improve User Experience
One of the most important aspects of your on-page SEO checklist is to make your website user-friendly. In addition, all the web pages should load considerably fast. You should also ensure that your website is responsive to different devices.
To check your page loading speed, you can use Google PageSpeed Insights. It shows you how fast your webpage loads on mobiles and desktops and even suggests solutions to make it faster.
Neil Patel has a near-perfect page loading speed on desktops and has optimized his website well.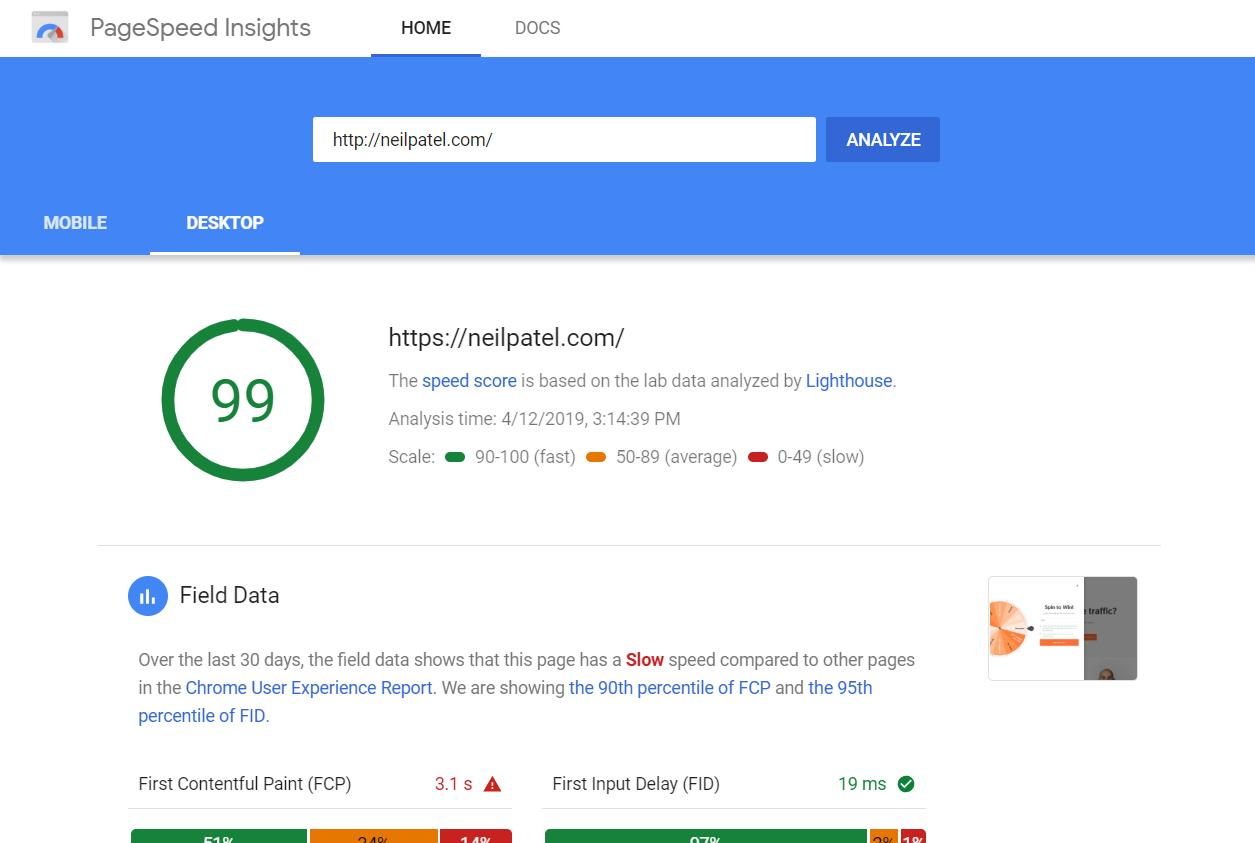 Image via Google PageSpeed Insights
Conclusion
A powerful on-page SEO checklist is a necessity for website owners. It lays the foundation of your SEO strategy and helps your website climb up the SERPs ladder. Relevant keywords and high-quality content are the most important aspects of on-page SEO.
In addition, you should also work towards optimizing the source code of individual web pages including H1 and H2 tags, alt tags, etc.