Lots of websites are looking for that viral moment. The one post that strikes a chord in readers and sends their website into the stratosphere.
The reality of successful content marketing is much more mundane.
Good websites with an engaged readership are born not from a flash in the pan but from consistent, high-quality content. One of the easiest ways to post on a set schedule? By creating a content calendar.
Content calendars (sometimes referred to as an editorial calendar) outline what gets posted and when. Depending on your needs, content calendars can be a simple list of dates and post names or more complex—outlining post details, workflows, and distribution methods.
But content calendars too often become massive time sinks, more complicated than they're worth. In this article, we will show you how to create a content calendar that you'll actually use by putting your goals front and center while eschewing any extras that get in the way.
Step 1: Make a List of Content and Keyword Priorities
Before you start making your content calendar, you need to have a clear idea of your content priorities for the next month, quarter, or even year. If you already have a fully developed content plan, then you can move on to the next step. Otherwise, we'll start by walking you through the groundwork of forming content ideas and setting priorities.
Find Future Content with a Content Gap Analysis
A content gap analysis aims to identify areas of your content (and content around the web) where user needs are not being met. When done correctly, a content gap analysis will:
Leave you familiarized with your content
Identify content that is working, needs work, and needs to be removed
Create a list of future content ideas to address identified content gaps
Running a content gap analysis can require a good amount of time—especially for larger websites—but the investment is worth it. This analysis will help you trim the fat from your website, develop new content ideas, and place your customer needs first in your content plans.
To run a content gap analysis:
Run a complete content audit of your website
List problems and questions that your buyers will encounter as they progress through your content funnel
Identify any problems or questions that your content does not address adequately
Assess how you can improve on current content offerings from your competitors
To get a complete rundown, follow our step-by-step content gap analysis guide. It walks through each of these points and shows tools that can help you complete your analysis as efficiently as possible. When you're done, you should be left with a big list of future content goals, which can form the basis of your content calendar.
Find Valuable Keywords Through an SEO Competitive Analysis
Marketers also need to mind their keyword strategy to see long-term success. An SEO competitive analysis helps you find the keywords that will help your content reach your target readers.
By using SEO keyword tools and competitor SEO tools, you can conduct an SEO competitive analysis to find the right keywords to connect with your ideal audience. To run an SEO competitive analysis:
Open up our template (or make your own)
Set your content goals
Find and research keywords through brainstorming, keyword tools, and competitor keyword tools
Create topic clusters from your related keywords
Analyze your competitors' strengths
Determine which keywords you think you can rank for
Make a list of keyword priorities
To get a full set of instructions, you can read our article on how to perform a competitive analysis. It includes tools, tips, and images to get you through each step.
Now that your content and keyword analyses are complete, you should have quite a bit to work with in terms of future content. Consider trying to merge the two lists, placing promising keywords with identified content gaps. Inevitably, you will still have some keywords and some content ideas left without pairs, and in these cases, you can think about what other content would work with those keywords, or vice versa, to round out your list.
Step 2: Pick a Calendar Tool
With content ideas in place, it's time to decide when you will write and publish these pieces. For that, you'll need a calendar.
A good content calendar tool will help you create and update your schedule without hassle. There are plenty of options out there, but here are the ones we would recommend that you take a look at.
Microsoft Excel and Google Sheets
Microsoft Excel and Google Sheets are great options for a lot of people because they're platforms you may already be familiar with and use every day. They may not have as many fancy bells and whistles, but if all you need is to track data in a spreadsheet, then this is a great fit for you.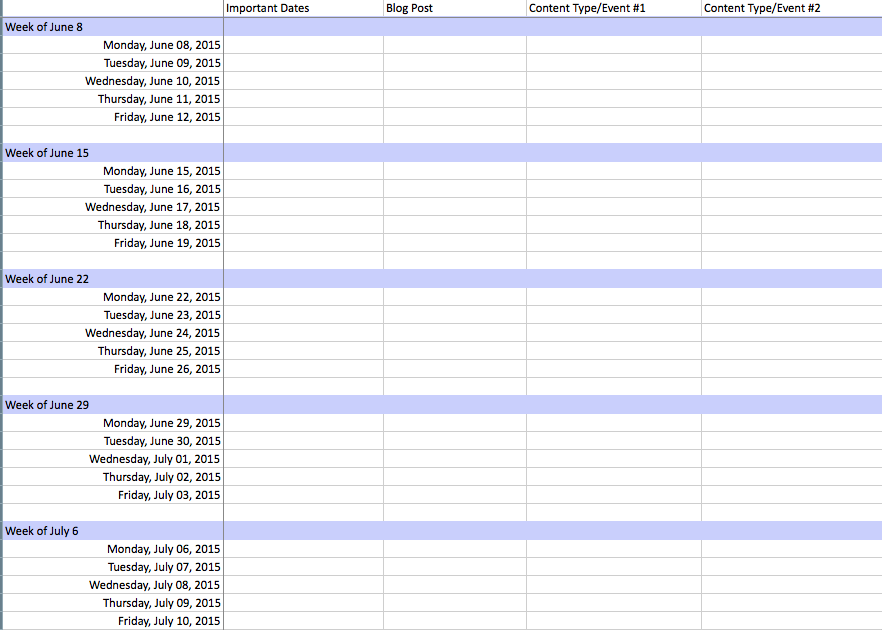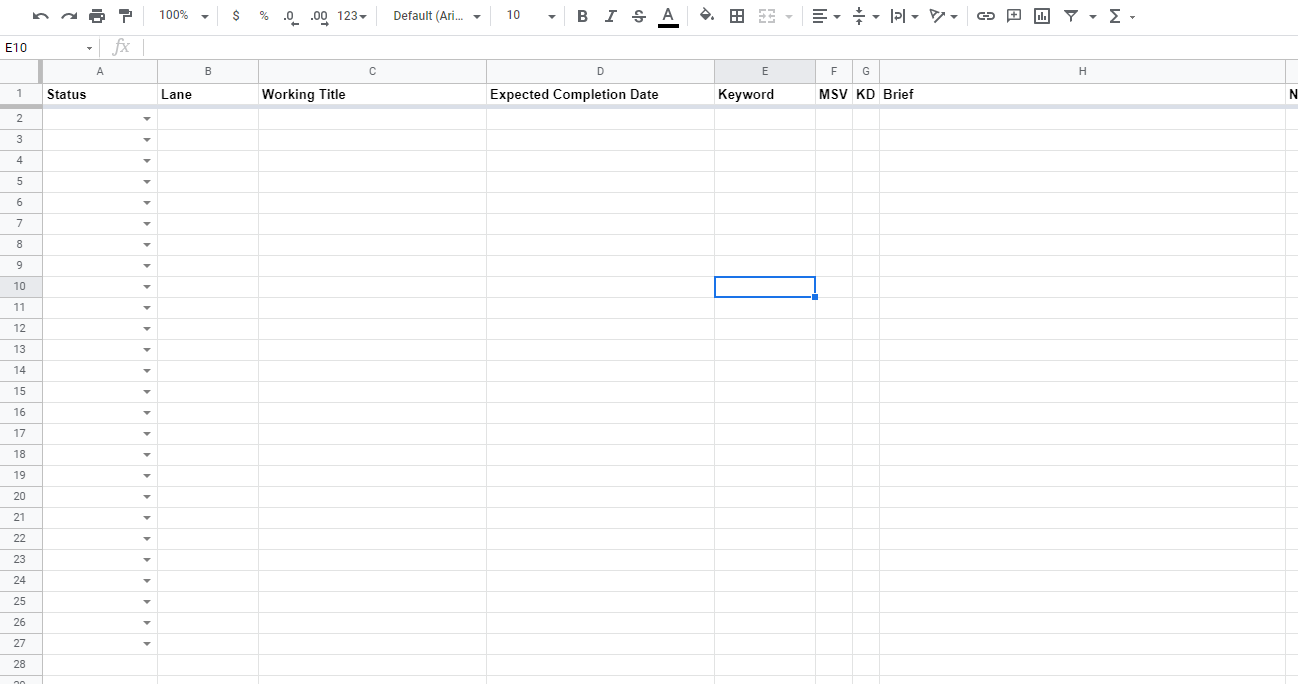 These two options are very similar, and what you can do with one, you can generally do with the other. However, there are some distinctions to keep in mind.
Sheets is free for everyone, whereas Excel requires an Office subscription
Sheets is more collaborative if  you want to work on a spreadsheet with multiple people
Sheets is fully cloud-based, making it easier to access anywhere
For larger files, Sheets can be slower when compared to Excel
Generally speaking, if all you need is a lightweight content calendar with information stored as a spreadsheet, either of these options will work great for you. However, if you want to keep track of content creation workflows across multiple writers and editors, you're likely better off with a project management tool than a spreadsheet.
Trello and Asana
Trello and Asana are primarily project management systems, but you can use them to keep a content calendar as well. For content teams that work asynchronously, this kind of content calendar allows for workflows to be kept in one central location so that everyone is on the same page about what needs to get done and by whom.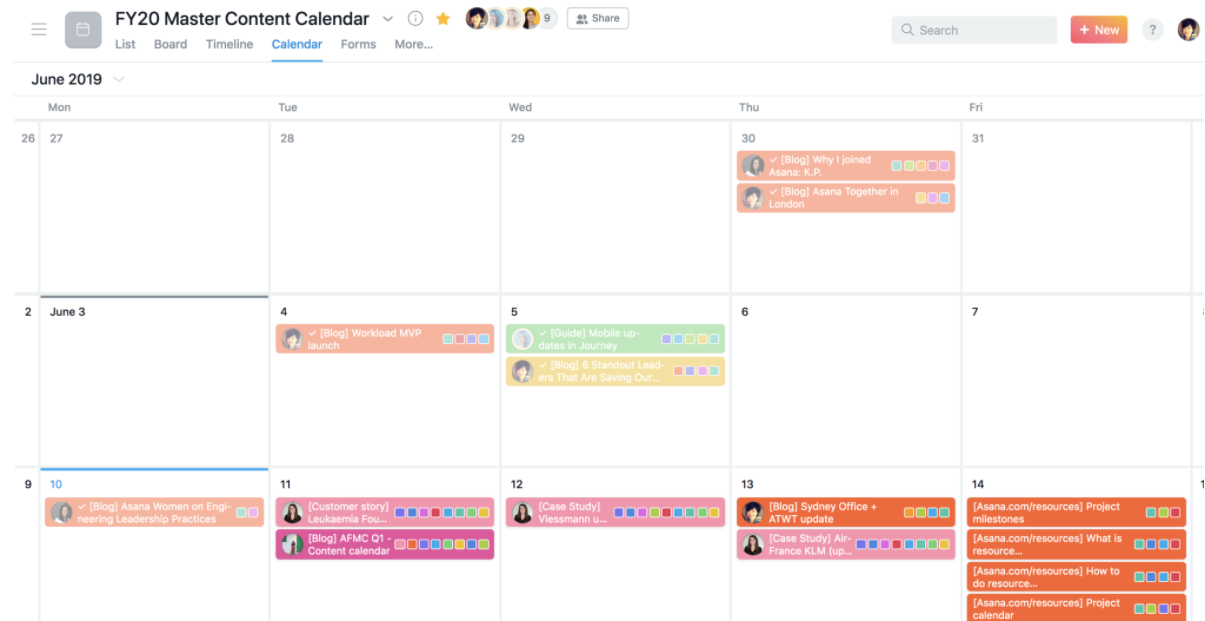 Trello and Asana require more work to set up and learn than spreadsheets like Excel and Sheets, but they also come with more customizations. These include assigning tasks to different team members, tracking content based on its current development phase, and integrations with third-party software.
So why choose one over the other?
The largest difference is in their levels of complexity: Trello is simpler, which makes it easier to use for some, but can be restrictive when projects become too big. On the other hand, Asana has far more views and customizations, ideal for large companies and projects, but it can be more than you necessarily need. Either way, both are powerful, freemium tools to get you started on your next content calendar.
CoSchedule
CoSchedule is a calendar app designed for marketers that will help you keep track of everything you need to create and even help you post it on time with its third-party integrations. By connecting CoSchedule with your WordPress account, social media accounts, and Google Calendar, it becomes an all-in-one central location for planning and executing your content schedule.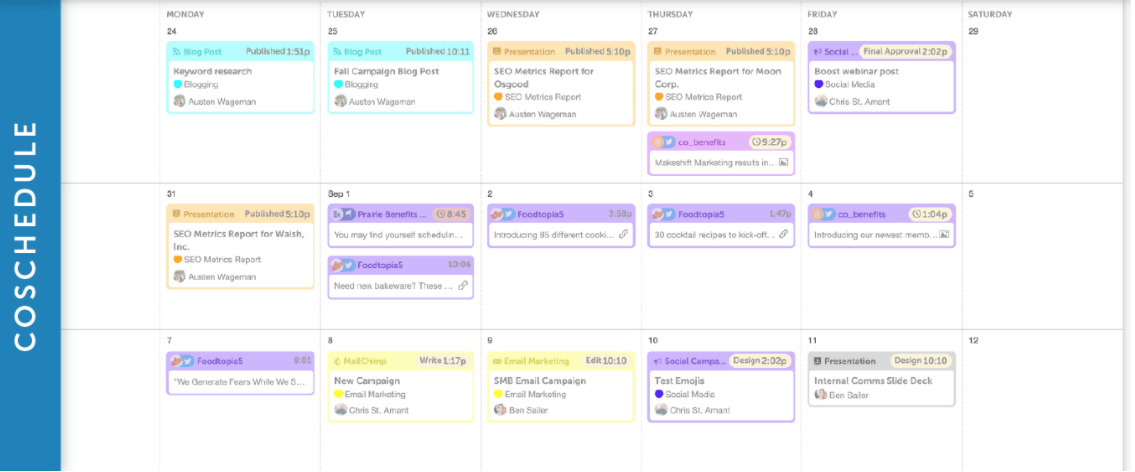 While Asana and Trello are mostly helpful for managing content, CoSchedule is involved in executing these ideas. For example, it can:
Find and present statistics so you can see how your active posts are doing
Help you create and publish your blog posts and social media posts
Coordinate your email campaigns
Keep track of how well different team members are doing with their tasks
The only drawback to CoSchedule is that there is no free version (though they do have a free trial). Some bloggers may not need all of the data, analysis, and integrations CoSchedule provides. In that case, it may be better to choose from one of the more straightforward, affordable options on the list. But if you're a power user, CoSchedule's complete content calendar package may be well worth it.
Step 3: Build a Calendar That Will You Help Meet Your Goals
You want your calendar to have all of the important, relevant information for your content marketing needs. So instead of telling you what to track, we're going to look at common content calendar types and give you a few options.  Use one or draw from all three depending on what your needs are.
The Basic Scheduling Calendar
The most basic calendars you're likely to see involve just two simple inputs: what is being published and when it's going to be published. The brilliance is in its simplicity.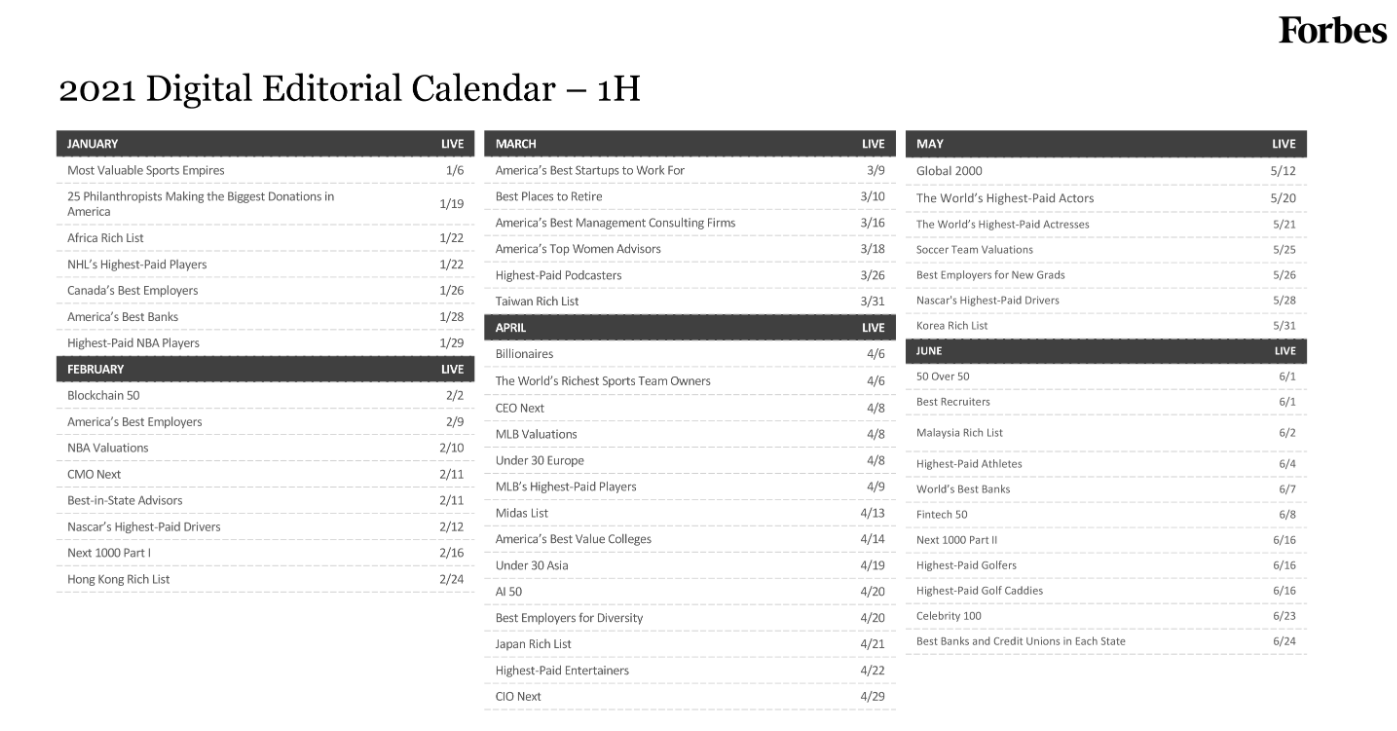 This calendar gets clutter out of the way. It keeps your focus on scheduling alone—not metrics, SEO, social media, or other non-essential factors—so that your content is going live right when it needs to.
With no other distractions, you can make sure that your scheduling factors in:
Holidays and important dates
Your readers' viewing habits (which days of the week perform best)
Your team's output capabilities (balancing work-intensive content like white papers and e-books with lighter content like refreshes and roundups)
By limiting what goes on your calendar, it can be easier to keep scheduling priorities front of mind.  If you're a single person or small team with clearly defined roles, then this calendar may be all you need to make sure that quality content is being released on time and with maximum impact.
The Strategic Content Calendar
You may want to incorporate SEO categories into your content calendar when your overall marketing strategy becomes more advanced—including content funnel stages, keywords, topical authority, content clusters, and more.

As we can see in the example above (based on one of our own content calendars), scheduling takes a backseat to SEO. As far as timing, only the month is specified, which makes this less of a calendar and more of a content planner. But for SEO and strategy, we have categories like:
Funnel Stage: This refers to whether this content is aimed at people at the top, middle, or bottom of the content funnel
Post Type: Post type can be the kind of content (opinion, interview, etc.), or it can be SEO-related types (new keyword, topic cluster, refresh)
Keyword: This is the primary keyword(s) that this post will try to rank for
MSV: Monthly search volume is how many searches this keyword gets in a month, on average
KD: Keyword difficulty is how hard it is to rank for a keyword
This kind of calendar can be useful when the person ideating and the writer are not the same people. If SEO strategies and keyword research are things that you plan for every piece, including categories like the ones seen above could help you keep everything organized when you (or a member of your team) start writing.
By tracking funnel stage and post type, you can also make sure that you have a variety of content that will satisfy different parts of your audience. Move posts around until you have a hearty balance of content that helps you achieve your long-term goals.
The Organizational Content Calendar
In some companies, a content calendar is one of the primary ways that workflows are organized and monitored. When that's the case, you can use categories like "content stage" to show progress and "assignee" to know who is working on what.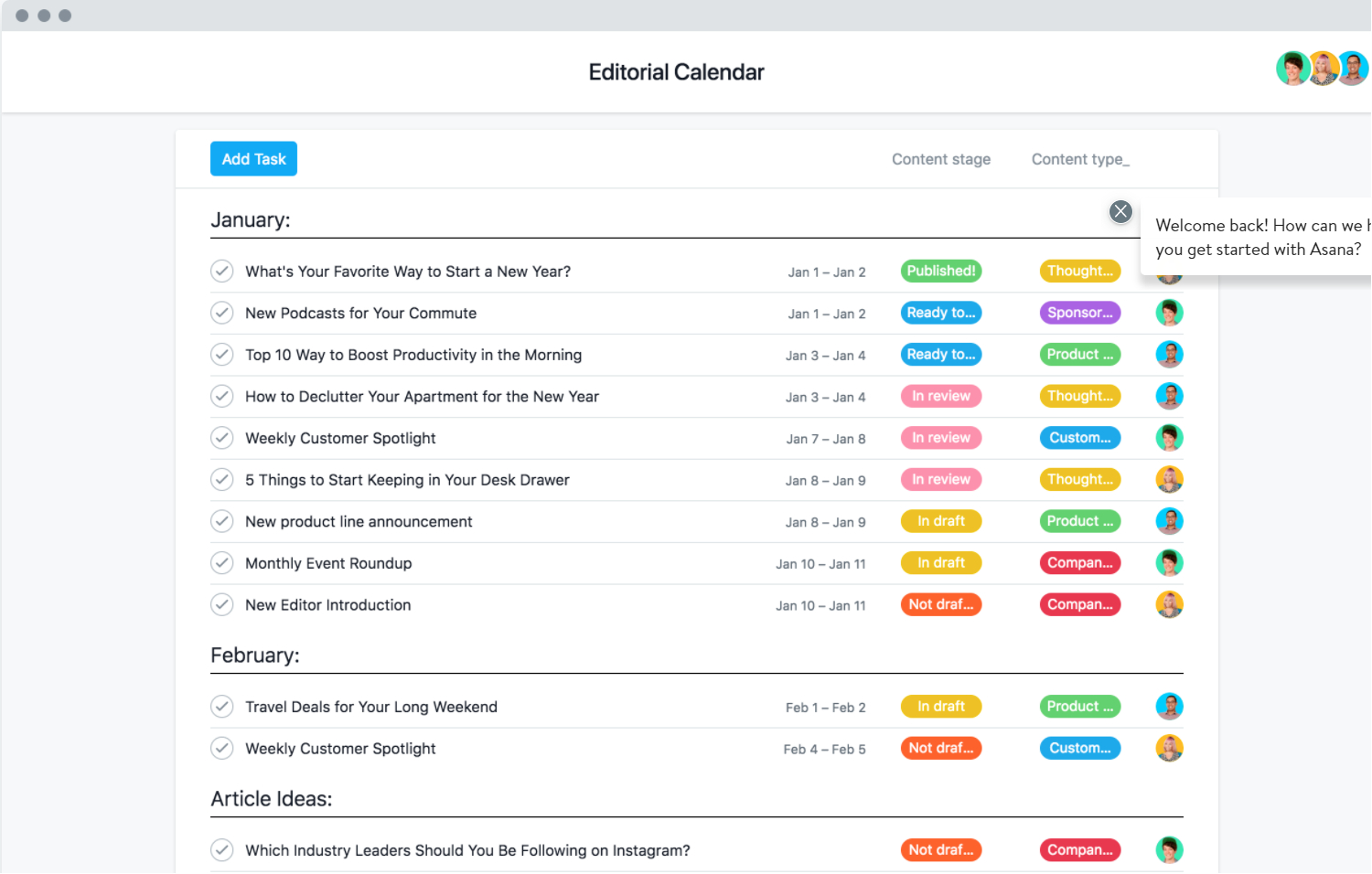 This kind of content calendar helps keep large teams on track, especially when multiple people need to handle a project before it is completed. The programs we mentioned before, like Trello, Asana, and CoSchedule, are all great examples of how to create a content calendar that is focused on organization. By tracking stages and who's working on the post, this calendar helps everyone work more efficiently and stay confident that all the moving pieces will get to where they need to be.
Bonus: The Social Media Content Calendar
Promoting your content on social media helps to bring in new readers, spread brand awareness, and build links to boost your SEO. Consider including a social media section on your calendar so your promotion efforts stay on track.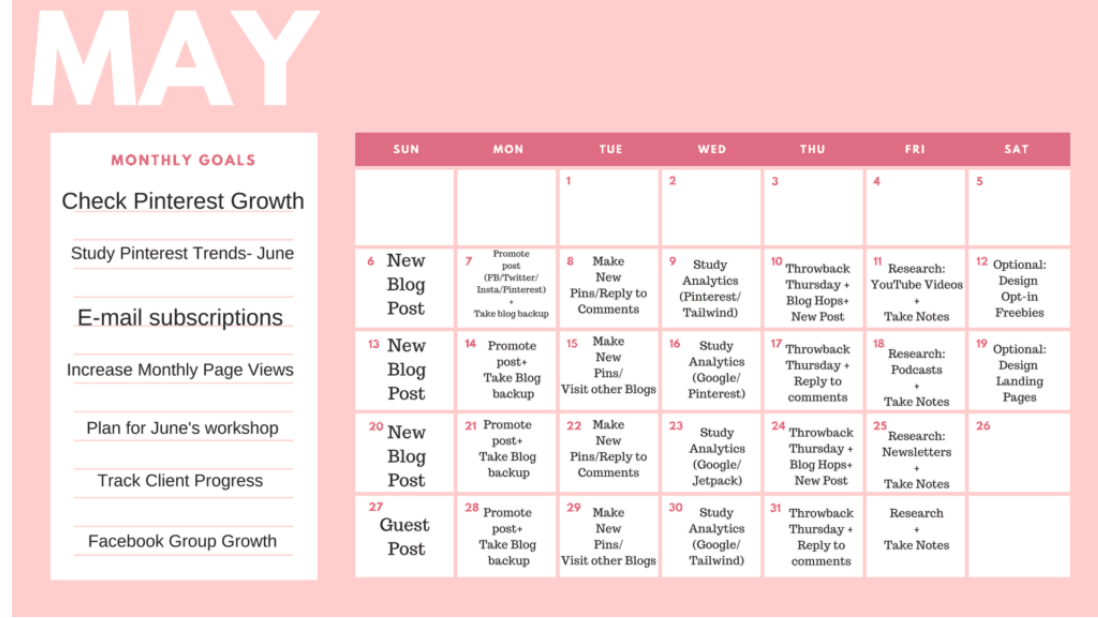 In the example above, we see a combined content calendar and social media calendar. For smaller websites with less production, it can be easy to get your weekly social media plans down all in one place alongside the blog posts that they'll help promote.
If you think social planning could help you stay more organized, consider adding these elements to your content calendar:
Promotion sources: Where do you plan on promoting your content?
Promotion post types: What will the posts look like?
Post timing: When in the week and in the day will these posts go out?
For larger operations with more sophisticated social media strategies, it may be worth investing in a platform that specializes in social media organization. Tools like Buffer can help you plan, organize, and track your social media posts across multiple platforms. It offers a calendar feature so you can visualize which posts are going out and when.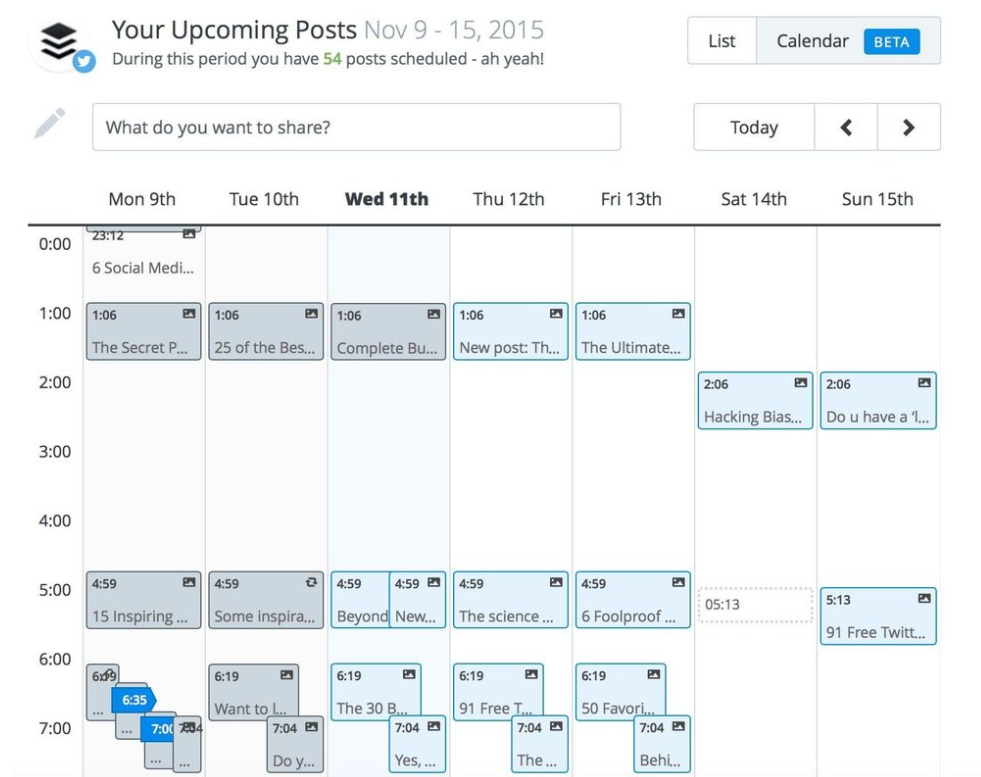 Whether you make a separate calendar for social media or not, it's useful to find some way of clearly and concisely tracking your social media posts.
How to Create a Content Calendar With Our Template
To help you on your way to making a content calendar that works for you, we've made this content calendar template on Google Sheets. It includes all the basic categories we've gone over in this article. Feel free to add or delete them as you see fit.

To delete a category, right-click on the column and then select "Delete column." If you would like to add a column, right-click on wherever you want to add the column, and then select "Insert column." More categories mean more work, so only add them if they will benefit you.
Make this content calendar template your own. Organize it so that planning your content strategy won't be an onerous task but a useful, refreshing exercise.
Keep Your Content Calendar Useful by Refocusing It On Your Goals
To get the most out of your content calendar, periodically prune it back. Evaluate what goal(s) it helps you accomplish, and then cut out anything that doesn't help you get there. Remember, the best content calendars don't have the most features—the best content calendars are the ones you effortlessly use every day to keep your content strategy moving forward.