Sometimes writing a high-quality, SEO-optimized article isn't enough. While you might rank well for a target keyword and provide a great resource for readers, that alone may not elevate content enough to beat out your competition in the SERP. To outrank the top competitors in your industry, you need to own a particular niche or area of interest. In other words, you need topical authority.
Topical authority shows search engines and readers that your website is a one-stop shop for anything related to a given topic or area of expertise. Think about it as if you're setting up a library on your blog. Each post you create gets shelved with similar topics and links to any other relevant content for more information. All the reader has to do is go a bit deeper into your site to learn more.
When you create this kind of exhaustive resource for a topic, it elevates your position in your target market as well as your ranking ability. Done correctly, you signal to readers as well as search engines that your blog is the best resource for quality content on your target topic.
What Is Topical Authority?
Topical authority is a measure of the breadth of your website content related to a specific topic or niche in your industry. It is one aspect of how Google measures the perceived quality of your website content and a contributing ranking factor for top-level domains.
Building topical authority is a way to showcase your expertise across multiple pieces of content, each connected to the rest.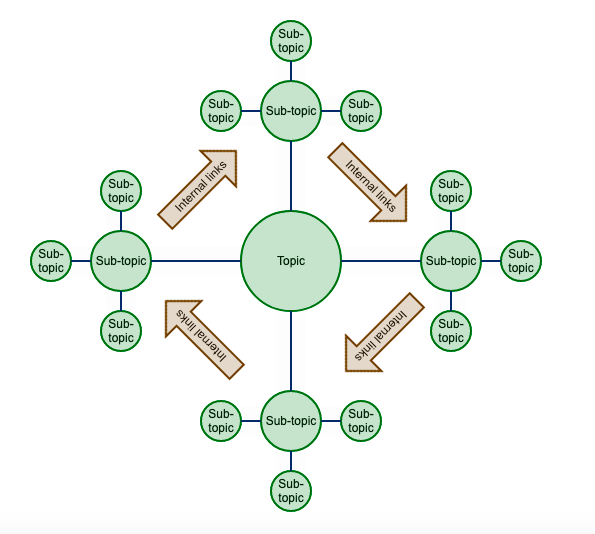 Instead of relying on individual keywords or keyword groups to gain SEO strength, topical authority helps you build a comprehensive resource and strategy around your target topic. There are a number of ways Google and other search engines evaluate your content to judge the topical authority of your website.
What Contributes to Topical Authority?
You gain topical authority through the type and structure of content you create. It provides a strategic framework for showcasing subject-matter expertise in one or more aspects of your industry.
Let's say you want to build out your blog's authority on SEO. You'd need content on how search engines work, as well as specifics for how crawlers interact with your website. On top of that, you'd want to highlight how specific search engines parse information, how to structure your site's metadata to rank better, and how to understand search intent. And that's just the beginning. To build topical authority, you need to showcase your knowledge across every aspect of your chosen topic.
Topical authority is one of the ways Google measures "quality" as a ranking factor—along with page authority and domain authority. All three factors tell search engines how well you've built up your content around a particular topic.
Page Authority: The strength of individual pages on your website. Each page has its own authority ranking that can contribute or detract from your overall topical authority.
Domain Authority: The strength of your entire domain. This measure is related not to a specific topic or area of expertise but to a signal for the quality of your website as a whole.
Domain authority, page authority, and topical authority come together to help search engines form a better picture of the type of content you create. Let's say one of your pages ranks well for its target keyword that contributes to its overall page authority. When you have several pages ranking well for similar long-tail keywords related to your target topic, that boosts your domain authority. The more domain authority you have, the easier it is to build topical authority.
And all this helps you gain better backlinks, which are another big indicator of overall content quality for search engines and readers. When a search engine or reader sees an existing resource cite your content that indicates authority on a given subject.
It's all interconnected. Topical authority just gives you another way to conceptualize the way you create content on your site. It's a strategic lens for building out an exhaustive resource on the topic you want to own in the market and the SERP.
How Topical Authority Helps You Rank Higher
Building topical authority can help you rank better across a number of related articles, but it won't always correlate to a direct increase in page or domain rank. When you show search engines that your website is a comprehensive resource for a given area of search interest, they'll be more inclined to increase your rankings across the board.
As you build out topical content, search engines will see users engaging with your domain as a go-to resource for your chosen topic. This creates the potential to rank higher for target keywords and capture more Google search features. By increasing the number of ranking keywords across your domain, you are able to climb ranks faster and connect your site with "quality content." That increased authority makes it easier to increase rankings for every piece of content related to that topic as well.
Let's say you offer a release management tool and want to gain topical authority in product management. To get started, you'd want to create a comprehensive list of every keyword related to that topic: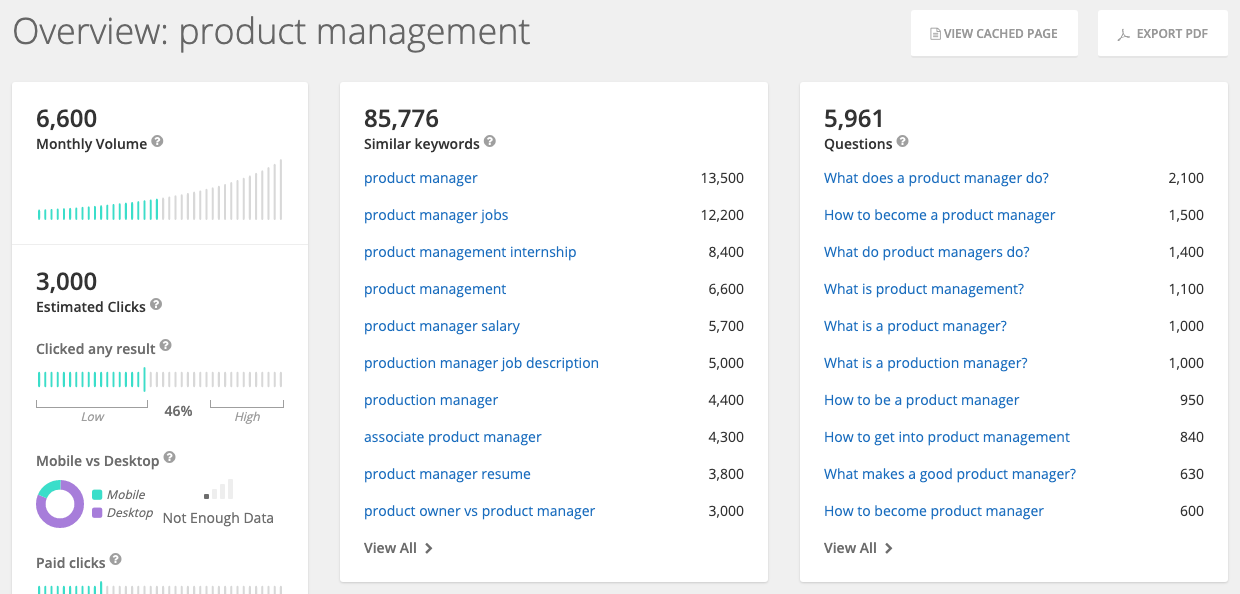 Now, 85,776 similar keywords is a lot to work with, but you can use a tool like SpyFu to create a comprehensive list helps you see the breadth of a given topic. From there, you'll just need to whittle down the content into something more manageable based on the intent of your target searchers.
The "Questions" section is a good way to frame this process. Using those as the jumping-off point helps you figure out exactly what aspects of the topic you want to focus on. For example:
What is product management?
What is a product manager?
What does a product manager do?
What makes a good product manager?
Filter out everything that isn't related to the scope of your area of interest. For this example, you're not going to talk through what it takes to get a product management job, so that eliminates a lot of keywords and questions. Without narrowing down your topic to something specific, you could end up creating content that doesn't contribute to your goals.
Think strategically about what you can feasibly cover on your blog. As topical authority helps you create a better internal link structure of relevant articles across a number of pages, it's important to have a sense of how complex that topic will be. The right site structure will keep visitors on your site longer and encourage them to navigate deeper to explore more facets of that topic.
Just keep in mind that there will be competition. Whenever you start building out a hub for readers to interact with, it will attract the attention of your competitors. That's why it's so important to refine your topic to something that is obtainable. The more specific you are with your topic, the easier it will be to cover comprehensively.
5 Strategies for Building Topical Authority
Creating topical authority needs to be a part of your overall content strategy. To elevate your website to the "authority on [your chosen topic]" takes a considerable amount of effort as well as a thorough understanding of your target topic. These strategies will help you build your authority systematically while also making it easier to create a comprehensive resource for your readers.
1. Use Link Structure to Your Advantage
How you structure your website is an important part of signaling topical authority to search engines. By following SEO frameworks, like the hub-and-spoke or topic cluster model, you're able to create a more intentional structure that's easy for readers and search engines to understand.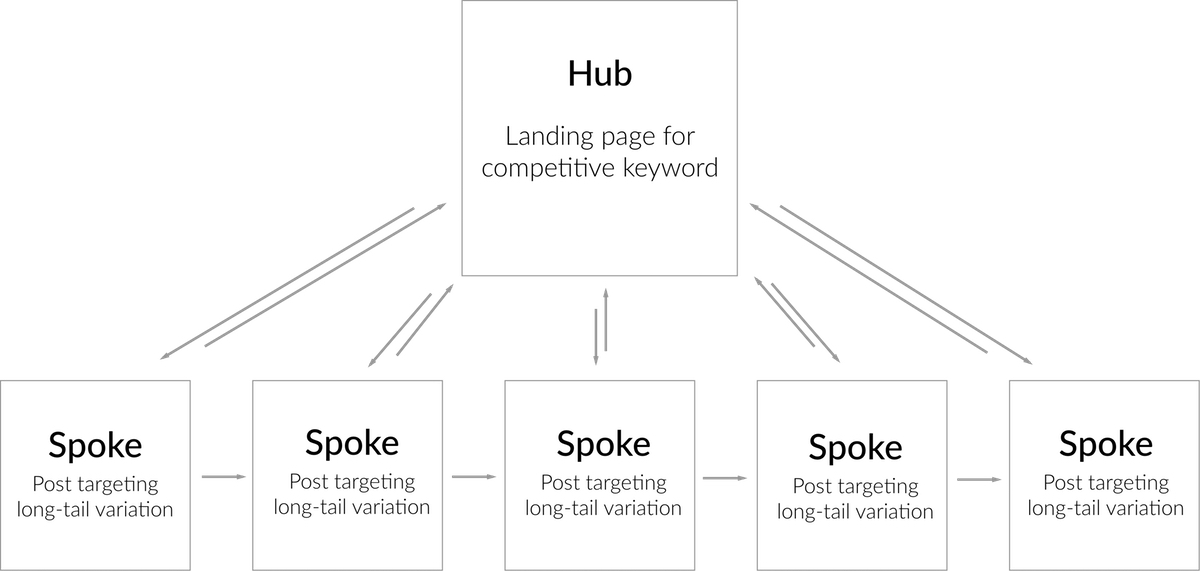 When you structure your site this way, it shares the SEO strength between each linked article. While the hub will see the most benefit of this, because every article will always link to it, each individual spoke will link to other relevant content as well. This cross-linking also makes it easier for readers to dig deeper into the topic you're building authority around.
For example, if a website visitor comes to your site to learn more about how search engines work, the article they land on will provide an overview of the topic. If they then want to learn more about how website crawlers parse the information of your website, they can click through to that article directly from the overview. Then, they can learn more about the algorithms for each individual search engine by clicking further, and so on. This helps them learn as much as possible about the topic without ever leaving your site.
Depending on the topic you're going after, you can also create a pillar post to act as the comprehensive resource. These long-form pieces of content are a great way to highlight information in a single resource, which gives the reader an even more seamless experience.
Just keep in mind that a pillar post won't pass as much link equity to the rest of your site. As all the content for your target topic is provided on a single page, the ranking potential will mainly stay with that page. But creating a page like this will help you increase domain authority because search engines will have an easier time seeing the resource as comprehensive.
2. Follow On-page and Off-page Best Practices
On-page and off-page SEO support the overall structure of your website by making sure that every piece of content you create is tailor-made for search queries on your topic. This all starts by understanding how your readers think and talk about the topic. Once you have this knowledge, it's easy to create content that speaks directly to their needs.
There are a few ways to leverage on- and off-page SEO to build topical authority, including the following:
Use meta tags that mirror the language readers use to talk about your topic. This helps attract readers in the SERP while also appealing to search engine algorithms.
Be intentional with the content structure on every page. Use your H1, H2, and H3 tags to highlight long-tail keyword variations and subtopics that don't require a full article to explain.
Include relevant keywords in your image alt text. This helps search engines parse the visual information faster and makes your site more accessible, which is another positive ranking factor.
Make sure the technology you use on your site is optimized for every browser so page speed doesn't suffer. Slower pages will decrease your overall ranking ability.
Encourage social sharing for every post. The more people share your content online, the more people will consider it authoritative. These social shares are also a ranking signal for search engines.
Following these best practices makes it easier to show readers and search engines your authority on a given topic and makes it as easy as possible for them to engage with your site.
3. Source High-quality Backlinks
Create content with the goal of generating backlinks from targeted sources. One of the ways search engines gauge authority is by number of quality links to your website content. Think about it as if you're building out a network of readers and websites that back up your claims of topical authority.
SpyFu's Backlink Builder is a great way to identify opportunities for these links: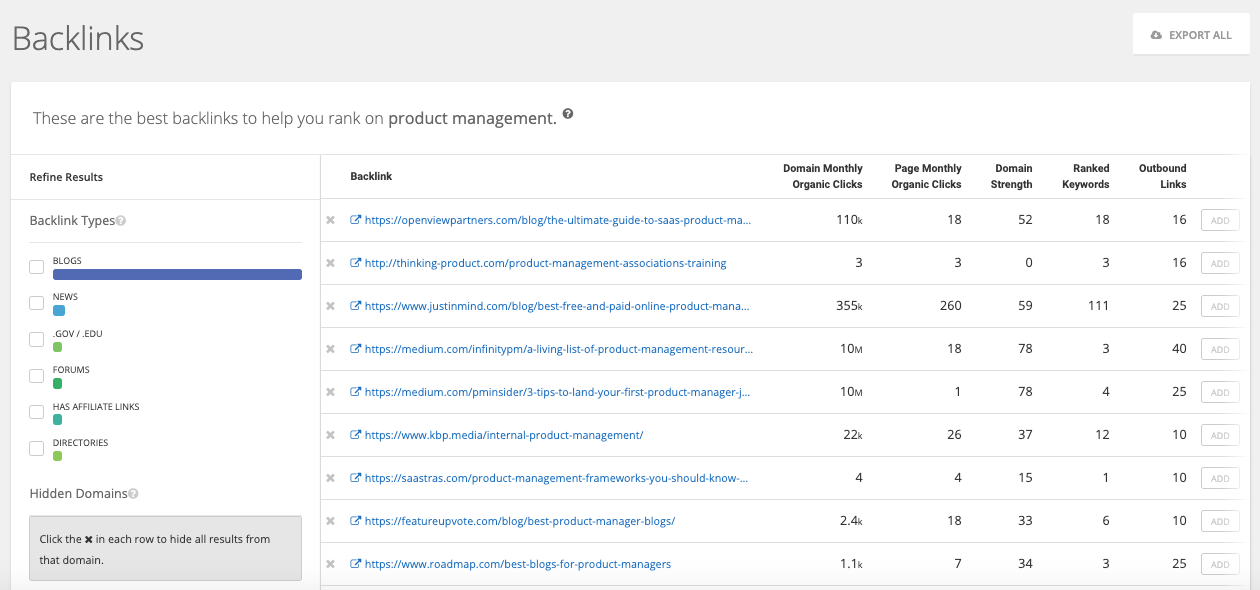 Just plug your topic and relevant keywords into the tool, and we'll provide you with a list of the most valuable backlinks based on a number of different metrics. Focus on the Domain Strength and Outbound Links to get started:
Domain Strength: When you're building topical authority, it's important to gain links from other authoritative sources. Domain Strength is the measure of that authority in SpyFu.
Outbound Links: When you're going after backlinks from a particular website, it's helpful to see how often they actually link to other content.
To make this process easier, define baseline metrics for your team. If the domain strength is too low, the effort invested in sourcing a backlink won't be worth it. If the website you're targeting links to a lot of resources, you have more potential to get a link, but the link equity is also shared between every other website. It's important to strike a balance between these two to showcase your authority.
4. Nail Down Search Intent Early On
Dig into search intent for your target topic to ensure that each piece of content you create answers a specific question. Whenever someone searches for a particular topic, they have a clear idea of what they want to learn—and if you don't satisfy that need, then your content isn't valuable. That makes it less authoritative.
Let's go back to the product management example. In the previous section, we talked about building up topical authority for one particular aspect of that topic. If someone is searching for how to get a job as a product manager, and your content talks through the process of building out a product management plan, the intent is off. That means your website visitor will bounce from the site faster, share less often, and generally not show interest in your content.
That's what makes the internal structure of your website so powerful. Some topics are very broad, so you'll need a lot of content to cover every aspect. Building intentional structure into your website as well as individual articles shows readers exactly what they can learn from your website. It's all about matching their expectations of what quality looks like, which you can do only when you match their search intent.
5. Use Keyword Tools to Flesh Out Your Topic
Try out different keyword tools to create a more comprehensive topic list. Using these tools makes it easier to conceptualize your target topic and build out individual article content. To create real topical authority, provide a resource that touches on every aspect of your area of interest or expertise. Building that solely on your own intuition makes it easy to miss out on important information.
Using SpyFu, the SERP analysis and Top Pages reports can help build out your understanding of a topic: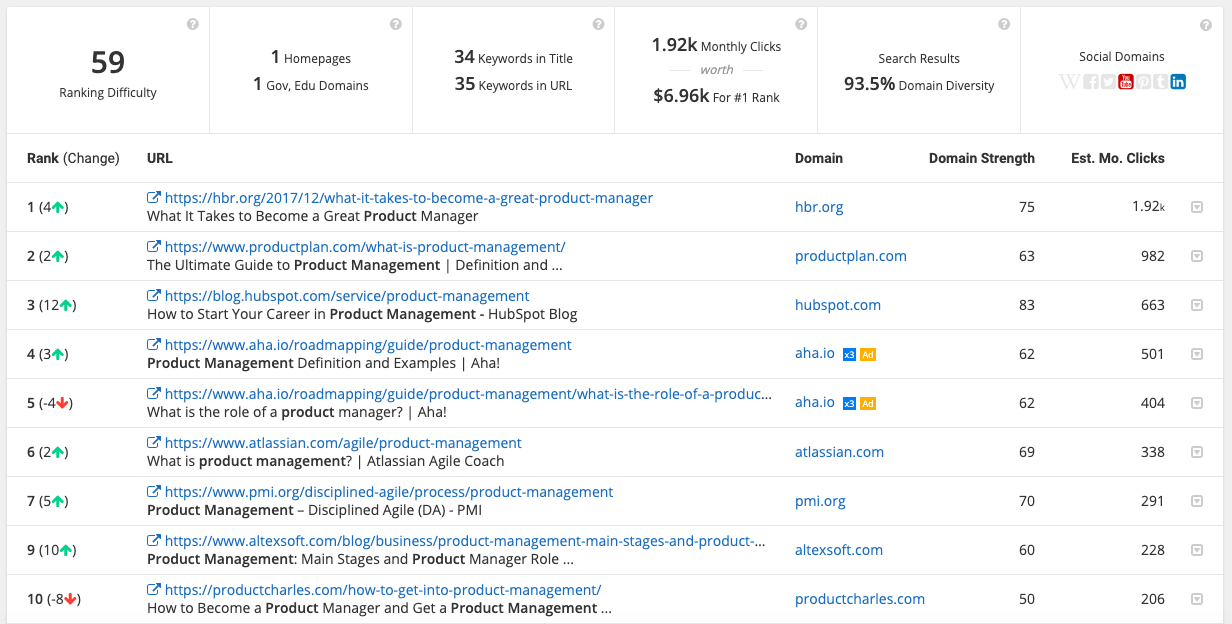 The SERP analysis will give you a list of competitive URLs on the same topic, which you can then plug into the Top Pages report. Let's take an example from the second URL; Harvard Business Review is an outlier due to the breadth of different topics they cover.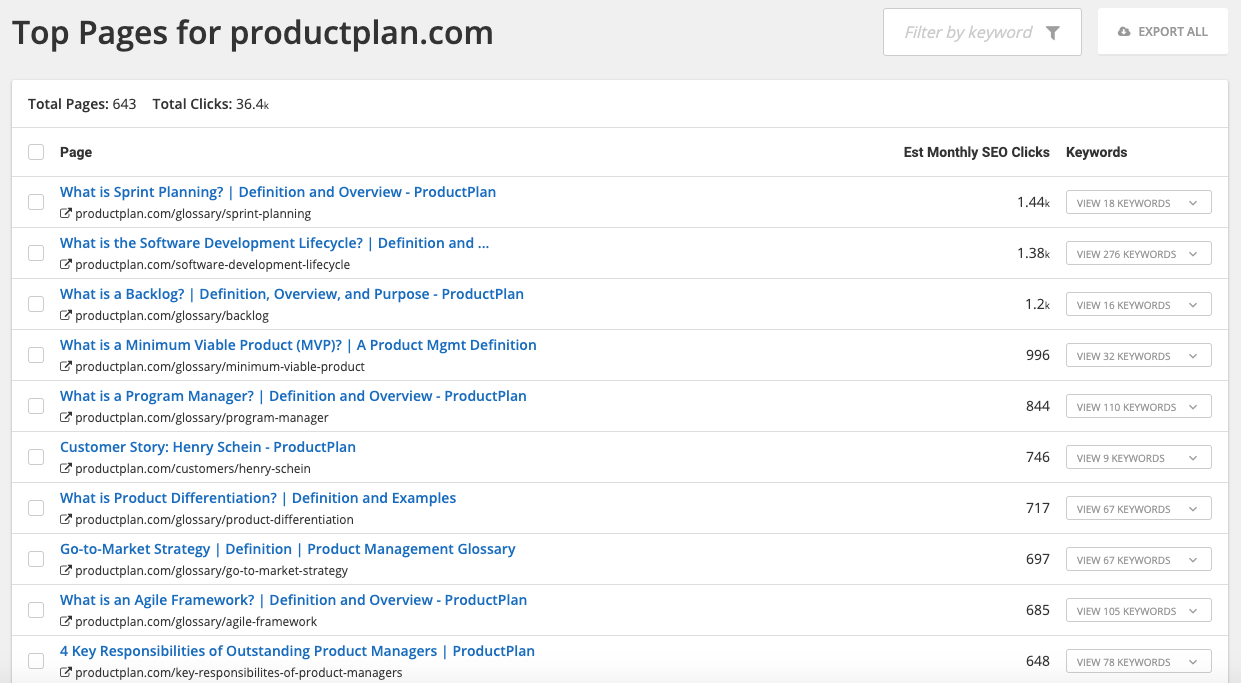 As you can see from the results, ProductPlan is working toward building topical authority of their own around agile product management. This kind of targeted approach is a really great idea because it gives them a way to narrow the amount of content they create into a single lane.
Using these reports is a great way to flesh out your topic list and learn more about what your top competitors are doing with their content. This helps you create a better overall content plan, which makes it easier to build topical authority in the topic of your choice.
Topical Authority Showcases Your Expertise
When you create content for your business, going after topical authority a great strategy for appealing to both search engines and searchers. But building an exhaustive resource on any given topic is no easy task, so it's important to be strategic with how you showcase that authority.
So be specific with the topics you chose. When you gain topical authority, it will highlight your expertise publicly. That elevates your brand, helps you gain more backlinks, and makes it easier to rank higher in the SERP for a number of key terms.