One of the primary goals of content is to get your business noticed. The thinking here is that the more people who see your content, the better since this attracts more traffic to your website. As a result of more traffic, your site has a higher chance of converting casual browsers to return visitors — and eventually, to customers and users.
These days a lot of the content on the web is driven by organic search — unpaid search results that are based on a person's search using long- and short-tail keywords. Each article links to other articles on the blog based on keyword fit. For example, an article about email marketing links to one about acquisition costs because, at some point, they both talk about customer experience.
The result is a messy blog structure that leads readers down a rabbit hole. The good news is there's another option — topic clusters. This refers to an assortment of articles that link to a larger, related topic. Instead of randomly linking to content, you create an organized blog structure that helps content rank higher in search.
Here's a deep dive to better understand how topic clusters work and how they improve your SEO.
What is a topic cluster?
A topic cluster is a collection of articles that relates to one main subject area. Also known as pillar content, the main topic covers a broad subject — like digital marketing. Topic clusters are like subtopics and branch off of the pillar content — this is also referred to as the hub-and-spoke model. As an example, topic clusters for 'digital marketing' can include mobile marketing, display advertising, and social media advertising.
[Source]
The topic cluster approach to content allows for more in-depth coverage of niche topics. For example, if one topic cluster focuses on mobile marketing, you can explore topics like:
How to use SMS to communicate with customers
How rich media messaging simplifies debt repayment
How to use mobile notifications to improve customer experience
There are two main benefits to the depth and structure topic clusters offer. One, content gets more visibility. Each cluster lets you explore specific topics in more detail. All of this related content gives Google more information to crawl and index from your blog.
Two, all of this information helps you rank higher for more competitive search terms. Over time, Google will see your site as an authority on a subject and rank your content higher than sites that don't offer as much insight and details.
Another benefit of topic clusters is that they make it easier for you to cater to specific customer pain points and answer questions. Going back to the digital marketing example for a minute, let's say your audience is frustrated with social media marketing, specifically, Facebook ads.
You can create content that talks about how to create Facebook ads, what information to include to capture more leads, how to decide on a budget, and so on. All of this information combined creates a massive resource that your audience can turn to to answer all of their social media marketing questions.
How topic clusters benefit SEO
One of the leading benefits of topic clusters is the simplified site structure. This helps Google find your pillar content and the corresponding topic clusters. This is key because people search differently than they used to. Instead of plugging a keyword into Google, people ask questions that start with 'why' and 'how.'
Search engines, like Google, have noticed this shift and have adapted by changing their search algorithms. Now when people search, they see more relevant content based on topics.
Here's an example. Let's say someone wants to learn more about creating a mobile marketing strategy. When 'mobile marketing' is entered into search, the top results range from content about 'what is mobile marketing' to 'tips on mobile marketing.'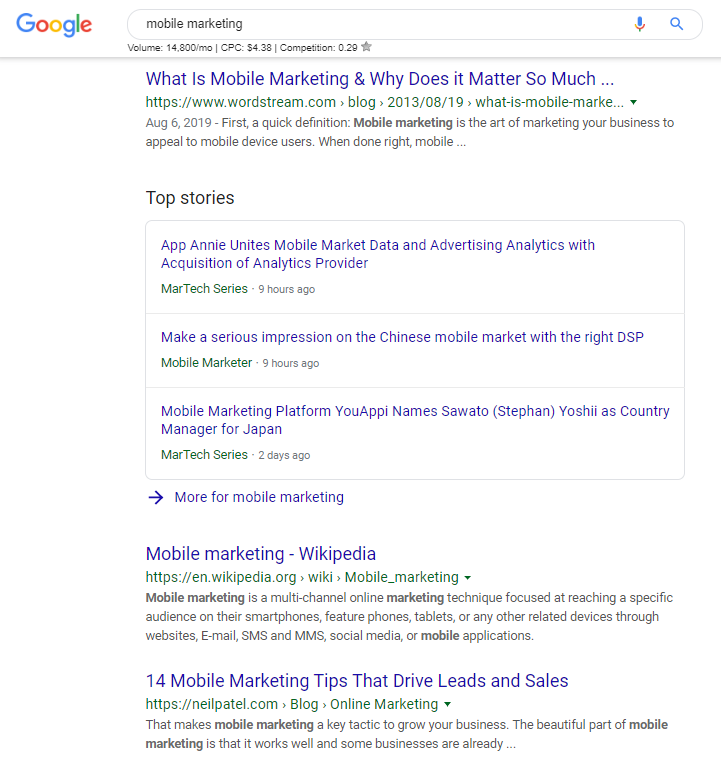 Users have to scroll halfway down the page to find the one result that talks about mobile marketing strategy.
Overall, these results aren't helpful to the user. However, if they were to search for 'how to create a mobile marketing strategy' instead, the results are much more in-line with the user's search intent.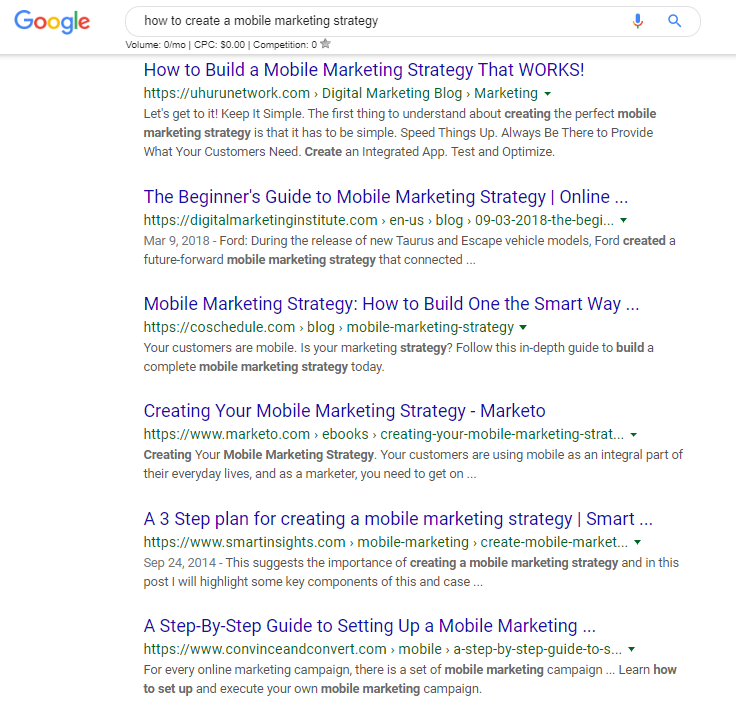 If you create a mobile marketing strategy topic cluster, over time, your content will move to the top of search because it gives users insight into what they're looking for.
So what can we learn from all of this? A short-tail keyword like 'mobile marketing' is a much better fit for pillar content. Remember, pillar content is a general introduction to a topic. Within this content, link to topic clusters.
In this example, this pillar content explores what mobile marketing is. However, the two highlighted links lead to topic clusters that talk about mobile marketing strategies and mobile indexing: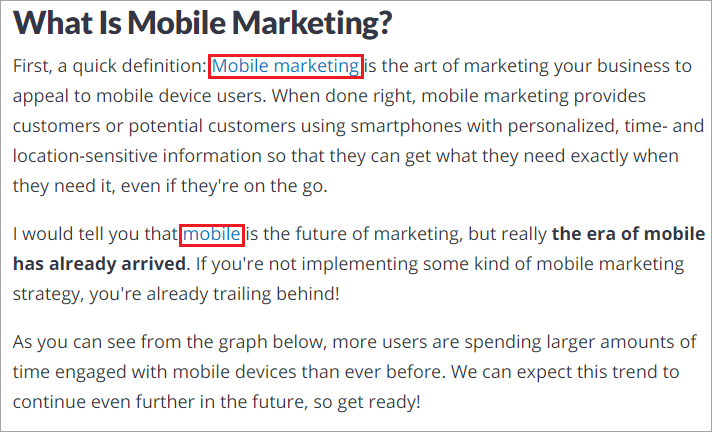 [Source]
To help your audience find topic clusters quicker, use long-tail keywords within niche content. When people search for specific content, your relevant articles appear in search. Use long- and short-tail keywords in your content strategy to help improve the ranking of your pillar content and topic clusters. For example, incorporate long-tail keywords into URLs to help with SEO.
With topic clusters, content isn't just competing with keywords and competitor content; it positions your blog as the authority on topics.
How to create pillar content
Now that we've explored what topic clusters are and how they benefit SEO, let's dive into how to create the content you'll need to make this strategy work for you.
Let's start with pillar content. It focuses on top-of-funnel content that appeals to a wide audience. Search volume is high for the target keywords, so there's a lot of competing content.
Here are some examples of pillar content topics and the corresponding monthly search volume:
Inbound marketing = 90,500/month
Email marketing = 90,500/month
Customer engagement = 12,100/month
Customer acquisition = 9,900/month
People who search using short-tail keywords are likely at the start of their customer journey. They need general information to help them learn more about a subject, product, or service they're interested in.
For example, 81% of shoppers like to conduct online research before they buy something — whether online or in a brick-and-mortar store. If a marketer is looking for more efficient ways to manage their customer base, they might search for something like 'customer relationship management.'  As you can see, the resulting search content is designed to educate readers.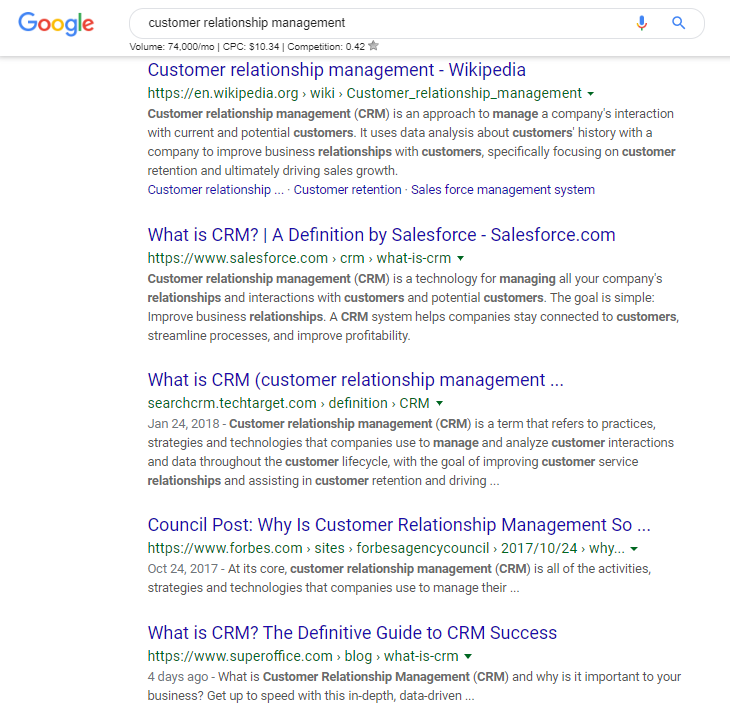 Not only is pillar content meant to educate readers, it should be written in a way that ensures it stays relevant for a long time. It shouldn't matter if a person searches for 'customer relationship management' today or one year from now — the content should be general enough that it stands the test of time.
The creation process
Pillar content should speak to audience pain points and solve a problem they're experiencing. This content should have more breadth than depth and include a lot of helpful information.
The ideal length of pillar content is 3,000 words or more. Because of the length of pillar content, include headers and sub-headings throughout to make the content easy to scan and read. The process for creating pillar content is as follows:
Get to know who your ideal audience and customers are. Figure out what types of people you want to attract to your site. Think about what their interests are, what goals they want to achieve, where they're located, their likes and dislikes, and their demographics. The more you know about this group, the easier it is for you to write content they'll want to read.
Figure out what your ideal audience and customers need or what they want to know. To find out how to cater to their needs, ask your audience what their pain points are. For example, use an email marketing campaign to send a survey to current customers. Other options include using internal data — like questions from customer calls to your support team — and reviewing the types of comments posted on social media and those that come in through your online contact form.
Write content and analyze. Use a tool like Google Analytics to see what kinds of posts have the most views. Based on what you find, create more of the same types of content.
Once you know what type of content you'd like to publish, create more than one pillar. Multiple pillars allow you to expand your specialty and cater to an even wider audience. Your topic clusters will go into more detail. Remember, pillar content is meant to help you attract different kinds of people to your blog.
How to create topic clusters
Topic clusters focus on specific audiences. Pillar content attracts your audience, and topic clusters filter them into different subtopics. The search volume for topic clusters is lower than for pillar content, but that's okay since the people reading these posts are looking for specific info. Topic clusters offer niche content, so naturally, they will attract a smaller audience.
Let's say your pillar content focuses on inbound marketing; the search volume for corresponding topic clusters would be:
How to survey customers = 40/month
Effective focus group questions = 170/month
How to upsell customers = 50/month
Where pillar content focuses on breadth, topic clusters focus on depth. Topic clusters also give you the flexibility to explore topics in more detail since they focus on middle- and bottom-of-funnel information.  As a result, this content caters to people who are further along their customer journey. Their initial research is complete, and now they want to learn more about the subject, product, or service you offer.
When it comes to writing content for topic clusters, the initial temptation might be to rely heavily on keyword research to drive organic traffic. Remember, if your pillar content is done right, it will naturally drive traffic to your niche content.
Keep in mind that the purpose of topic clusters isn't just to rank high but to cater to specific audience needs. Keyword research should be done to support the topic. Look for keywords that match readers search intent so that they're more likely to click on the post.
The creation process
Use your topic clusters to dive deeper into subtopics that come from the pillar content. The process for creating topic clusters is as follows:
Identify subtopics within the pillar content. Take a look at your pillar content and find opportunities to explore ideas in more detail. If there's a post about email marketing that mentions effective strategies, consider topic clusters that give more details about how to how to improve open rate, how to increase click-through rate, and more.
Incorporate keywords once there's a list of topics. Use an SEO tool like SpyFu to find keywords that have a medium search volume — like 1,500 to 2,000 — and low competition. This is your best chance to rank for your chosen keywords. Also, use the SpyFu Related Keywords tool to see what kinds of topical questions people search for.
Link to pillar content within your clusters. Linking is one of the best ways to drive traffic to your topic clusters. When you mention a keyword or introduce a new idea, link to the corresponding topic cluster.
If you have more than one type of pillar content, create topic clusters that relate to each one.
Best practices on how to incorporate topic clusters
Your audience's needs and expectations evolve over time. And as we pointed out earlier, how they search also changes over time. For this reason, there are four best practices to consider as you create content. These practices make sure that the pillar content and topic clusters you create remain relevant and rank high in search.
1. Refresh pillar content
Since most posts decay over time — views decrease as newer, more relevant, content is published — refresh your pillar content, so it stays high in search. One of the best ways to know when to refresh pillar content is by analyzing traffic in Google Analytics. If there's been a steady decline in traffic in recent months, it's time to refresh the post.
To refresh your content:
Add in updated information. If you're in an industry where processes and regulations change, incorporate these updates into refreshed posts.
Include more ideas to make posts even more informative. Appeal to an even wider audience by adding in more examples and explanations to make the post bigger — but still valuable.
Review keyword use. Double-check that your short-tail keyword appears in section headers, in the title, in the meta description, and on image tags. If you haven't done so already, include the keyword in the URL of refreshed posts.
After a few weeks, check Google analytics again to see if there's a change in page views. Ideally, you'll begin to see renewed interest in refreshed posts and more traffic. To help get the refreshed post noticed, share it on your social media channels and email it to subscribers.
2. Find out what your audience is searching for
Stay informed on what your audience and customers are searching for. This way, you can spot trends and quickly create topic clusters that cater to audience interests.
One way to learn more about what people are searching for is to plug your target keyword in Google and check the related search section. You can even use the Google autocomplete feature to see what other topics are trending. For example, if you want to find out what ecommerce topics interest your audience, start typing in the search bar to see what suggestions appear:
Based on what you find, do more research to find unique angles to take, and then publish more topic clusters.
3. Link to related Topic cluster content
Linking to content on your site helps keep people on your site longer. The longer they're on your site, the better since this shows that they're reading through your content. You can encourage readers to spend more time on your site by linking to relevant topic clusters within subtopics.
For example, if you create a topic cluster about customer engagement ideas, link to another topic cluster that talks about social media engagement or engagement followup. Since all of these subtopics are related, it's easy for readers to keep reading to find out more in order to deepen their understanding.
Use the Google Analytics user flow feature to see which posts site visitors click on and how long they stay on the site: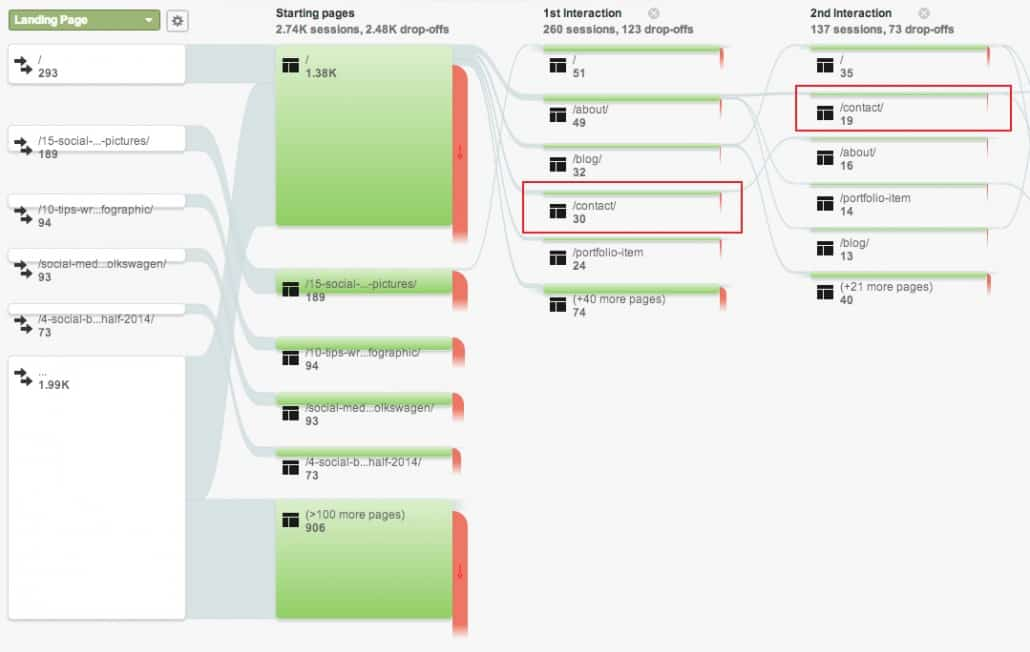 [Source]
Avoid linking to unrelated clusters from different pillars. If the linked content isn't relevant to a customer's interests, there's a chance they'll leave your site.
4. Track topic clusters in Google Analytics
For each of your topic clusters, use Google Analytics to track how they perform over time. Track information, such as time on page, bounce rate, and page views.
To access this data, go to the 'Reports' section on the right side of the main page and click on Behavior → Site Content → All Pages. This page shows you a list of all the pages on your site and data for each one. Adjust the date range at the top of the page to see the change over time.
Combined, this information will show you how your posts are performing and whether people are receptive to the content you provide.
Use topic clusters to improve your blog
Start experimenting with topic clusters and track the impact they have on your traffic and ranking. Also track how people use your site once you begin to make the shift from focusing on keywords to drive traffic to focusing on topics to drive traffic. With topic clusters, it's a lot easier for people to navigate your site to find what they need — which is another way to keep them on your site longer. SEO is a long game, but you'll notice how much more traffic your site attracts over time.