We all want quality backlinks, but getting them isn't easy, especially for newer websites. Should you use cold emailing, guest posting, broken link building, or some other, more obscure strategy? The answer is yes — to all of these. But if you're inefficient, you could spend countless hours trying to build links and have nothing to show for your hard work. But with a few strategies, you'll stop wasting time and missing out on opportunities.
To find out how experts build backlinks, we spoke with Robin Nichols, the managing editor at 360Learning, a collaborative learning platform. Throughout our interview, Robin explained how 360Learning has built over 27,000 backlinks from quality sites like UNESCO, Zendesk, and Intercom. Specifically, we spoke about how websites can grow their backlink profile by targeting quality backlinks —  backlinks that come from relevant content and authoritative websites in your niche.
The backlinks that count the most toward boosting your SEO come from websites that are trusted authorities in your niche — the websites that experts in your industry read to stay up-to-date. Building these kinds of backlinks should be one of the most important goals in your off-page SEO strategy, but it isn't easy. If traditional backlink strategies haven't produced results for you, these tips from Robin and 360Learning could teach you how to turn your hard work into backlinks from authoritative websites in your field.
1. Conduct Original Research
People love to link to original research, and it's easier to do than a lot of content creators think. There are two main advantages of original research: it's exclusive data, so people are more likely to cite your findings, and it acts as a value-add when pitching a guest post on a higher authority website. The problem is people hear "original research" and immediately think of industry white papers that require massive databases and dedicated teams to produce. Although these kinds of projects often lead to huge backlink gains, they are also usually out of reach for more modest websites.
Even without an entire department or reams of proprietary data, you can still create an interesting work of original research. For example, you could:
Poll your readers on a series of important topics within your niche
Do an interview with an industry insider and write a case study
Use data collected from your website
To get an idea of how this might work in real life, look at this article about the 500 most common words in English from SBC International.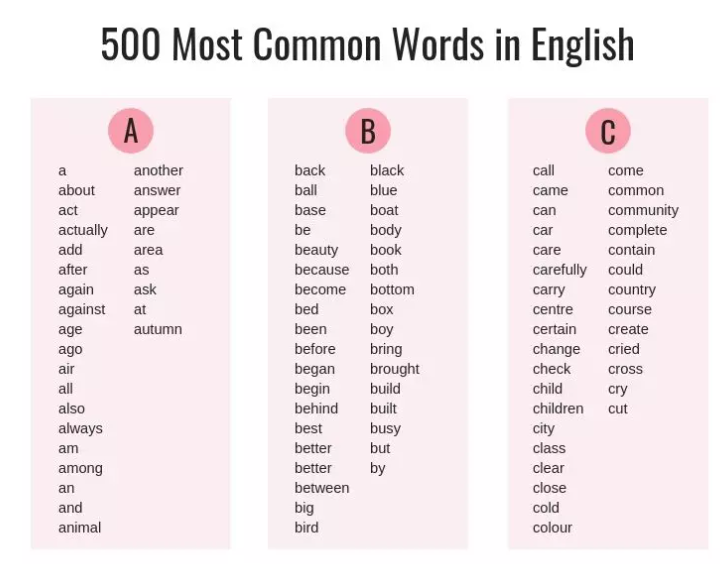 This research was taken from their own experience and other English resources like surveys, newspapers, and books, so it's by no means definitive or rigorous. But, it has helped them and their readers as it accounts for a quarter of their site's organic traffic, and it has been linked to by other sites in their industry.
None of this is necessarily easy, but, as Robin explains, you won't just be getting passive backlinks from it. These kinds of pieces position you as a thought leader in your field, provide value to your readers, and are a "great way for [you] to pitch really high-quality guest posts and get those nice backlinks [from that]."
In other words, after you publish your research, you can turn around and pitch guest posts to influential websites in your sphere using your data and insights to make your guest post pitch stand out. High authority websites don't do guest blogging out of the goodness of their hearts; they want quality content in return. By pitching an article relevant to that website's readers based on your original research, you're offering real value. When you offer something in return, it increases the likelihood you'll get a high-quality backlink, plus all of the exposure from the larger website's readers who, in turn, might share your post, read your original, or link back to your content.
2. Use Unique Content Forms
One of the best ways to make your content stand out is to deliver it in a unique and unexpected format. If everyone on the SERP is making a 5000-word how-to guide, try making a podcast to set yourself apart and offer something different to your readers. For 360Learning, this kind of unique content became their docuseries Onboarding Joei, a series of videos that showed how new Director of Content Joei Chan went through the onboarding process at 360Learning.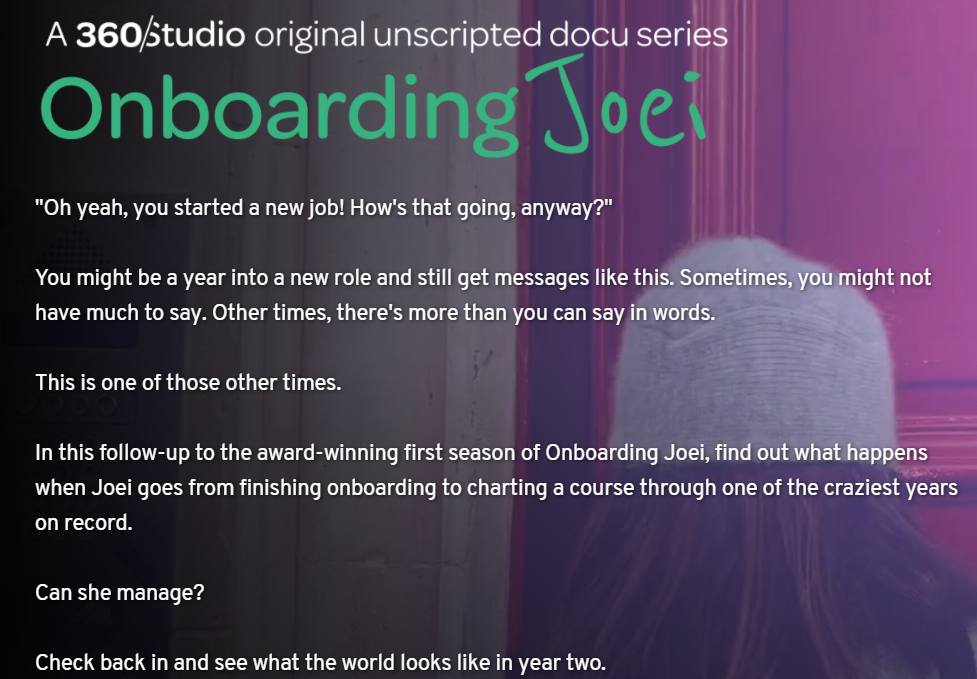 Instead of writing a blog post about how 360Learning's platform could help with employee onboarding, they turned it into a docuseries in the spirit of Keeping Up With the Kardashians.  Their creativity earned them a spot as a Webby honoree, plus they earned quality backlinks from companies like Wistia and BuzzSumo.
The best part, according to Robin, is that unique content both passively and actively builds links for your website. Passive link building happens because your piece of content is shared, consumed, and shared again, and people link back to it on their own sites. You can also leverage your content to actively build links by reaching out to other websites and pitching guest posts, interviews, and collaborations. Maybe creating a docuseries is a little much for you and your team. There are still plenty of ways to come up with creative content ideas.
Start by:
Determining the topics your content will cover
Understanding how that kind of content is "typically" delivered
Brainstorming new content formats that could be used to get across this information
For example, in a blog post on why healthcare in the US is so bad, the blog site Wait But Why used visual comics and humor to help their content stand out. Instead of laying out their critiques in a list or a dry essay as most articles do, they used comics and stories to engage their readers.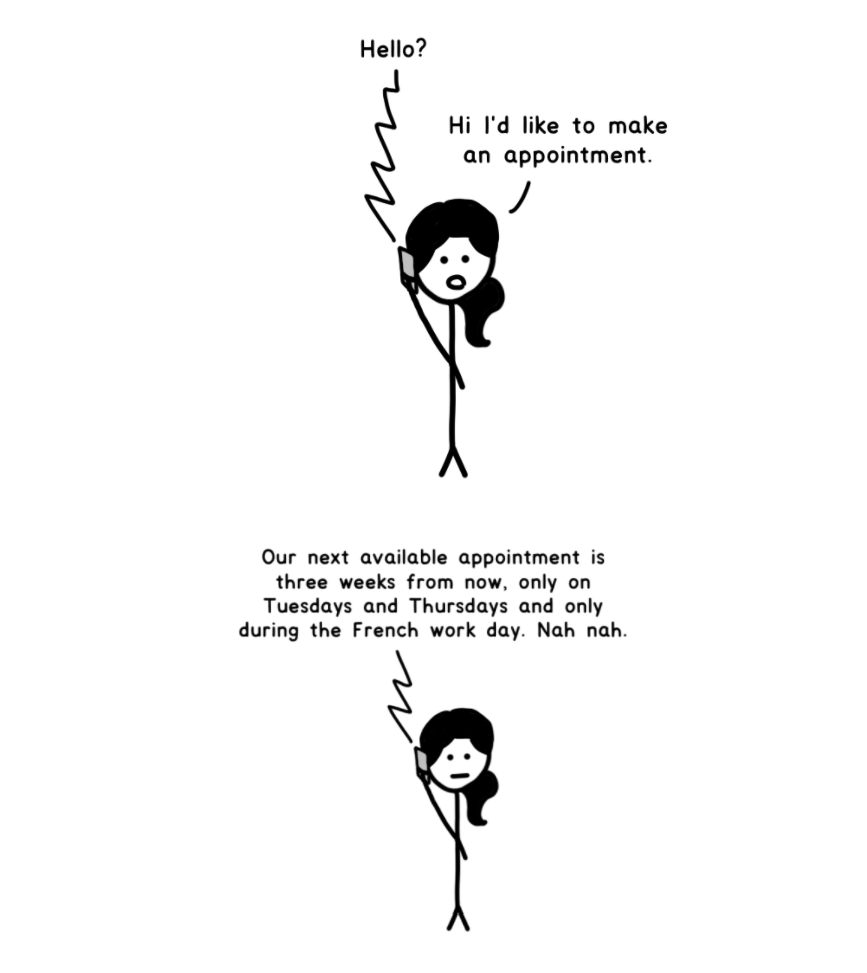 These comics helped Wait But Why's blog accumulate thousands of backlinks, some from top-ranking websites like Cambridge University and the New York Times. Using unique formats like web series, infographics, or stories will help set your content apart and get people talking, sharing, and linking back to your content.
3. Use Your Connections to Get Your Foot in the Door
Guest posting is an effective strategy for getting backlinks, but sometimes getting your pitch some attention can be a tall order. Many websites are inundated with tens or hundreds of requests each week, meaning they don't have the time to look at each request. Building connections in your industry can help get your pitch extra attention.
It doesn't even need to be a professional relationship. "If you have an old friend from college that happens to work for a pretty well-known company," reach out and see if they can help you chat with the managing editor at their company about your pitch. Importantly, this is not a backroom deal for a backlink. This is an introduction, so you have a real chance at convincing this company you can offer something of value in return for a backlink.
If you don't have any industry connections, start making them now. One of the easiest ways to do this is to start socializing with other people in your industry. You can do this by:
Getting involved in online discussion important to your field
Joining industry webinars
Going to industry meetups
Connecting and following people in your industry on LinkedIn, Twitter, etc.
Sometimes you can even skip the relationship-building phase and go straight to a pitch if you think your pitch will be just as helpful to them as it will be for you. Robin says that she has had "a fair amount of luck in reaching out to people cold on LinkedIn," and all you have to do is send them a personable message with your connection request to get things started.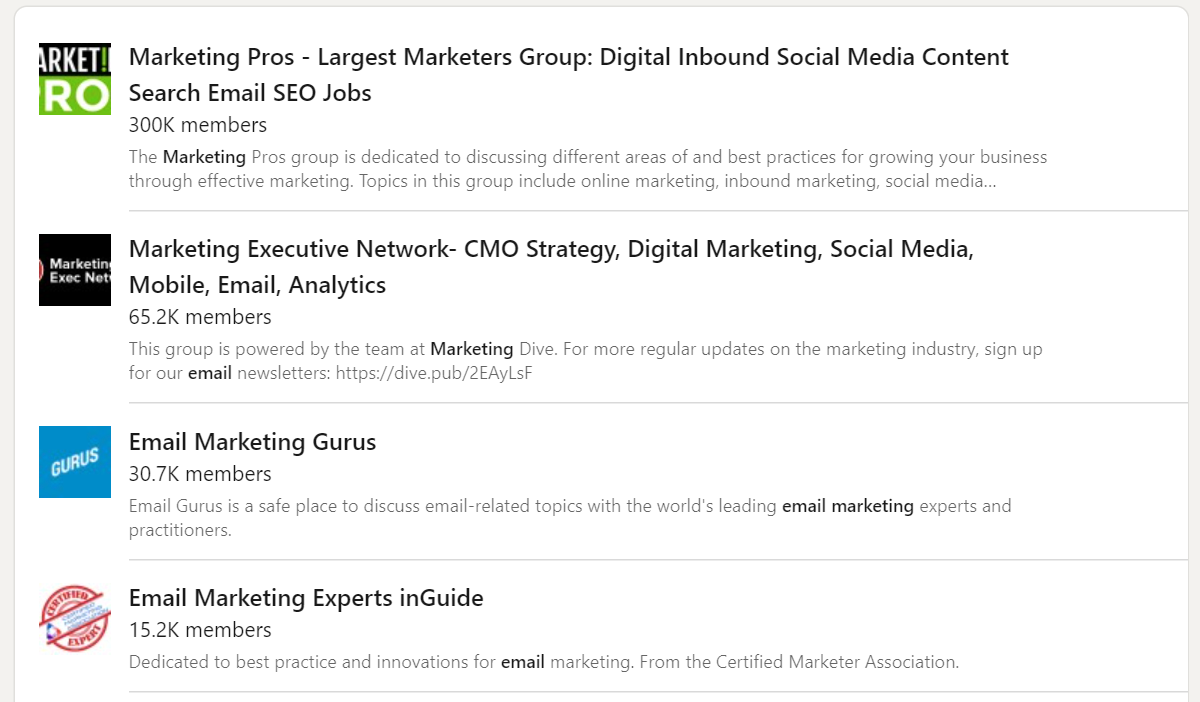 Oftentimes, making industry connections is easier than you think. Reach out, be personable, and try to put as much into the relationship as you're getting out of it. All good working relationships should be give-and-take, so make sure to show people that you are capable of helping them out as much as they are helping you. Consistently set aside 20 minutes every couple of days for industry outreach, and in no time at all, you'll have some contacts you can use to get your next big backlink.
4. Master The Art of Backlink Outreach Messages
To write the perfect outreach message, you'll need to pay attention to submission guidelines, stand out, and be upfront with your request.
Before you start writing, see if the websites you are contacting have submission guidelines: "If a publication is taking the time to write out specifications, read them and follow them." This not only shows you're serious about your submission, but it will also help you not be immediately deleted from an inbox by an editor too busy to read a pitch from someone who couldn't bother to follow their guidelines.
Next is the message itself. Ideally, every outreach message you write should be unique and personalized, but if you did that, you'd have no time for anything else. So, having a couple of templates on hand is helpful, especially if you're sending out a number of requests every day. You want your message to be "more personalized" and to not feel at all spammy. So, even if you're using a template, leave room to add personal touches to show you know who they are, and you've thought about how you can help each other.
Some areas you should always personalize are:
The greeting, including a little bit about what you know about this person or company.
Your pitch and what it offers to them.
The subject line.
Your sign-off. For example, add the day of the week (e.g., Have a good Wednesday!).
You're writing to ask someone for something, so be upfront about it. Although some people like to play coy, they're not fooling anyone and being circumspect wastes everyone's time. Robin suggests being honest and upfront. If you want to replace a broken link with your own, then tell the managing editor that and see where it takes you.
Mastering backlink messages takes a lot of practice. Every failure will teach you a little more about what's working for different editors. Remember these tips, and you can increase your chances of hooking a backlink opportunity while you continue to hone your outreach skills.
5. Use SEO Tools to Find Backlinking Opportunities
Finding backlink opportunities takes a lot of time, time you could spend creating content or doing backlink outreach. One way Robin suggests you could save time is by using an SEO tool. These tools use an algorithm to find linking opportunities and even look up your competitor's backlinks so you can emulate their strategies.
With SpyFu's Backlink Tool, you can do just this. Start by plugging in your competitor's domain and then filter for the kind of backlinks you want to target.
For example, if you were in the delivery industry and you wanted to build backlinks related to route planning, you could research OptimoRoute's backlink profile and then look only at blog posts that are linking to them. Then, check and see what pages are being linked to. Could you create better versions and try to get a link of your own?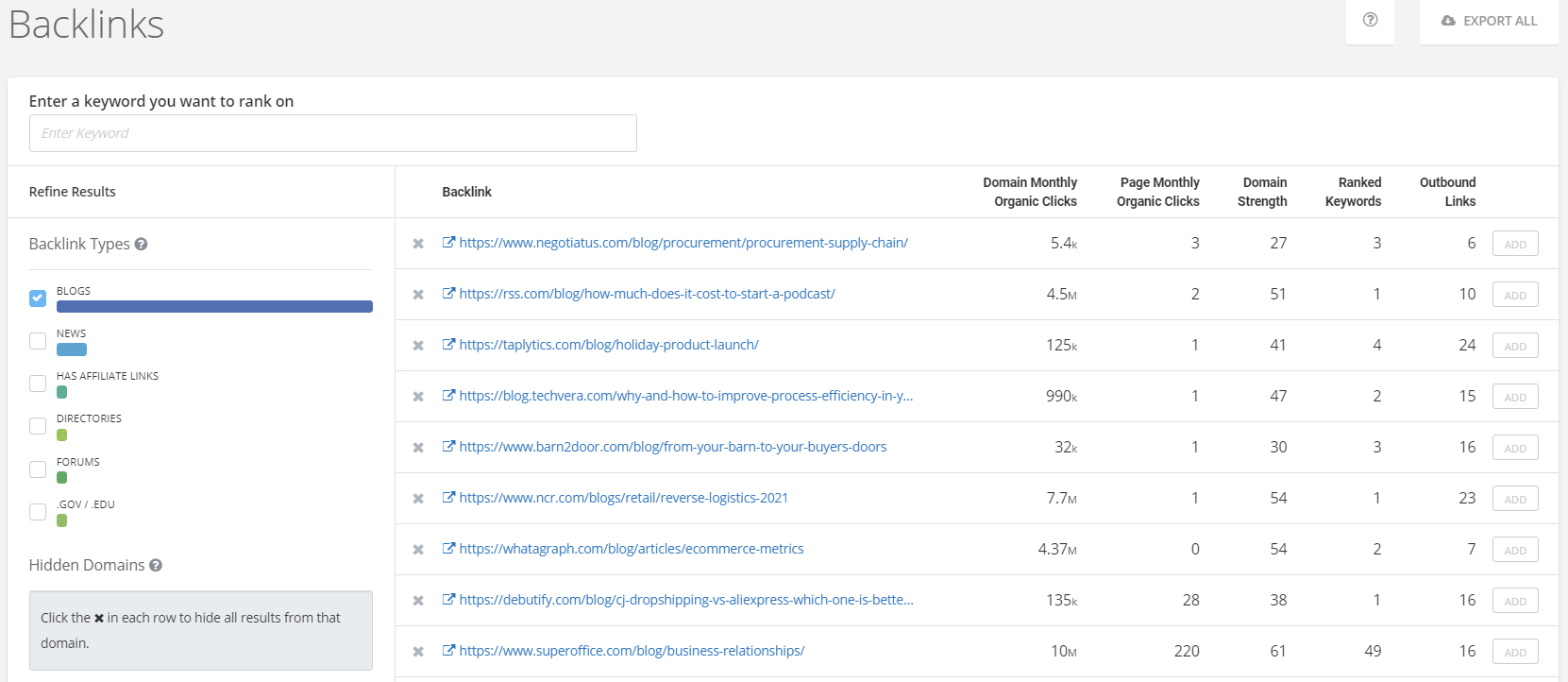 If you're specifically looking for high-quality links, sort OptimoRoute's backlinks by domain strength to get the top links that are connecting to them. To make your search even more targeted, add in a keyword you want to focus on, and it'll filter the pages even more.

With this list, you can save yourself a ton of time you would otherwise spend trolling through search engines for opportunities. Since these websites have already linked to your competitors, they are more likely to consider linking back to you. Plus, if you can steal your competitors' links, it's a positive for you and a negative for them, a double SEO bonus for the price of one backlink.
6. Use Google Alerts to Find Brand Mentions
Setting Google Alerts on your brand name or using reverse image searches can help you find instances where someone gave you a brand mention or used your content without linking back to you. Set up Google Alerts by signing in to your Google Account and going to google.com/alerts. From there, you can add your company name or product. When someone publishes with these words, you'll be alerted by Google.

Robin used this strategy with Onboarding Joei by "put[ting] up a Google alert for the title of the show" and keeping her eyes open. It led to her finding a "pretty high authority, high domain authority post" that had forgotten to properly backlink to 360Learning.
You can do the same thing with your images. For example, if you had an impressive infographic, you could look it up on Google Images to see who else has used it. Go to Google Images, click on the camera icon on the search bar, and upload the image you want to reverse image search.

It's not uncommon for site owners to accidentally forget to link back to your site or incorrectly link to another who also used it. In these cases, use Alerts and reverse image search to find them, send them a message, and earn that backlink.
Link Building Starts with Great Content
No one wants to link out to content that rehashes what others have already said or done. The single most important way to boost your backlink profile is to upgrade your content by creating work that adds real value to readers and other websites. Learn how to create unique, high-quality content with our search intent analysis walkthrough that'll teach you how to find what your audience really wants to see.