Mobile accounts for 51.65% of web page views worldwide. And 64% of all Google organic search traffic is from mobile devices.
Image Source: Statista

A website that's not optimized for mobile loses leads and conversions. Your website also becomes virtually invisible, and this hurts your rankings.
Mobile has become important, and Google continues to tweak its algorithms to reflect this change. But there is good news. Optimizing your site is easy, and the mobile SEO tips in this post will guide you through how to boost your website's visibility.
We'll also take a closer look at what mobile SEO is, why it's important, and how to optimize your website for mobile.
What is Mobile SEO?
Mobile SEO means optimizing your site for mobile devices. It's a search engine optimization technique that helps improve the visibility of websites in mobile-device search results. It also improves user experience.

A mobile-friendly site:
Is understandable by search engines
Loads fast
Loads properly on mobile devices
Allows mobile users to navigate the site with ease
Has readable content that does not require readers to zoom
Offers users value
What's the Importance of Mobile SEO?
Mobile SEO is important for three main reasons. People prefer to search on mobile, Google prioritizes websites that provide a seamless experience on mobile, and smartphones dominate voice search.

Let's take a closer look at each of these so we can better understand why mobile SEO is so important.
People Prefer to Search on Mobile
Global Stats Counter found that 52.48% of searches occur on mobile devices (compared to 44.59% on desktop). Which means that more people prefer to search on mobile, and that trend is likely to continue.
It is important to make your brand discoverable on mobile and provide relevant content that can help you attract and nurture potential customers.
Think with Google found that over 40% of consumers prefer to complete their shopping journey (from research to purchase) on mobile. They also want faster mobile experiences. Just a one second delay in load time can impact conversions by 20%.
Consumers also want a seamless experience across all touchpoints. They want to move between your mobile site, desktop site, app, and even your brick-and-mortar store conveniently.
Clearly, your target audience is using their mobile devices to find content. Having a mobile-friendly website increases the chances of them finding your brand.
Google Prioritizes Websites that Provide a Seamless Experience On Mobile
Whether searching on mobile or desktop, most people prefer to use Google. Given its dominance, it's important to consider its mobile-first index rollout.
Image Source: Statista
The mobile-first index was a long time coming. Google has been talking about mobile-friendly websites for a long time.
In 2013, Google announced changes in smartphone search results. Website owners were to avoid mistakes like faulty redirects and smartphone-only errors. Sites that provided bad mobile experiences dropped in smartphone search result rankings.
In 2014, they added a mobile-friendly label to websites that offered a great user experience on mobile.
In 2015, Google notified users whose sites were not mobile-friendly. They launched mobile usability reports and provided users with a mobile-friendly testing tool. The same year, mobile-friendliness became a ranking signal.
In 2016, mobile search results got a boost that increased the ranking effect. The boost was to help users find pages that were mobile-friendly and relevant. In the same year, Google started mobile-first indexing experiments. These mean that their algorithms primarily use a website's mobile version to rank pages.
In January 2017, Google announced that content not accessible on mobile might not rank as high. Some techniques that led to ranking penalties included:
Pop-ups that covered the main content when a user is browsing a page or when they navigate to it
A standalone interstitial that the user has to dismiss before they can get to the main content
Layouts with an above-the-fold portion that looks like a standalone interstitial that has original content inline underneath the fold
Image Source: Google
In 2018, the speed update led to speed becoming a ranking factor for mobile search results.
In 2019, Google rolled out the mobile-first index. The determining factors are:
Quality mobile-friendly content (including images, videos, text, and links)
Metadata (titles, robots metatags, descriptions) should be present on both mobile and desktop versions
Structured data should be present on both the desktop and mobile version of the site
They also recommended having a single URL for both mobile and desktop sites. If you have separate URLs, ensure that you can access data and messages from both sites.
Smartphones Dominate Voice Search
Clutch found that most internet users use smartphones to access voice assistants.
Image Source: Clutch
Voicebot.ai also found that voice searches on smartphones occur while consumers drive (62%) and while they are relaxing at home (38%). Voice search also allows users to interact with their phones while doing other activities.
Image Source: Voicebot.ai
This report also found that more consumers used voice to search for products and services than for entertainment.
Image Source: Voicebot.ai
People who use voice search are also open to brands sending them relevant and helpful information.
Image Source: Think with Google
Mobile SEO Tips to Improve Your Rankings
Ready to make your website mobile-optimized? Let's take a look at seven of the most important mobile SEO tips you can use to increase your rankings.
The mobile-first index confirmed that Google takes mobile-friendly websites seriously. Adopting the index also makes sense, considering that most searches happen on mobile.
To improve your rankings and conversion rates, you need to offer consumers a flawless experience on both mobile and desktop.
Mobile SEO Tip #1: Confirm That Your Site Is Mobile Friendly
Google offers tools you can use to check if your site is mobile friendly. One of them is their mobile-friendly test.
Start by inputting your URL, then click "search." The report shows whether your site is mobile friendly or not.
You can also use the Google Console to check for crawl errors. Search engines index your site by crawling. If they can't crawl, then your content doesn't appear on the search engine result pages (SERPs).
Your mobile users should see the same content your desktop users do. Which means that you need to ensure that all content formats are crawlable and indexable. These formats include videos, images, and text.
Google adds relevant badges to images to help searchers uncover images. Badges categorize images and text to help clarify actions you can take. You can use alt attributes for your images to make searches relevant for mobile users. It's also important to optimize your content for voice search.
Mobile SEO Tip #2: Improve Your Site Speed
Speed became a mobile search ranking factor after the 2018 Google speed update. The update affected pages that loaded slowly. Google, however, insisted that search intent may supersede speed. Which means that a page may still rank for relevant content, even if it's slow.
Even though your page will rank for relevant and useful content, optimizing the speed of your pages is a smart move. Some of the tools you can use to check site speed include:
Test My Site checks mobile speed limits.
Page Speed Insights checks if your web pages load fast on all devices.
Poor speed leads to increased bounce rates for websites. As load time moves from one to ten seconds, the bounce rate increases by 123%.
Image Source: Think with Google
The best practices to increase page speed include:
Compress and optimize images. When not optimized, images take up lots of bandwidth. They are large, which means they take longer to load. You can also consider using JPEG format instead of PNG.
Minimize HTTP requests. These requests are for the different elements of a page as it loads. They include images, stylesheets, scripts, and images. The more on-page components your page has, the longer the page will take to render.
Minify CSS, HTML, and JavaScript files. These important files add to the number of requests your site makes when a user visits. You can increase page speed by removing unnecessary white space, unnecessary formatting, and code.
Use asynchronous loading for JavaScript and CSS files. This allows some files to load simultaneously, thus speeding up your pages.
Upgrade your web hosting once your site has more content and more visitors. Upgrading can increase your site speed.
Enable browser caching. Store static files like media files, HTML documents, CSS, images, and JavaScript files so that they become easy to access. The database will not have to retrieve them one by one every time you get a new request.
Enable Gzip compression. This compresses website files into a zip file. It reduces their size, leading to speed boosts to your site. When a consumer visits your site, the file unzips, allowing the user to access the content.
Remove unnecessary plugins. The more plugins you have on your site, the more resources they need to load. Remove those you no longer use by deactivating or deleting them. Too many plugins will not only slow down your website but may also lead to security issues and crashes.
Mobile SEO Tip #3: Make Your Design Mobile Responsive
A responsive design allows your site to dynamically change depending on access. For example, your website will look different depending on the device be it a tablet, mobile, or desktop. The elements change to optimize for the screen on which they appear.
The site will change either based on text or content. A responsive design will eliminate or enlarge text depending on-screen type.
Image Source: Google
You can optimize your website design for responsiveness by:
Scaling images for mobile users. Sometimes, even with a responsive design, the images cover the whole screen leaving no space for a call-to-action. So you need to make sure that you scale your images for mobile users.
Having an easy to view navigation menu for mobile users. They should be able to easily navigate from page to page, using an easy-to-access site menu.
Avoiding pop-ups that cover the whole screen, as stated on the Google 2017 update mentioned above. Pop-up images should leave space for the reader to see the content. With the advent of AdBlock, you also want to ensure that your pop-ups do not ruin a user's experience.
Make your calls-to-action visible. Your visitors should not have to scroll to find your call-to-action. Making it easy to find can also increase conversions.
Shorten your text. According to a Nature Communication's study, a hectic news cycle and social media have affected our attention spans. Exposure to more content produced in less time exhausts the collective attention faster. Too much text on your mobile site can overwhelm the user.
The mobile-first index update has helped improve the experience of mobile users. Applying these changes will help make your site more responsive.
Why do you need a responsive design? According to Google developers, it:
Makes it easier for your website visitors to link and share your content using one URL
Makes it easy for algorithms to assign index properties to your site
Makes it easy to maintain multiple pages if they have the same content
Reduces common mistakes affecting mobile sites
Prevents users from redirection and reduces load time errors that degrade the user experience
Saves resources when bots crawl your site. The bots only need to crawl once to retrieve all content versions of your site. This crawling efficiency helps Google index more of your content and keep it fresh.
As people continue accessing content on the go, a responsive website design gives your site a competitive edge. It also makes it easier for them to shop and increases conversions.
66% of Shopify's Black Friday and Cyber Monday sales in 2018 happened on mobile. Only 34% of their sales happened on desktop.
Image Source: Shopify
Mobile SEO Tip #4: Provide Consistent Experiences
Today's customer journey is nonlinear. Consumers have fragmented touchpoints because they use different channels. Many consumers will use one channel to start a transaction and finish on another. 64% of consumers have used various devices to start and complete transactions.
Image Source: Salesforce
Make sure that your users can access both your mobile and desktop version with ease. They should also be able to perform different actions and complete transactions seamlessly across devices.
Mobile SEO Tip #5: Optimize Content for Mobile
We are in an age in which people always have their smartphones near them. As mentioned above, they also prefer to conduct research on mobile rather than desktop.
At the start of 2023, people were spending 58% of their internet time on phones.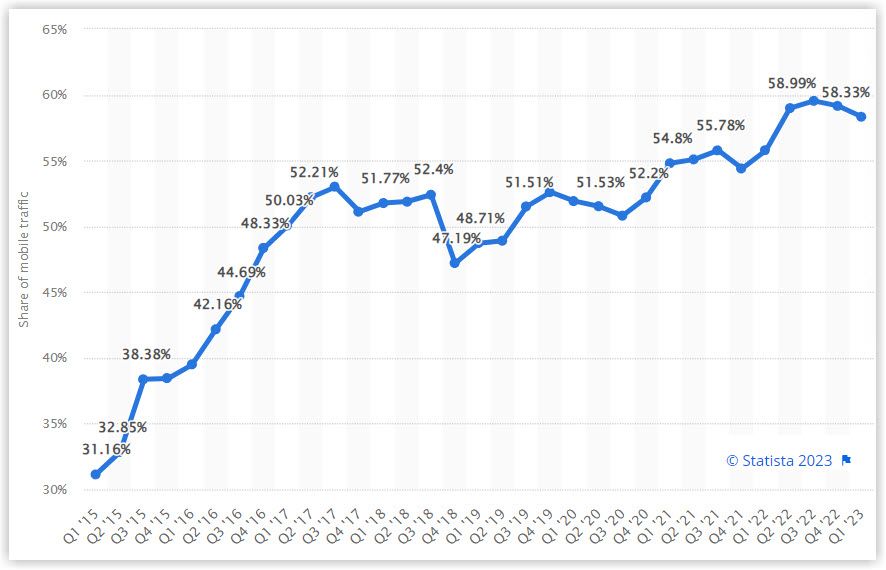 Image Source: Statista
To ensure visitors spend more time on your site, you need to optimize your content. Visitors should not have to squint to read your content or zoom to view images.
Mobile content optimization best practices are like mobile SEO tips. They include:
Embrace a mobile-first mindset. Make your content digestible and easy to navigate on mobile
Sentences should be concise and paragraphs short. Make paragraphs and sentences easier to read for users who skim content.
Write short, attention-grabbing headlines. They should be relevant, evoke emotion, and have a hook.
Make your meta description short and include relevant keywords.
Break up content into chunks so that white space separates paragraphs making it easier to read. You can do this using subheading, H1 tags, images, or bullet points.
Use keywords to optimize content.
Integrate video and visual content.
Mobile SEO Tip #6: Optimize Content for Local Search
The search phrase "near me" is crucial for any marketer. Mobile searches containing this phrase or variants of "to buy," or "can I buy" have grown by 500%.
Image Source: Think with Google
Near me searches have grown to include searches for specific items like shoes, boots, facial scrubs, and dresses. Your mobile site should accommodate these searches by giving consumers exactly what they want.
Optimizing your site for local SEO helps your business appear for relevant local search queries.
If you haven't already done so, you need to head over to Google Business Profile and claim your business. Once you do so, you need to complete your listing, including the following information:
Business name
Business address
Business location
Category
Website URL
Phone number
Google will require that you verify the listing before they make it live. You can choose between receiving a postcard or a phone call. Once verified, you can optimize your listing further by:
Adding categories
Listing opening hours
Uploading high quality photos including your logo, and a photo of your business
Adding services you offer
Adding additional phone numbers (if applicable)
Mobile SEO Tips #7: Optimize for Social Media
GlobalWebIndex found that people spend an average of two hours and sixteen minutes on social media platforms daily.
Image Source: GlobalWebIndex
You cannot, therefore, ignore social media when optimizing your mobile site.
To optimize your site for social media, make it easy for people to use the sharing button on your content. The more people share your content on social media, the more likely Google will consider you a high authority site.
Other social media best practices include:
Use eye catching headlines on content
Use high quality images
Ask your readers to share
Use hashtags,
Include calls-to-action.
Engage with your content. Respond to reviews and comments. Share and take part in conversations on various platforms.
Post new and relevant content for your readers
Conclusion
These mobile SEO tips can help you make your website mobile friendly. Don't forget to monitor the performance of your site to ensure that you are always on the right track.
Also always work on improving the user experience on your website. Visitors should be able to easily navigate your site and find relevant, quality content that meets their needs,