Content marketing is a long game—you build authority and SEO strength over time as articles rank higher and get more engagement from readers. That's why it's important that your content marketing campaigns are built on top of a solid and well-reasoned plan. When you invest a lot of time and effort into each campaign, everything needs to work together toward your goals.
Whenever you start a new content marketing campaign, investing more time in the planning and preparation stages will help you create the kind of content your readers really need. That's what makes content marketing successful. Providing readers with something they can learn from or can take back to their team to back up an idea is what's going to set your brand apart from the competition. And once a campaign is out in the wild, your success is built on proper targeting, great writing, and distribution planning to make it all come together.
Level up your next content marketing campaign with an understanding of how to get your team started on the right foot. In this article, we'll learn about:
Different types of content marketing campaigns,
How to prepare for your next campaign, and
What to think about when distributing your campaign to readers.
This all comes together to help you create the best possible content for your readers while also decreasing the time it takes to bring everything together.
3 Types of Content Marketing Campaigns
There are a lot of different kinds of content marketing campaigns: ones that build brand awareness, ones that drive conversions, ones that generate leads. But each campaign you create falls into three core types based on who you're targeting, where they are in the content marketing funnel, and your overall business goals.
Let's start by taking a look at the five stages of the content marketing funnel: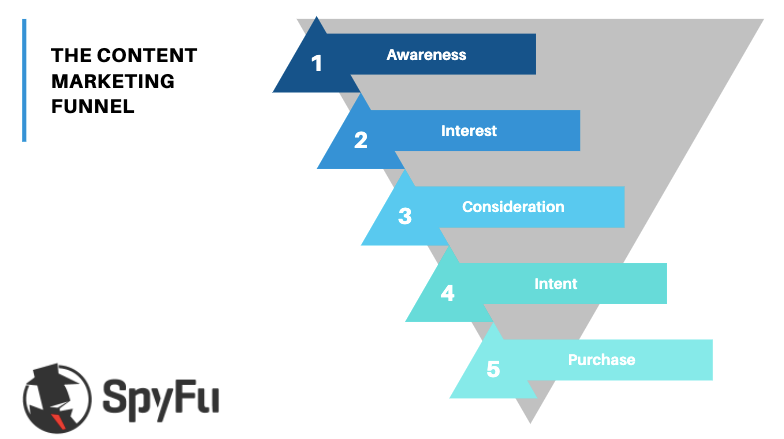 As people move through this funnel, the type of content you create will change considerably to fit their needs. Prospects who are just becoming aware of your product or show an interest in your brand will want something different than those who are considering making a purchase.
That's why it's so helpful (and effective) to think about how different content marketing campaigns serve different purposes based on where readers are in the process.
Top-of-the-Funnel (ToFu) Content Marketing Campaigns
Think of ToFu content as your foot in the door. It's how you introduce your brand to potential customers and invite them to learn more. The goal of a ToFu content marketing campaign is to connect with as wide an audience as possible and entice them to engage further with your brand.
When we look at the content marketing funnel, ToFu campaigns target people in the "Awareness" and "Interest" stages. This type of campaign widens the top of the funnel as much as possible, targeting people who could potentially benefit from the product or service you provide. ToFu content marketing campaigns also help you set the stage for content that's further down the funnel.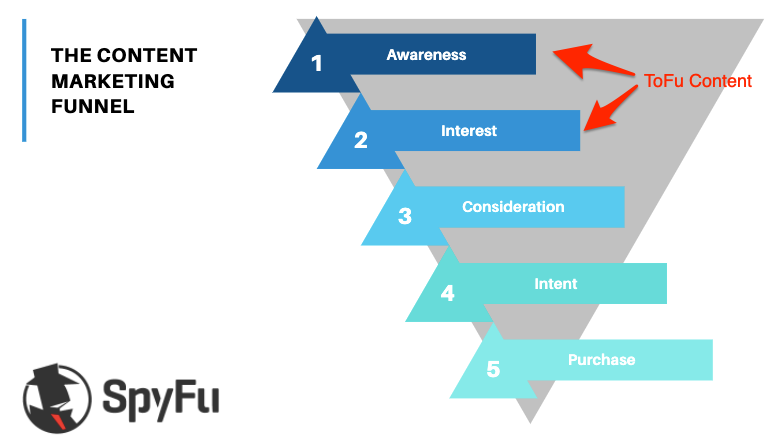 ToFu content is your volume play. Instead of showcasing the value of your product or converting readers into paying customers, your goal is to bring a broad audience in and give them a taste of what your company has to offer. The more conversion-focused campaigns come later.
This is your opportunity to target long-tail keywords that are relevant to your target customer personas. The right keywords for these campaigns will have enough volume to make an impact on your overall website traffic but aren't so difficult that you need to work really hard to rank. The ratio of volume to keyword difficulty will be different based on the industry you're in—a general rule is to target topics with the highest volume for the lowest possible difficulty.
As you're building out these campaigns, think about how you can prepare readers for the different types of content you'll create further down the funnel. You don't need to talk about your product or service (at least, not yet); just get them to show a little interest in your brand.
A great example of this would be a series of blog posts about a topic of interest to your target personas or an infographic that provides valuable information for their day-to-day responsibilities. Here's an example we created based on the decision between SEO and PPC marketing. In it, we provide a high-level overview of the differences between SEO and PPC strategies, as well as some quotes and statistics that speak to their value. This works really well because:
SEO and PPC are both topics that we know our customers are interested in,
quotes add social proof and can increase distribution by getting the quoted people to share, and
visuals are more shareable and easy to remember, which boosts engagement.
When you bring it all together, that infographic does a really good job of piquing potential customers' interest in our content and our brand.
Middle-of-the-Funnel (MoFu) Content Marketing Campaigns
Middle-of-the-funnel campaigns are your opportunity to start building on your relationship with potential customers. The goal is to help website visitors move from becoming aware of your company to considering your product as a solution to their problems.
These campaigns strengthen your position as a knowledgeable and helpful source of information for potential customers. Instead of working to bring in as many interested parties as possible, these campaigns should take your existing audience and show them how valuable your content and product actually are. Your MoFu campaigns start to hit people at the "Interest" stage of the content marketing funnel and move them into "Consideration" and sometimes "Intent."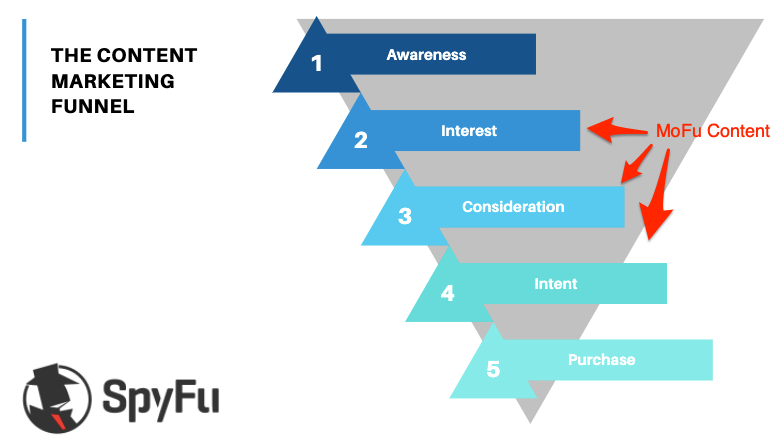 This is the point in the relationship where you can start introducing your product or service directly and highlight how it can help people accomplish their goals. Your MoFu campaigns should target keywords that are slightly more specific to the product or service you provide and have a higher overall difficulty.
Middle-of-the-funnel content marketing campaigns should build on your ToFu content as well, taking the information you provide a step deeper. The infographic we highlighted in the previous section is a good example of this. Our MoFu campaigns expand on the value of PPC directly via an email nurture campaign, providing the reader with more specific insights into the value of PPC campaigns for different situations they would encounter.
Take a look at these example articles:
We do this for SEO-related topics as well, rounding out the types of content we talked about in the infographic, while also drilling down on specific problems our platform can solve. Each piece of content is building on the previous to create an overall sense of what our platform has to offer readers.
Bottom-of-the-Funnel (BoFu) Content Marketing Campaigns
In many ways, BoFu campaigns are a sales pitch. The goal of these content marketing campaigns is to convert interested prospects into paying customers. You've already built up awareness with ToFu content and reinforced the value of your product with MoFu campaigns—BoFu content is your opportunity to seal the deal.
Your BoFu campaigns should make it easy for potential customers to make their final purchase decision. Readers are already in the "Intent" and "Purchase" stages of the content marketing funnel. Show them your product or service is the best possible solution to their unique problems. You've already spent time educating them on how to think about the problem and the solution through MoFu content, so you can really focus on how exactly your tool can help.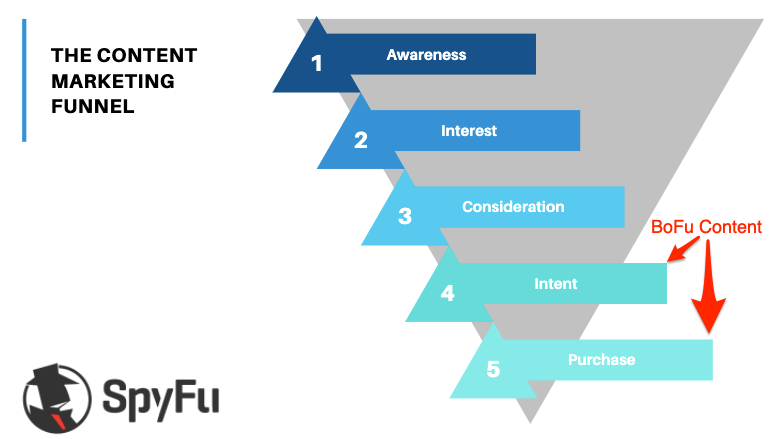 Now is the time to be outspoken about your tool and target more difficult, short-tail keywords. You want to make sure that these campaigns always focus squarely on the value your product provides. Don't be shy.
At SpyFu, we create content like this with teardowns using our tool—like this one on Squarespace or this one on Intercom. Both articles talk through how each company achieved a specific goal in their market and used the SpyFu platform to make our case for their success. By showcasing how our tool can be used in real-world situations, we're telling readers that they can do the same.
Now that you understand the different types of content marketing campaigns you can create, let's talk a little bit more about how to prepare for them.
How to Prepare for Your Content Marketing Campaigns
Running a successful content marketing campaign is 99% preparation. The better your plan, the more effective your campaigns will be, and the easier it will be to track your success.
As you're gearing up for any new campaign, think about how to document your process in a single source of truth to share amongst the team. This ensures you're able to execute effectively on your campaign plan without adding additional confusion or complexity to any day-to-day responsibilities.
Preparing for your content marketing campaign starts by figuring out where your company currently stands across a number of key metrics.
1. Determine Baseline Metrics
Before you start writing anything or setting goals for your content marketing campaign, determine what metrics you want to impact. Every campaign needs to move the needle on something specific, and tracking baseline performance metrics will give you a clear picture of the current state of your website's content and SEO strength.
Ask yourself the following questions to get started:
What Searches Are You Currently Ranking For?
In other words, what do your keyword rankings look like today? Whenever someone searches for a particular keyword you want to target, know where your domain ranks. Understanding how previous content performed helps you see opportunities to improve.
Use SpyFu's Top Keywords and Top Pages reports to pull in data about your website's current ranking in the SERP for different types of searches.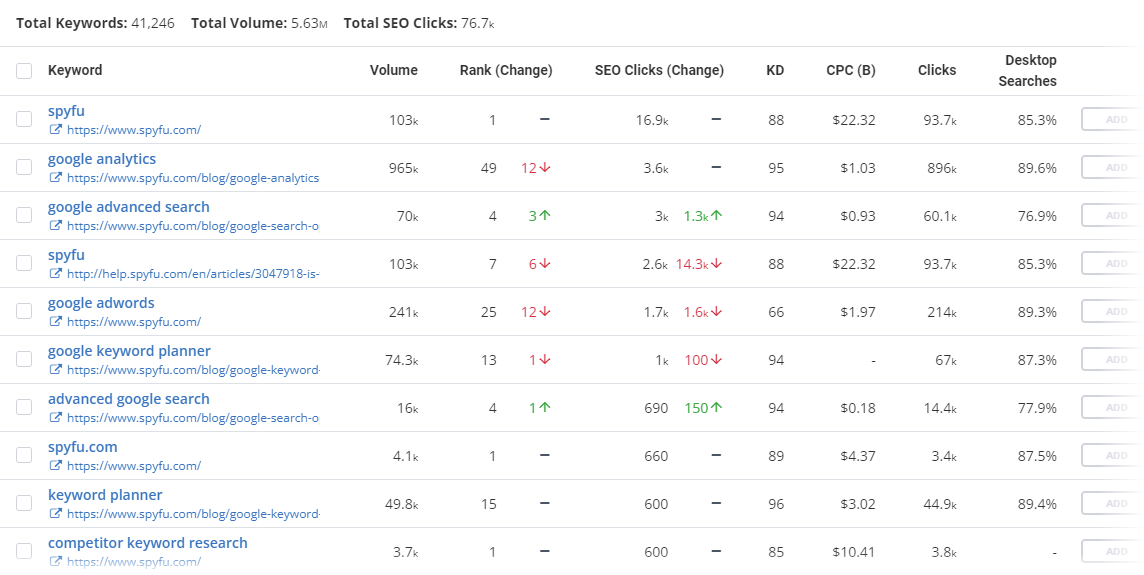 Tracking current keyword performance in this way not only helps you prioritize your keyword research, but it can also highlight opportunities for content that needs to be refreshed. Just make sure you check both your blog and core domain to identify any overlap and remove duplicates. You don't want to spend time creating a campaign for searches where you already rank.
Are Rankings Generally Improving or Declining?
Before you get started with any campaign, track how your overall performance has changed over the past few months. Look at both your core URL performance as well as any individual keywords you're targeting with content. The SEO Overview section in SpyFu is a great place to get a high-level view of this performance.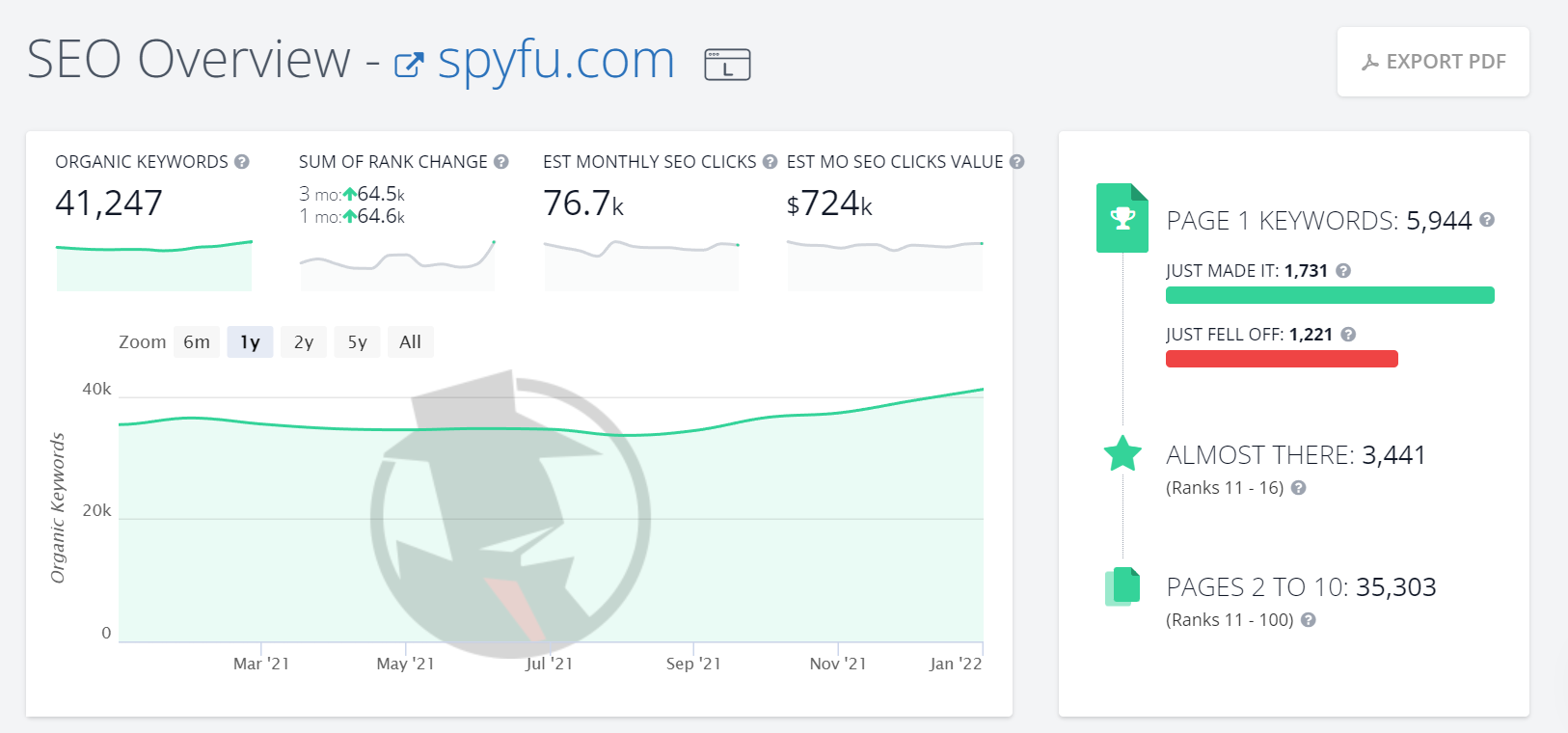 And the Keyword Rank Gains report will show you the movement for individual keywords.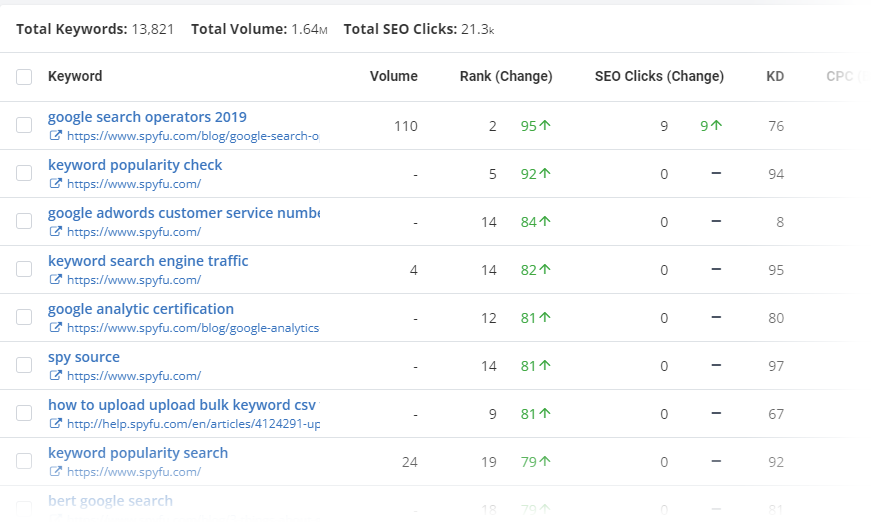 Understanding these metrics helps you get a better sense of how things have changed recently, making it easier to prioritize your content creation plan effectively.
What Does Your Backlink Profile Look Like?
Whenever someone links to your site, it affects how well you rank in the SERP. The types of backlinks you gain also have an impact based on the overall quality of the linking site. Use SpyFu's Backlinks report to see which domains link to your site and what kind of links they are. We separate them as news sites, forums, and even .gov and .edu links.

This report will tell you what kind of websites currently link to your content, including important metrics like Monthly Organic Clicks, Domain Strength, and Ranked Keywords. Analyzing this information helps you determine why specific types of articles or publications link to your content, which you can use to build more "appealing" content as you move forward.
Create a spreadsheet with these baseline metrics to make it easier to track how each content marketing campaign moves the needle on your objectives and key results. Once you have this set, you can update it monthly to paint a picture of the impact each campaign has on your overall strategy.
2. Do Keyword Research
The content marketing campaigns you create need to further your overall SEO and marketing goals. In-depth keyword research helps you understand where your website currently ranks and what types of keywords you need to increase those rankings or attract the right kind of customers. When you're building out a keyword list, think about what keywords are most valuable for each campaign.
Using SpyFu's Keyword Research tool, you can build out a list of long- and short-tail keywords to target and group them for each campaign. Start by categorizing your existing rankings around four types of keywords:
Your biggest traffic generators: Identify the top 10-20 keywords that drive the bulk of the traffic to your site. This is another place where the Most Valuable Keywords report comes in handy. Just drop your URL into the keyword tool, and we'll rank them by Est. Click Value/Mo.
This sorts your top keywords based on our estimation of the collective click value they bring to your website. Use this as a jumping-off point to find potential opportunities with the Similar Keywords, Questions, and Also Ranks For reports.
Your biggest opportunities: We categorize these keywords as Almost There Keywords, which are those long- and short-tail keywords that are currently ranking on the second page of the SERP.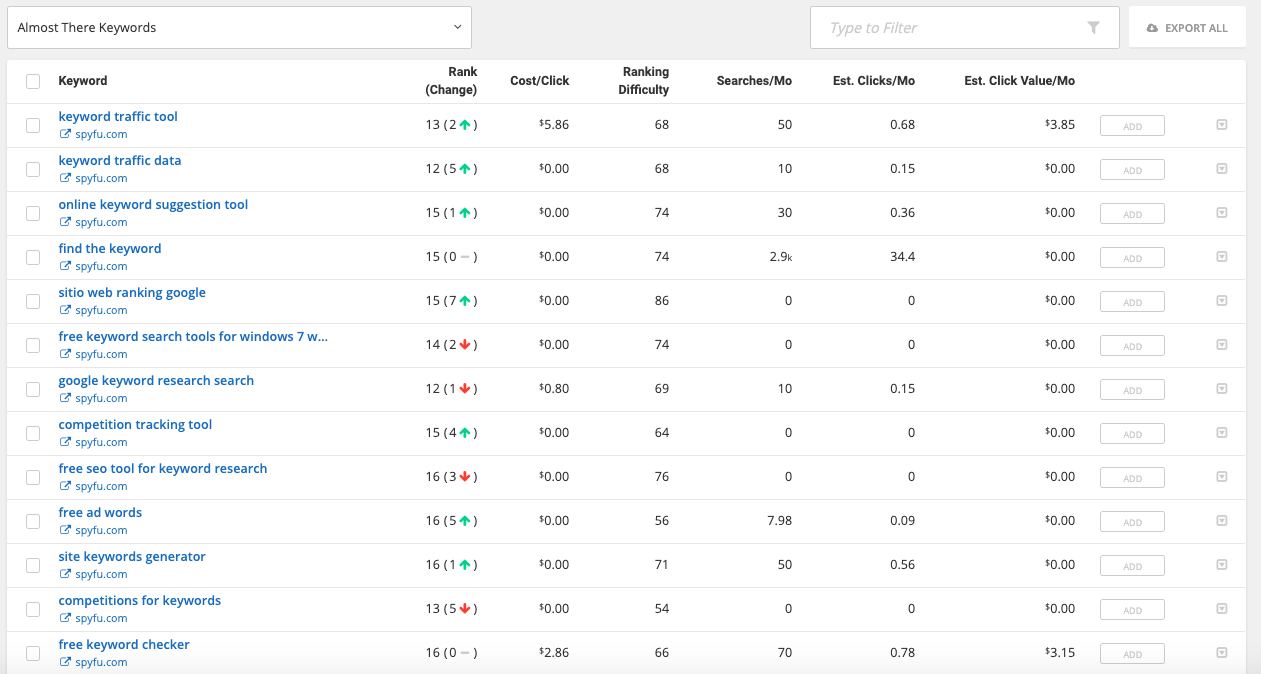 As these keywords already rank on the second page, you can easily take a look at the corresponding URLs in this report and optimize the content for a quick win.
Your recent wins: These are Keywords That Just Made the First Page, which is how we identify them in the keywords report.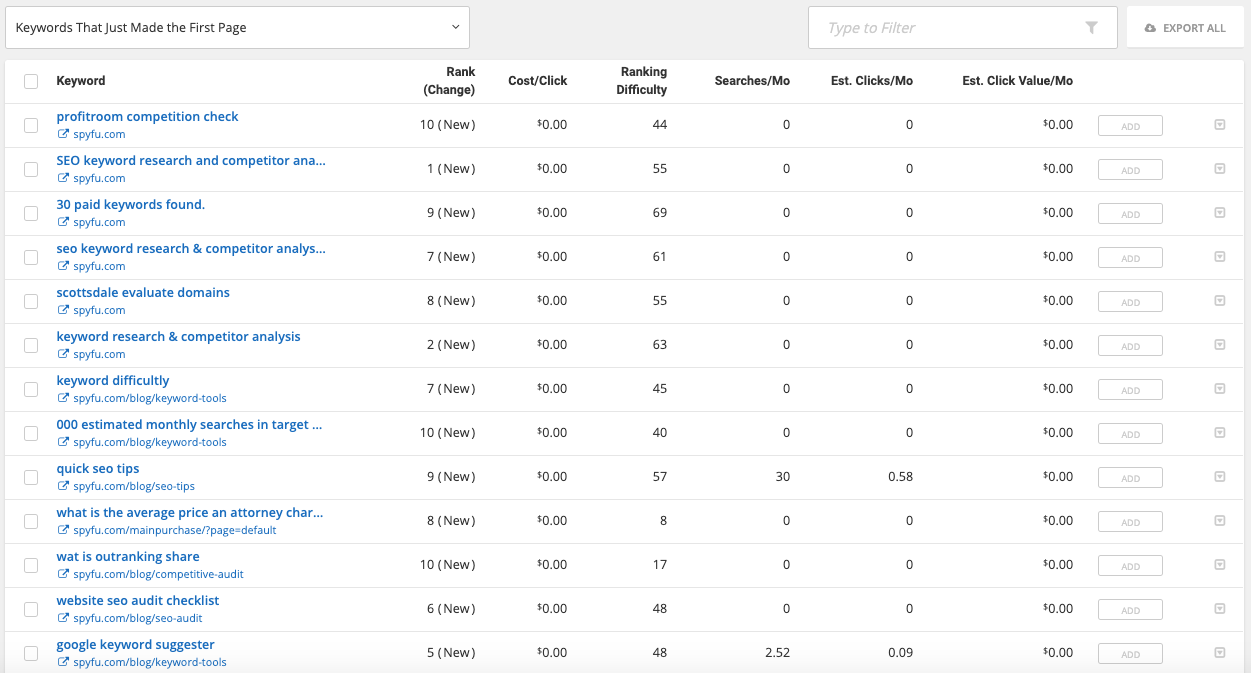 Tracking these keywords shows you how well your current content marketing campaigns are doing. If you see increased ranking in a keyword you're targeting, that means your content resonates with your audience. Take a look at the URLs for these keywords to learn why.
Branded keywords: You will likely rank in the top spot for your branded keywords, but check in on these rankings to make sure that you aren't losing ground to a competitor. Use the SERP Analysis to see what pages rank in the top 10.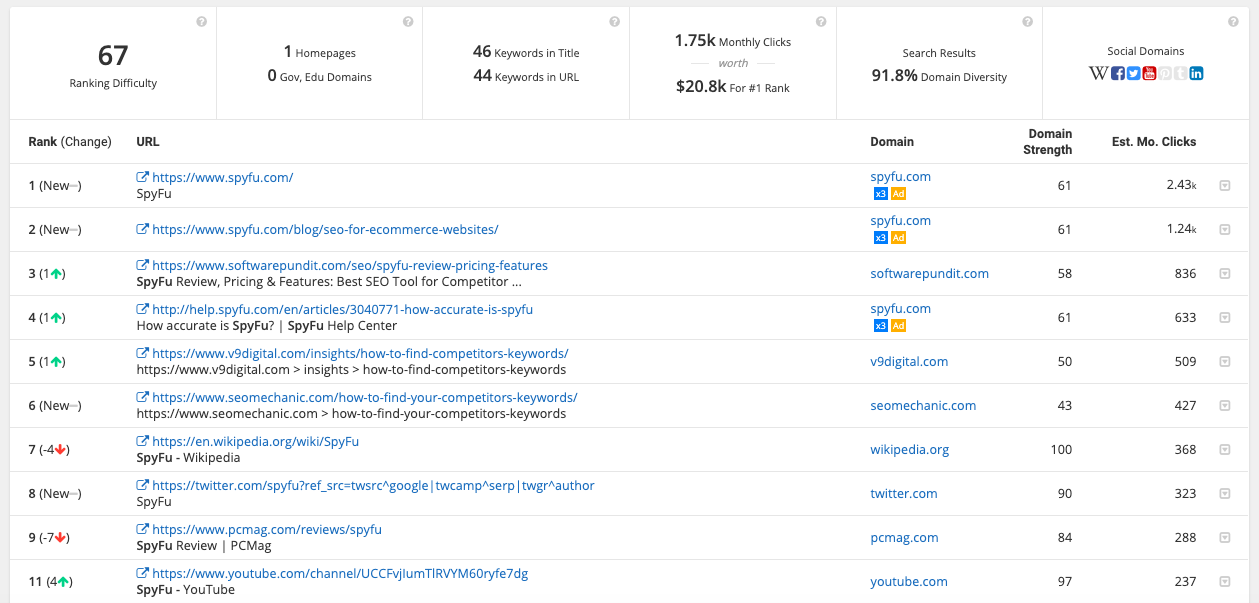 While it's not uncommon for savvy competitors to serve ads that target your branded keywords, that can be a negative signal for potential customers if they're ranking well organically. You don't want someone seeing your competitor's website when they're actively searching for your brand.
As you're digging through this data, make sure you're taking the time to understand the search intent of your target customers. Whenever you build out a content marketing campaign, be 100% sure that you're speaking about a given topic in a way that resonates with target customers.
Once you've completed your research, add these keywords to SpyFu's project manager tool. If you are pulling in keywords from other sources--including ideas from brainstorming--you can also upload them into the Bulk Upload tool to add data. When everything is documented in the same place, it's easier to prioritize your content creation plan and set more realistic goals for your team.
3. Set S.M.A.R.T. Goals
S.M.A.R.T. stands for specific, measurable, attainable, relevant, and time-based. When you're planning a content marketing campaign, you need to meet all five criteria to ensure you're not wasting any effort on a keyword or group of keywords that won't positively impact your business or SEO goals.
For example, here's a goal we might set based on the biggest keyword opportunities identified in the past step.
Increase the rankings for google keyword search from 16 to < 10 by Q4 of 2020.
This goal follows the S.M.A.R.T. framework:
Specific: We define the keyword we're targeting for the campaign.
Measurable: We set a baseline to track rank changes.
Attainable: We are already ranking well for the keyword and can likely get on the first page quickly.
Relevant: We know our readers would be interested in content around google keyword search.
Time-based: We have a goal of impacting rankings by Q4 of this year.
Once you've defined these goals, make sure you share them with your team. Increasing visibility for these overarching goals is a great way to boost engagement with upcoming campaigns and gives you the opportunity to share wins easily across the team.
12 Content Marketing Campaign Tools That Help You Plan
Creating an effective content marketing campaign requires a number of interconnected processes, which means you'll need to use a few different types of tools to make everything work.
Content Management System (CMS)
These tools help you create, manage, and modify digital content—including blog articles, ebooks, whitepapers, and landing pages.
WordPress: Arguably, the most popular CMS around. WordPress is supported by a large community of developers and integration partners, making it easy to build websites of any size.
Ghost: The open-source, headless CMS. Ghost provides the back-end functionality to create your site, which you can customize and build on to create incredibly customized content.
Squarespace: A popular website builder for ecommerce platforms. Squarespace provides templated websites with lots of customization ability and third-party integrations.
Help with Writing Content
One of the biggest obstacles to developing a good content marketing campaign is actually coming up with the content to construct it. This might be from challenges in coming up with ideas of what to cover or even execution--creating the content itself.
Of course you can create your content, or you can reach out for help.
The benefit of creating your own content is having total control over tone and frequency of your content, at no external cost. For example, if you are creating your own video series, you can be the face and voice of the series, loading it with authenticity.
You can work with your internal team to brainstorm content ideas (with this suggestion guide), or even use this clever trick to pull content ideas from Facebook.
If writing your own content isn't the best route for you, there are plenty of options that still help you put out amazing content that fits your business voice.
Get help from writing services: Companies like Writer Access and Animalz work with you to develop individual one-off pieces or a larger, comprehensive SEO strategy. With Writer Access, you can pay for a single piece at a time, with costs depending on the length of the article and experience of the writer. Animalz works on a contract to create a cohesive plan.
Get help from AI Tools: Solutions like Content at Scale give you affordable options for written blog content. The AI delivers content that is unique while being modeled after other successful pages in your niche, then their team optimizes for publishing.
Marketing Automation
These tools help you deliver your content marketing campaigns by tying together email marketing, social media, landing pages, and other messaging processes.
Mailchimp: One of the most well-known automation tools on the market. Mailchimp provides built-in responsive templates and list management tools to help keep your team organized.
AWeber: The inventor of the autoresponder. AWeber's drag-and-drop editor makes it easy to create customizable email templates for every campaign.
ConvertKit: Built for creative businesses. ConvertKit provides sign-up forms, email automation, and landing pages to help grow your audience faster.
Testing and Optimization
These tools help you understand the success of your content marketing campaigns and use that data to build out more effective emails, landing pages, and content.
Taplytics: An automated testing platform. Taplytics offers A/B testing, feature flags, and marketing automation tools to craft a seamless experience across mobile, web, and OTT streaming services.
Optimizely: Cross-channel experimentation. Optimizely offers A/B testing, multivariate testing, and basic audience targeting/segmentation with analytics on both your website and mobile experience.
Unbounce: One of the most popular landing page builders available. Unbounce offers landing pages, popup website notifications, and conversion metrics that make it easy to convert potential customers.
Customer Relationship Management (CRM)
These tools help you track the impact of multiple campaigns across different users, customers, and prospects from a single platform.
Salesforce: The #1 CRM on the planet. Salesforce offers a suite of different products that help teams learn more about their users and then use that data to make smarter product decisions.
HubSpot: The platform that coined the term Inbound Marketing. HubSpot offers niche-targeted platforms for your marketing, sales, and support teams from a single control panel.
Zoho: One of the first CRM platforms around. Zoho is another full-suite platform for managing customer data across entire organizations.
The tools you use will have a direct impact on your ability to create engaging content marketing campaigns. So, dig into what's available to determine which platforms meet your specific needs.
How to Create and Distribute Your Content Marketing Campaign
Once you have your plan in place and have chosen your  tools, it's time to create your content marketing campaign. A lot of this process will be unique to the kind of campaign you're trying to build, but there are a few tactics you can use to make sure you're not skipping any important steps.
First things first: Set up a content calendar to track each article, email, and ebook you're including as a part of each campaign. Your calendar should include the following key elements:
Due dates: When the content needs to be ready for publication
Current status: Where you are in the process of creating your content
Target keyword or topic: The topic or keyword that your campaign targets
Keyword metrics: The keyword difficulty and potential monthly search volume
Content title: A way to differentiate each piece of content quickly
Brief description: The intended purpose of your content and how it connects to your strategy
Here's an example of what that might look like for your blog content calendar:
Each line represents one article and has all the information you need to track its progress towards the completed campaign. Notice how each article is listed as either Published, Delivered, or Writing. Whenever you create a new content marketing campaign, it's important to define specific processes for how you write, edit, upload, and promote the content you create.

Let's say you have an email campaign—then the "Published" option won't really make sense. Your status column would be something more along the lines of Written, Designed, and Uploaded to Campaign. Each stage of the content creation process should have a corresponding status for your team to use when they reach that point.
These statuses should be present in the behind-the-scenes creation of your content as well. One way to determine the process for that is the 30/60/90 framework—where your team builds content around the different types of feedback they'll receive at each different stage along the way.
Here's what that feedback might look like using our email campaign example:
30% feedback: Your team submits an outline of a lead nurture campaign for new prospects.
Example feedback you would give: What is the intent behind email three in the series? Does it add anything of value to the second email, or is it used to set up the fourth for more in-depth reading?
60% feedback: Your team refines the series of emails and starts building out templates for each message.
Example feedback you would give: Why do we include two images in the first email but five in the second? Do we need to add more images to email one or remove them from email five?
90% feedback: Your team writes each individual email and submits the drafts for review.
Example feedback you would give: Does the subject line of email four match the content we're talking about within it? Is there a better way to connect the subject line to what we're trying to tell the subscriber?
Notice how each piece of feedback gets more granular as we move along? This helps systematize the way your team creates content, making it easier to scale the work of each campaign across everyone who's involved. Whether you're using this framework or another for the content creation process, having these processes in place is key.
Document how each campaign interacts with others currently in flight as well. Every campaign you create should target people at a specific point in their journey, from visitor to prospect to paying customer. If you're not providing the best possible content at the right moment, it will fall flat.
Take time to think about how you'll increase awareness for different types of campaigns as well. Try using social media and native advertising to boost engagement within target audiences at the right moment. Just make sure these audiences match up with the personas you defined early on in the planning process. Serving an ad for your in-depth industry report to people who just became aware of your brand wouldn't be as impactful as serving that same ad to people who've moved into the "Consideration" or "Intent" stage of their customer journey.
Setting up these internal processes for your team is also a great way to make determining the success of a given campaign much clearer.
How to Analyze the Impact of Your Content Marketing Campaigns
After you've gone through the process of planning, creating, and distributing your content marketing campaign, it's time to see how effective you were at achieving your goals. Campaign analysis is where you put all the data you compiled while determining baseline metrics, doing keyword research, and setting S.M.A.R.T. goals to good use.
Use SpyFu's Competitor Analysis tools to track how each campaign performs in relation to your top existing content as well as to your competitors. Start by plugging in your blog URL into the Top Pages report and see how many estimated monthly SEO clicks you get for each piece of content.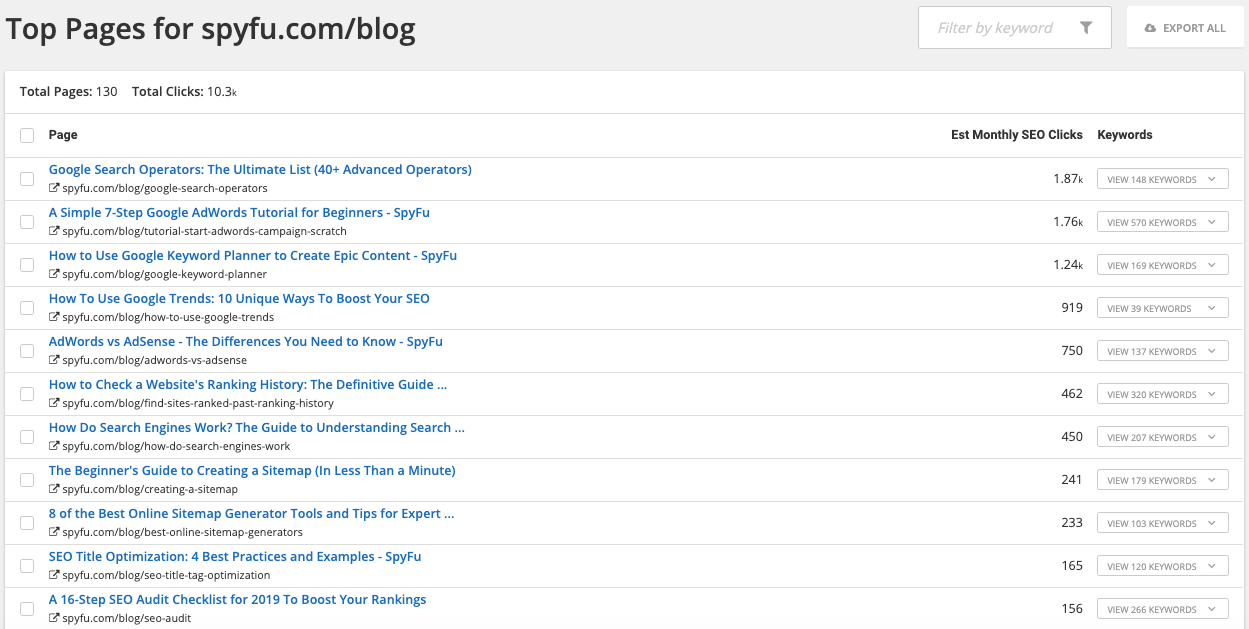 This information is one way to track how well each piece of content resonates with your target audience. Checking Organic Ranking History gives you a good sense of how individual blog articles have performed in the SERP as well: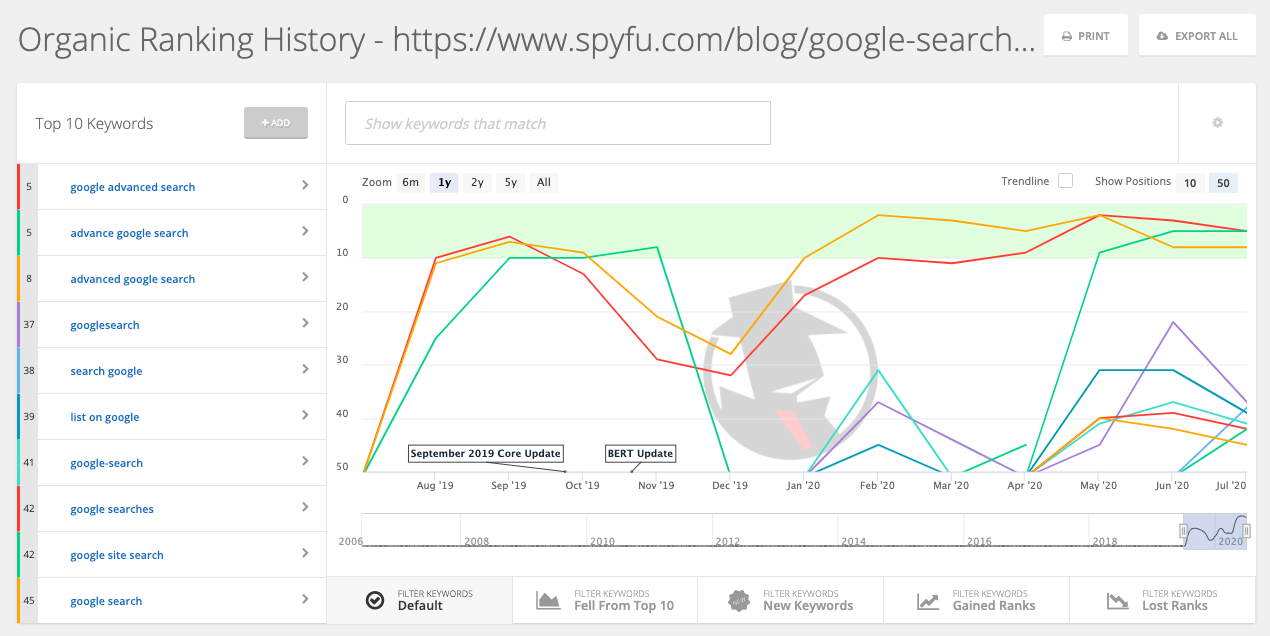 Take the time to look at how each keyword ranking changed over time. While you'll see ebbs and flows as search engines adjust rankings and make updates to their algorithm, this historical trend data is a great tool for tracking your keyword targeting strategy.
You can also use the Most Valuable Keyword, Keyword Rank Gains, Keyword Rank Losses, and Almost There Keywords reports for individual blog URLs. This helps you measure more granular metrics and cross-reference them against your baselines.
Google Analytics also provides a lot of valuable data on your website traffic when you dig into different reports. Being able to track changes in traffic, keyword ranking, and customer behavior on your site is the key to understanding how to repeat successful strategies in your next content marketing campaigns.

But not every campaign is website- or article-based. Let's say you want to analyze the performance of a recent email campaign. Adding UTM parameters in Google Analytics shows you how different emails drove traffic to specific pages on your website, but marketing automation tools will provide in-depth performance metrics as a part of your account as well.
Dig into open rates, click-through-rates (CTR), and any other key metrics you defined in your content marketing plan. It's important to build a comprehensive picture of how each piece of the campaign works together to bring you closer to your goals.
Then document the metrics in your tracking spreadsheet. An increase to any of these metrics, like target keyword rankings or organic traffic, can signal when it might be time to make a change to your plan or refresh your content. Any month-over-month (MoM) fluctuations to key metrics also help you learn more about your target audience's behavior. If there's a recurring dip in traffic during the summer months, for example, you'll know not to release anything really important during that time.
When you keep track of each piece of data in this way, you'll have an easier time making adjustments to a content marketing campaign whenever issues arise. This helps you build a seamless customer experience with your brand and provide website visitors with consistently relevant and valuable content.
Creating Great Content Starts with a Plan
Spending time defining a clear plan for your content marketing campaign makes executing on that campaign easier. Documenting your plan gives you a way to showcase the overall success of each campaign more effectively by defining the specific metrics you want to change. Plus, you'll be able to get your colleagues involved and up-to-speed on important tasks faster by sharing the plan with your team.
This systematic approach helps you make a bigger impact on your overall content goals and build more efficient processes for your team.
With every content marketing campaign you create, you learn more about what readers need. Use those insights to build campaigns that target their needs and preferences directly. When you're playing a long game, these efficiencies make it easy to provide the kind of content experience that drives conversion throughout the marketing funnel.