Nowadays, even the smallest of small businesses needs a website. Whether it's your local hardware store, your go-to sandwich shop, or that up-and-coming brew pub down the road, people expect there to be at least a basic home page to check business hours. Squarespace provides the platform to build these kinds of pages.
As an industry leader in the website-builder market, Squarespace has been helping millions of business owners host and manage their websites since 2004. Today, Squarespace owns 22.35% of the market share, taking the #1 position above the closest competition, Wix. We wanted to know how.
In today's article, we're going to tear down the tactics Squarespace used to grow so large, focusing on their organic growth and their link-building tactics. Using SpyFu's competitor analysis tool set, we looked at metrics such as organic keyword rank, backlinks, ad spend, and ad targeting to see how they've been able to capture $11.9 million in SEO value to date.
Let's dive in!
Organic Performance That Builds Brand
Squarespace dominates organic search for their industry, ranking for a significant number of keywords—most of which are unique from their competitors. By going after these niche keywords and targeted audiences, Squarespace taps into the compounding value of ranking well across a number of different search queries.
These SERP rankings help them appeal to a wider range of customers than their competition and increases the top of their funnel considerably. Not only does this help Squarespace build their brand with the right audience, but it also increases their ability to earn high-relevancy backlinks to spread their name even further.
One of the largest contributors to their success in this goal is their total ranking keywords.
Ranking Keywords: The key to Squarespace's organic dominance
When you rank for a single target keyword, whether it's short tail or long tail, it helps your website show in the SERP for a specific query. Rank for multiple keywords related to that search and you have the potential to appear in the SERP for additional variations. These factors help Squarespace stay top of mind for potential customers in their market.
And Squarespace ranks for a ridiculous number of organic keywords: 193,676!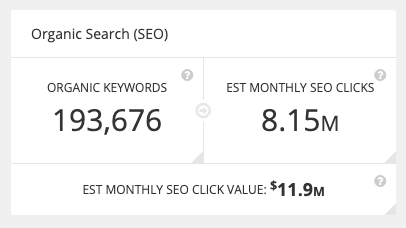 That results in an estimated 8.15M monthly clicks from SEO, for a click value of $11.9M. That dwarfs their closest competitors, both of which rank only in the tens of thousands.
Wix, Squarespace's top competitor, ranks for 66.5K organic keywords.
GoDaddy ranks for 78.3K organic keywords.
Over the past two years, Squarespace has steadily outpaced their competitors after being behind GoDaddy at the beginning of 2018. And they've done all this without relying on content marketing or a blog. Not that they don't have one; but it is mostly focused on feature updates, product releases, and company culture.
Many of these rankings are the direct result of targeted landing pages and home page copy.
Ranking for this number of keywords helps them tap into the compounding value of every page on their website, each ranking for a number of semantic variations of the same search query. By focusing their efforts on organic performance in this way, Squarespace is not only boosting brand awareness in a number of different niche industries but also garnering relevant backlinks from sources their customer's trust.
High-relevancy Backlinks: Building Brand with the right people
A common thread that appears when we take a look at Squarespace's backlink profile is that the significant majority of their internal links are coming in from websites categorized as blogs. Gaining these kinds of links is a direct result of their SEO efforts and a powerful tactic for Squarespace to use.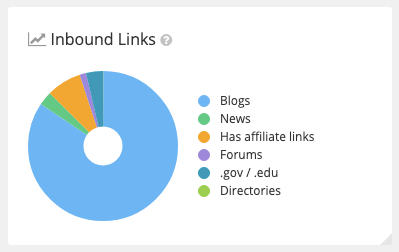 We can assume that a portion of these links is coming in from the "Powered by Squarespace" footer that appears on some of their blogs. While not the most aggressive form of link building you can do, it's a subtle driver of word of mouth. Squarespace even calls it that when tracking the incoming traffic from these links.
http://www.squarespace.com/?channel=word_of_mouth&subchannel=customer
And that's just one way that Squarespace garners backlinks from their customers. Their platform is regularly featured in blogs targeted at entrepreneurs and small business owners. Headlines like How to Build a Great Church Website, Top 5 Blogging Platforms, or Leadpages vs Squarespace for Landing Pages abound in the Backlinks results page in SpyFu.

These backlinks can be even more compelling for potential customers than the static "Powered by Squarespace" footer. Bloggers who extol the virtues of Squarespace's website builder create social proof for the platform, which increases the value of it in the minds of their readers.
By gaining these high-relevancy backlinks from bloggers, website designers, and entrepreneurs, Squarespace is building brand awareness with an audience that's primed to become their customer. Add in the word-of-mouth and social proof marketing and they're setting themselves up to rise above their competitors and stand out.
Unique Keyword Targeting: Standing Out in a Competitive space
In this competitive market, Squarespace doesn't just rank for the most keywords; they rank for the highest amount of unique keywords as well. Out of the 193,676 total ranking keywords, 174,021 were unique to their platform at the time this article was written. That's approximately 89%, which gives Squarespace a significant advantage over their competition.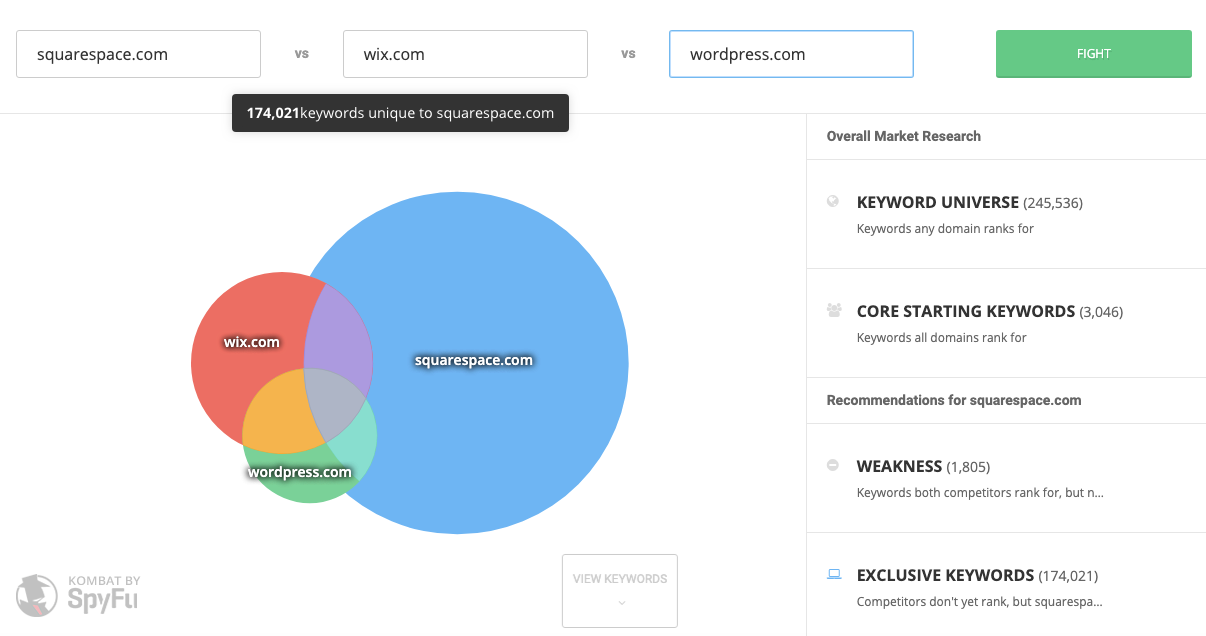 And again, most of their closest competitors don't even come close:
GoDaddy: 58,221 unique keywords
Wix: 45,460 unique keywords
WordPress: 4,612 unique keywords
Ranking for this number of unique keywords helps Squarespace corner the market in a number of niche audiences, from ecommerce to web design. Covering this much ground might seem difficult, but Squarespace does a really good job of creating targeted landing pages for different customer personas, like this one for web designers or this one for ecommerce.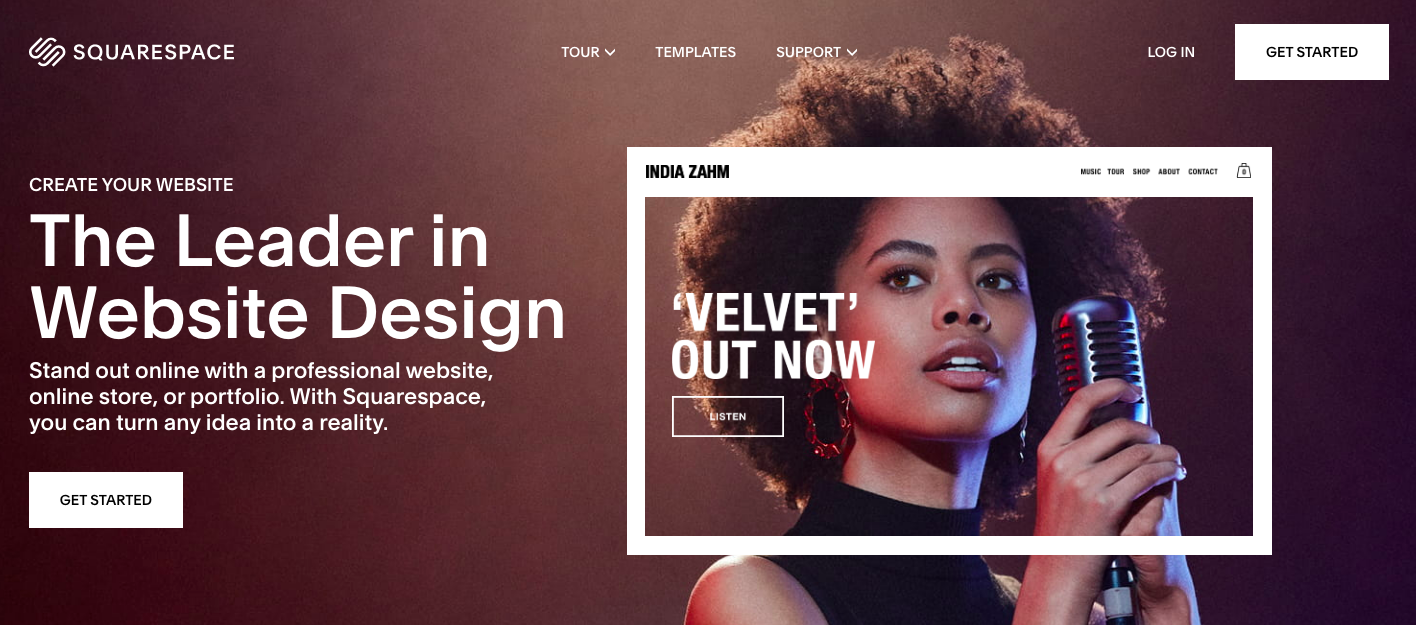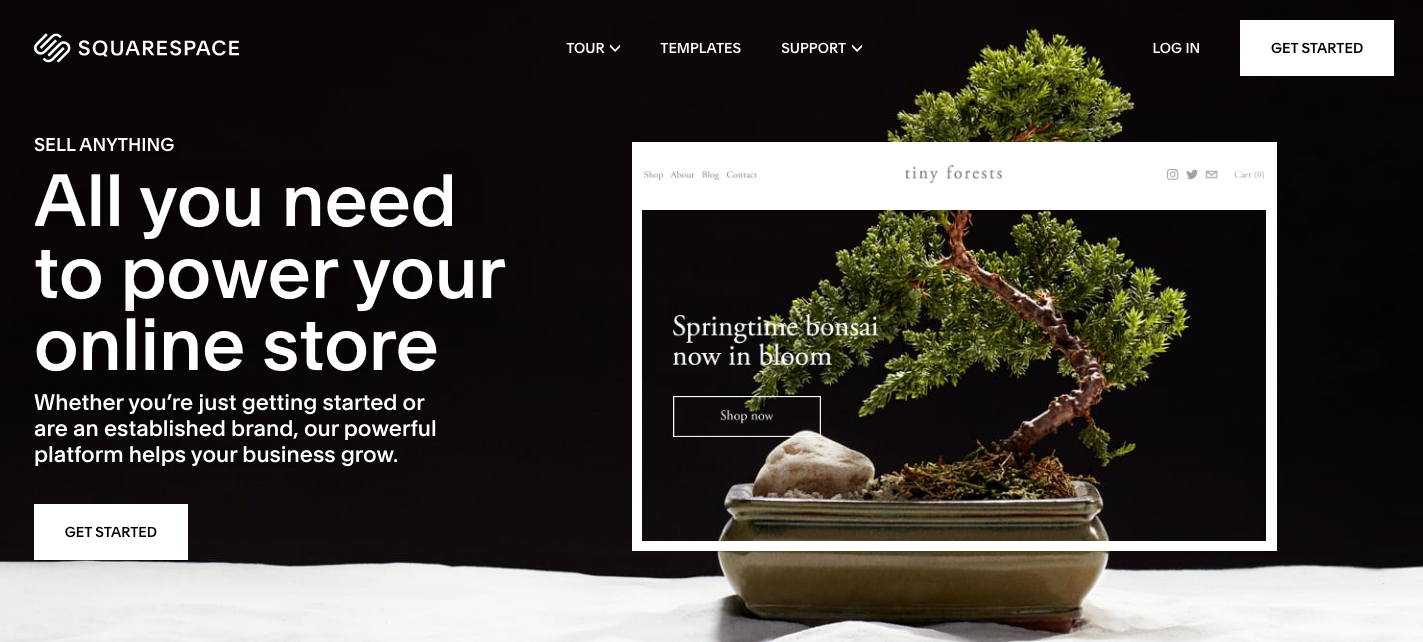 These landing pages include targeted copy for the type of customer who would search each keyword, laying out the benefits of Squarespace's platform for their specific needs. It's this kind of strategy that helps Squarespace rack up so many unique keywords that aren't being targeted by their competitors.
In doing so, Squarespace is building a core domain with the potential to rank for thousands of different types of search queries. Over time, this boosts their overall Domain Strength and increases their ranking potential for other keywords as well. Combine that with their relevant backlink profile and general keyword dominance and Squarespace is positioned to own a significant piece of the SEO market.
Paid Performance That Engages Audiences
Paid search is the other half of the equation for Squarespace's SERP dominance. And while they outspend many of their competitors in this regard, the result is smart and engaging ad copy that appeals to a wide audience of potential customers.
By creating ads that are targeted at specific keywords, Squarespace can easily drive searchers back to their tailored landing pages with relevant and conversion-focused information. When you combine this aggressive advertising strategy with a consistent publishing schedule, it helps keep their business top of mind for the right customers.
It reminds potential customers of the value Squarespace's service provides and ensures that whenever someone searches for a specific keyword, Squarespace is present at the top of the SERP.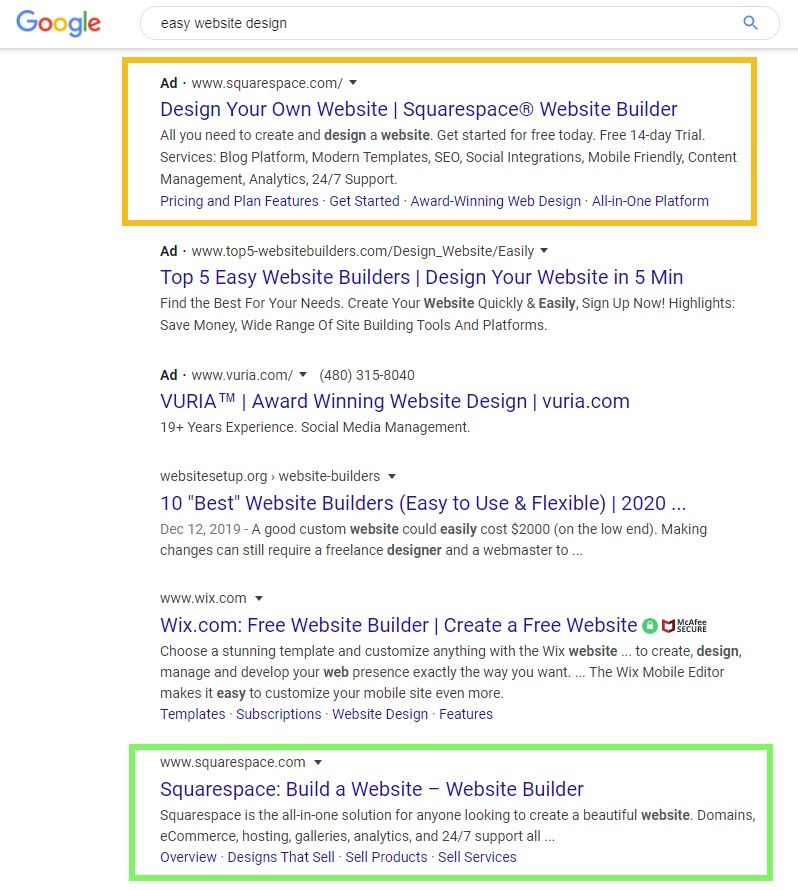 Combining this aggressive paid strategy with their blockbuster organic performance helps Squarespace maintain their position as the top website creation platform in the market.
Ad spend: An estimated $900k per month
Squarespace spends a lot on advertising—more than many of their competitors—and as one of the leaders in the market, they can afford to do so. According to our research, Wix, Squarespace's top competitor in the paid advertising space, is one of the few that spends more. They spend $1.02M versus Squarespace's $900K.

This is a trend that has been going on for the better part of the last year, with Wix consistently outbidding Squarespace for a place at the top of the SERP.

At the end of the day, Wix does end up capturing 48.3K PPC keywords to Squarespace's 45.4K, but there's a significant amount of overlap that drives up the bid price for both companies.
Having the two largest competitors duke it out for the top keywords is likely the reason that the rest of the market hovers around a budget of $300–$400K. When you have two large competitors going aggressively after the same keywords, it makes it more difficult for lower-tier competitors to justify the additional ad spend.
With this $900K in ad spend, Squarespace brings in approximately 246K clicks on a monthly basis. While they're definitely spending more on advertising than the majority of the market, Squarespace has adopted a strategy similar to their organic targeting by going after niche keywords as well as ones that are core to their feature set.
Targeting these keywords helps them justify a broad bidding strategy and helps them display more value to niche audiences.
Targeted Ad copy: Going After the Right keywords
Squarespace targets high-relevancy and expensive keywords. We've seen how this increases their ad spend over many of their competitors, but it also helps Squarespace capitalize on that spend by ranking higher in the SERP. Going after core keywords like "build a website" and "website builder" make the most sense for their brand.
These semantic variations on their core product features are definitely expensive and competitive, but they result in hundreds of thousands of monthly searches.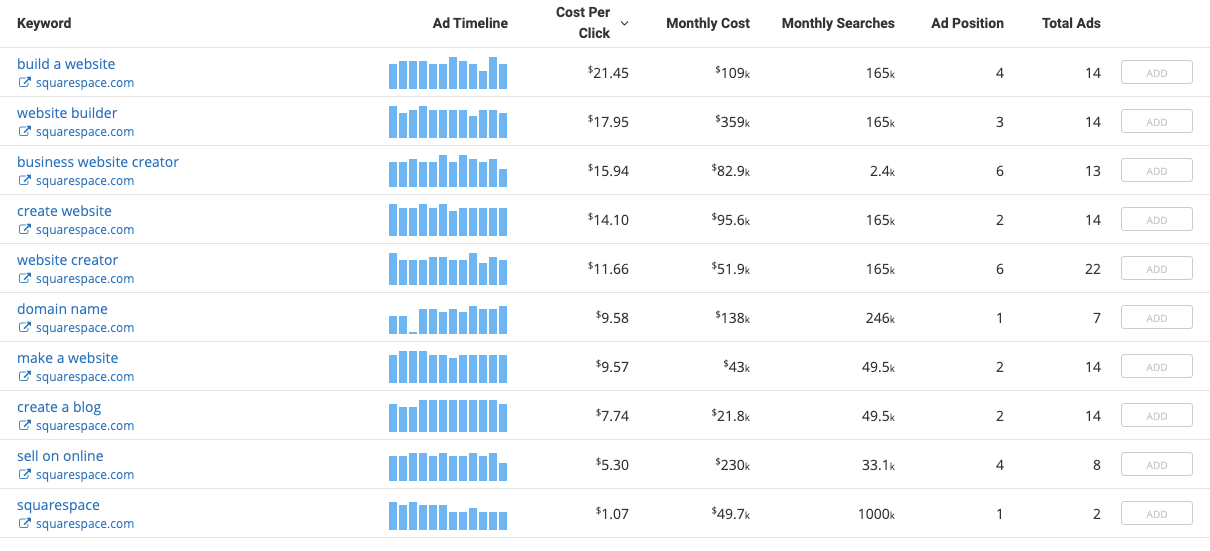 As you work through their PPC keyword list, you start to see more tangential keywords as well. There's a strong focus on ecommerce, with keywords like "sell it online" and "create an ecommerce store" that help Squarespace drive potential customers to their targeted landing pages.
These keywords also help them create ads that are more semantically diverse, so as not to overload searchers with the same type of copy over and over again.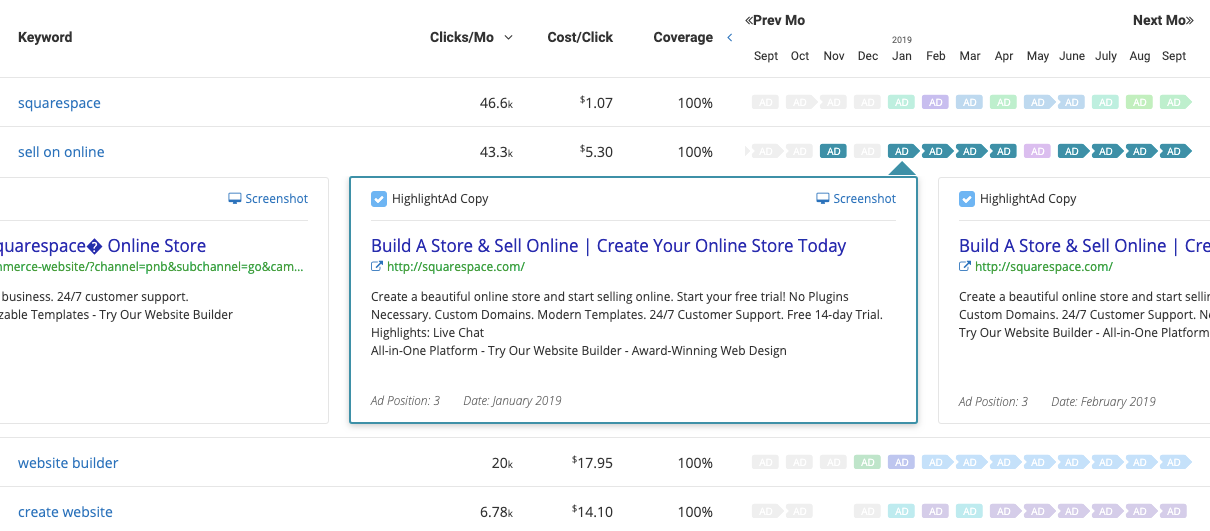 As Squarespace moves down their keyword list, the cost per click will decrease as well, letting them spend more in the niche markets that aren't as core to their product. This helps them stand out and attract potential customers more easily by diversifying the top of their funnel.
We also see them aggressively going after branded keywords like "squarespace," and with good reason. Competitors like Wix will try to capitalize on people searching for alternative and complementary platforms, and "squarespace" as a keyword brings in approximately 46.6K in monthly clicks. By serving ads on their own branded keywords, Squarespace is ensuring that their content is always displayed, regardless of the specific search queries being used.
Consistent Advertising schedule: Staying top of Mind
Squarespace has 100% ad coverage on almost all of the high-value keywords they're targeting. That means their ads are being displayed to every single searcher who types in a target keyword. Not only does this help keep the Squarespace brand top of mind, but it also maximizes their ad spend for optimal performance.
Many of these keywords are expensive but bring in tens of thousands of clicks per month. In order to compete in this space, competitors would have to spend a lot of money just to be seen alongside Squarespace's ad. This likely contributes to the fact that Wix is spending over $1 million on their advertising.
If we dig deeper into the different types of ads Squarespace is creating for these keywords, we see that most of them are consistently ranking in the first, second, or third position on the SERP.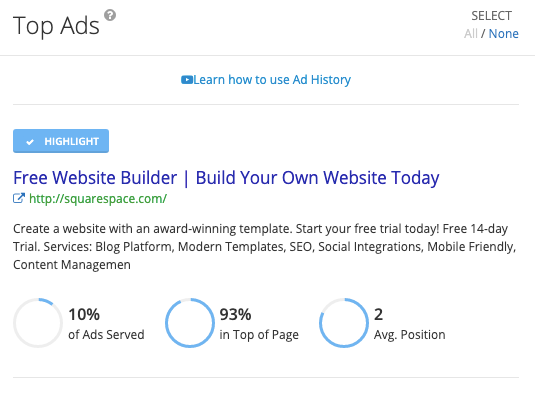 With Google experimenting with changes that minimize the differences between ads and true results, these positions make it even more likely that potential customers will click through.
Combine that with their use of semantic variation, long-tail keywords, and relevant CTA copy, it's evident that Squarespace is doing an excellent job of making sure their ads consistently outperform the competition.
Keyword Targeting Fuels Squarespace's Growth
Squarespace's focus on high-value, unique keywords helps them appeal to more customers than their competitors. By targeting niche communities with relevant landing-page and ad content, they're able to speak to the value of their product in a way that's tailored to that target customer.
When you combine these two tactics with their aggressive paid advertising strategy, Squarespace has built an SEO machine that drives the success of their business. This helps Squarespace stay top of mind with potential customers and ensures that the brand is the first thing people think of when considering a website builder.