"Know your enemy better than you know yourself." The words are as valid for business as they are for warfare. But knowing your enemy starts with research, analysis, and a complete competitive audit.
This process is something most business owners probably don't have time for in their busy schedules right?
Wrong.
By choosing the right tools, any business owner can do a meaningful competitive audit in just 10 minutes.
#1 Identify Your Top 10 Google Organic Search Competitors
Google handled 74.75% of all internet searches in March 2019. And 51% of all internet traffic starts with a search. To top it off, 87% of consumers began product searches online in 2018.
So it is best to think of your competitors online as a shop that just opened up next door. Since consumers start making their decisions online, they might as well be vying for attention in the same mall.
Winning the SERP battle for high-value keywords will have a direct impact on foot-traffic and your business.
To do this without 3rd party tools is a little complicated.
Google Search Console, even the new dashboard, gives you 0 access to competitive metrics beyond Average Position.
(Source)
So the only approach you can take is look up important queries where your average position is too low, and look them up one by one.
Set up a filter for positions lower than 3 or 4, and then decide on high priority targets to search and check manually.
Then enter the results into Excel or Google Docs, and ultimately use pivot tables to isolate common domains.
You might be thinking; this alone would take more than 10 minutes. And you'd be right if you tried to do it with Search Console and Google.
But there's a much easier way.
With SpyFu, the only input you have to type in is your URL, and we will tell you exactly who your biggest organic search competitors are.

You will immediately see a list of the domains that compete with you on the most keywords.
If you have a blog where you write about industry news or unrelated topics, you might be surprised at some of your smaller competitors, but the top competitors are usually right on the mark.
But just because someone is competing for similar or identical keywords, doesn't mean they are your toughest or most direct competitor.
You have to consider a few other factors:
Which segment of the market are they targeting?
What price point are they selling the product/service at?
What locations are they servicing?
How do they rank for the most important middle-to-bottom funnel keywords?
Go through the list provided by SpyFu, and find the ones who are in or closest to your segment, and are targeting and reaching your potential buyers.
Then, you should add all the relevant companies to an Excel / Google sheet with all the most important factors.
You can stop at 10, or keep adding every relevant competitor you think you can learn something from.
Then you've got a list your team needs to watch, analyze, and ultimately beat.
#2 Find Your 10 Biggest Competitors for Google Ads (PPC)
Google Ads is the largest platform in digital advertising with 38.6% of all digital ad spend. And businesses get on average a 200% ROI of spend on Google Ads.
The traffic is very targeted. People search for the service/product you provide, so even small business have no issue turning a profit.
This popularity has lead to increasingly high CPCs, with minimum first-page bids jumping up by 23% from Q4 2017 to Q4 2018.
Unlike with Search Console & organic results, Google does offer some competitive metrics here.
Option #1 Use Auction Insights & SERPs
This section is called "Auction Insights" and shows you the domains that compete for the keywords you are currently bidding on.
But again, the competitive metrics are limited enough that you need to do a lot of leg-work to get meaningful insights.
While it does give you crucial metrics like Absolute Top of page rates, position above & Outranking share, you don't get any insights at all into what their ads and promotions look like.
To see that, you will have to search each keyword manually. And you have no guarantee that effort will give you a realistic image of competitor's top performers.
Option #2: Use A Competitor Analysis Solutions Like SpyFu
Again you get a much more complete picture of what your competitors are doing on the Google Ads platform by using SpyFu.
In the dashboard, much like with Google Ads you get an at-a-glance view of your biggest competitors.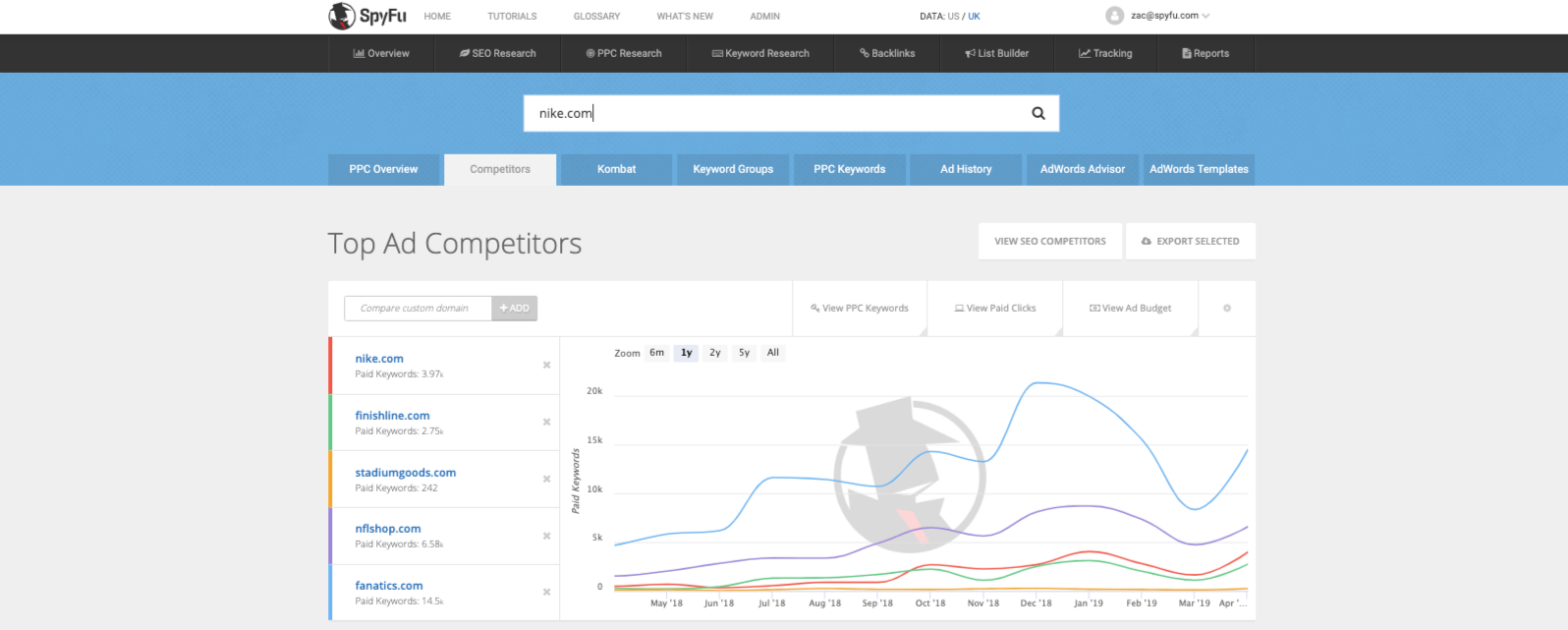 But that's only the beginning.
If you click through to one of the competitors, you can see a breakdown of their top performing Ads & Keywords.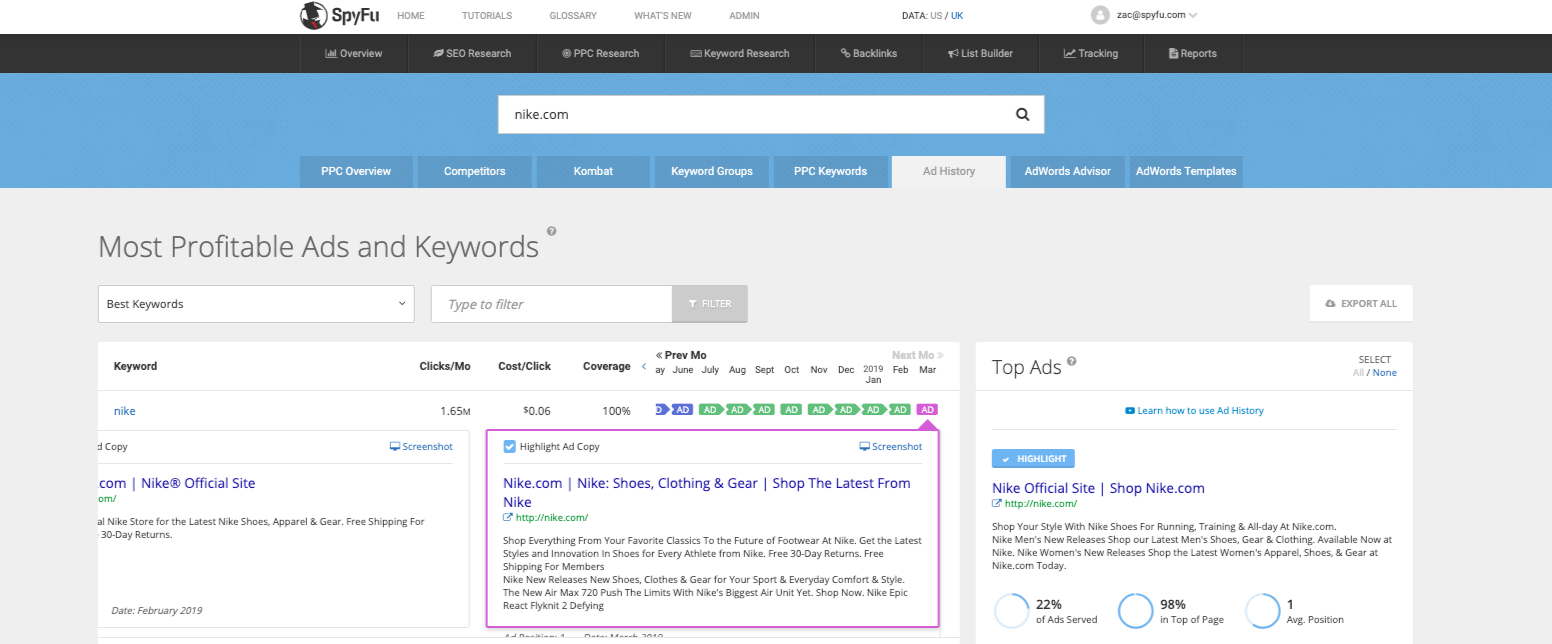 SpyFu has collected data on a vast range of websites for more than 13 years, and you can see top ads from every step of the way.
This historical data means that you can not just know exactly where your competitors are doing well, but you can instantly find new sales angles and discard tests that have already failed.
Copying their ads word for world won't do you any good, but this data can act as a guideline towards a better campaign for your own company.
Again, add the biggest competitors into the competitor sheet from before. You might even consider copying in some high-performing ads or write out sales angles and promotions that inspire you.
This process will leave you with not only a list of PPC competitors but a goldmine for improving your current PPC campaigns.
#3 Find Missed Keyword Opportunities From Competitors (Organic & PPC)
With more than 100 billion search terms, it's impossible to think of enough keyword ideas all by yourself.
So most SEOs, content and search marketers turn to keyword research tools to help. Tools like Google Keyword Planner and its alternatives can be helpful when planning a new campaign.
But it's not always as useful for helping you pick out instant winners to add to a struggling campaign.
That's where you take spying on competitors a little bit further.
Find Keywords From Organic Search Competitors
It's time to put the list you collected earlier to good use.
Open up the SEO Research / SEO Keywords tab in SpyFu and go through your competitors one by one.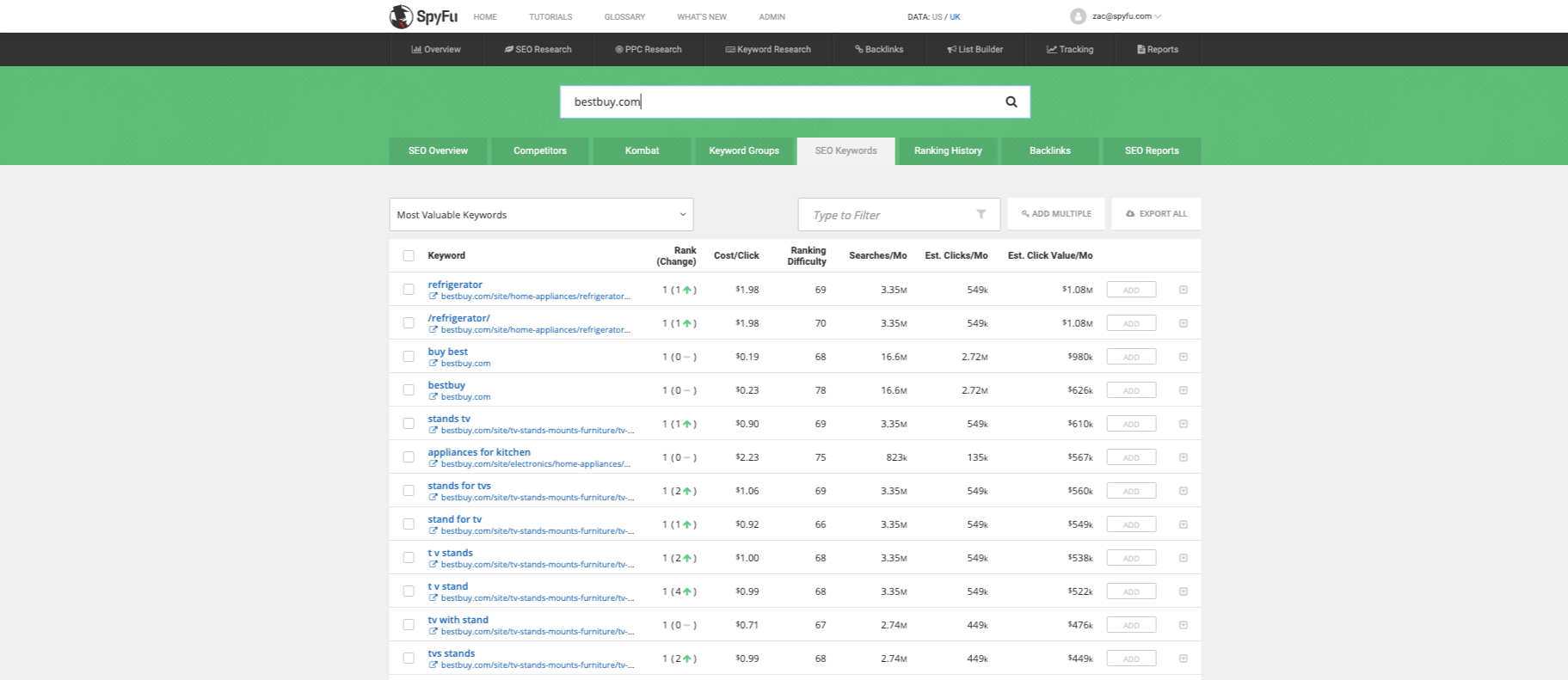 This dashboard will immediately show you a breakdown of their most valuable keywords.
One thing to note is that it is usually a good idea to exclude branded searches from these lists unless you are looking to implement a search sniping strategy. You can do that by filtering out the company/product names and website URL from the search results.
For smaller sites and niches you can manually check for new keyword opportunities in the feed.
But for larger sites, for example in e-commerce, you should export the data from the list, export the same data for your own website, and eliminate every overlapping keyword.
Then you can filter the rest by volume, ranking difficulty, or estimated monthly clicks.
This way you don't have to spend any time scanning through keyword you already have targeted with content in the past.
Tip - Easily track your competitors' marketing strategy with this 7-step checklist
Find New PPC Keyword From Competitors

Follow the same steps here. Head over to SpyFu's PPC Research / PPC Keywords tab, and plug in the URLs of your biggest competitors one by one.
Filter out the branded searches, and you can either directly export them to AdWords (which will automatically filter out the duplicates) or follow the same process that we did with SEO.
You can also gain insights from multiple keywords at once by using our Kombat tool.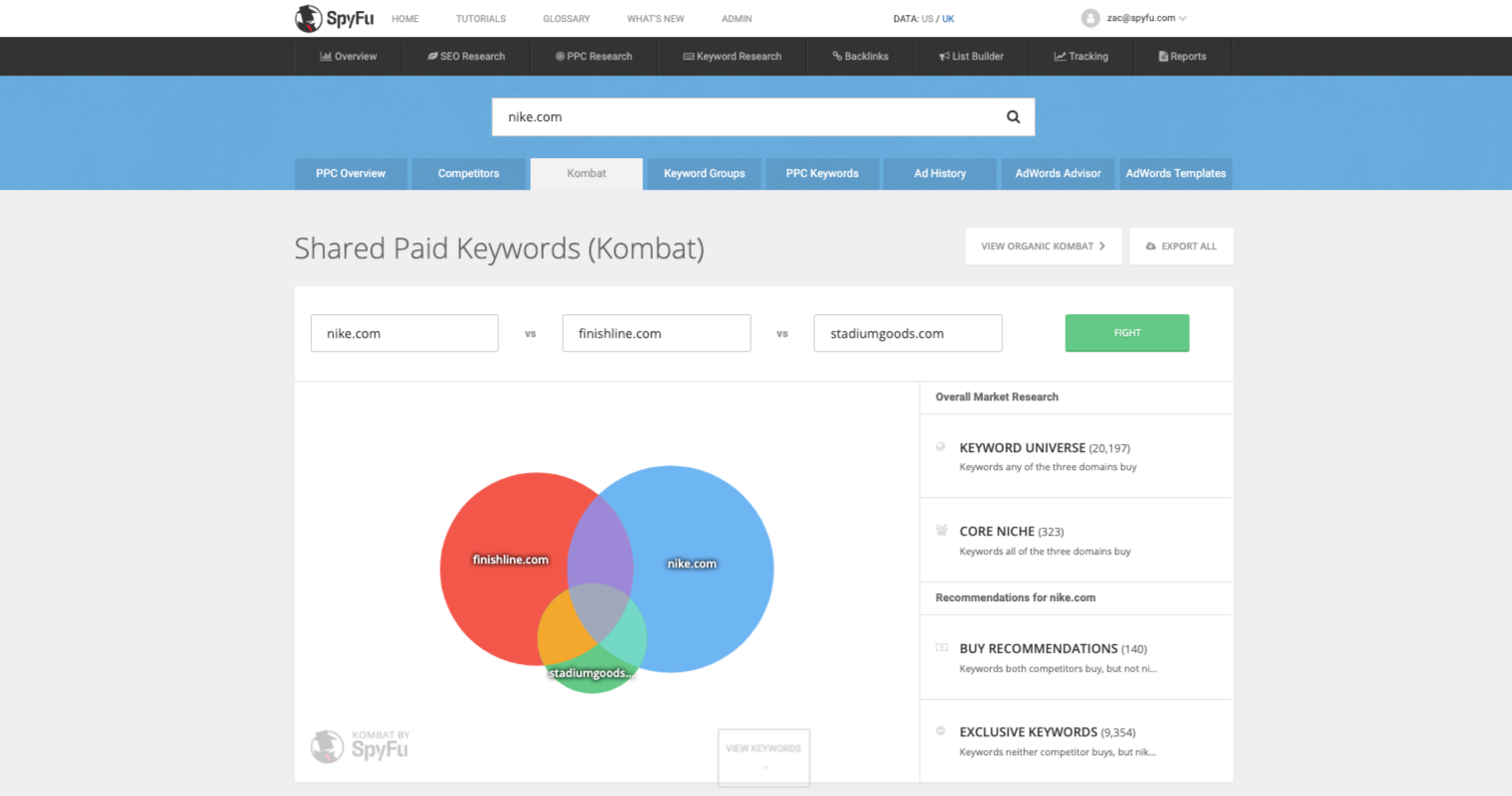 Kombat automatically generates lists of keywords that your competitors are targeting but you are not.
Invaluable insights gained with the click of a button and in less than a minute.
Use the keywords you find to create new content and target new market segments.
#4 Analyze Their Content, On-Page SEO & Backlinks
Now you've got your list of competitors, you've learned the keyword opportunities, and you're ready to implement.
With Google Ads, it's as simple as bidding on the keywords and adjusting ads with new sales angles/copy. If you can outbid them or show a more relevant ad to the searcher, you win.
No arbitrary ranking algorithms involved.
But with SEO, it's not that simple. It can take a very long time to get a good rank in the SERPs, with 61-182 days being a typical timeframe.
On top of that, SEO is a huge priority for most businesses with 61% naming improving SEO as their most significant business priority in 2018.
It's not like they will sit around and wait for you to overtake them in the results.
Tip - You can check out our detailed SEO audit checklist to find more SEO opportunities.
Analyze On-Page SEO Of Your Competitors
An excellent place to start is analyzing the SEO of your competitors.
The fastest way to do this is to use a free On-Page SEO analysis tool.
(source)
Look for weaknesses in page quality, structure, and links. Run the tests for cornerstone pages you want to compete within the SERPs as well as the home page.
You can identify easy targets and quick wins to tackle first, before challenging mammoth cornerstone content.
For this guide, we're using Seobility, but there are many alternatives:
You can also spot check any website's past rankings for a given keyword. Seeing their progress might help you spot if any recent changes affected their rankings.
Check Their Backlink Profile
Backlinks are still an essential part of SEO, and you can't succeed without beating your competitors here as well.
Luckily, Google has started to value quality over quantity, so sometimes, just a few targeted, relevant in-content links can help you skyrocket through the SERPs.
Head over to the Backlinks tab in the SEO Research tool within SpyFu.

Then you can enter a competitor's site from the list, and break the backlinks down by keyword, domain, etc.
You should be searching for two things:
Important keywords where a top competitor has few relevant, high-quality backlinks.
Backlink opportunities that you can capitalize on.
If you find just a few in each category, it will be a huge boost to your SEO efforts.
Analyze Their Content
Unfortunately, you can't just automatically let a tool solve the entire content puzzle for you. The best tools out there only give you breakdowns of sharing, Word counts and basic on-page factors.
You will have to get a little bit nitty gritty to get a complete handle on other important factors like:
Avg. Word count
Voice
Image Frequency
Content Structure
H2/3 Style (Informational, or Copy-focused?)
Interactive Content
Video
You can use a scraping tool to help you achieve this, like:
It's recommended that you only analyze the content of truly top performing pages, to get a feel for what it takes to "win the SERP war".
Once you have a handle on on-page, backlinks and the content itself, you will be set up for success in SEO.
#5 Analyze Social Media Presence
After SEO/SEM, Social Media is the biggest digital priority for most companies at 11.4% of the total marketing budget. And no wonder, because Facebook alone covers 68% of the U.S. population.
You can quickly analyze the social presence of your competition by using BuzzSumo and Sprout Social.
For specific competitors, you can check the social performance of their content using BuzzSumo.
(source)
You can use the content analyzer to find the social benchmarks for the content that a site creates.
Total engagements, average engagements, their most successful platforms, their best days of the week, and even the type of content that performs best for them.
If you begin to see patterns across multiple competitors, you can use this to adapt your own strategy.
But Sprout Social's tool has more comprehensive reporting on audience growth, trends and more.
(source)
You can use this to decide which competitors you want to dive more in-depth on their content and social strategy to learn from.
Competitors who outpace your growth by a lot should be noted. But first, you should check that they aren't driving that growth by massive paid campaigns.
Once you have confirmed their strong growth is organic, you've found a competitor to follow up with a later deep dive, not just a 10-minute audit.
Dive deep and implement every trick you find on your own pages as well.
#6 Solidify Your USP By Filling Holes Competitors Aren't Filling
The last part of the competitive audit is a little bit more intangible.
It's more about soul-searching and finding the "it factor" for your company.
Most businesses have value propositions. (64% of them to be specific.) But only 2.2% of companies have value propositions that are effective in selling all on their own.
Empires have been built solely on the back of a good USP. Apple went from an obscure computer company to the most profitable companies in the world on the back of 3 product launches with clear USPs.
Quickly after the iPhone came out, a BlackBerry came out that actually won out in the official Tech Crunch comparison review.
Needless to say, it didn't even make a dent in the market Apple had created for smartphones.
Despite being comfortably out-teched by BlackBerry, Apple's iPhone paved a road to superstardom simply by the power of a better USP that appealed to more people.
This is what's on the table if you can change your USP to be something that absolutely resonates 100% with your target market.
By first reviewing your competition in-depth, you should be able to answer important questions that could improve your USP:
Why do your customers need your product?
Why do they choose your company?
Why do other people choose your competitors?
Is there a segment of the market that is underserved by you and your top competitors? (High-end? Low-end? Middle?)
Is there a geographic area that is underserved by you and your competitors?
What is your competitor's sales process like? Can you improve on it?
What are the common complaints of the customers of your/your competitor's customers? Is there something you can change to alleviate these complaints?
These questions and many more, when asked by and to the right people, with the right context, can change the course of a business.
Conclusion
A competitive audit doesn't have to be a 72-hour slog accompanied by a 312-point checklist.
In today's digital world, most of the relevant data is already digitized and available online. This means that you can use online tools (like SpyFu) that makes digesting this data and learning insights from it a lot easier.
Because of this, you can achieve meaningful insights and get new direction for your SEO/PPC and social media campaigns in just a few minutes.
But the true impact of these new insights into your competition is what happens after.
If you use them to challenge your team and rack up easy wins left and right, the sky is the limit.