Since link prospecting is a normal part of content marketing, you might get a cold email from someone you've never met, asking for a link. And that link might be for a site you've never heard of. Don't turn down the offer. There's usually a benefit to you, too.
In this article, I want to show you how to get the most value possible for your site when someone reaches out to you with this offer.

What it Might Look Like
Hi, this is Alex from photographylife.com. I thought our site would be a perfect part of your article 'Turn Your Hobby into a Side Business this Weekend,' and I hoped you would consider linking to us. I'd be happy to return the favor, of course."
Before you respond, it's important to check them out.
Just like with many other decisions you make, this one relies on checking off smaller criteria to build up to the right call.
You're vetting a potential partner. Here are the three things you'll want to find out, and I'll show you in this article how to confidently answer each one.
Is their domain a good match for you to share links with?
And which of your pages would you like for them to link to?

Start with a Review of Their Site
By reviewing their site you are going to assess whether this domain is a good partner for you in content marketing. You will:
Spot any potential red flags
Learn their area of expertise and influence
Determine if they are a rising star or an established performer

First, go to their site. This is the 15-second assessment to learn if they present a professional experience. You should also get an idea of what they offer as a business. If you can't tell in just a few clicks what they do, go to the next steps on SpyFu to get a clearer picture.
Another thing to consider is the initial experience. Interruptions like paywall pop-ups and shifting elements used to be just annoyances, but now they could hurt the site's ranking under Google's scrutiny. Google's focus on Core Web Vitals will penalize sites that take too long to load or force you into a click when you are trying to navigate elsewhere. If the site can't pass those tests, getting a link from them might not be worth the effort.
Remember that you're looking for obvious issues that will keep Google from ranking the site as an authority. Links are nice to get when they drive traffic, but their true value lies in passing along link juice. If you can't get heaping doses of both from sites that court Google penalties, move on from that partner.
All clear? Let's look at their area of expertise.
Even if you knew--from their description or from their website--what this website does, it helps to see how Google views them. One part of assessing this site is to find out what they rank for.
Search the domain on SpyFu.com, and choose SEO Research.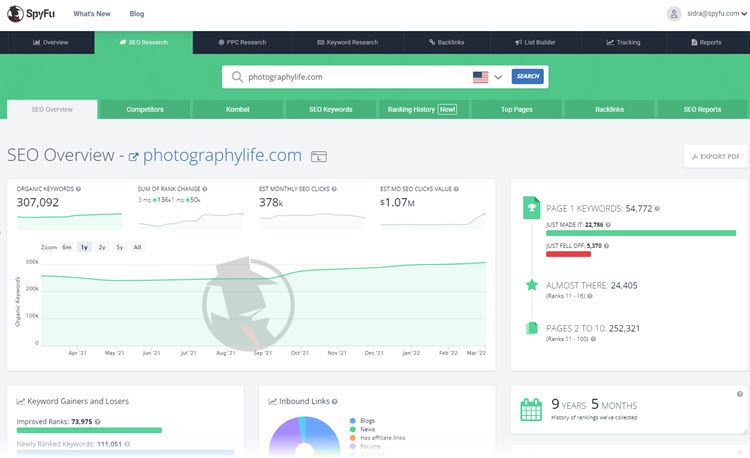 From this SEO Overview, scroll down to use 3 different sections: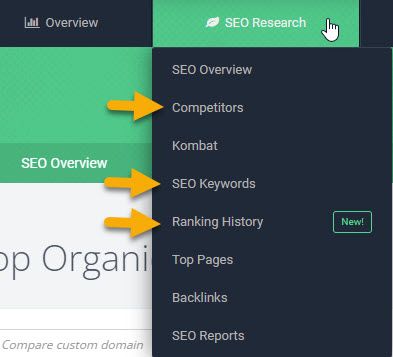 SEO Keywords: Find out what search terms bring up this site. This is the best, most objective way to learn what google considers to be their area of expertise.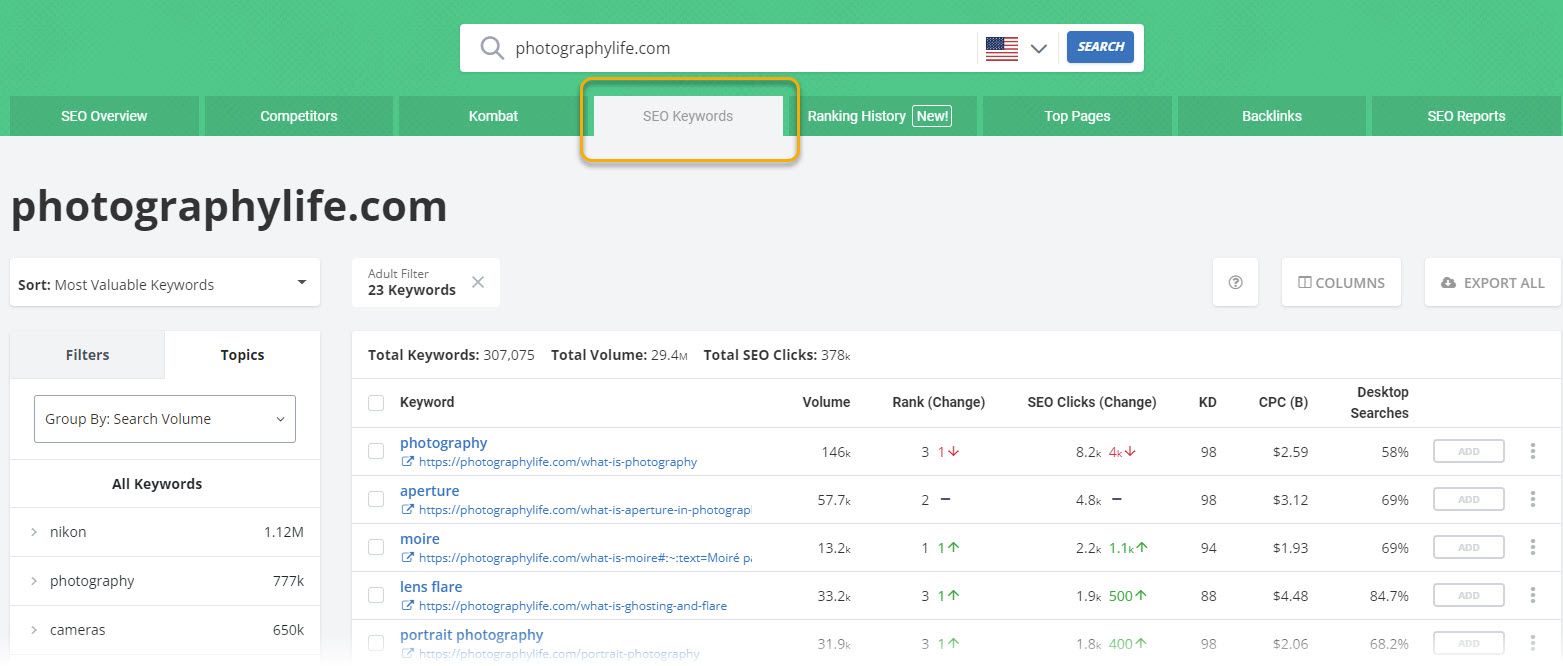 SEO Competitors: It's one thing to see the domain's SEO performance, but charting them alongside their competitors gives context to their rankings. Even if their performance looks uneventful, you might get a different perspective when you see that they are one of the most authoritative businesses in their space.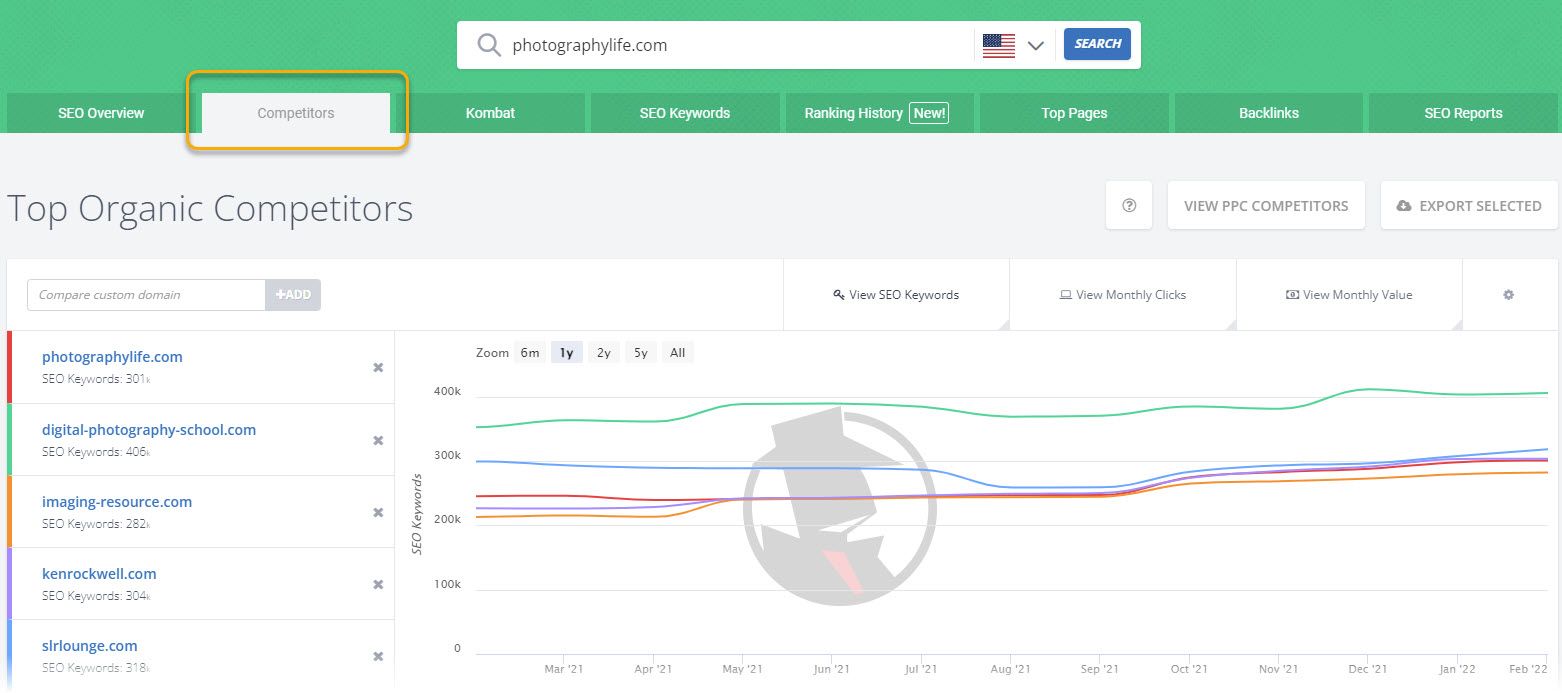 SEO Ranking History: Look at the overall picture of how this site has been performing in SEO. Since we track their current rankings and their past history, you can take a broad look at their growth. This matters because where a site ranks right now is only one point to consider. A rising star is going to be a better partner than one that has been taking hits to its overall ranks.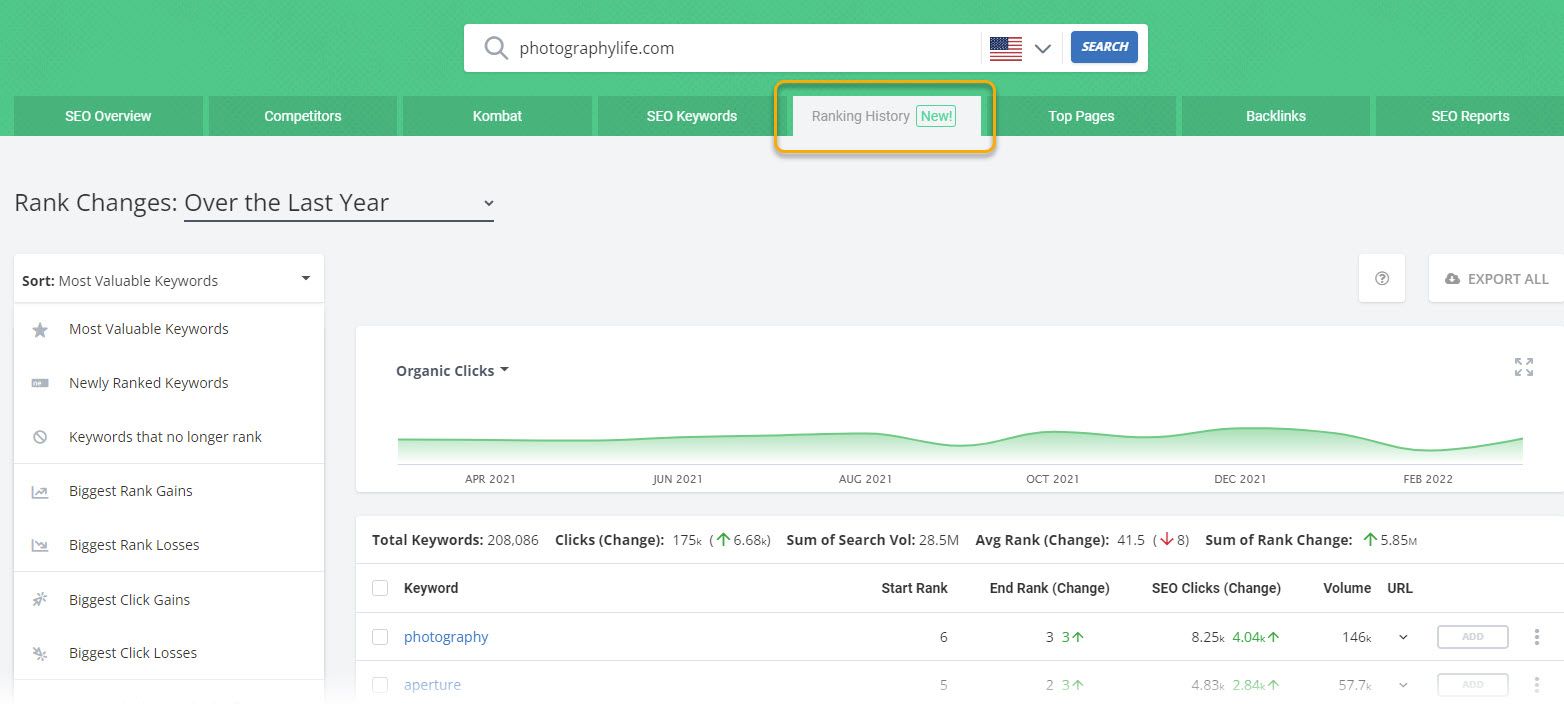 When Google identifies "spammy" sites, it tends to penalize them across the board. You can see this in a site's ranking history with hard dips where they dropped ranks and had to grow back their positions (if at all). Flat histories aren't bad if the site has grown a stable SEO footprint.

A Google-indexed site will be a good partner for link sharing. Consider it a "must-have" before agreeing to linking to them or getting a link from them.

SEO Ranking History, Part 2: Here's where things get gritty for those who are ready for more serious research. Consider situations where you recognize the site's general industry, but you want to learn if they're just gaining steam in SEO, or potentially dying off. Building a partnership with a rising star is more valuable to you, especially as they gain clicks and grow in rankings. And of course long-standing, steady players make for a safe bet.
A quick look at their ranking tells that story, especially if you are trying to gut-check a particular page they're promoting.
Here's how to take it further.
Click through to the SEO Ranking History tab (you get a bit more flexibility there than on the overview page), and make sure that the chart is showing "Organic Clicks." (See below) The organic keywords setting will chart the total number of keywords that the domain ranks for. That's helpful to find the breadth of their topics, but if you look at clicks, you'll see a more meaningful story. That's because clicks can show you the payoff that a domain gets from ranking well on very competitive keywords.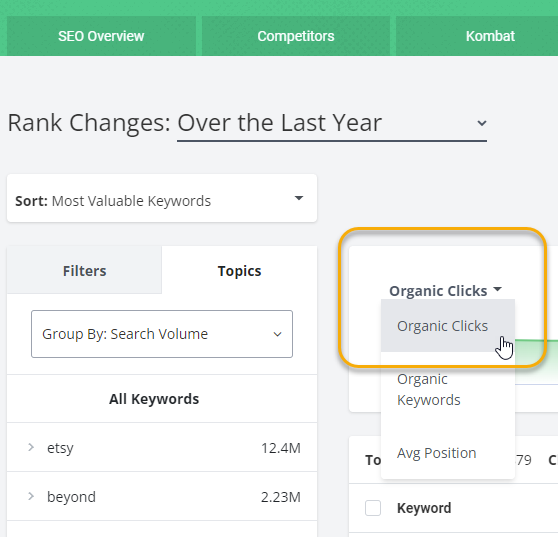 Again, we're getting a rolling measurement of the site's performance. Just like with the way we looked at Ranking History in the last section, we're going to start with the domain's full SEO footprint, looking back over the last year.

Switch to the "Topics" view. This step is useful if you have somewhat of an idea on the category you'll be dealing in. For example, a large site like hubspot.com ranks for many unrelated keywords. If you are judging them mostly for their rankings in "email", that's what you would browse for.
While you're looking at topics, keep in mind that you aren't looking for a close match to yourself. You don't want to swap links with a page that is fighting for the same keyword that you are.
Does this domain pass the initial test? They should be:
Stable, or at least moving in an upward direction in their SEO
Not spammy or hit often with Google penalties
Able to share relevant links with you without fighting each other for the same keywords
Choose the Page That Links to Your Site
Here's where you take them up on their offer. (After a little homework, of course.) You're going to say yes to the link, and that gives you a chance to request which page they link from.
This is the bigger decision. You've been offered something of value. With a little digging, you can get the most possible out of the opportunity.
What you choose depends on what you'd like to get out of it. This might change with every offer you get. At this step, decide what kind of benefit is more important to you.
If you want their best "link juice" -- take Path #1.
If you are promoting a specific piece--take Path #2.

Path #1: Get All the Link Power You Can

This is a good path if you have many different pieces of content that are doing well, but your focus is getting the most powerful link possible. You're funneling all of your linking favor toward your home page, and you're getting it from a high-traffic spot.
You might think: ah, their home page! Seems like a no-brainer, but you can count on that one so easily. Sites with content-driven pages are more likely to share links from articles. It's less friction on their part, and home pages tend to be sacred real estate, optimized with precision.
So, an internal page it is! An internal page that brings the most value to you.
To get there, we're going to look for the site's most click-earning piece of content. Not only does Google consider them a top authority, but visitors do too.
You'll be using the Top Pages feature on SpyFu.com.
The contact who pitched you should have included their domain (site's URL) in their pitch email. Type that into the search bar on SpyFu, and choose Top Pages from the SEO Research tab.
Find the site's results in Top Pages
Review the default results.
Your default results should show the dropdown menu as "Pages with the Most Organic Traffic."
3.  Use the top result (or one of the top results) as your choice.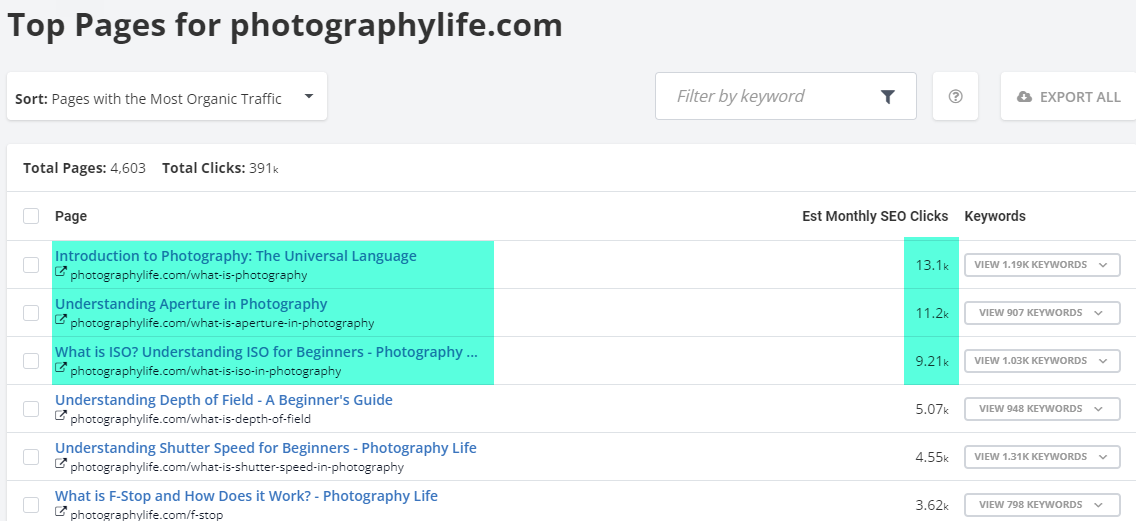 In the image above, I've highlighted the top pages that get the most organic clicks, as well as the estimated number of clicks they get each month (from being on the SERP). See how they are similar in click counts? That gives you a little more flexibility to ask for a link from the top result, but if the topic doesn't work you can look at the next ones in line.
The URL and title together should give you enough clues about what the content covers. As long as you have a relevant reason to get a click from that page, you have every right to request it.
Remember the page does not have to be about your area of expertise, but if you can offer at least one significant contribution to their article, it's worth a shot.
For example, Alex reached out to you because you write about developing business and innovative ways to reach your audience. Alex's article about aperture doesn't seem relevant, but if it targets people learning about photography so that they can consider a new stream of income, that's your opportunity.
In fact, here's an idea to increase your chances of getting a link from strong content. Make the connection that isn't there. It's likely that the aperture lesson-to-professional development idea is a stretch, but that doesn't make it out of place. If you can suggest 1-3 lines that fit well in their article and create good anchor text for your link, it takes some of the work off of Alex. That's more likely to get you added, and I promise you that few people do this.
"Thanks, Alex. I've added the link you requested, and you can find it live here. (Link to that part of the article if you can, or include a screen shot.) I'd like to take you up on your offer by linking to my site https://www.nightowltoearlybird.com from photographylife.com/what-is-aperture-in-photography. I thought a great spot would be right after the section on lighting. I included some suggested text to help set up the link if that might help."

I know that as a content creator, I want links to make sense and have context. It might take me a little thought and work to fit it in, so if someone does that for me, it makes the decision to add them an easy one.
Path #2: Promote a Specific Piece

This is a good path if you have a unicorn article that you love to promote, a go-to piece that converts well, or even a newly-refreshed piece of content that you're supporting with relevant links. With this path, the destination (your URL) matters most. We're going to look for content that supports your topic.
Let's say that you're a fashion and lifestyle blogger. You make most of your revenue through affiliate links to sales of the items you showcase. Your SEO is built on fashion tips, and one of those that broke out was "Choosing the Right Outfit for Family Portraits."
Your goal is to get a link to that page, allowing its momentum to snowball. That gives you a little less flexibility to get a link from any page of theirs, and you want to angle for something a little more relevant.
Here's how.
Once again you'll be using Top Pages, but with a more specific step.
After you've gotten the Top Pages results for this site (SEO Research>Top Pages), you'll focus more on keywords.
Every page that's listed includes a keyword dropdown where you can "view 1.19K keywords" that the page ranks for. More than just the topic of the piece, these keywords show you exactly where they've earned rankings on Google searches.
Since hundreds of pages are too much to review line by line, use the filter to speed things up.
Type in a term that gets you closer to the topic you'd like to cover. Remember that you're not trying to replicate the same keyword you're targeting. What we're going for is an easy opportunity to connect to your topic. These should be related, but not identical.
You're trying to be in the same neighborhood, not the same house.
In this example, search for terms like "portraits."

This pulls up the pages from photographylife.com that are more closely related to the topic you want to introduce. Follow the same suggestion from Path #1 of making the connection to your own piece. Only this time, things are more specific.
"Thanks, Alex. I've added the link you requested, and you can find it live here. (Link to the part of the article if you can.) I'd like to take you up on your offer by linking to my page https://www.nightowltoearlybird.com/family-portrait-outfits from photographylife.com/portrait-photography. I thought the paragraph you have on families, specifically the phrase "their clothing" would be a great spot. However, if you are interested in adding a summary leading into tips on what families should wear, I have a small paragraph that would fit pretty well. I included that below."
Not only does that remove some of the friction I mentioned before, it establishes you as a good partner. Someone who is taking the initiative to reach out to you for a link is someone who's putting in the work to develop their SEO. Investing in those partnerships and honing your partner-vetting skills is another part of you developing your SEO too.
Which page should I have them link to?
With Path #1, it makes sense to have them link to your home page, but I mentioned Path #2 for specific pages that might warrant more attention.
This could be a unicorn piece that has surged in ranks. Your goal is to get it to snowball, so you'll direct external links to it.

This could be a piece you recently refreshed, and now it covers more details that make for a relevant link.

This could be a core-keyword, high-value piece that has been slipping in ranks and needs a boost.
To find any of these, you can rely on a few 3rd party tools.
Google Search Console helps content managers gauge the performance of their pages. Search your domain (or in our case, your content's starting page like https://www.spyfu.com/blog) to find the pages getting the most clicks and what they rank for. Your unicorn piece should stand out at the top of the list.
A few deeper steps in Search Console will produce some helpful SEO practices like weeding out Page Experience issues.
SpyFu's Top Pages can be used on your own site in the same ways that we mentioned in Path #1 and Path #2 above. Much like with Google Search Console, you will see your pages that earn the most clicks from their rankings, along with the keyword searches that drive those clicks. Unlike with Search Console, you have more flexibility with the timespan, stretching back years to compare your growth or rank changes. Those changes come alongside deeper metrics so you can add more context to measuring your performance.
Screaming Frog gets mentioned time and again for good reason. Its site crawling feature can find every page of your site and flag any on-page issues. That's not going to show your rank changes, but it will help you see some of the issues causing those changes. In this exercise, Screaming Frog is a valuable resource for itemizing every piece of content if you had not been tracking the pages yourself.
Speaking of tracking your content, it's a good practice no matter what level of Content Management System (CMS) you use--or if you use one at all. If you don't, be sure to keep some type of spreadsheet to manage and notate your content. This helps you prioritize your content when it comes to promotion, sharing, and nurturing.
I like Google Sheets for this. Since we use a Ghost blog platform, I turned to Zapier to automatically add our latest piece of content to my spreadsheet the moment I hit "publish" on the blog. I can filter and sort the spreadsheet to help me manage what we have and what we want to promote.
Conclusion
No matter what level of detail you measure, organizing your content will help you be ready to act when others reach out for partnerships. Your preparedness will help you fully take advantage of any and every situation to help strengthen your content marketing.