Keyword research isn't done in one sitting. One keyword idea inspires another, you find areas of opportunity, and then the ranked pages on those keywords give you even more leads to follow. Who wants to juggle more apps and open tabs just to keep track of it all?
That's where the My SpyFu Keywords feature is here to help.
We created a system that lets you save and access your work from the very spot where you get your ideas — right on the SpyFu site. Come back to it anytime and pick up where you left off. Track where your domain ranks on these keywords through our weekly ranking updates built-in to this tool.
The My SpyFu Project Manager
Since it sits inside the My SpyFu project manager (along with outreach contacts and links) you can organize your research and ideas to match the way you work.
It fits any work style
Do you throw everything into a bucket and pull from there? No problem.

Do you work best when you hyper-organize your keyword groups with labels? We've got you covered.
My SpyFu is exclusive to logged-in visitors. We've put together this overview to help you browse the features with or without a login. Take a look at what's inside.
Open My SpyFu
If you haven't used the My SpyFu feature before, the first thing you do is create a project.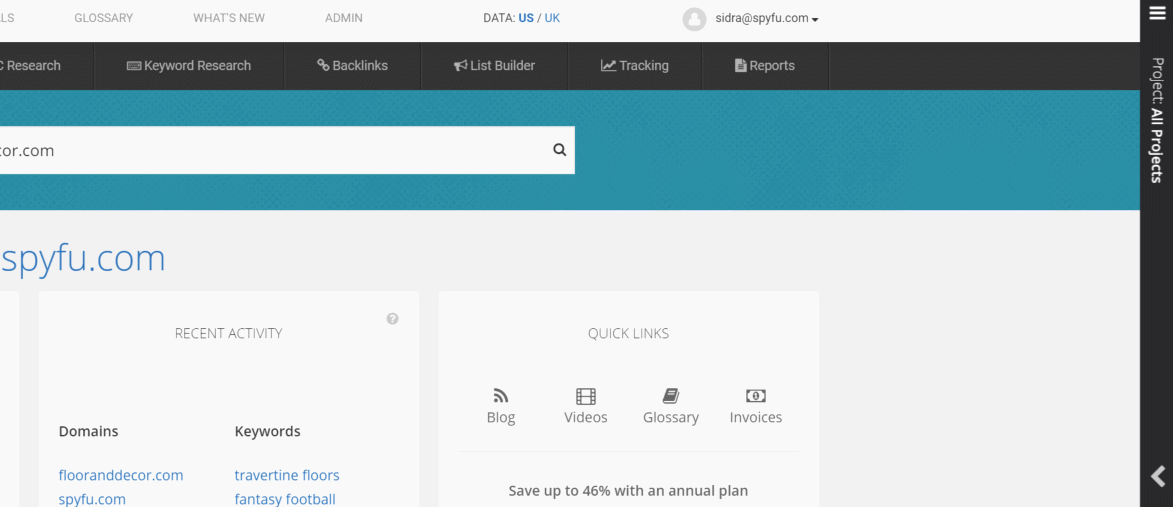 Projects
Projects keep your research organized by domain (and you can make more than one project per domain if you want). You can set-up projects for keyword management or even for managing your outreach and links.
For keyword management, think about your objective. Create one project for a single domain or make a stand-alone PPC project with a separate SEO project for the same client. That kind of organization option is up to you.
Saving Keywords to a Project
You'll have a chance to import keywords when you create a project. Once you have projects in place, you can add keywords to them while doing your research across the site.
These buttons let you add/save keywords to your projects as you discover new ideas.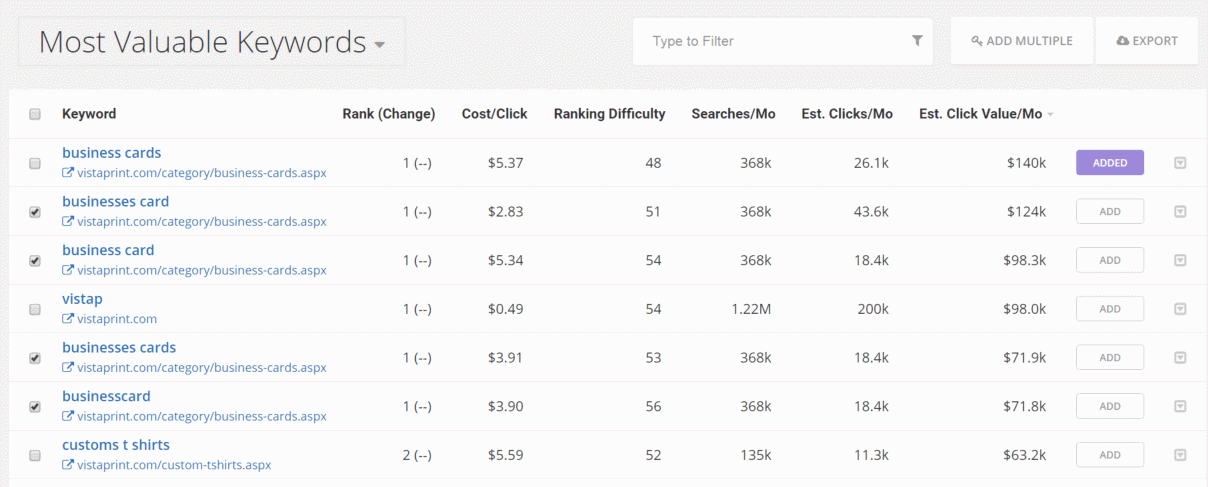 ### Keyword Organization
In each project, you can work with groups and labels.
**Groups **
Groups help you organize your keywords by compiling similar ones together. You might create groups of related keywords you want to target in an SEO campaign. Maybe they are keywords in a single product line. You can move keywords from one group to another (and leave a copy of that keyword behind), but labels give you more flexibility.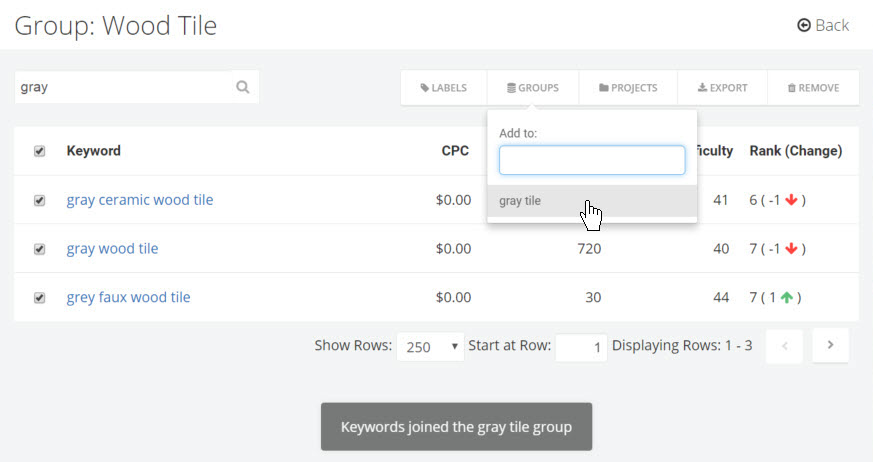 **Labels **
Labels act just like tags. Attach as many labels to keywords as you need — keep track of priorities and reminders.
The point is that they span multiple groups. If you're a print shop, you might have a "poster" group and a "business card" group, but you can label keywords in both of these groups as "Also buying in AdWords."
Groups vs Labels
Both groups and labels help you organize your keywords, but the difference comes from how you use them.
You can manage your keyword descriptions with labels. These work across groups, so you can label things for quick reference like "assigned to Shawn" or "articles started."
Groups are better for related keywords, especially when you want to track their performance from a group view. Maybe these are your "newly ranked" keywords that you group together and want to see how they gain ranks overall. A little further in this article, I'll also show you why Groups are more helpful if you want to track your keyword rankings.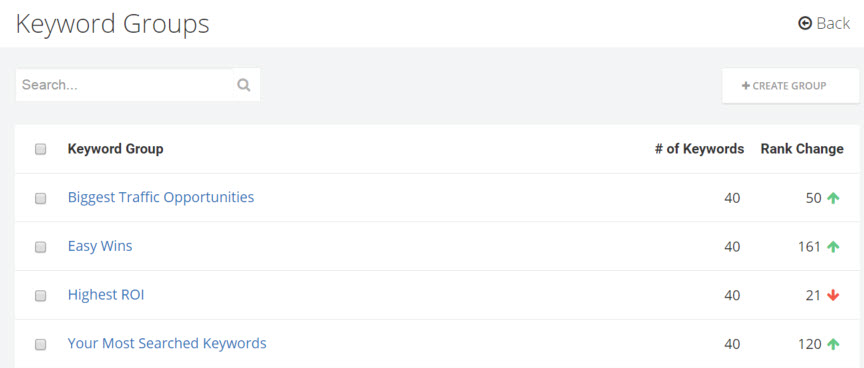 ### Automatic Groups
When you create a project for a domain, we can automatically find and load helpful keyword groups into your project. Select the groups you want to include, and we'll find the keywords that match these categories:
Biggest Traffic Opportunities
These keywords give you the best shot at more clicks. Comparing your current position to the top spot, you see a gap of clicks that you're missing out on.
We first created this metric for SEO research, but it's a valuable PPC measurement to help you reconsider bids and better landing pages.
Easy Wins
We look through the keywords you already rank for to find the ones that should be easiest to move up in the ranks.
This group can be helpful when you are prioritizing SEO work and weighing the goals you are trying to reach.
Highest ROI
This group includes keywords that should deliver the biggest payoff for your work. They hit the sweet spot of relatively low ranking difficulty and high opportunity.
You already rank for these keywords and should be able to boost your position. Once you do, expect a higher amount of new clicks than what you'd get from other keywords.
Your Most Searched Keywords
Of the keywords that you rank on, these have the highest search volume.
We've added automatic group suggestions into the project manager.  When you first create a project, we'll find keyword groups for you based on** related terms. **(In addition to the categories above)
Rank Tracking
In addition to the monthly data we update every month, we can show more frequent ranking updates inside this tool. We've added charts on individual keywords (including history) and track changes in both organic rankings and ad positions. You will see weekly rank updates from both Google and Bing.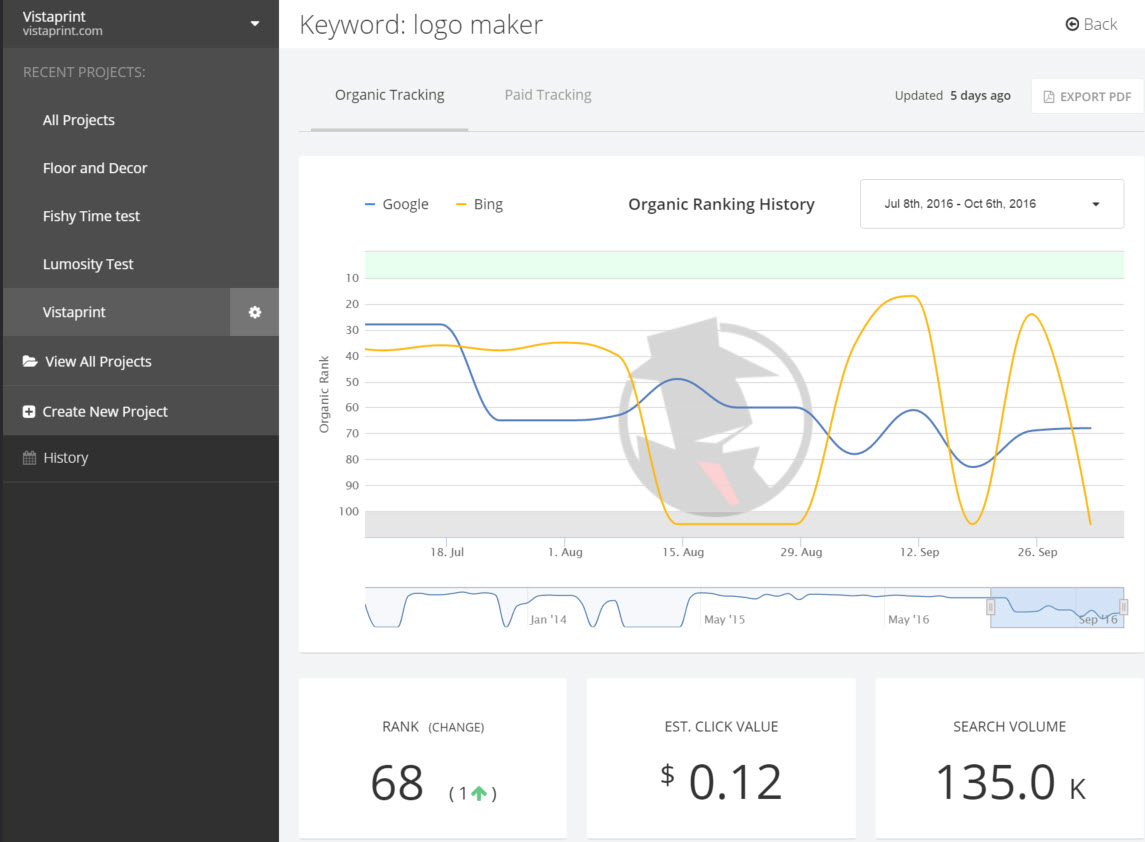 You can switch the toggle at the top to "Paid Tracking" for a look at your coverage via impression share and how often your ad placed in the top 3 results.
Tracking Groups
Since you often manage keywords in groups, we can track group rankings for the same domain to keep it organized for you. What common threads do you have throughout your keywords? It is likely that they come from a product line, a special project, or a  targeted group. That's why we deliver your weekly rankings as the same related group. It keeps your results organized so your reports match your work.
UPDATE: You can opt-into alerts that keep you posted on your keyword group ranking changes.
Import Your Keywords
The "automatic groups" listed above are built on keywords that your domain is already ranking for (or buying). You have an a second method of grouping and tracking keywords. Import them.
Use your imagination. Import small groups at a time. Import your entire AdWords campaign. Tell us the keywords to watch every week, and we'll get to work, tracking your complete list on Google and Bing.
Adding Keywords to the SpyFu Database
When we say that we'll track your "complete list," that's full-service. If we don't already have your keywords in our database, we'll go hunt them down. One of the benefits of a SpyFu premium membership is your ability to add your own keywords to our ongoing searches.
Add them via the "request keywords" link in your account settings. OR
Add them via import into a project that is stored in the project manager.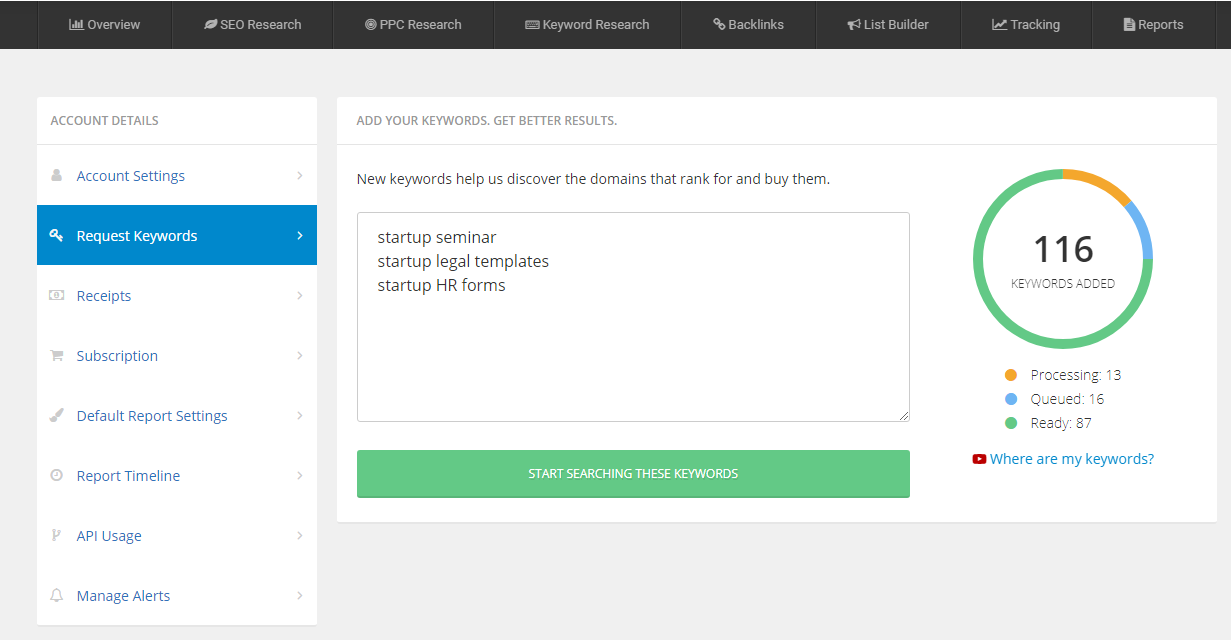 They join the database of millions of keywords that we search every month. In those searches, we collect full SERP data (ranked sites, content that ranks, advertisers, ad copy) along with stats like search volume and clicks.
Depending on when you add your keyword, it might end up in the next month's batch of updates across the site. If you happen to add it after that batch collection has started, then it might not show up for another 6-8 weeks. To make up for that lag time, we speed things up to return ranking data within hours.
Put that all together, and you're getting same-day stats on newly added keywords.
After adding your keywords, you can tell us which domain you'd like to tie these keywords to. (If you do this via the project manager import, you will have already assigned a domain to the project.) We will automatically create a group for you inside this project called the "Requested Keywords" group. Check back on it anytime to see the most recent ranking results.

We will continue to track your domain's organic and paid performance on those keywords for you each week. AND we will search those keywords for full advertisers and ranking domains in the major SpyFu update each month.
And finally, a bonus idea to end on
Setup multiple projects
Since weekly tracking results (or Recon Files report for that matter) don't require much work to setup, you can create them for competitor's keywords, too. It doesn't hurt to keep tabs on your biggest threats.