If you're new to search engine optimization, diving right in without any guidance could be one of the biggest mistakes you can make. You must look for the most effective SEO tips for beginners, so you get a strong start.
SEO can be terrifying and intimidating for beginners. Mainly because of the information overload and the constant changes to search engine algorithms. That's why it's crucial to stay updated with the latest SEO and digital marketing tips for beginners that deliver sustainable results.
Keeping this in mind, we have compiled a list of the 15 most effective SEO tips for beginners that will help you crack the code of SEO.
#1: Create Content that People Love to Read and Share
One of the best SEO tips for beginners is to prioritize creating quality content. You need great content to increase your organic traffic and engage your visitors. You also need it to guide the search engine crawlers and help them understand what your website and business are all about. So content isn't just important; it's necessary.
You should be creating content that people will love to read so that they stay longer on your page. This is one of the most crucial SEO tips for beginners because dwell time is an important ranking factor, according to Backlinko. So if you're in search of practical SEO tips for beginners, the best place to start is by creating engaging and exciting content.
You can create informative blog posts, long-form content, infographics, listicles, expert interviews, and more. These tend to be extremely engaging, and they're more likely to be shared by your audience, according to a BuzzSumo analysis of 100 million articles. The study even found that articles between 3,000 and 10,000 words get the most shares on average.
Image Source: OkDork
Getting shares of your content is crucial for SEO because the more people who share your content, the more visibility you get. This will drive more traffic to your site, which then translates into better rankings.
#2: Re-Engineer Your Competitors' SEO Strategies
Among the top SEO tips for beginners, the best way to master SEO is by learning from your competitors. Identify which keywords they're ranking for, which websites are linking to them, and what opportunities they're missing out on.
Based on these insights, you can come up with a strategy that's better than your competitors.
You can use SpyFu's Competitor Analysis tool to run a thorough analysis of your competitors' SEO strategy. The tool should help you identify which keywords your competitors are ranking for, where they're ranking, and how many clicks they're getting.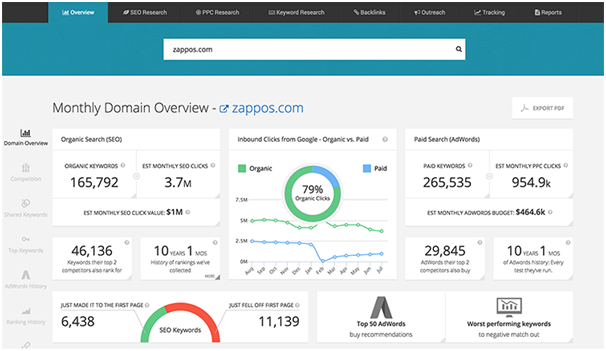 Image Source: SpyFu
#3: Perform Exhaustive Keyword Research
You might have come across a lot of SEO tips for beginners that advise you to conduct keyword research. This will always be a necessity, but you can't just rely on basic keyword research anymore. You'll need to get a comprehensive look at how each of your potential keywords is performing, so you know what's most profitable for you.
You can use SpyFu's Keyword Research tool to get detailed stats on potential keywords. You can view details like official ranking, monthly searches, click-through rate, etc. for each keyword. The tool even shows you profitable related terms, which significantly simplifies your keyword research. You should also refer to our guide on how to find relevant long-tail keywords for your brand.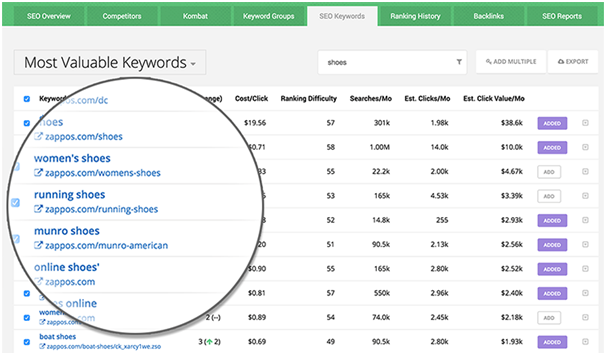 Image Source: SpyFu
#4: Optimize On-Page Elements
On-page optimization is one of the essential SEO tips for beginners since it involves very small elements that are overlooked. This includes elements like page title, meta description, URL, and header tags. While these elements may be small, they are far from insignificant and can have a significant impact on your page's search engine ranking.
Here are some of the essential SEO tips for beginners to optimize your on-page elements:
Your page title (also known as title tag) should be clear, catchy, and concise. It should be between 50 and 60 characters and contain your target keyword. Look at the top-ranking article for the search term "Google Analytics guide" for instance. It's short and gets straight to the point while still using the search term in a natural way.

Image Source: Google search results
Your meta description should include your target keyword and other relevant terms that can compel people to click on your link. It should be around 150-170 characters and preferably end with a call-to-action. If it's longer than 170 characters, the description is going to end with an ellipsis in search engine results.
BrightLocal's meta description in the following screenshot is an example of the perfect meta description. It's descriptive but gets straight to the point. It makes use of the relevant search terms in a natural flow and ends with a call-to-action.

Image Source: Google search results
Your URLs should be short and descriptive yet straightforward, preferably around 3-5 words long. It should be able to explain what the page is about. Take a look at the URL used in the featured snippet for the search term "local ranking factors" for instance. It only uses four words to describe the page, but it's descriptive enough for users and search engines to understand what the page is about.
Image Source: Google search results
You should properly tag your subheadings with the appropriate H2 and H3 tags. This will improve content scannability for both readers and search engines, improving your chances of ranking higher in search engines. As you already know, maintaining content readability is one of the most crucial SEO tips for beginners.
You can check out our comprehensive on-page SEO checklist to get more useful on-page SEO tips for beginners.
#5: Fix Technical SEO Issues
One of the most crucial SEO tips for beginners is to identify and fix any technical issues on your site that could be affecting your SEO efforts. These technical issues will include broken links, indexing issues, etc. Our SEO audit checklist can help you get a complete picture of the significant technical SEO issues you should be looking out for.
Make sure you use the Google Search Console to get regular updates about any technical issues on your site. This tool sends you email alerts so you can quickly identify any indexing issues, 404 errors, server errors, and security issues on your site. This means you'll be able to fix them even before they begin to affect user experience and page rank.
You can also perform a thorough test on your SEO health using tools like SEO Site Checkup. This will provide you with complete insight on all the technical issues on your site and suggestions on how to fix them.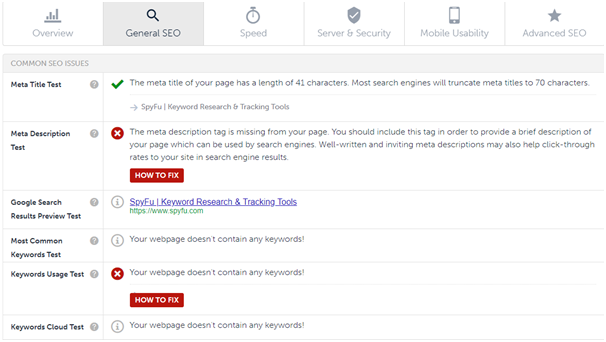 Image Source: SEO Site Checkup
#6: Enhance User Experience
User experience is a crucial element in SEO because, as mentioned earlier, dwell time significantly influences your search engine ranking. The better your site user experience is, the longer your dwell time will be.
Besides this, a bad user experience increases the bounce rate, which negatively affects your site performance. That's why enhancing user experience is one of the most effective SEO tips for beginners.
Improving your page load time is one of the essential SEO tips for beginners that can help you improve user experience. If a visitor has to wait for a long time for your page to load completely, they may not stay to engage with the content. This can significantly increase your bounce rate, negatively affecting your page rank in the long run.
You can use Google PageSpeed Insights to test your page speed and identify opportunities to improve it.

Image Source: Google PageSpeed Insights
You should also ensure that every clickable element on your site is working as intended. Page layout, color scheme, and typography are all important visual factors that can influence people's experience on your site.
#7: Improve Your Backlink Profile
You're probably already aware of the importance of your backlink profile in your search engine rankings. It speaks volumes about the credibility of your site and information when authority sites link back to you.
When search engines see that you're getting a lot of links from high-authority sites, they will understand that those sites are vouching for you. So they will assume that your site contains credible information that users will find useful.
This can gradually boost the page rank of every webpage that gets a lot of high-quality backlinks, which makes link building a critical SEO tip for beginners.
Similarly, links coming from a suspicious or spammy website are going to bring down your site credibility significantly. That's why it's one of the most critical SEO tips for beginners to quickly disavow or remove bad backlinks while striving to get more quality backlinks.
You can use the SpyFu Backlink Research tool to run a thorough analysis on your site's backlinks. This will show you important details to assess the credibility of the site such as the number of monthly organic clicks. Make a list of the low-quality sites so you can reach out to the site owners to have them removed or disavow them through Google.
The tool also helps you discover backlinks that are helping other sites and competitors rank for specific keywords. This is a great way to discover new sites that might want to link back to you and help you improve your backlink profile.
Image Source: SpyFu
#8: Leverage Social Media
Social media is one of the best and most affordable places to promote your content and drive more traffic to your site. You can use it to reach a massive audience and various interest groups, even if they've never heard of you before. You can turn people into loyal followers with the right engagement tactics, thus ensuring your credibility within your target audience.
All of this contributes to an improved social media presence, which further serves to strengthen your SEO strategy. It's one of the most essential SEO tips for beginners.  Be present on social media, promote your content, and encourage your followers or readers to share it with their networks.
You can use tools like Buffer to analyze the performance of your current posts and see what works best in terms of content format, content type, timing, etc. Buffer will help you come up with a social media strategy; you should promote content that your audience likes, so they're more likely to share it with their followers.
You could also ask your audience directly in a poll to understand what they want to see from you. Also, make sure that your blog posts and other content are easy to share on social media. Add social sharing buttons and include calls to action to remind readers to share your content. You could even add Click to Tweet links to your posts so your readers can share the most intriguing sections.
Here's how the Content Marketing Institute includes Click to Tweet links in their blog posts. They've also prominently highlighted their brand's social media pages on the side, inviting readers to connect with them.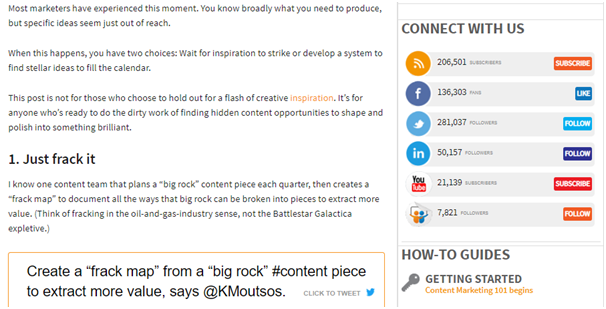 Image Source: Content Marketing Institute
#9: Build Valuable Connections Using Outbound Links
While you already understand the value of inbound links, outbound links are equally important for your SEO strategy. They help guide your readers to relevant and credible sources that they can refer to for further reading. They help you improve your credibility by backing up your claims. So they're highly effective in helping search engines assess the credibility of your website and your content.
Besides this, outbound links also help you build valuable connections with reputable sites, publishers, and bloggers. They will appreciate it when they see you sending traffic to their sites by linking to them.
While this doesn't guarantee that they will reciprocate, it significantly increases your chances of success if you ever ask them to link to you or to publish your guest posts. That's why building outbound links features among the most effective SEO tips for beginners.
However, make sure you don't link out to websites just for the sake of it. Be more selective of the sites and pages you link to, and don't overstuff your blog posts with outbound links. Only link to studies, guides, and examples that are highly relevant to the topic you're discussing. Also, use a domain authority checker to assess the authoritativeness of the website. The one from Small SEO Tools includes additional stats you can follow.

Image Source: Small SEO Tools
­#10: Improve Internal Linking
Your internal linking strategy is another important factor that influences your search engine rankings. And optimizing it is an essential SEO tip for beginners. An Oncrawl study published in Search Engine Land found that pages with more internal links pointing to them get crawled more often.
Your internal links help search engines understand the purpose of your pages, thus delivering them in relevant search engine results. So it's no wonder that improving your internal linking strategy is among the most effective SEO tips for beginners.
You should avoid stuffing your posts with internal links, and instead use them naturally throughout the post. Make sure your content-heavy pages link out to other relevant pages on your site.
Ninja Outreach used a strategy that involved linking from top-performing pages to less successful pages on their site. This resulted in an instant traffic boost of almost 50%. Trophy Central also made small tweaks to their internal linking structure. This helped them rank higher for their target search terms, with two of them ranking in the top three.
#11: Optimize Your Anchor Text
The anchor text you use to link to other pages and domains also influence your website's SEO. They help search engines in understanding the purpose of the page you're linking to. This also helps them assess your content quality and relevance to certain search terms. So optimizing your anchor text is another one of the most effective SEO tips for beginners.
All of your anchor text and internal links should provide value to the readers. Your anchor text should help readers understand what pages you're pointing to so they know exactly what they're in for when they click on it. Use a mix of exact match, partial match, branded, and LSI keyword anchor text to optimize your content.
LSI keywords are "latent semantic indexing" terms. That's a mouthful to describe the phrases that are so similar in concept to your main idea, search engines recognize that you're adding descriptive, richer details about a topic.
In the following screenshot, for instance, we've used a mix of LSI keywords and branded anchor text.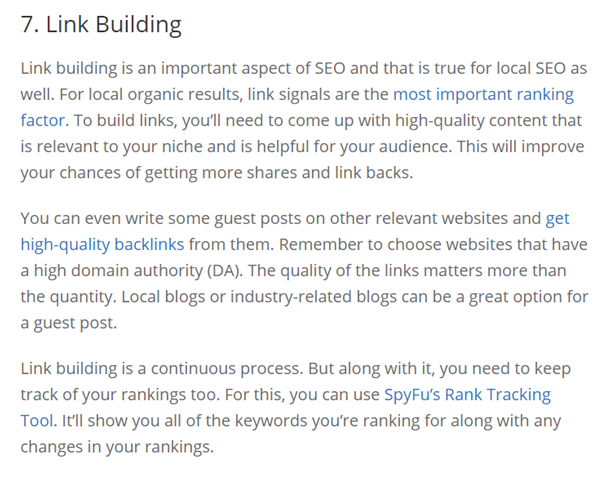 Image Source: SpyFu
#12: Increase Your Website's Mobile-Friendliness
Mobile-friendliness is another crucial factor that influences your search engine rankings due to its impact on mobile SEO. And with the ever-increasing amount of mobile searches being conducted every day, you could lose out on potential visitors and drag down your visibility if you don't prioritize mobile SEO.
In the U.S. alone, 207 million searches were being conducted using mobile phones in 2018. We should expect to see an increase in these numbers in the coming years. If these mobile searchers do not have a good experience when visiting your site, it's going to increase your bounce rate and decrease your rankings.
So, one of the crucial SEO tips for beginners is to ensure that your website is either responsive or mobile-friendly. This will help you enhance user experience across all devices and boost your rankings.
You can use Google's Mobile-Friendly Test to analyze the mobile-friendliness of your site.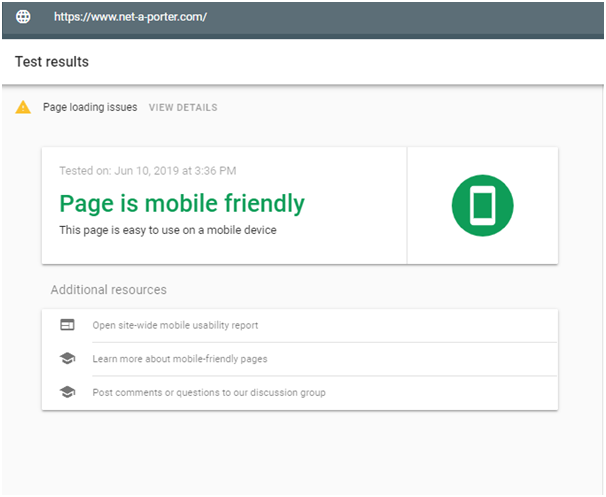 Image Source: Google
#13: Optimize Your Visual Content for SEO
Optimizing your visual content is just as important for SEO as optimizing your text content. Visual content could include in-post images, featured images, and infographics.
Here are some of the essential tips to optimize your visual content for SEO. Follow these best SEO tips for beginners:
Search engines read your file names when crawling your visual content. So make sure you use relevant file names and use a hyphen between each word to help search engines understand it.
Include supporting text for your infographics to increase its likelihood of getting discovered.
Include proper image alt text for all your visual content to help search engines and the visually impaired understand what your content is about. You can use plugins like Alt Text Tester to test the alt text on your site and see where you need to add it.
#14: Promote Your Website Aggressively
Of course, you want to make sure that your website content gets as much visibility as possible if you want it to attract more traffic and rank higher in search engine results.
That's why content promotion is such an important part of the SEO tips for beginners. In addition to organic promotion on social media, you could also pay to promote your content to a new and relevant audience.
Newsletters and email updates are among the most popular content promotion tactics.
In addition to this, you could also promote your website by participating in relevant groups, communities, and forums. Answer questions on Quora or make contributions to relevant subreddits. Check out our comprehensive guide on how to promote a website to learn more and discover more great SEO tips for beginners.
#15: Follow Top SEO Blogs and Stay Updated
One of the biggest issues with SEO tips for beginners is that the SEO landscape evolves every year. Algorithm changes and policy changes affect your SEO strategy and rankings. So, all of the SEO tips for beginners that you discover today may no longer be applicable 3-4 years down the line.
That's why it's crucial that you follow reputable SEO blogs to stay updated on the latest news and changes in the landscape. This will help you identify updated and effective SEO tips for beginners that deliver a long-term impact.
Final Thoughts
These are some of the most essential and effective SEO tips for beginners, but they're not the only ones. You should conduct A/B testing on your own to see what's working and what isn't. Observe your competition and identify the newest and most effective strategies they're implementing. All of these approaches will help you ensure that your SEO strategy remains updated and effective.