You've heard the stories (small businesses spending more on digital advertising), you've seen the case studies (19X return on ad spend), and now you're ready to get started with PPC advertising yourself. But where to begin?
Unlike SEO, where creating content is generally free (minus hosting costs and time investments), PPC inherently costs you money with each click you receive. Since your money is on the line, it makes sense to get a firm understanding of how it works and how to get returns on your ad spend before you open your wallet. The easiest way to do this is with a PPC training course where you can learn the ropes from PPC experts who have already put in the hours and know how to make a winning ad campaign on Google.
To help you find a PPC training course that is up to date and filled with the advice you need to know, we've put together a list of Google Ads PPC courses designed by some of the top minds in the PPC field. These courses will save people new to PPC money, time, and headaches as these experts share the tips and strategies that have made them so successful. Real mastery of PPC won't come from these courses—only practice can give you that—but they will give you the foundation you need to get started with confidence so you can minimize errors and maximize returns from the get-go.
Essential Courses from Google
For anyone completely new to Google Ad campaigns, Google's own courses are the place to start. These courses are free, well made, and include certifications to prove your knowledge. To get you started, we recommend three introductory courses created by Google: Google Ads Search, Google Ads Display, and Google Ads Tutorial hosted on YouTube.
You can find even more content and certifications on Google Skillshop so you can customize your learning and focus on the areas you need for your business or job.
One thing to remember when taking Google's courses: Never forget that their goal is to get you to spend money on their platforms. Although these courses offer great tutorials on how to get started with Google's advertising offerings, some of their advice (like relying on automatic bidding, placements, etc.) might be self-serving. This doesn't mean what they recommend is wrong, but you should always have a healthy amount of skepticism when Google is recommending that you put your decision-making in the hands of Google.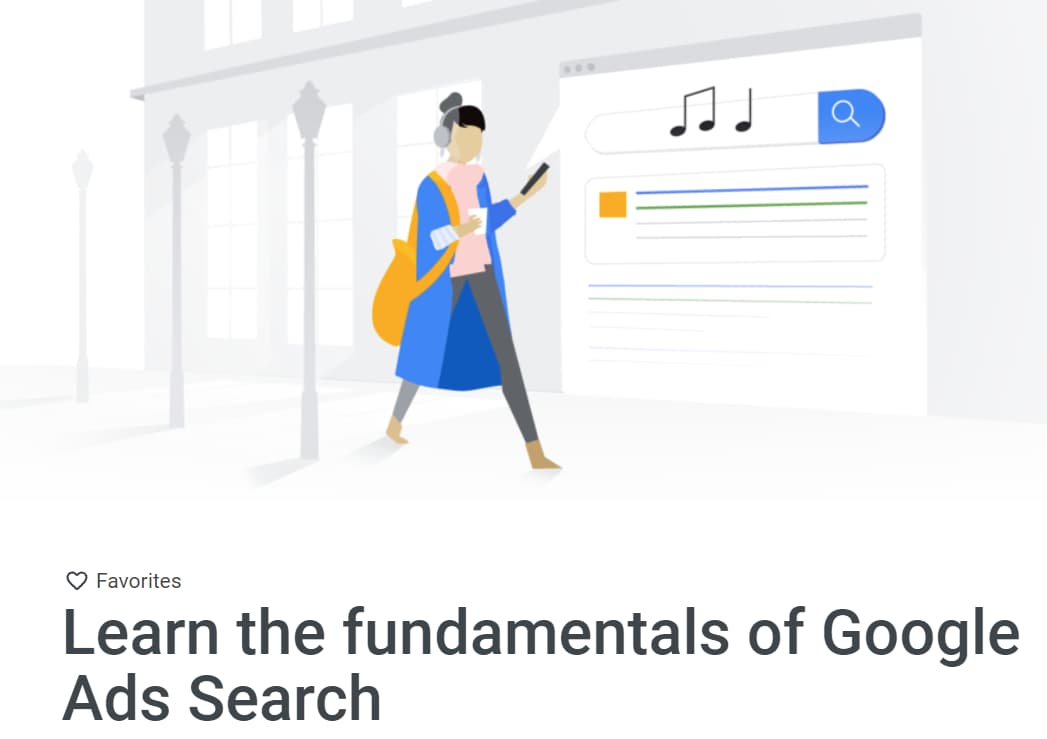 Price: Free
Certification: Yes
Last Update: September 2019
Why you should take it: Google Ads on the Search Network are usually the most important part of a company's strategy on Google Ads. These ads are placed on relevant search engine results pages (SERPs) so that businesses can target consumers who are searching for a product like yours.
This introductory course by Google will go over all the basics of using and setting up these Search campaigns and is one of the best places to start for any PPC marketer.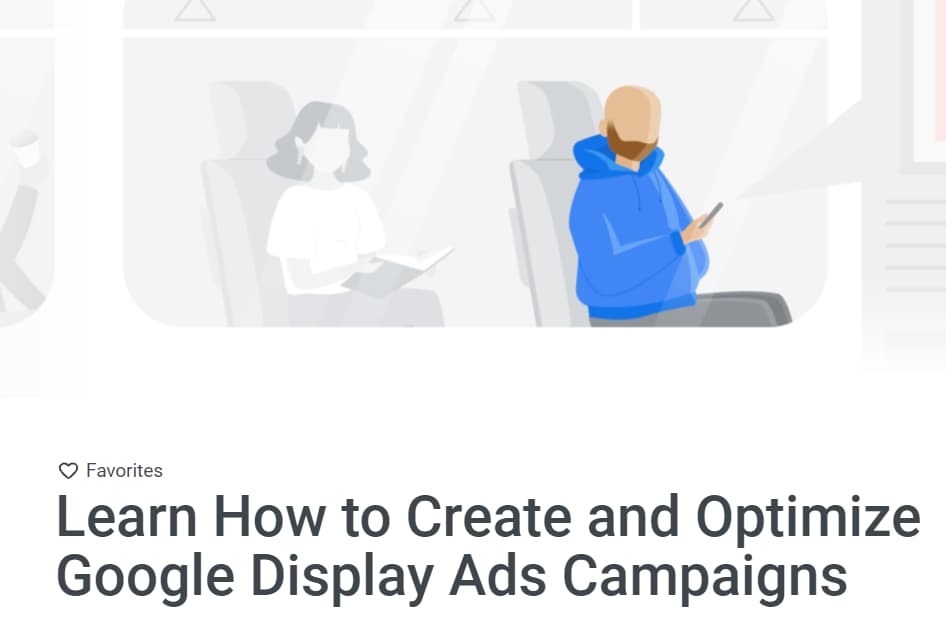 Price: Free
Certification: Yes
Last Update: September 2019
Why you should take it: Google Display Ads are the images or videos you see while reading your favorite blog or the recipe for tonight's dinner. Since you're most likely doing something else when you encounter these ads, they're often best for brand recognition and retargeting (people who have visited your website in the recent past).
The Google Display Ads tutorial is the best place to learn what Display ads are, how they work, and to get one started on Google Ads.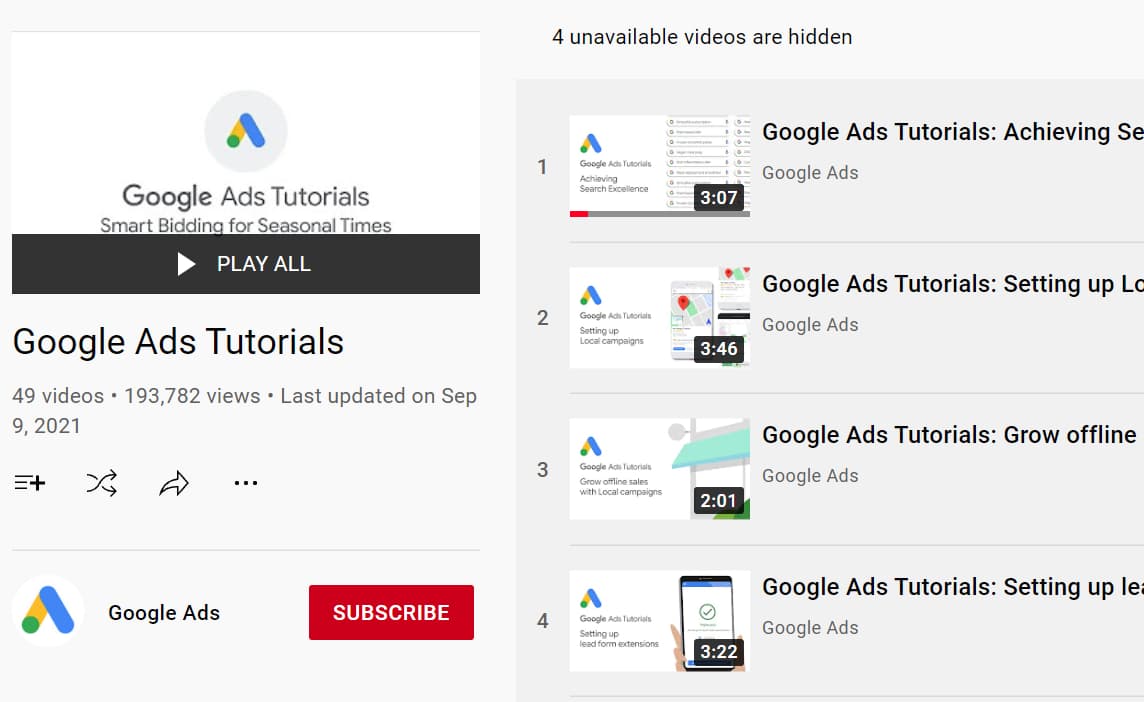 Price: Free
Certification: No
Last Update: September 2021
Why you should take it: This YouTube series from Google Ads breaks the entire ad creation process into manageable videos that are usually less than 5 minutes. The advantage to this kind of course is that it's easily digestible, allowing you to watch only the videos that you feel you need. The tradeoff is that there is far less structure as these videos hop around to different topics. For this reason, these videos are best used after taking a beginner course to get the fundamentals down first.
Free Google Ads, Digital Advertising, and PPC Courses
Although Google's free courses are great for getting you started, getting the perspectives of people actually creating PPC campaigns can help you learn the tips and tricks you need to find advertising success.
When choosing the courses that made it onto our list, we picked courses from reputable sources with industry experience that have been kept up to date. Things move fast in PPC marketing, so if you're choosing a free course, make sure that it has been updated recently to reflect how PPC marketing works now and not five years ago.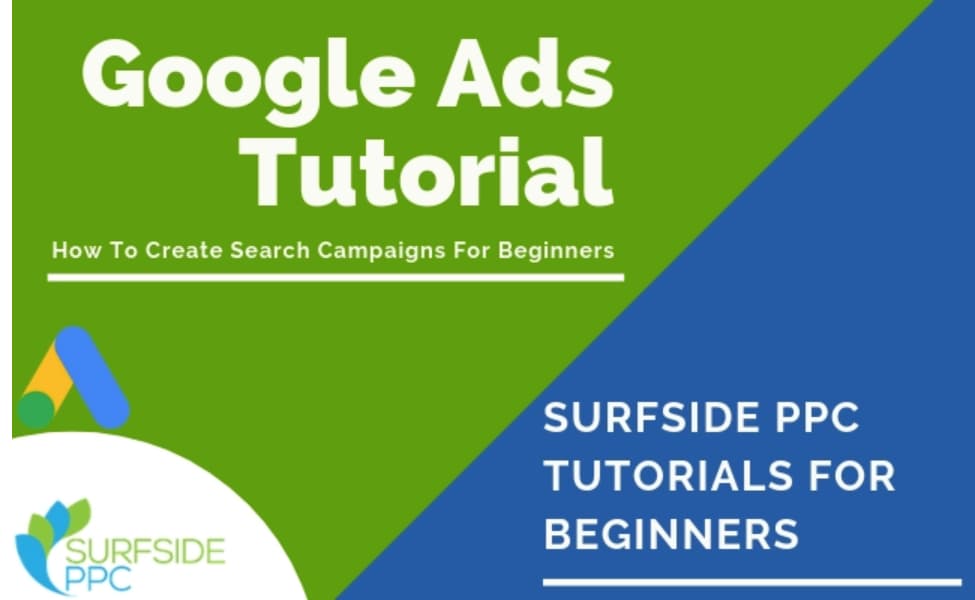 Price: Free
Certification: No
Last Update: March 2021
PPC Credentials: Surfside PPC is a digital marketing training company that focuses on PPC, SEO, affiliate marketing, and more. They run a successful blog, email newsletter, and YouTube channel with over 150,000 subscribers.
Why you should take it: The Surfside PPC training courses have been a long-time favorite recommendation for new PPC marketers because they're free and comprehensive. This makes it an excellent companion course for anyone who has already taken Google's own courses because it can offer them a perspective on PPC marketing that comes from actual marketers, not Google themselves. For complete beginners, a great place to start is this step-by-step overview video on Google Search ads.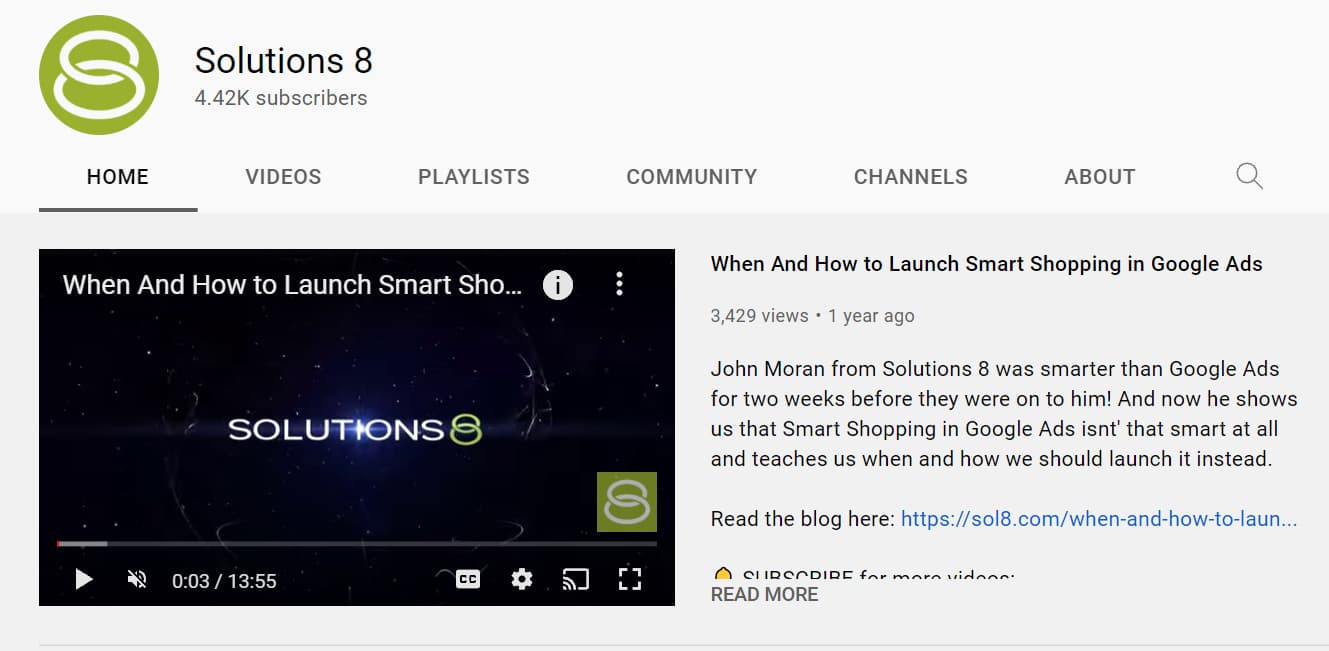 Price: Free
Certification: No
Last Update: New videos consistently added
PPC Credentials: Solutions 8 is a digital marketing firm that has helped multiple companies find success through PPC ad spend.
Why you should take it: The Solutions 8 YouTube channel consistently puts out high-quality videos that are perfect for people who have specific questions about Google Ads. Most of their videos involve one of their team members walking you through how to do something on Google Ads with a screen share so you can see exactly what they do while they explain the thought process behind their actions.
may not be the best place to start because most videos assume you have a basic level of Google Ads knowledge, but if you're looking to take that step from tutorials to actually creating PPC ads on Google, Solutions 8's videos can help you walk through that process in detail.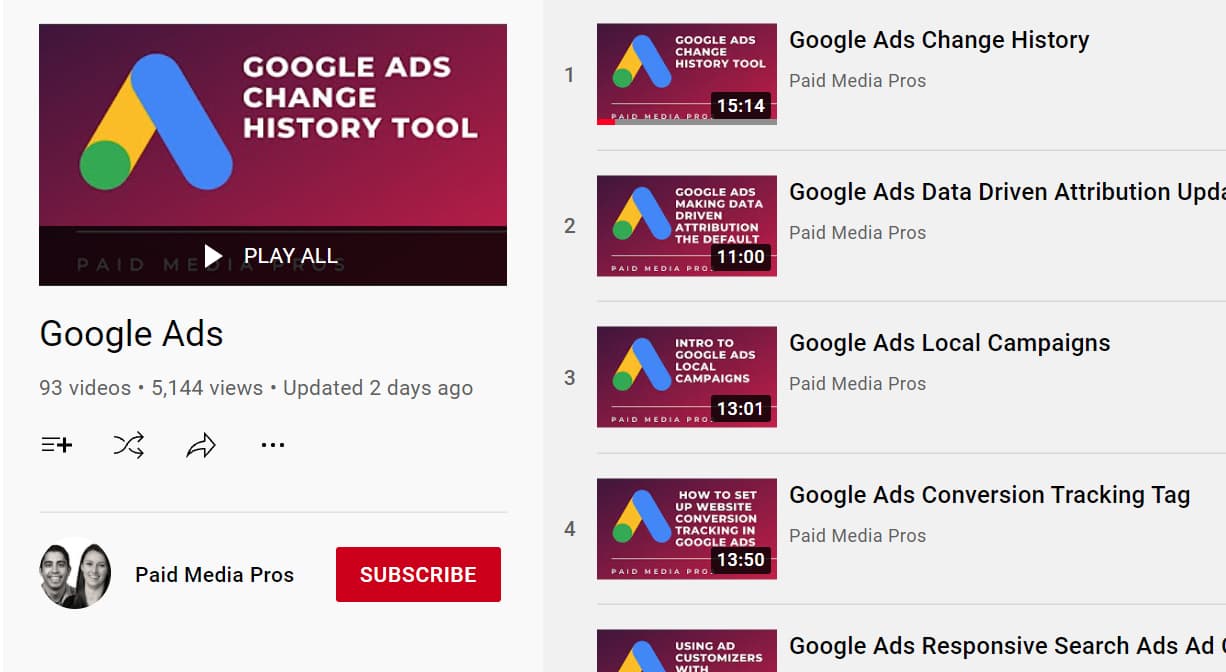 Price: Free
Certification: No
Last Update: New videos consistently added
PPC Credentials: Paid Media Pros is a team of two, Michelle Morgan and Joe Martinez. Between them, they have around 20 years of experience in the industry and are regular contributors to top publications in PPC like Search Engine Journal and Search Engine Land.
Why you should take it: The content from Paid Media Pros is high quality and delivered by experts in the field. Everyone can learn something from their well-made videos, whether that's new insights into the effectiveness of YouTube Ads or simply what an ads optimization score is.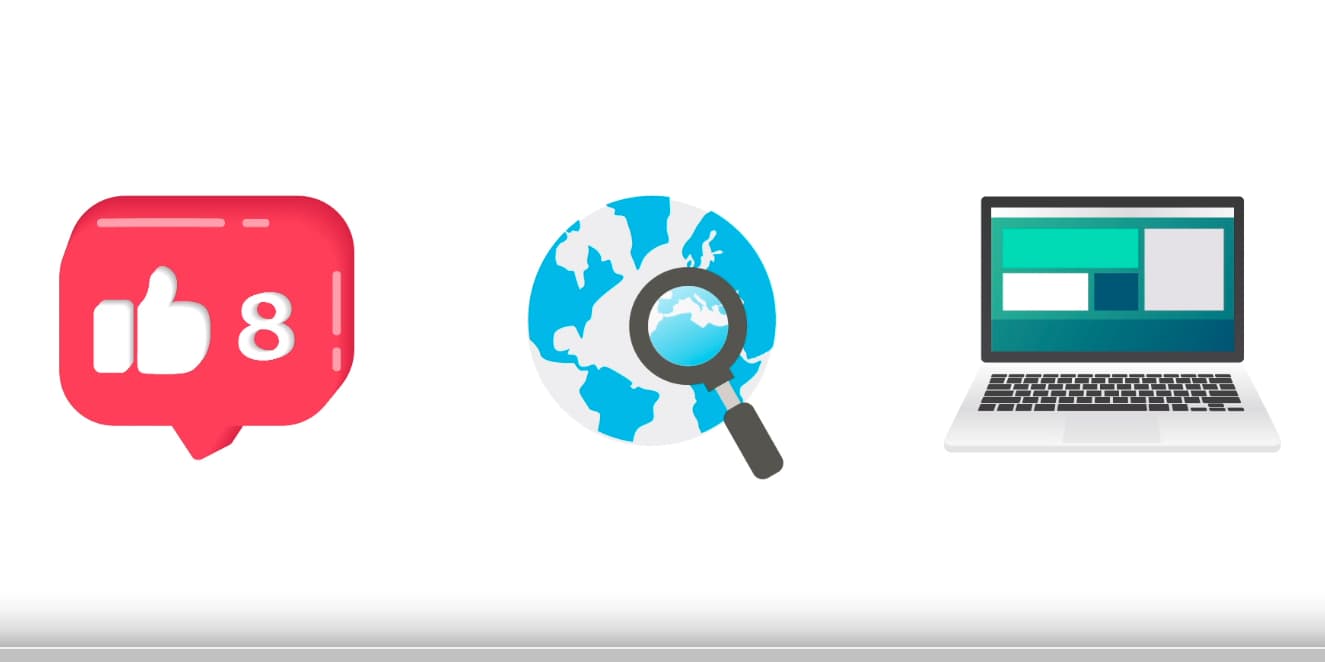 Price: Free
Certification: Yes
Last Update: Frequently updated
PPC Credentials: HubSpot is a top player in the digital marketing world with in-depth knowledge of PPC and digital advertising.
Why you should take it: If you're just starting in PPC or digital marketing in general, this course from HubSpot is a great place to get a true lay of the land. HubSpot knows what they're talking about, and this relatively short (3 hours), free certification is well worth your time to learn the basic strategies behind marketing online.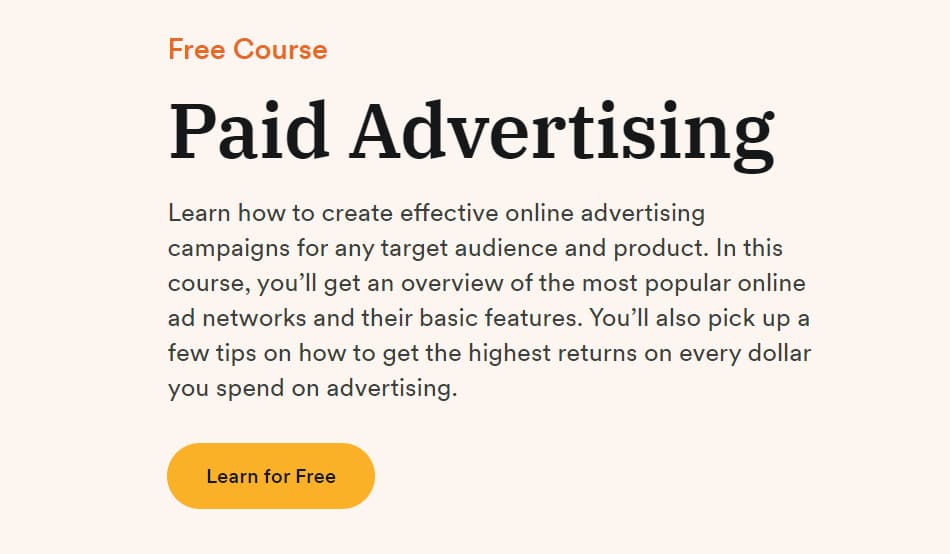 Price: Free
Certification: No
Last Update: December 2019
PPC Credentials: Acadium is a digital marketing internship marketplace.  
Why you should take it: The course itself is a quick intro to the basics of PPC. Of more value are their internships, where you can get experience working with an actual PPC marketer. These internships are unpaid, which is problematic, but if you can afford to spend the time, they're an excellent place to get real experience and one-on-one training from a PPC marketer.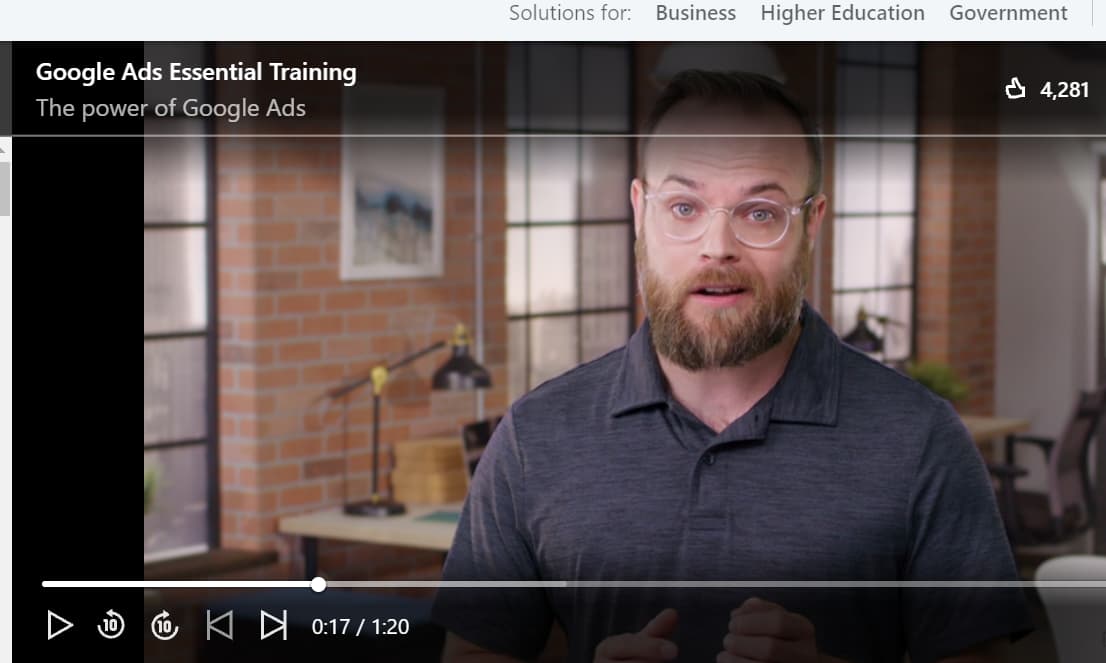 Price: Free
Certification: Yes
Last Update: September 2021
PPC Credentials: Brad Batesole is a leader in growth marketing and advertising who has worked for LinkedIn and TMZ.
Why you should take it: This is a great course for beginners that takes only 2.5 hours to complete. Everything is well-made, and the information is actionable as Brad walks you through basics like setting up a campaign, writing ad copy, and using ad extensions for increased ROI.
Best Paid Google Ads Courses
If PPC is crucial to your business or a large part of your career plans, paying for the best possible PPC education is well worth the investment. The paid courses on this list range from $15 on sale to over $1000. Figuring out what you need and whether the credentials associated with it will benefit you can help you determine which one of these choices is right for you.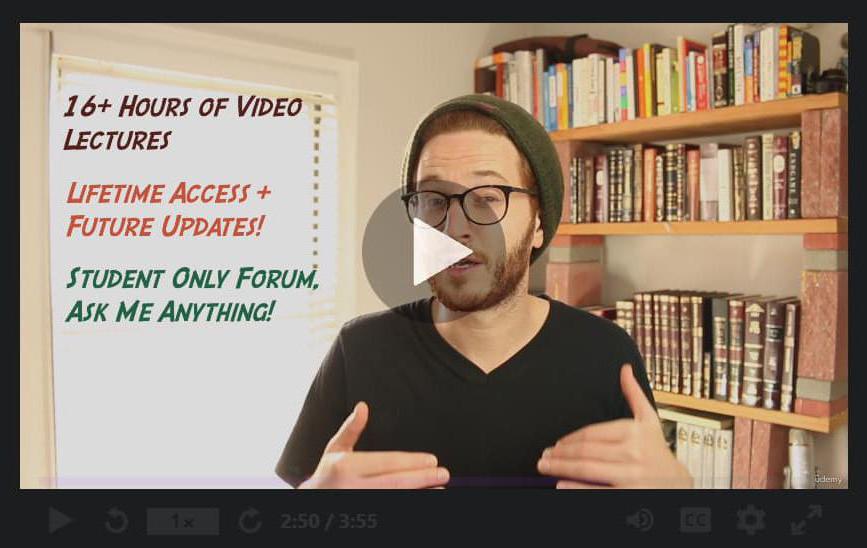 Price: $109.99 (often on sale for much less)
Certification: Yes
Last Update: October 2021
PPC Credentials: Isaac Rudansky is the founder of the digital advertising agency AdVenture Media. His course on Udemy is one of the highly recommended courses on PPC.
Why you should take it: Rudansky's course covers all of the basics of Google Ads and has been the jumping-off point for many PPC careers over the last few years. Although the sticker price for this course is $109.99, you can often find it for less than $30, making it an incredibly good value (and worth waiting for sales if you can). The other advantage to this course is that you get lifetime access which means future updates to Google Ads will be covered as well if you ever need another refresh.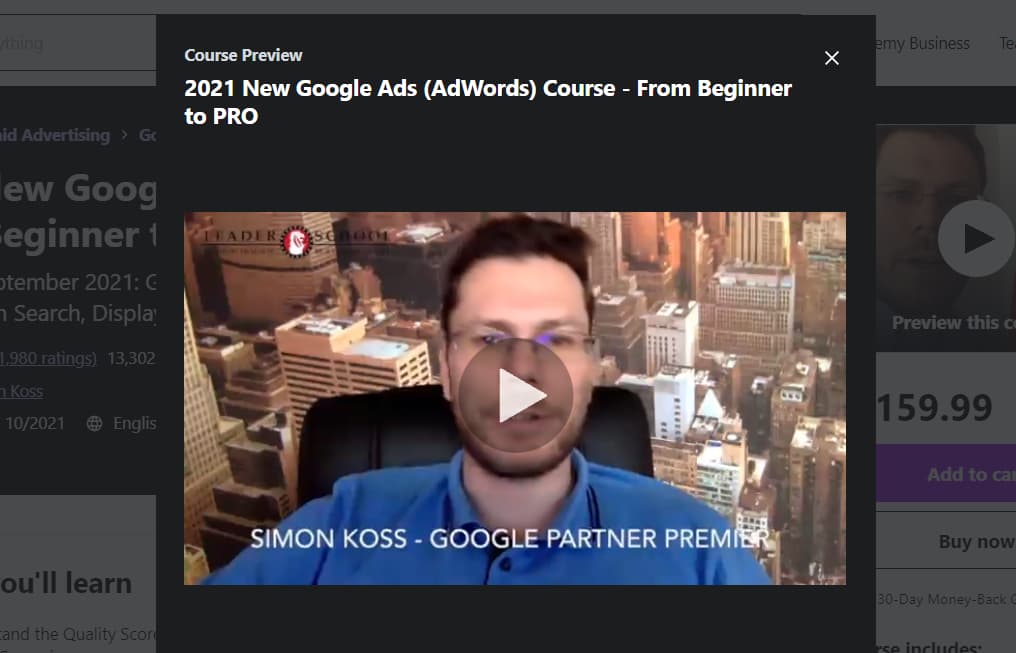 Price: $99.99 (often on sale for much less)
Certification: Yes
Last Update: October 2021
PPC Credentials: Simon Koss is a Google Ads Premier Partner that has experience coaching people in Google Ads, Facebook Ads, and other PPC platforms.
Why you should take it: Simon Koss' Google Ads tutorial is one of the best because it's constantly updated. On top of this, the course does more than just show you how to use and set up ads on Google. It also shows you how to create a marketing strategy that'll actually earn you money.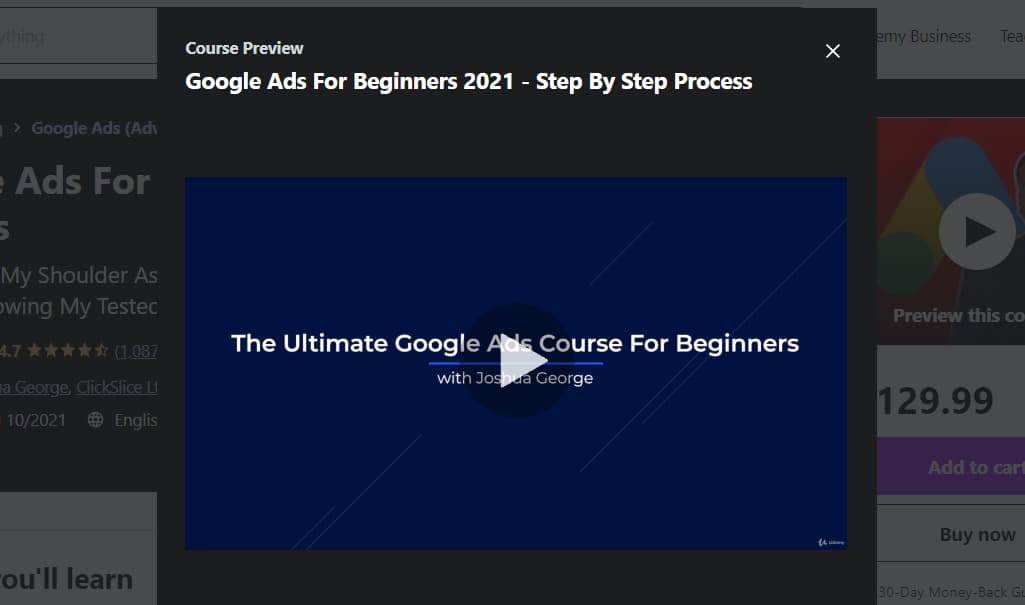 Price: $99.99 (often on sale for much less)
Certification: Yes
Last Update: October 2021
PPC Credentials: Joshua George is the founder of ClickSlice, an SEO digital marketing agency based out of London, England.  
Why you should take it: This course does a better job than many at explaining how to create a campaign on Google Ads in a clear, step-by-step way from scratch. For absolute beginners that want someone to walk them through making their first campaign a success, this may be your best choice.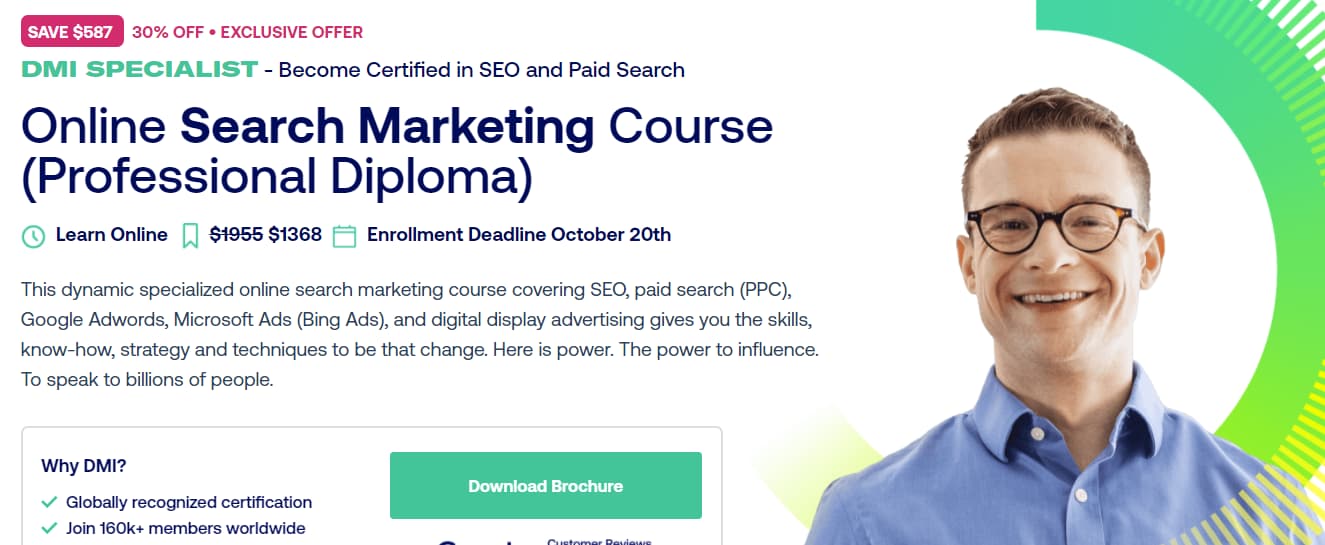 Price: $1955 (found on sale for $1368)
Certification: Yes (Professional Diploma)
Last Update: Frequently updated for each intake
PPC Credentials: The Digital Marketing Institute is an international online accreditor for marketers.  
Why you should take it: If you're planning on getting into a digital marketing career and feel you need a degree to accomplish your goals, DMI is one of the best and most convenient ways to do that. Their course is more expensive, but it is also a professional diploma course, making it unique on this list.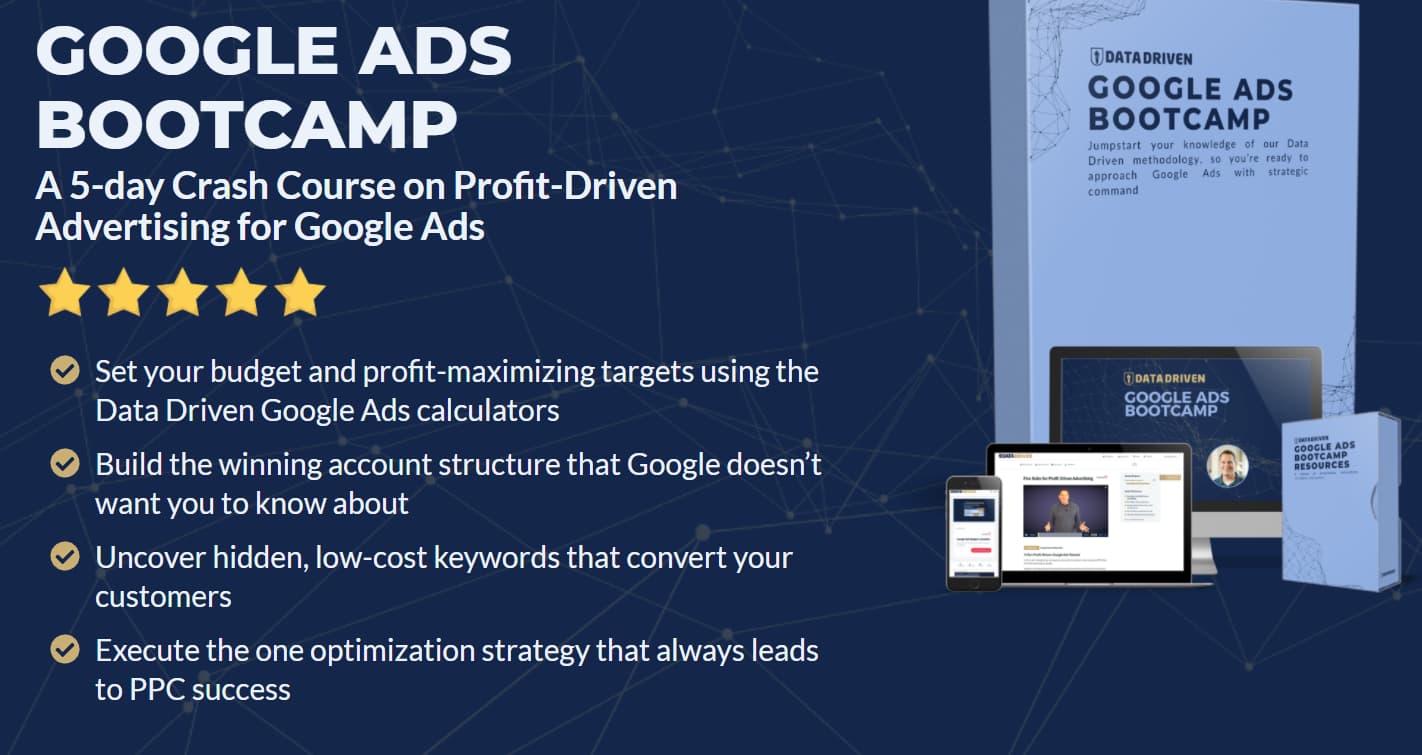 Price: $199
Certification: No
Last Update: Frequently updated
PPC Credentials: Jeff Sauer is the founder of Data Driven U and is well-regarded in the PPC field as PPC Hero included him on the list of the top 50 most influential PPC Experts in 2020.
Why you should take it: Although this course is relatively short, it makes up for that in quality. If the $199 doesn't scare you off and you want to get great advice when starting in PPC, then this could be a way to get you going quickly.
Then, Brush Up on Your SEO
When you're done learning about how to conquer the PPC world, why not take a look at what you can learn about SEO as well. We've collected the top free SEO certifications you can get today to help power your organic traffic and pad your digital marketing resume.