It's a well-known fact that if you build backlinks (quality ones, that is), they help you boost your authority and search engine rankings. Perhaps you've even engaged in link building strategies that involve submitting guest posts and requesting backlinks.
While these tactics may be effective, it's difficult to execute them because everyone else is using them too. So your email pitches and requests will likely get lost among the flood of emails asking for the same thing.
For an even more effective strategy to build backlinks, you need to opt for tactics that are effective yet less known. This will give you an advantage over your competitors.
Thousands of link builders have found success with traditional techniques: blogger outreach, guest blogging, broken link building, and many others. Digital PR is another proven way of acquiring links, but its methods are quite specific. As effective as they are, these techniques are very, very time-consuming.
A lot of people would tell me right now: so what, Alex? Good things take time, SEO for that matter. And link building is definitely worth investing time into. While I completely agree with this argument, there's another one to be considered: there are a lot of untapped backlink sources which allow you to build links in days, if not hours, so why not take advantage of them?
Check out these nine easy tips on how to build links that you might not yet know about.
#1. Good link building practices rely on meaningful relationships with the right people
And as you know, relationships can't be built overnight. When you're connecting with people who have never heard about you before, they are super cold. In sales, you might buy a contact database. Or you use LinkedIn Sales Navigator and have your salesforce contact as many of them as they can. In link building, that won't work.
Link building is trickier because it requires more groundwork. That starts with putting together a list of prospects who are potentially interested in working with you. That's the idea that you are selling to them — working together. If your company is not well-known in the industry, it might be hard to persuade your contact that working with you is worth their time.
Moreover, you need to make sure that these people are the right ones to contact. For example, they would be in charge of content promotion, related to SEO, or they are writing content regularly, etc.
And of course, you need to find good enough of a reason to reach out to them.
Relationships start--and grow--through relevance
Have you ever wondered why the majority of cold outreach emails are so ineffective? It's because their authors don't invest time into researching the person they are contacting. They don't read about their business, they don't look into their social media accounts — they simply found an email worth adding to their database. Additionally, avoid cliches like "I'm an avid reader" or "I read your recent post"(without describing what stood out). Even plain flattering lines like "you are a brilliant writer" don't help to break the ice or improve the response rate. And this is so important: re-used, all-purpose templates make an email feel spammy. There are far more effective ways to nail the outreach email.
Make better connections to get links
When you add up the time to research, prospect, and create a relevant hook, this takes a big chunk of time. It could even be the biggest part of link building.
Luckily, there are plenty of backlink analysis tools you can use to spend less time on link prospecting.
For example, SpyFu can assist you with putting all your link prospects in one place as well as finding contact details of people associated with a particular site: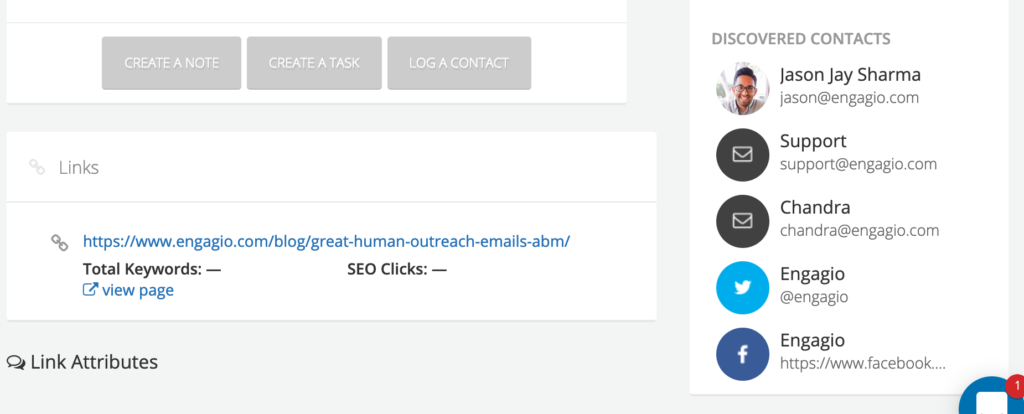 Still, if link prospecting can be somehow automated, there are no hacks to speed up the process of crafting your pitch. Broad automation is annoying to most, and it chips away at your reputation. People can smell it from a mile away (and it smells of disrespect). That's not how you want to start a relationship.
The only thing that can help you get a few quick wins is to contact people who are potentially more interested in your pitch than the others. These are the untapped link building opportunities that I want to talk about.
Here's how you can find them.
#2. Create In-Depth, Link-Worthy Content
Too many businesses and marketers send out backlink requests without having any content that's worth linking to. Before you even start learning how to build backlinks from high-authority sites, you need to first create content that people would want to link to.
Link-worthy content can be in any format or on any topic. But the main characteristics are evergreen, data-driven, actionable, informative, and relevant.
In short, the content should be authoritative, current, and relevant so people will want to link to it to support their claims and arguments. People will naturally want to use your content as an authoritative source when you know what you're talking about and you've thoroughly discussed the topic. This means you have to go in-depth and create long-form content that covers the topic in detail to build backlinks.
In fact, long-form content gets a lot more links than shorter articles, mainly because it's more likely to be seen as an authoritative source. A Backlinko analysis of 912 million blog posts found that long-form content gets 77.2% more backlinks on average than shorter articles.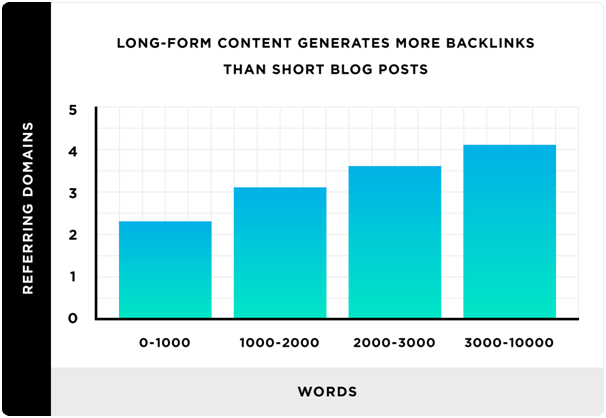 Image Source: Backlinko
A great way to start is by conducting a content analysis on BuzzSumo. You can search for a relevant keyword to discover the top-performing content on that topic in terms of shares, engagements, and number of links. Similarly, you can also search within a specific website to see which of your competitor's blog posts are getting the most backlinks.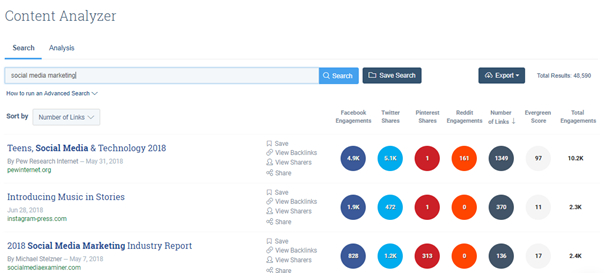 Image Source: BuzzSumo
Sort the results by the number of links to see which types of content are getting the most backlinks. You'll be able to use this information to get content ideas that will help you build backlinks. Go through the top results and make a list of their strengths and weaknesses.
Did they fail to discuss a certain point in detail? Did they miss some valid points? Could you go more in-depth and write a longer piece? Perhaps you might even be able to add more imagery to explain specific aspects more clearly.
The goal is to identify topics you can cover and improve on them. You'll need to create better, more informative, and more in-depth content than the top-performing posts.
#3. Boost Your Site's Credibility
If you link to a website, you need to make sure that it's a credible one, even if it doesn't have an extremely high Domain Authority. The sites you link to affect your site's authority, so you need to be extra careful not to associate with spammy or suspicious sites.
Similarly, some people will go through and judge your website's credibility before they decide to link to you. So boosting your website credibility is a necessity to build backlinks.
While your website may not necessarily be spammy, you still need to make it look more authoritative to immediately impress your visitors. This isn't just important to win the trust of your prospects but also to gain the trust of people who might link back to you.
Design plays a vital role in determining your website's credibility and eventually, your ability to build backlinks. According to a Nielsen Norman Group study, people favored websites that they considered to be more attractive and informative. Among two websites with similar pricing and offerings, they chose the website with fonts, colors, and pictures that appealed to them.
So you need to make sure that your website is well-designed, well-organized, and clutter-free to look more appealing and credible. Make sure all of your information such as contact info, pricing, etc. is easily accessible. You should also be transparent about advertising and sponsorships if any. You could further add testimonials, trust seals, and links to your social media pages.
#4. Reverse Engineer Your Competitors' Backlinks
One of the best ways to build backlinks is by pitching to sites that are already linking to your competitors. Since these sites are already sending link juice to your competitors, it's a clear sign that they're relevant to your industry and they're open to linking out to other sites.
So if you reach out to them with high-quality content and linking opportunities, you have a good chance of succeeding.
You can use SpyFu's competitor backlink analysis feature to discover all of the sites and blog posts linking to your competitors. Just enter the URL of your competitor and the tool will pull up all of their backlink data.
Then, you can get an idea of which types of backlinks they're getting, the DA of the websites linking to them, the number of organic clicks they're getting, etc.

Image Source: SpyFu
Go through the posts to observe the kind of backlinks they're getting and see if there's a similar opportunity for you to build backlinks. Perhaps you have a more updated study, or you've created a more comprehensive guide that's relevant to the topic, for instance.
You can reach out to the editor or website owner and share your content with them. Instead of blatantly asking them to link to your content, talk about how it will add value for them. Maybe it will help them keep their content updated or strengthen their arguments. Not all of them may agree to link back to you, but it definitely improves your chances of building backlinks.
#5. Connect with companies that are among your current clients and blog subscribers
This is a pretty straightforward technique, but here I'd recommend to check up a few things before writing them an email with any cooperation/collaboration requests:
Do they have a blog? And if the answer is "yes", do they add content regularly?
Do they care about content promotion? Do they at least promote their content across their social media channels?
Who's in charge of content publishing? Do they have an editor in chief? Do they have individual contributors? Is there an author's name under each post? The latter can be easily uncovered with the help of BuzzSumo: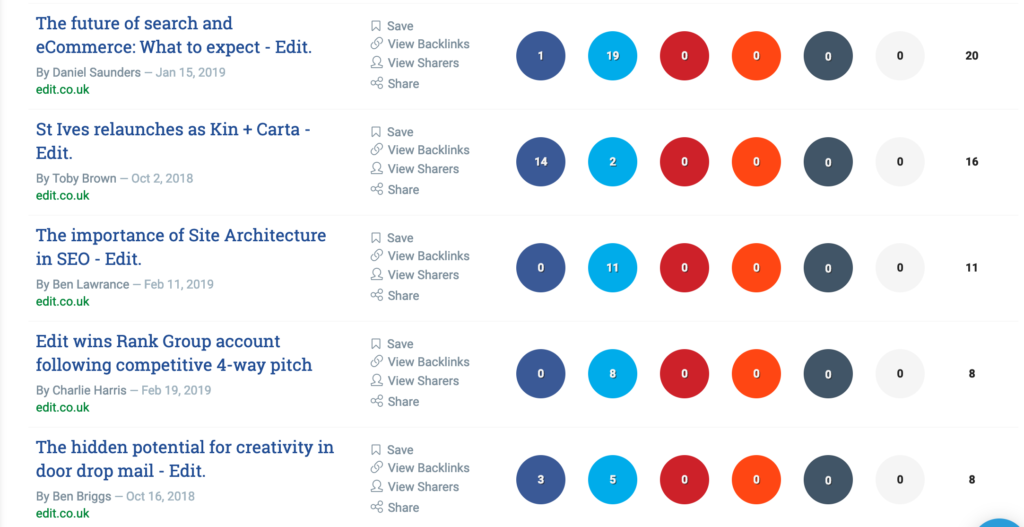 The biggest plus of connecting with the people who already know you is trust. If they trust you, you don't need to break the ice and persuade them to collaborate with you. If they know who you are and what you do (and they like it!), you can get a link pretty quickly.
#6. Connect with people that are following you or your company on social media
This group is not as warm towards you as your clients are, but they know who you are. Also, you don't need to justify reaching out to them — they are already following you on social media which implies they are interested in what you have to say.
I'd recommend kicking things off from your LinkedIn connections. It's more convenient for reaching out than Twitter or Facebook, and it notifies you once your message was read. Facebook and Twitter also have this feature, but they are not suitable for outreach. On Facebook, you'll soon get banned if you start sending unwelcome messages. On Twitter, DM pitches have become so common that people filter them out. LinkedIn is the best choice.
Additionally, you can download the list of your followers with the help of Followerwonk and dig it for insights.
Parameters like account's Social Authority, the number of followers, the age of the account, etc. (which Followerwonk accumulates in one place), should be good signals for reaching out.
#7. Identify and Replace Broken Links
Next up is a highly effective strategy to build backlinks that's often overlooked. It involves finding broken links on a relevant site, notifying the website owner about them, and offering a replacement. This way, you're adding value to their blog or website, so you have a good chance of winning them over.
No website owner wants to have broken links on their site, as it ruins the user experience and affects their SEO. However, some of their links may break and stop working without their knowledge. They may not always be able to keep an eye on this, which creates an opportunity for you to build backlinks.
When you notify them about broken links on their site or on the sites they're linking to, you're helping them improve their user experience. This is a great way to strengthen your relationship with them and improve your chances of getting them to link back to you. With the right approach, it's an easy and effective way to build backlinks for your site.
Nikolay Stoyanov used a broken link building tactic to get 15 new links in just one day. This is clear proof of how effective the tactic is to build backlinks.
Start by installing a free Chrome extension called Check My Links. This extension scans through a web page to find all the broken links, which will be highlighted in red.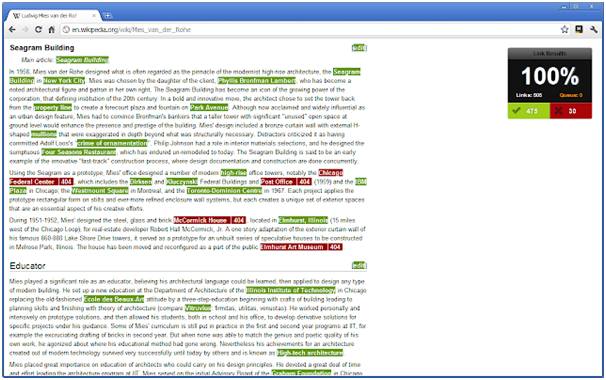 Image Source: Chrome Web Store
You just need to record these broken links and see if you have any alternative content on your site to replace them. Once you've compiled this list, you can begin your outreach to notify the website owner about these broken links.
#8. Connect with people in the same Facebook closed groups
Even though Facebook is very strict with its privacy policy, there's one great advantage of being in a closed group. If you're a member, you can see all the other members no matter whether you're friends with them or not.
Here's list of members of a group about SEO/SEM in Wroclaw (and nope, I don't speak Polish, but I'm a part of this group because our next Digital Olympus conference will take place there):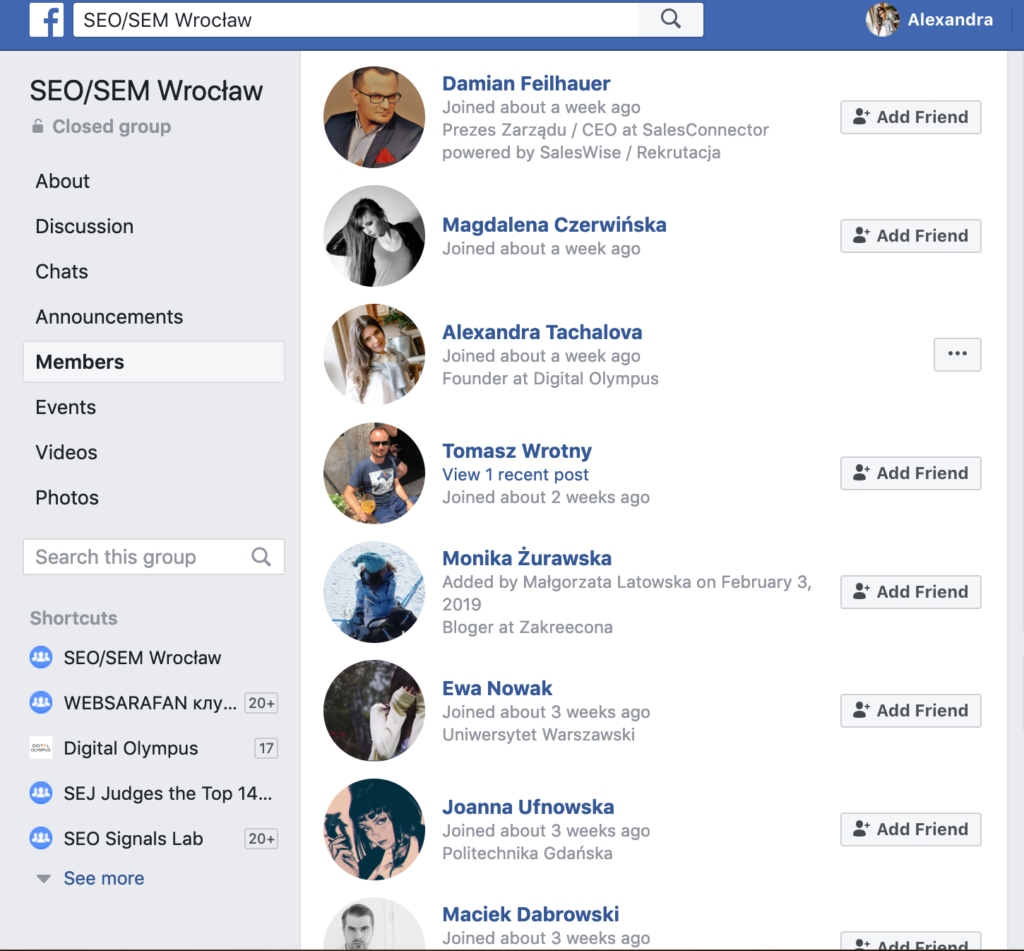 Prominent groups take moderation seriously, and if you're accepted, it's a good sign for other members that you are a proven professional.
Also, if you want to reach out to them, you have a shared connection.
I want to share one quick hack that will help increase the response rate from those people:
Make yourself more recognizable by joining the most engaging conversations. Thanks to Facebook's algorithm, users get notified when someone drops a comment to a post which they have also commented.
After this, connect with the users who were also leaving comments and are relevant to your link building strategy. You can simply drop them a message stating that you saw them leaving comments in the same conversation on Facebook group and would like to talk business. Quick note: better use LinkedIn to get in touch, not Facebook. As I said before, Facebook can ban you for the slightest sign of spamming.
In case you haven't yet been a part of any group, you can easily find them by checking what kind of groups your friends are a part of: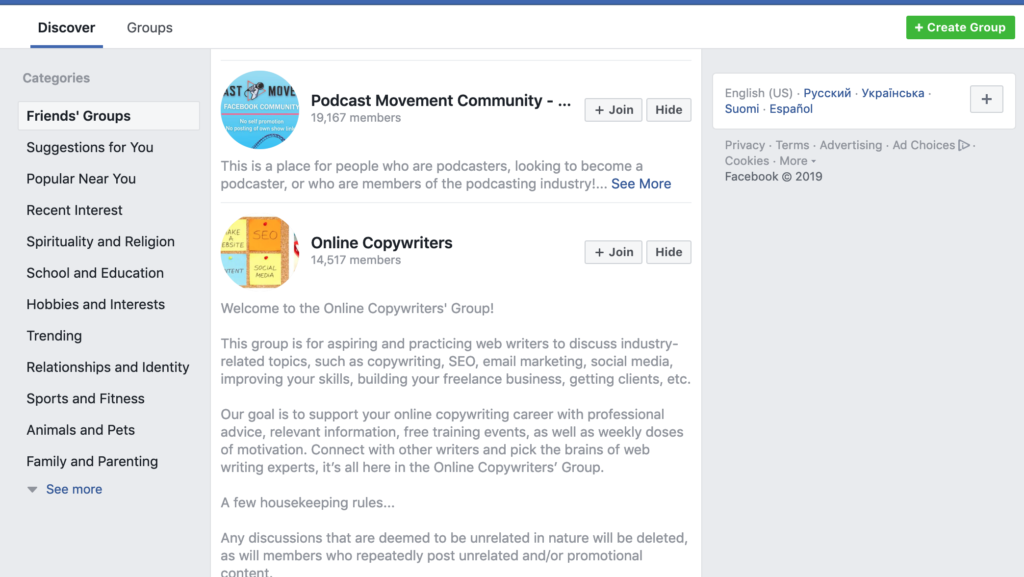 #9. Make the Most of Link Roundups
You might have come across link roundup posts at some point of time. If you haven't, these are blog posts that collect a roundup of content from other websites every week or month.
A link roundup post is a valuable resource to the blog audience, as it provides them with easy access to a host of high-quality posts in their areas of interest.
Here's an excellent example from Shane Barker's blog, where he's created a link roundup of articles that discuss lead generation and sales tips.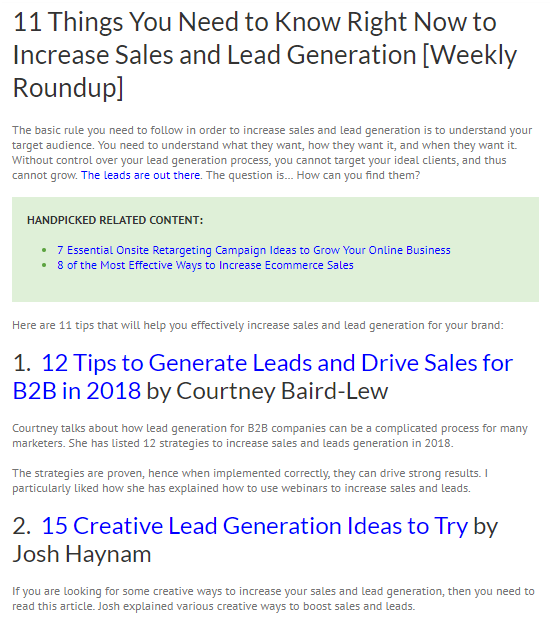 Image Source: Shane Barker
It's also an excellent way to build backlinks from relevant, high-authority sites. You just have to find relevant websites that create roundup posts regularly and then pitch your content to be included in the next roundup.
Start with a simple Google search using a relevant industry keyword combined with the terms "link roundup," "monthly roundup," "weekly roundup," or even just "roundup." Your results will look something like this. Just go through each of them to see which websites would be most relevant to pitch to.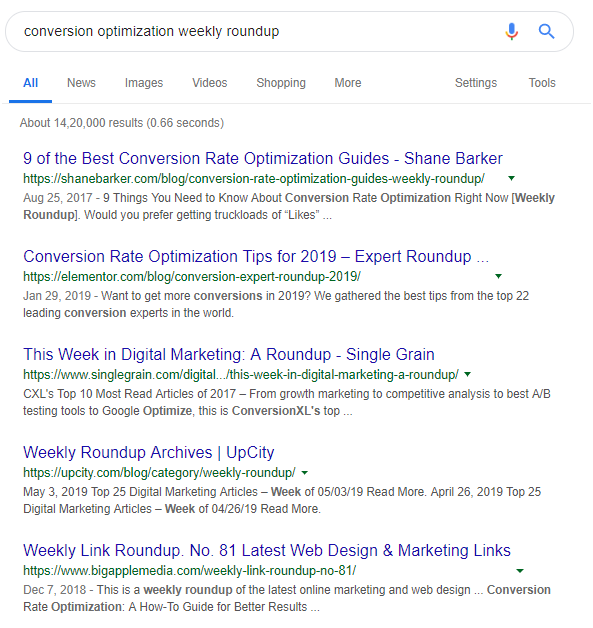 Image Source: Google Search Results
#10. Use Influencer Marketing
You may already be familiar with influencer marketing. While it's highly effective for marketing consumer brands and products, influencer marketing can also help you build backlinks.
You just need to change your approach a little bit instead of the usual method of paying influencers to promote your brand.
In the link-building space, influencer marketing involves creating ego bait list posts. This usually means creating an expert roundup post, where you pick a topic and ask industry experts for their opinions or suggestions. These experts are highly likely to share your post and perhaps even link to it because you've featured them.
This gives your post more visibility and credibility. It further gives you the opportunity to build backlinks, as people will want to link to a credible source backed by experts. Shae Baxter managed to get an increase in page views of more than 2000% along with 960+ social shares with just one expert roundup post.
Start by picking a topic that's relevant to your niche and then develop a question on that topic to make it more specific. This will help the influencer understand exactly what they need to write about. The next step is to find influencers to include in your roundup. Find relevant influencers in your industry using the BuzzSumo influencer analysis feature.
You just need to enter a keyword that's relevant to your niche. The tool will pull up all the influential Twitter accounts in that niche. It will also give you insights into their social media engagement rate, Domain Authority, etc.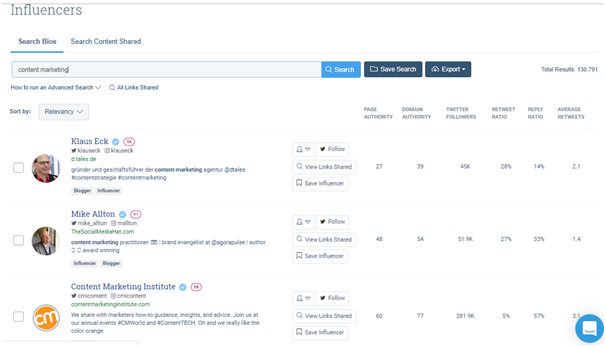 Image Source: BuzzSumo
#11. Give Testimonials to Build Backlinks
One of the easiest ways to build backlinks and boost your relationships with other brands is by giving testimonials. This may seem too good to be true, but it's a valid and very effective way to earn backlinks from high authority sites. Companies love testimonials because they're always on the lookout to gain more trust through social proof.
Some websites display their testimonials prominently on their homepage, while others will have a separate testimonial page. Some even have case studies instead of testimonials. Either way, they will likely link to you, which can help you boost your backlink profile. OptinMonster publishes both testimonials and case studies.

Image Source: OptinMonster
You can write testimonials for products or services that you've used or are using, but make sure the website has a high Domain Authority (at least 60). Make a list of all the products or services that you're currently using or have used in the past. You could even look for products that offer a free trial and test those out so you can write a testimonial for them to build backlinks.
Once you have this list ready, you can run a test using the Domain Authority Checker to see whether their website has high authority. Create a separate list of all the websites with a DA of 60 and above and see whether they have testimonials or case studies. Make a separate list of all the websites that do. These are the ones you'll be sending your testimonials to so you can build backlinks.

Image Source: Small SEO Tools
#12. Take Advantage of Resource Pages
Like link roundups, resource pages have a list of links and resources for a specific topic that will provide value to their readers.
For instance, there could be a resource page for London tourism. This will have links to all the important websites and pages that could be useful for visitors in the city. This could include top hotels, places to visit, transportation guides, and more.
Since these pages provide the audience with valuable information, they also offer a great solution for those who want to build backlinks. Start by finding relevant resource pages that could benefit from your content.
You just need to conduct a Google search using your relevant niche keyword combined with terms like "useful resources," "useful links," or "helpful resources."
You could even use "inurl:useful links" or "inurl:links" instead of the other search terms. Your results will look something like this. You just need to go through them and pick out the most relevant resource pages.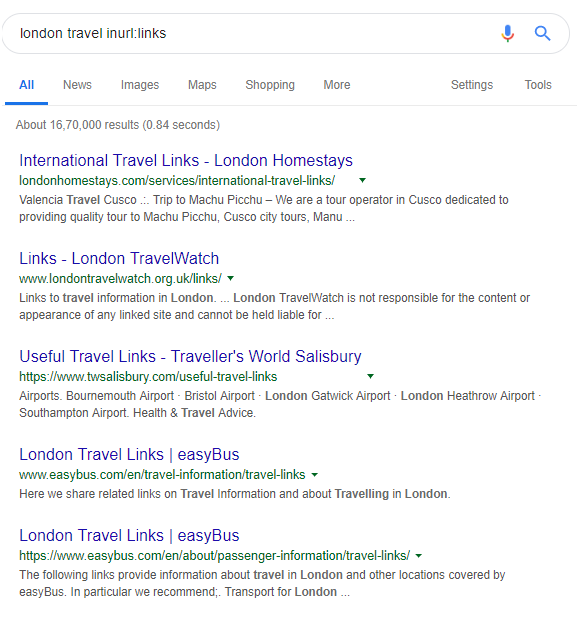 Image Source: Google Search Results
Then reach out to the website owner or editor by email or website contact form. Make sure you introduce yourself, give them a brief idea of how their product or service has helped you, and then mention your interest in writing a testimonial. You might even want to include specific results if any like a 50% increase in CTR, for example.
#13. Publish Case Studies
Since case studies provide proof that certain strategies work, they add credibility to your content and back up your claims. People who create data-driven content are always on the lookout for relevant case studies to link to. These are people who always want to back up their claims, meaning their website or blog also has a certain level of authority and credibility.
So creating case studies is a highly effective tactic if you want to build backlinks from relevant authority sites. If you have achieved impressive results using certain tactics or strategies, put together a case study that explains the process in detail. Outline your challenges and the solutions you applied, and clearly showcase the results you achieved at the end.
You could publish this on your own site and build backlinks directly to your site. Or you could also publish it as a guest post on another relevant site that will link to you.
What's even more effective for building backlinks is conducting a case study on a technique or strategy promoted by an influential industry expert.
Pick an influential expert in your industry and go through their content to see whether they've come up with any original techniques. Or perhaps they've put together a detailed strategy that you could apply.
Take for example this content strategy from Brian Dean.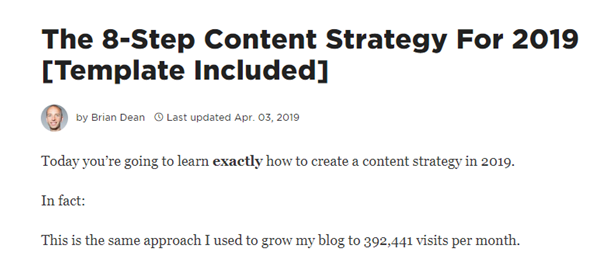 Image Source: Backlinko
Put these strategies to use and monitor the changes in your performance before and after you apply them. You should prepare screenshots of your Google Analytics dashboard to provide visual proof that you actually performed the case study.
And when you write a blog post to explain the process, make sure you link to the expert who came up with the technique or strategy. For example, you could write something like, "I tried Brian's 8-step content strategy."
Once you publish it, make sure you share it with the expert. The goal is to have them share the case study with their audience on social media to give you more visibility.
This will help you gain more opportunities to build backlinks through the influencer's readers who are content creators themselves. The influencers might even want to link to the study in a related post in the future.
#14. Leave Comments on Blogs That Already Have Many Comments From Other People
First of all, I'm not the only one who's using this strategy and I've learned about it from Michael Pozdnev that did a terrific how-to spiced up with his own results.
Basically, what you need to do is:


All of these blogs have comments (except for SEJ that at some point decided to switch off commenting functionality on their site). By the way, it's quite a surprise to see that Robbie Richards outranked Brian Dean.
Get the list of commenters with their sites. If you hate boring and repetitive tasks like I do, then you should give a try to Scraper extension. It will help you get this job done within a few seconds.
Finally, you need to find those users' contacts. That's where you can use SpyFu outreach tool: it will automatically find the users' email addresses once you upload the list of the websites to it.
Are there any other hacks that you know?
Once you create a "warm" link prospecting list, reaching out should not be as time-consuming. As I've mentioned before, when you're reaching out to a person who has never heard about you before, it is really challenging to attract their attention and establish trust. But if you have common ground, breaking the ice of the first pitch is far easier of a task.