Although we often like to think of SERP rankings as a meritocracy, the reality is that they are not. Often, the best written or most informative pieces don't reach the top of Google on their content alone. It takes more effort and technical work to know how to rank.
So how do you get to the top?
If you want to increase your organic search traffic and take the top spot on Google for your most important keywords—the ones that will be the foundation of your SEO strategy—you can't just rely on good writing. You need to understand how your competitors rank for the most lucrative keywords and then dismantle their strategy piece by piece.
This guide will show you how to find and outcompete your organic competitors so that your pages and content clusters dominate the search result pages, giving you the best chance of connecting with and converting your future readers.
Step 1: Find Your Organic Competitors
Consider each keyword a battle and each topic cluster a war. If you want to win, you need to know whom you're fighting. However, before you begin this process, you need to know your content goals—not just a single keyword you want to rank for tomorrow, but which topic clusters and primary keywords you want to rank for in six months or a year.
Once you have that ready, you can begin to find the organic competitors you need to beat to win your most valuable, sought-after keywords.
What is an Organic Competitor?
An organic competitor is a website you're competing against for position on keywords, be it for one or many. Your direct competitors may be part of your organic competition, but your organic competitors might not always be direct competitors.
That's important to remember, and here's why.
Direct product competitors are the companies selling products or services in direct competition with each other (Pepsi vs. Coke). They're the first ones that come to mind when you think of your business rivals.
Organic competitors are the websites you compete against for a keyword, regardless of whether you sell the same things (Pepsi vs. American Beverage Association). Although it's obviously important to outrank your product competitors, it is important to outcompete your broader organic competitors, too. Why? Because over half of all trackable traffic comes from organic searches, and the vast majority of those go to the top-ranked content.
You are competing directly, but now it's for rankings.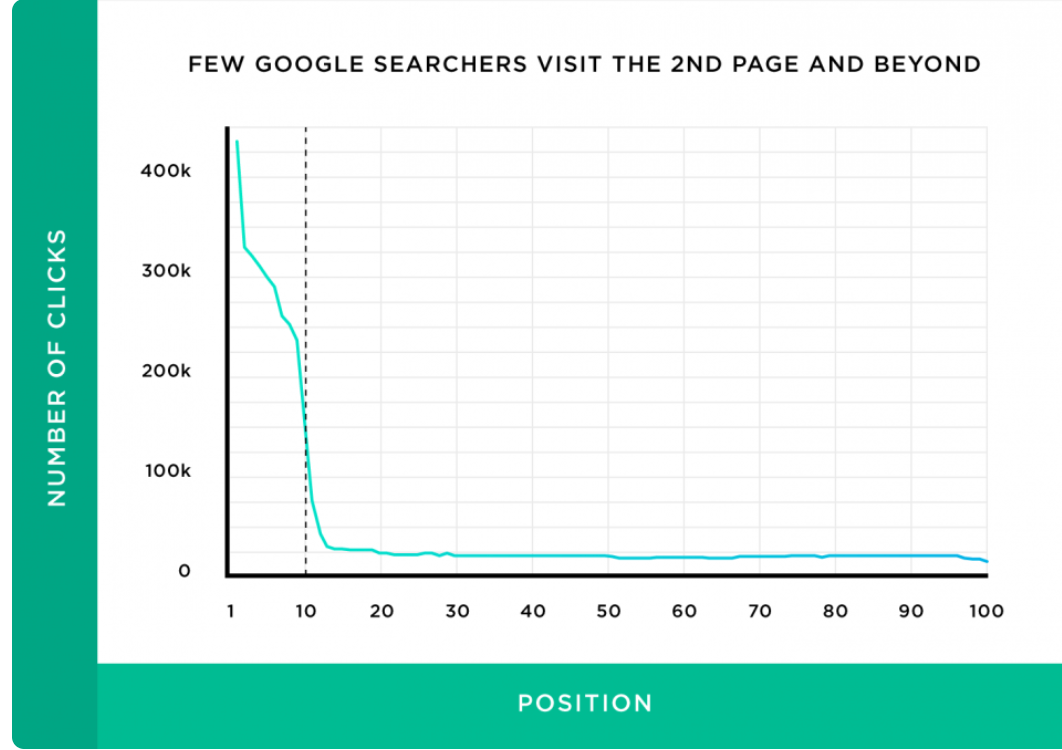 As you can see on this chart, the number of clicks drops dramatically after you leave the first page of Google. As well, the difference between the tenth spot and the first spot is dramatic. Backlinko found that the first result on Google was 10x more likely to be clicked on than the tenth.
Losing ground in the SERP, even to websites that aren't your direct competitors, can have a real-life effects on your website's click-through rate (CTR).
How Can You Identify Your Organic Competitors?
You may think you already know your main organic competitors, but it's always better to check your assumptions than to assume. Start by Googling the two or three top keywords that you want to improve your rankings on.
Next, look through the top 10 and write down the websites you see. If you're looking to compete beyond your local community, make sure to go incognito to get more reliable results, as Google shouldn't track your location in that setting.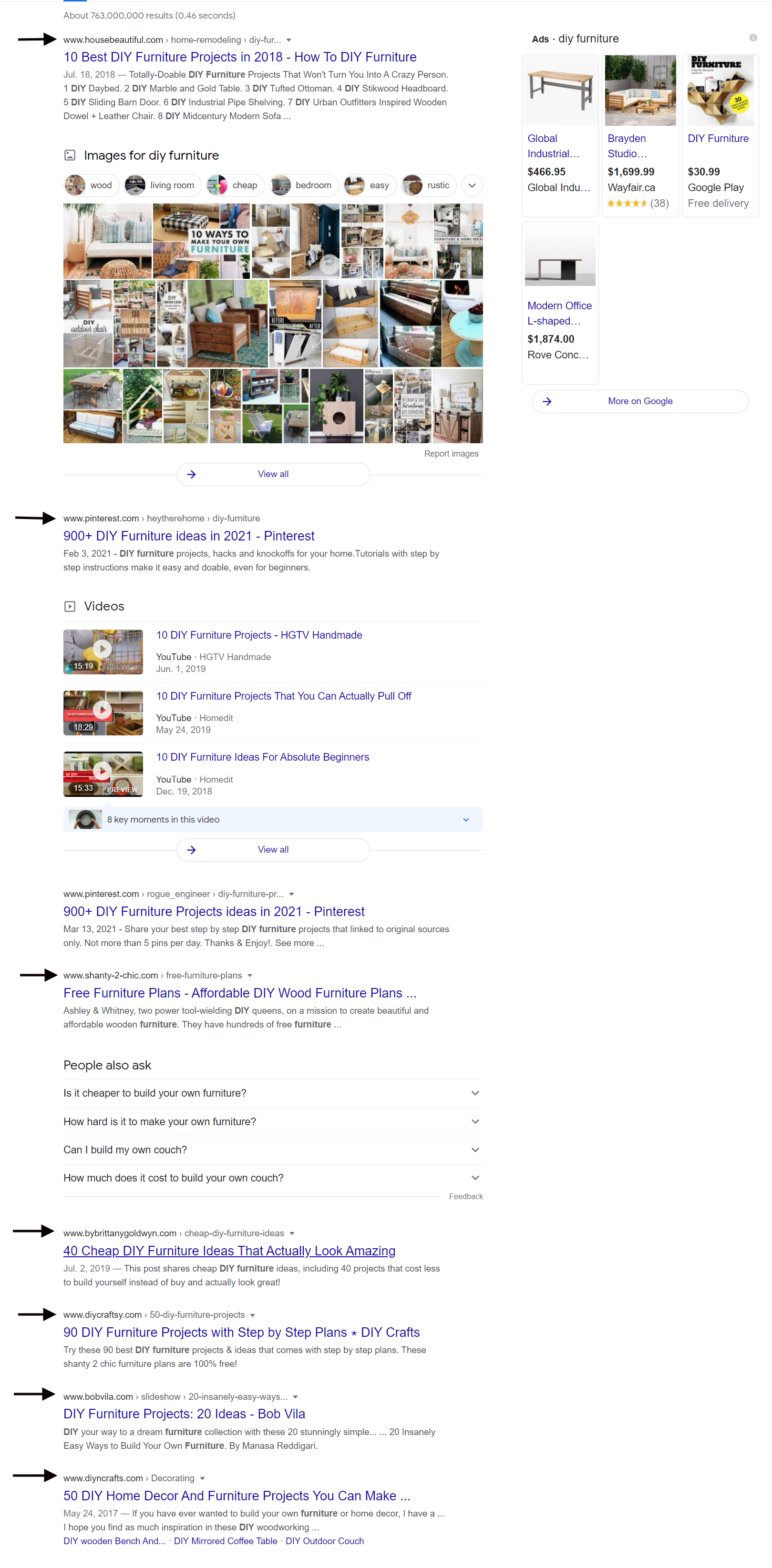 In this example, we've looked up the keyword "DIY furniture," a short-tail keyword with about 3,400 searches every month. A short-tail keyword is a more general keyword that usually has higher traffic and more competition than long-tail keywords. On this SERP, every unique domain that is not your own would be your organic competitor for this search term.
Repeat this process for each of your main keywords and list the organic competitors you find.
Another way to see who you're competing with is by using SpyFu's SEO competitor analysis tool.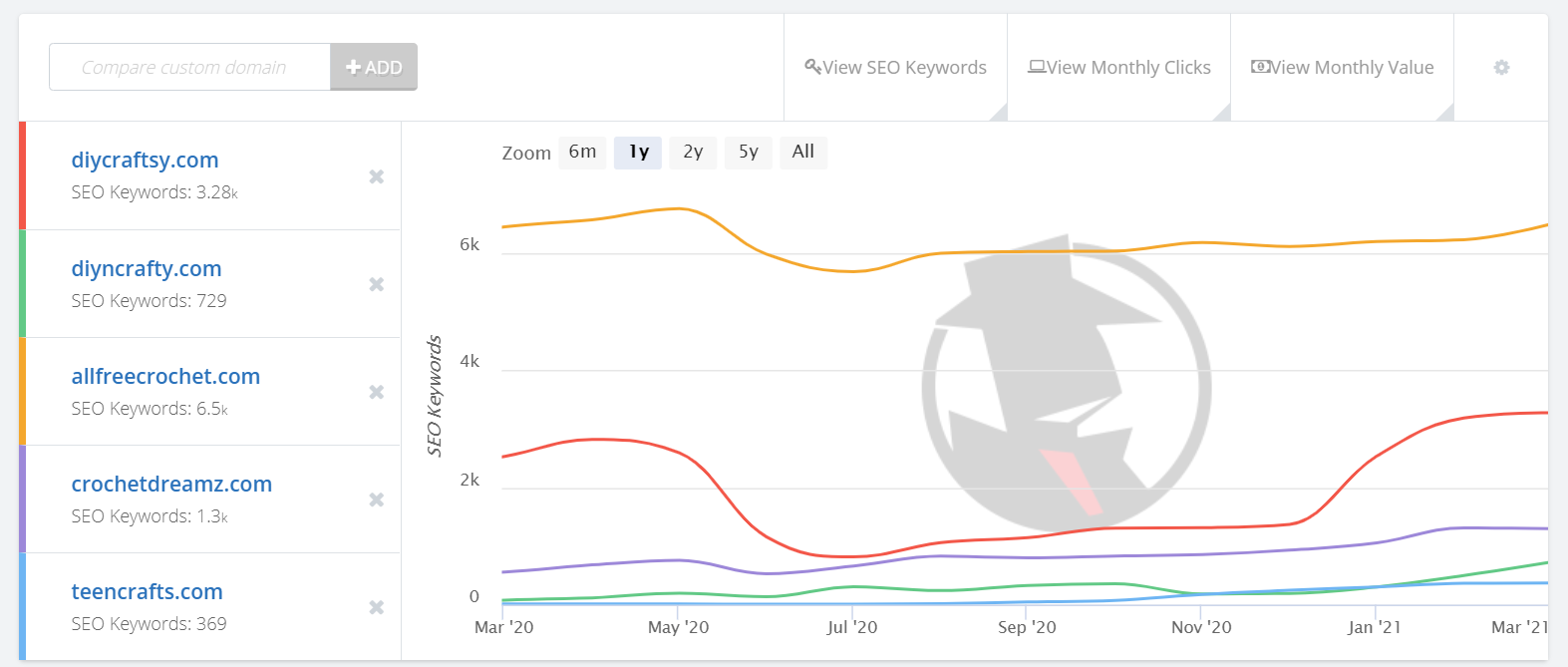 If you are diycraftsy.com, for instance, you could put in your domain and see everyone who's competing with you.

You can also scroll down and click on the "Common Keywords" tab beside one of your competitors to see which keywords you're currently competing over.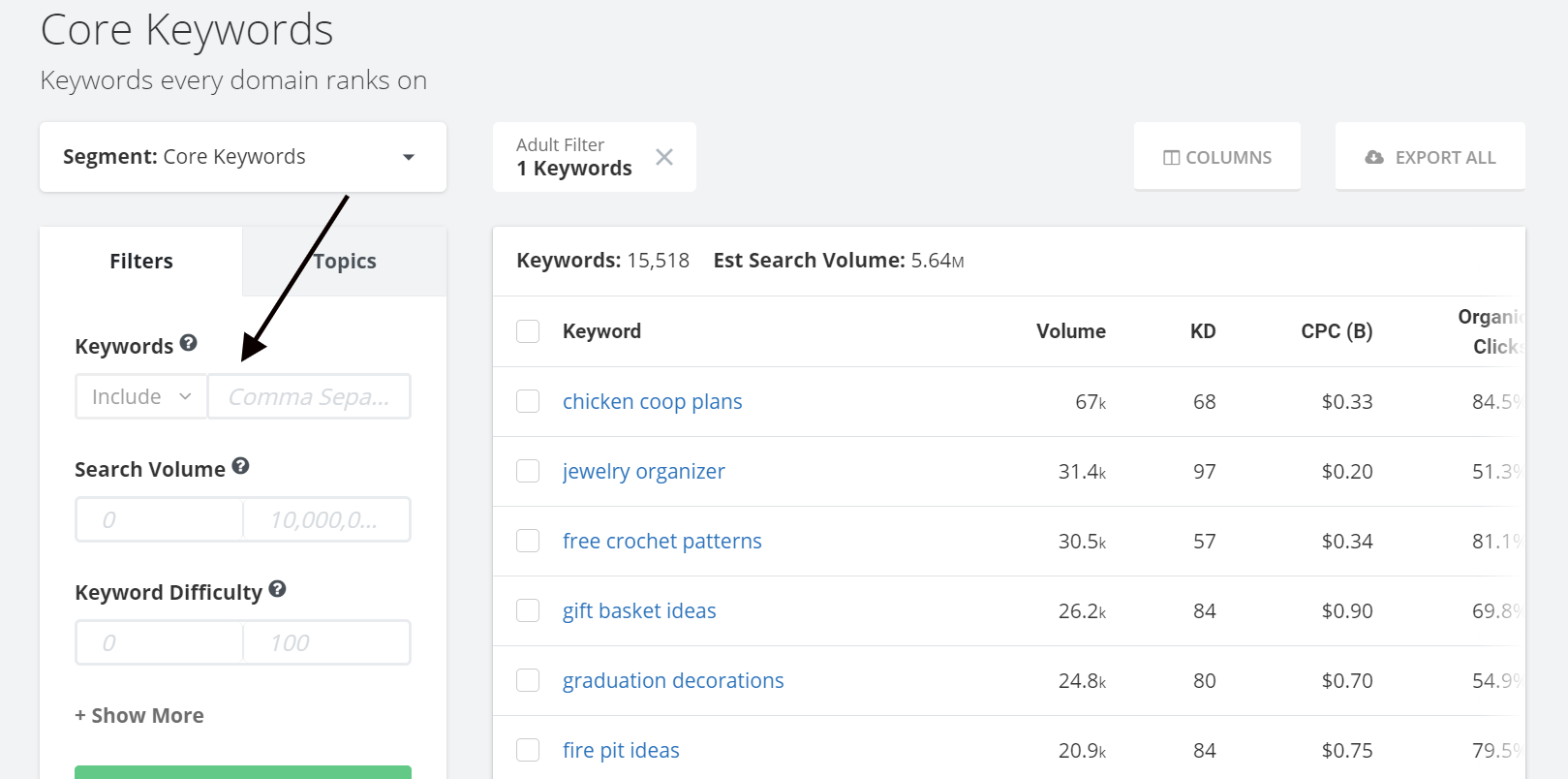 This list of core keywords is all of your shared keywords with your selected competitors (you can compare more than one). It may also help to filter the results by a keyword to find the results that are most interesting to you.
If you are a relatively new site with few keywords, then you could instead do this search with a known competitor to see what keywords in this space you may want to compete for in the future.
You can learn more about your competition from our post on uncovering your top competitors on Google.
Step 2: Find Out How Your Competitors Rank Better Than You Do
Once you have a handle on who you think you need to beat, it's time to look at what they're doing to rank well. Specifically, we want to see if they are ranking due to the strength of their individual page, their domain, or their topical authority (or some combination of all three).
It's important to take this process one keyword at a time since you'll be facing different circumstances on each SERP. So start with the most important short-tail keyword that you want to rank for. As you go through these next three research phases, keep a list of how your page and site compare with your organic competitors; we'll use this information later on.
Analyze the Strengths of the Pages That Rank
Your first stop should be the pages that are currently ranking ahead of you for your keyword. You'll want to see what they look like, what they offer people, and how strong their overall page content is. Here are the things to look for:
Major topics. You want to see if the top-ranking pages are more comprehensive or more concise than the rest of the pack. If they cover more than everyone else, this could give you a way forward to beating them later.

Page quality. Here, we're talking about a general impression of the writing and the page itself. Are there custom images? Does the writing flow nicely? Does the webpage use statistics and facts to back up claims? And, most importantly, could you write better?

Backlink profile. Backlinks are one of the most important ranking factors for Google. If the top sites are bringing in far more links than everyone else, this could be the reason they're currently beating you for this keyword. You can easily find out an individual page's backlink profile using our backlinks tool. Put in the URL, and you can see who links back to this page. Remember, not all backlinks are the same: Quality matters, too, when evaluating a backlink profile.
Evaluating each competitor page for these three variables can help you determine whether this page is ranking on its own merits or if it's relying on its domain strength (the relative SEO strength of the whole domain) or topical authority instead.
Run an SEO Audit on Their Domain
We can see how strong a competitor's domain is with a quick SEO audit. You can use SpyFu to collect some basic metrics that should tell you about what kind of competition you're going up against.
First, plug your competitor's domain into the SEO overview tool.
You want to get a sense of how strong their site-wide SEO is, so take note of:
Organic keywords: More keywords can indicate a larger website with better SEO.
Estimated monthly SEO clicks: This is a clear metric of how well their SEO strategy is working.
Estimated monthly SEO click value: If the clicks are high but the value is low, this might indicate they are going after easier, less valuable keywords as part of their strategy.
Also, take a moment to see how their trend lines look. Sustained upward growth could show that their SEO strategy is working, while the opposite holds true as well.
Understanding your organic competitors' domain strength is important because it sets a baseline for how hard you'll have to work to beat them for your chosen keyword. Improving your own domain strength takes years of work, so if you're competing against websites with stronger domains than yours, you need to be willing to put in the work to beat them on overall page strength and topical authority.
Check the Strength of Their Topical Authority
Topical authority is how knowledgeable Google believes your website is when it comes to a broad topic. You can build topical authority by expanding your topic cluster, the network of inter-connected pages and posts that demonstrate your expertise in each sub-topic that makes up your broader topic.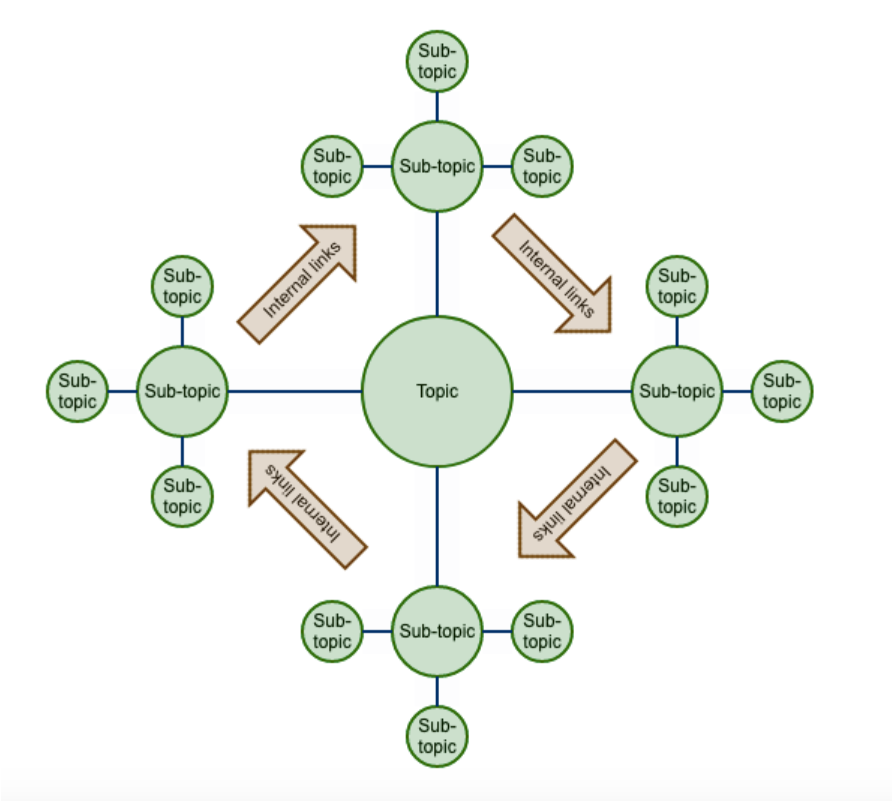 For example, to boost the page targeting your primary short-tail keyword, "DIY furniture," you can build out your topic cluster with articles aimed at ranking for specific long-tail keywords like "best DIY furniture kits," "outdoor DIY furniture," or "where to buy DIY furniture." Ranking well in these lower-traffic, more specific long-tail keywords is a signal to Google that you are an authority on the topic of DIY furniture, making it easier for you to rank well for this more competitive short-tail keyword.
Determining a competitor's topical authority is not easy because it isn't always clear which keywords Google believes are relevant to a topic or how they're weighted. However, you can see how many pages and keywords they've devoted to a topic to get a sense of the strength of their topical authority.
The easiest way to do this is to go to our top keyword tool to see a list of all the keywords your organic competitor is ranking for.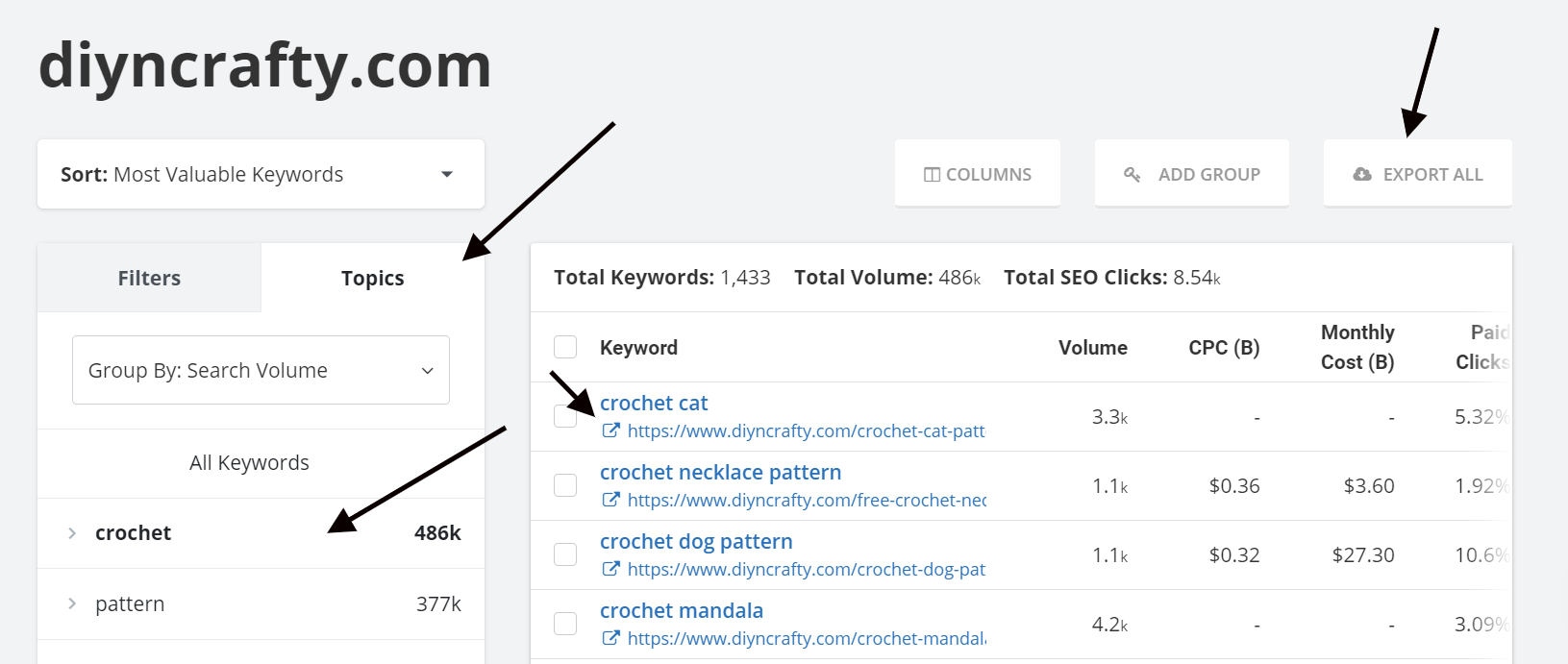 Next, narrow the results by hitting "Topics" and choosing the topic that you feel best suits the keyword you're competing for. Now, see how many pages are bringing in traffic for these keywords. If there are too many results, you can always hit "Export All" and explore the data as a CSV file. As you're looking through their topic cluster, make sure to list:
The pages that are a part of their cluster
The keywords they rank for in this cluster
Sub-topics you don't yet cover on your site
Keep an eye open for weak or outdated pages in their topic cluster. Flag these as potential opportunities to get a quick win from your competitors later on.
With this list complete, you'll have an idea of their topical authority, how they got it, and how you can begin to grow your own topical authority on the subject—because if it works for them, it can work for you.
Step 3: Find Opportunities to Improve Your Page Strength and Topical Authority
Now that you know what your organic competition is doing, start to take steps to outrank them. In the short term, you won't be able to do much about your website's overall strength other than improving its internal linking structure, so we are going to focus on ways to improve your page and topical authority.
Make Your Existing Pages Stronger
In the most straightforward scenarios, all you have to do is outperform your competitors at the page level. If your domain and topical authority are stronger than theirs, then there is something about the individual page itself that needs to change if you want to rank #1 for your primary keyword. Here are some steps you can take to create better content than your competitors:
Run a search intent analysis to see how you can better match readers' needs with your content.
Look for content gaps in your work: topics your competitors are covering that you are not.
Do an on-page SEO audit.
Once you know where your own content is lacking, note ways you can improve it when you do the rewrite. This can include:
Better, more informative writing that offers value to readers
Added sections that tackle topics your readers want to know about
Increased internal links with other pages in your topic cluster
A focus on keyword optimizations or featured snippets
If your competitor has stronger topical authority than you, you can also use these tactics to boost your topic cluster's page rankings. Start with any pages in your topic cluster that are ranking around the 11–16 spot for their keywords, do a rewrite of your article, and try to get them into the top 10.
If you don't have a tool that tracks your keywords for you, you can use SpyFu to see a list of all of your keywords sitting just outside of the top 10.
Go to the SEO overview and click on the "Almost There" section on the right-hand bar.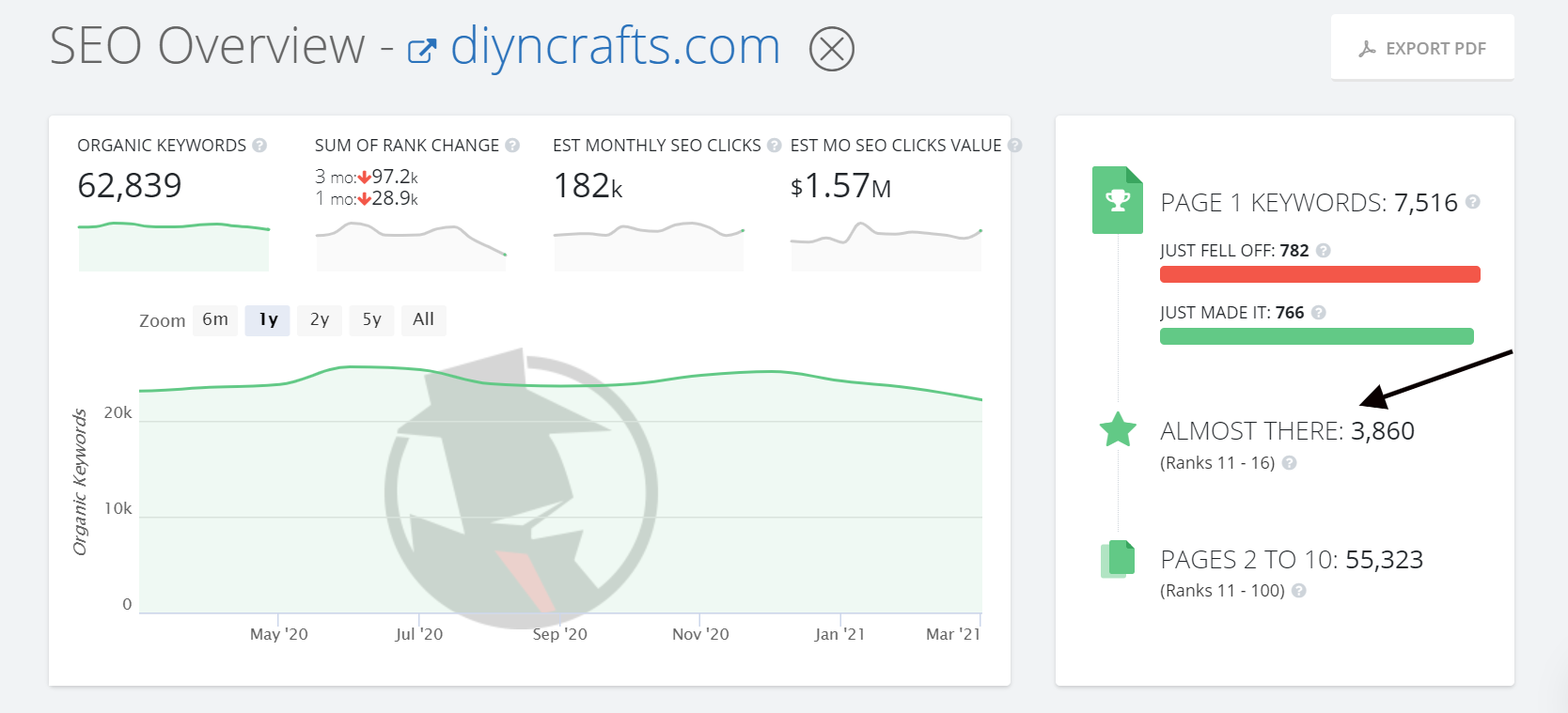 Now, you can see a complete list of all of your keywords sitting between ranks 11 and 16.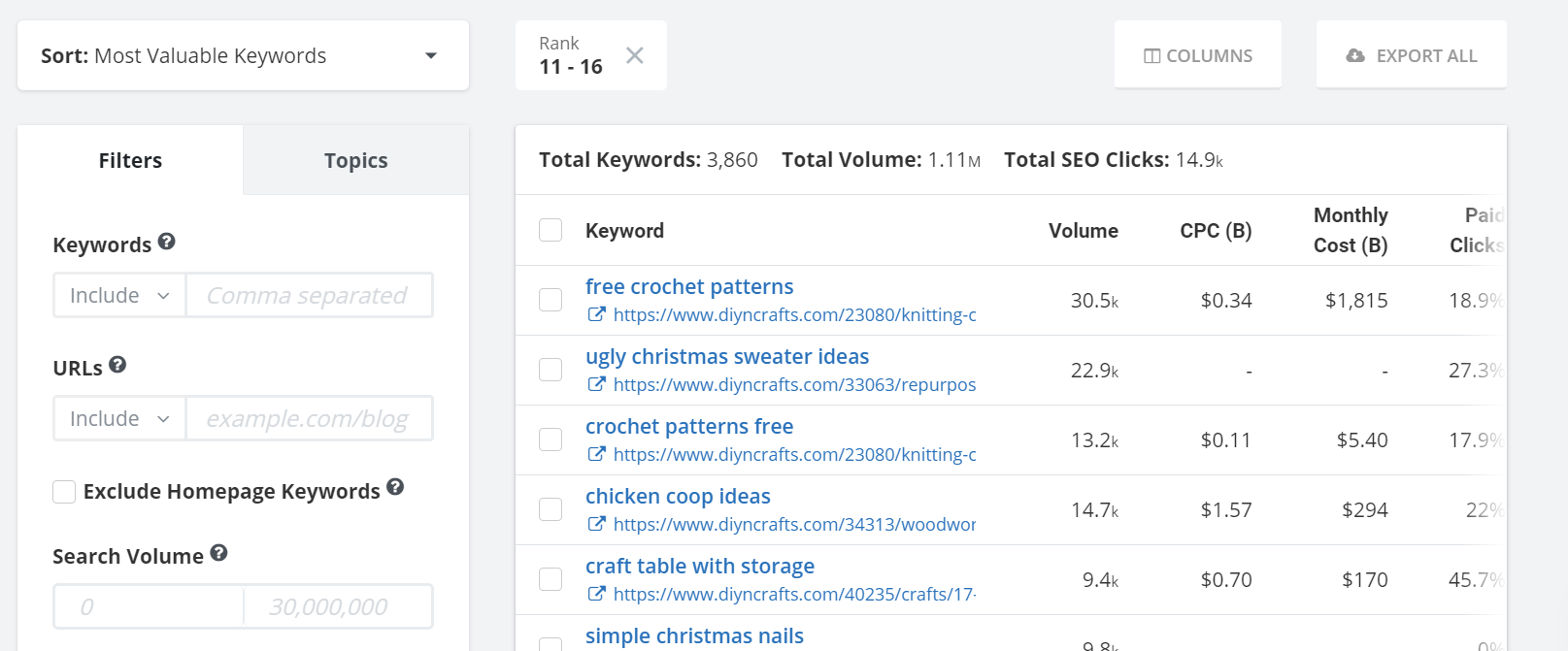 Sort through this data and make a list of keywords on existing pages that you want to boost into the top 10. Then do a refresh of these pages so you can bring in more SEO traffic and increase your topical authority at the expense of your competitors.
Look for Keywords Your Competitors Rank For, But You Don't
Put your organic competitors into SpyFu's Kombat and find keywords that you are just letting your competitors win without a fight. Each of these uncontested keywords represents a chance for you to steal traffic and build topical authority in your sphere. In Kombat, put in your domain and a couple of the top competitors for your primary keyword.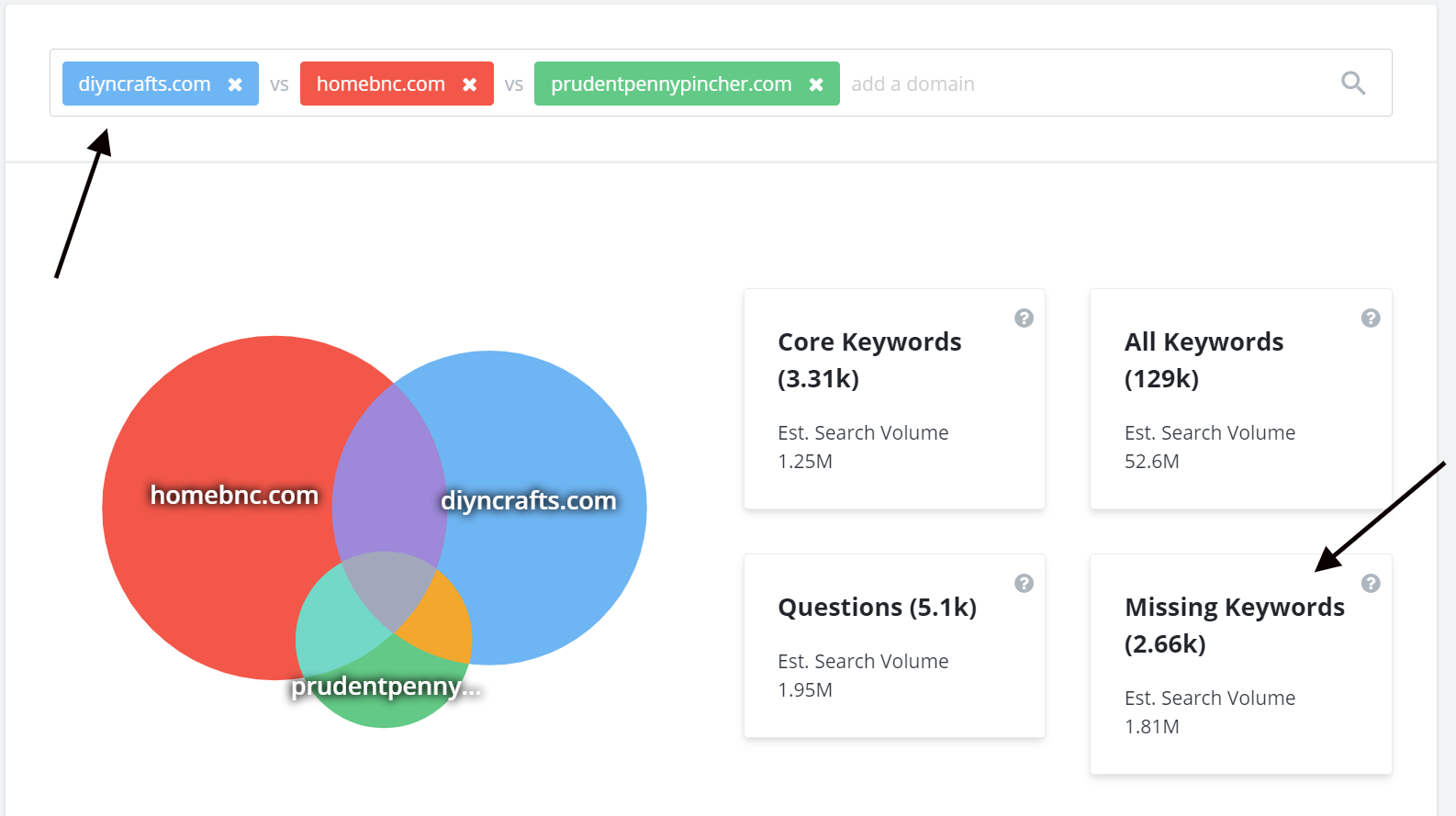 Add in as many competitors as you'd like, then click on "Missing Keywords."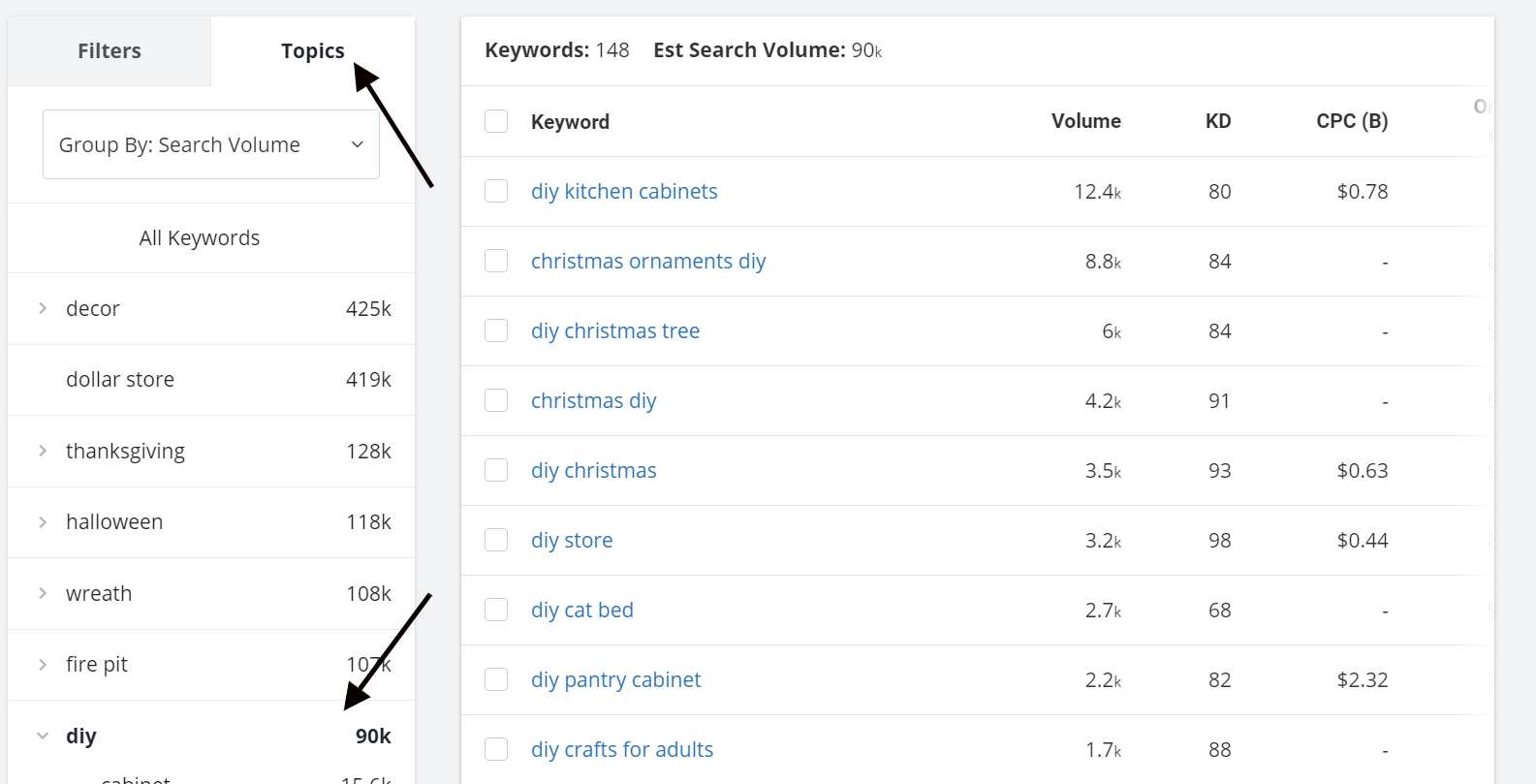 Next, hit "Topics" and find the topic most relevant to you. You should now be left with a list of keywords you aren't ranking for at all. Explore this list on SpyFu or export it to a CSV and start finding keywords that you want to target.
Pay attention to the keyword difficulty (KD) and volume: Focus on keywords that will offer quick wins to start building up the topical authority you need to start ranking for the keywords you really want. Also, don't forget about your list of your competitor's weak or outdated content from your earlier research on their topic cluster; these make for prime targets when planning new content.
Beside each page on your list, make a note of how you're going to beat it with better content. Consider ideas like:
Up-to-date information and pictures
Expert analysis, insights, or interviews
Added video content or downloadables
Original research
When you are all done, you should have a list of new content ideas with concrete plans to make them outrank the competition. Incorporate this list with your list of content refreshes and rewrites from earlier, and you're left with a content roadmap that will help you conquer the SERP rankings.
Step 4: Use What You've Learned to Outrank Them
With the research done, you want to start actually putting what you've learned into practice. The best way to do this is to evaluate your content creation resources and begin setting long- and short-term goals.
Figure Out What You Have Time to Do
Depending on your website, you may not have the time to be pumping out 20 high-quality posts a month. So, before you begin putting your plans in place, take a realistic look at what you can do in a month. You'll want to ask yourself:
How many hours can I devote to content creation?
How many new articles do I want to post per month?
How many refreshes of old articles do I want to do per month?
Do I have any big projects I want to complete over the next quarter?
Once you have some answers to these questions, you can start to think about creating a content calendar. If you've never done that before, check out our guide to making a useful content calendar to organize your future content.
Make Your Long-Term and Short-Term Goals
It might be counter-intuitive, but it's better to start with your long-term goals when it comes to SEO. Why? Because SEO strategies can require months of continuous effort before you start seeing any results.
You want to be laser-focused on what you want to accomplish over a year, with smaller goals every month that will help you get there. This kind of planning requires a top-down approach. The first thing you should consider is what keyword is the most important to your overall SEO strategy. Ask yourself:
Why am I currently not ranking for it?
What do I need to improve to change that? (page strength, domain authority, topical authority)
How much is this keyword worth to me?
If all you need to do is change one or two pages, then make that a part of your short-term plan and look at your next keyword priority. If ranking for this keyword requires you to boost your topical authority, start making plans for content refreshes and new content focused on this topic cluster that will come out every month. Look at the keywords you found in the previous step to start coming up with new content ideas.
Continue with this process until your content calendar is full. Don't forget to leave a little room to refresh and update your old material, so you don't lose ground on the keywords you are already ranking for.
Take the Next Steps in Beating Your Opponents
This article has focused on beating your competitors at their own game, stealing their keywords, and undoing their strategies. Through targeted research and a detailed content plan that will boost your page strength, your topical authority, and, eventually, your domain strength, you can move up the rankings for even the most competitive of keywords.
Another tactic that any website can use to strengthen its SEO across pages, topics, and domains is link building. Link building is the most useful SEO tactic that no one wants to do. It requires a lot of work and a lot of rejection. But that's why it can set you apart from the rest of your competitors—because backlinks are still one of the biggest ranking factors for Google.
You can learn about 20 different link-building strategies in our guide to expert link-building tactics. With improved link building and content designed to beat your organic competitors, it won't be long before you rule supreme in the SERP rankings.