A podcast is an easy-to-consume content format that requires minimal effort from the listeners' side and still helps them learn a lot.
Podcasts are especially helpful for an evolving topic like SEO, for which there is no end to the amount of knowledge that you can gain. SEO is built on core basic practices, but there are countless techniques that users are curious about testing. With every new search engine algorithm update, SEO experts look for the best ways to optimize their approach.
In such a dynamic industry, it is challenging to keep up with changes. Reading long blog posts and newsletters doesn't work for everyone, but there's "found time" in stepping away from your desk. Commutes, exercise, and household chores open the chance to listen to SEO podcasts. That lets you stay updated on SEO trends without investing too much time.
Here are some of the best SEO podcasts that you should listen to if you want to keep up with the latest SEO trends or learn how to improve your knowledge base.
Hosted by SEO experts, Gael Breton and Mike Webster, this is one of the best SEO podcasts today. It covers topics like SEO, content marketing, and digital marketing, but mainly revolves around SEO topics.
The hosts follow a conversational and casual format where they casually discuss SEO topics. They often roundup questions asked by their audience and answer those. It has more than 300 topical episodes to date and is still going.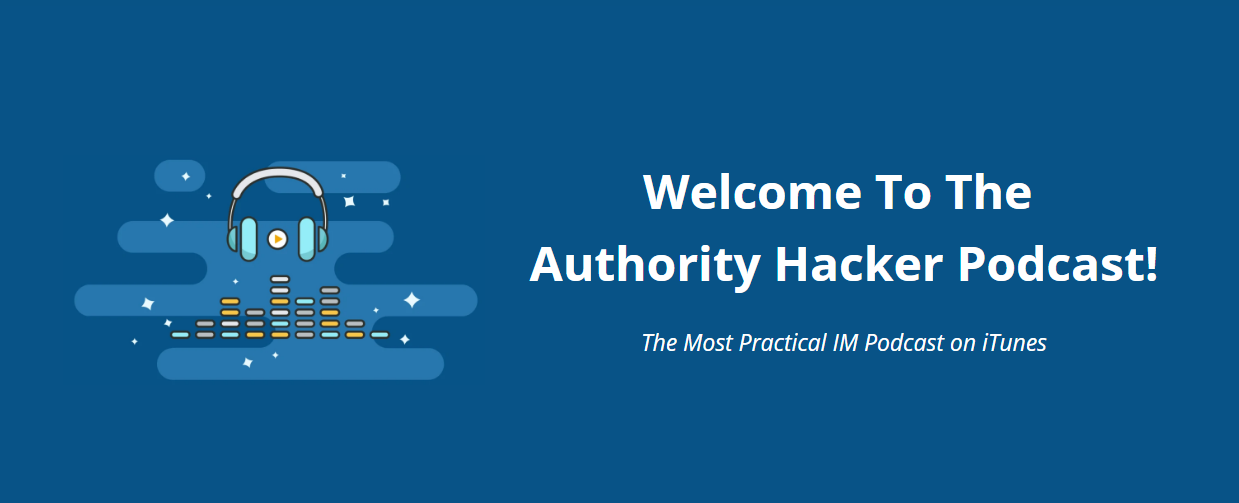 This podcast is available on iTunes, Soundcloud, and Stitcher.
This podcast is another excellent SEO podcast hosted by SEO expert, Erin Sparks. He follows an interview-style podcast format where he invites prominent guests to cover various SEO and digital marketing topics.
This podcast series has over 300 episodes and is still going strong, coming up with new and informative topics every week. So, if you want to stay updated on the latest industry trends, then this is the podcast for you.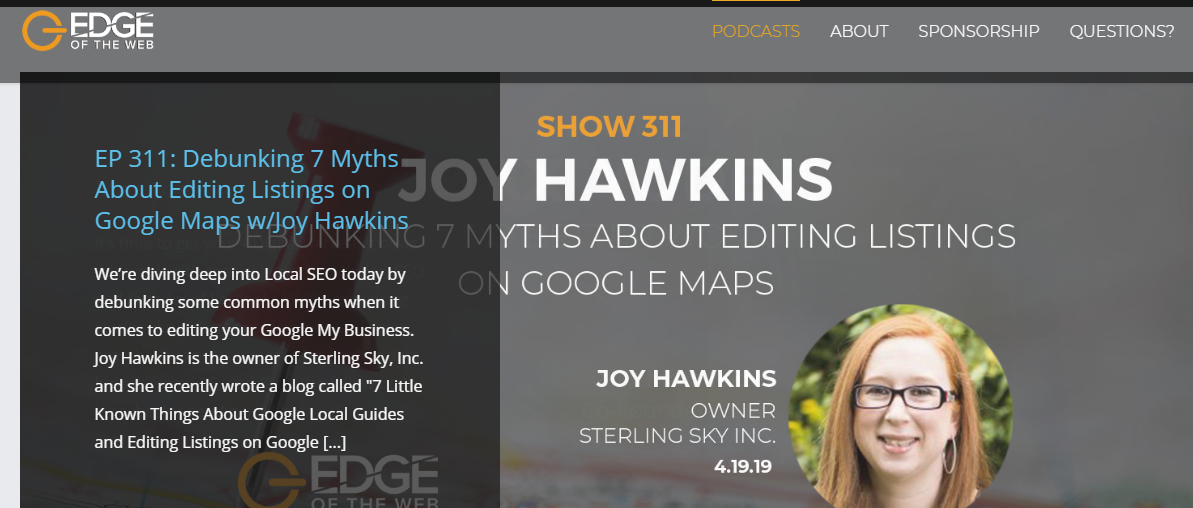 This podcast is available on Stitcher, iTunes, Google Play Music, and Spreaker.
This bi-weekly SEO podcast is hosted by Ross Dunn (StepForth Web Marketing) and John Carcutt (Advance Digital) on WebmasterRadio.fm. This podcast series aims to teach listeners everything that they need to know to improve their SEO. And, the best part is that they keep their content easy-to-understand and straightforward, so it is a excellent SEO podcast for beginners.
The hosts regularly interview industry experts and leaders and also answer audience questions on their podcasts. This podcast series has over 400 episodes and is still active.

It is available on iTunes, Soundcloud, Stitcher, and iHeartRadio.
This is a bi-weekly, interview-style SEO podcast from the popular website, Search Engine Journal. The podcast aims to deliver SEO expertise and insights from SEO experts to their audience and is one of the best SEO podcasts.
The podcast is usually hosted by Brent Csutoras and Loren Baker or other experts from Search Engine Journal including one of our favorite contributors, Ann Smarty. And they invite popular SEO experts and thought leaders to share their expertise on specific SEO-related topics.

The podcast is available on iTunes and Stitcher.
Hosted by Ben Goodey, the How the F*ck SEO podcast focuses on crazy SEO case studies with companies like Hotjar, Monday, and Typeform.
Every episode sits down with the SEO who oversaw their company's strategy. They recall the story, their learnings, mistakes made and best practices for the audience to follow.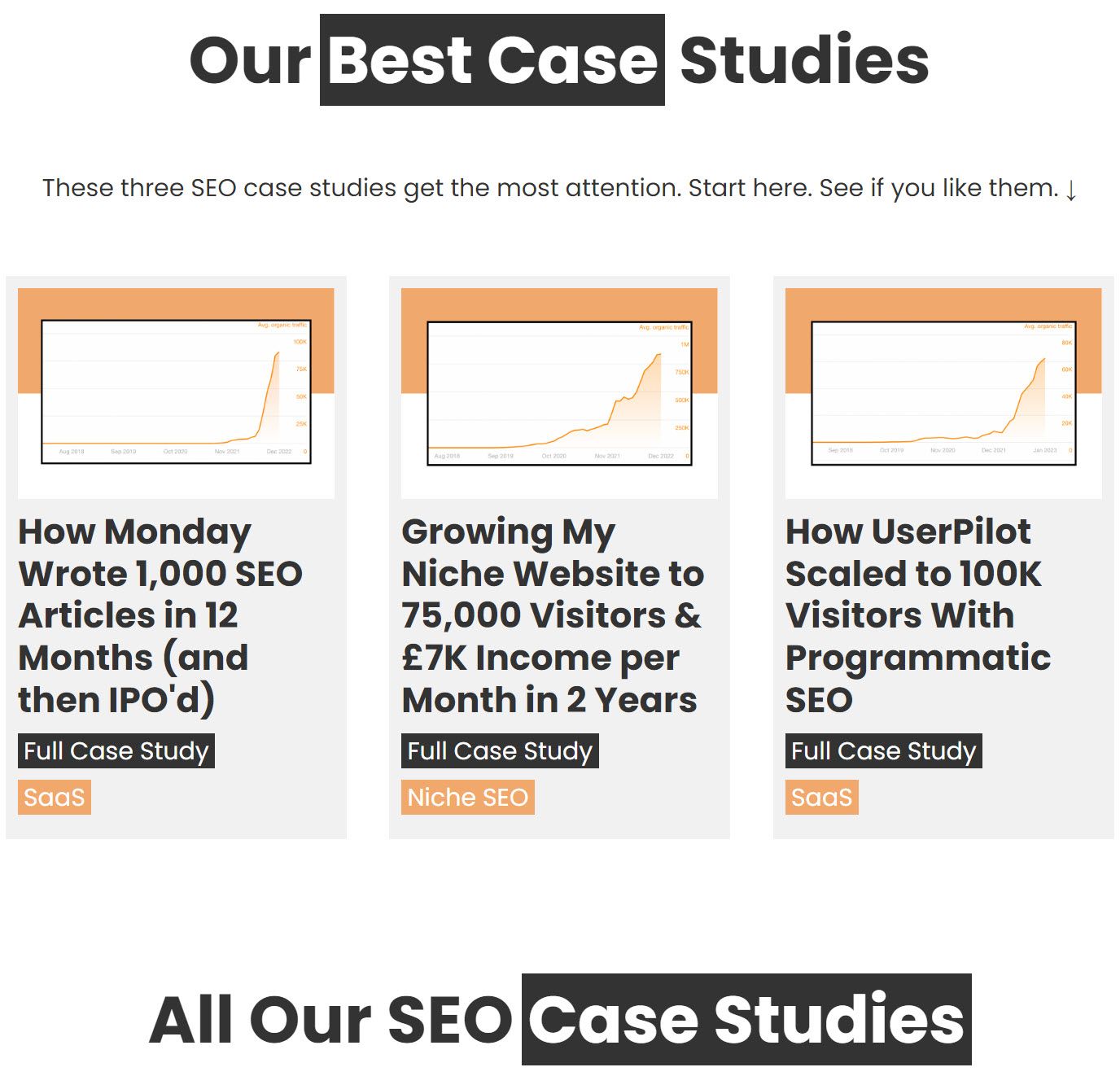 Each episode is then turned into an SEO case study for the listener to read through.
Find the show on Spotify and Apple.
Unlike other SEO podcasts on this list, this one has a much more exciting format as this is more like a round-table discussion while having beers. The name, "Search on Tap," adequately justifies the podcast format.
This podcast is hosted by Ralph Durso, Pat Reinhart, and Stephan Bajaio who bring in industry experts to talk about SEO, content marketing, and much more. While the show format may be casual, it does not mean that it is not informative. The hosts and guests discuss a variety of interesting topics and also provide examples from the field.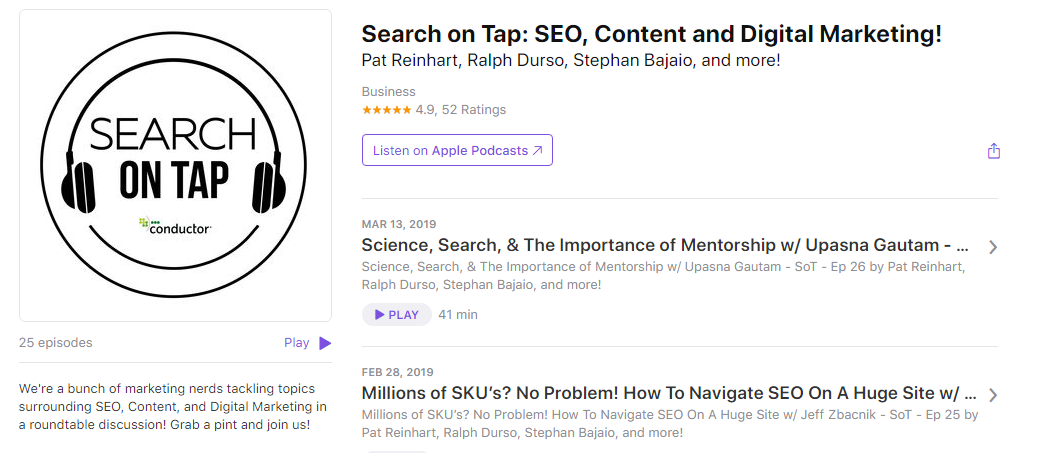 As of our last check, this podcast seems to have hit pause on new episodes. Still, you can browse their library and catch up on the valuable knowledge available in those recordings.
This SEO podcast is hosted by Matt Bertram and Chris Burres who review one of their latest SEO blog posts and add their comments and insights. This is a bit different from the interview-based format that most SEO podcasts follow.
They have some recurring elements in each episode. For example, they provide one actionable tip and answer one audience question in each episode. This makes it interesting for regular listeners who wait for those recurring sections of the podcast.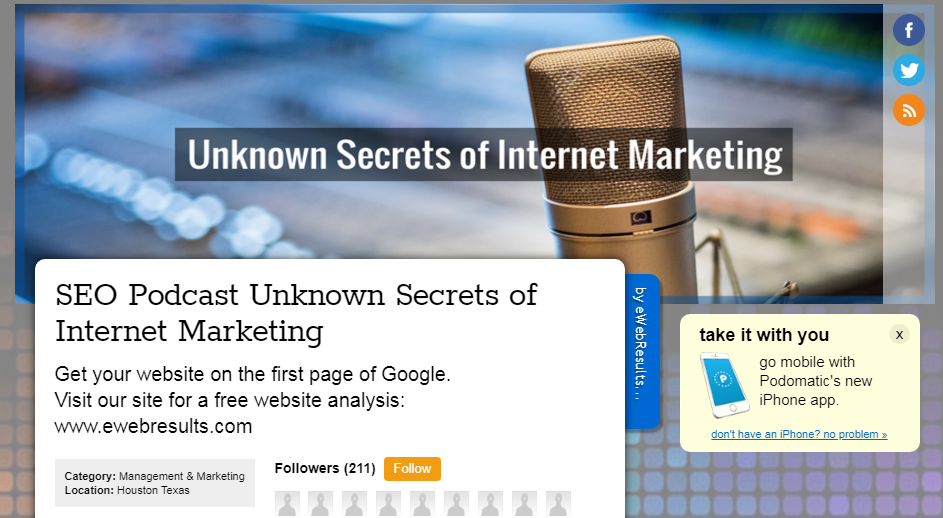 The podcast is available on iTunes and Stitcher.
Hosted by Dan Shure, this is a digital marketing and SEO podcast that is broadcasted every other week. The major focus of this podcast series is SEO, but other digital marketing topics are also covered.
The host invites prominent digital marketing and SEO experts and interviews them on the latest industry topics. Dan tries to keep the podcast interactive by answering questions and running contests to encourage more audience participation. He keeps his style casual and conversational to keep the listeners engaged.

This podcast is available on iTunes and Stitcher. As of the last check, we saw the most recent episodes from November 2022.
This podcast is hosted by Rebecca Gill, who is an SEO consultant and has over 15 years of industry experience.
The episodes are only 15-minutes long and provide bite-sized informational nuggets on an SEO topic. We haven't seen new episodes beyond 2019, but Rebecca's 43 episodes dig into helpful topics that deserve a listen.
She invites some guests on occasion, but it's a rare occurrence, as she mostly covers the topics herself.

This podcast is available on iTunes and Stitcher.
This SEO podcast is hosted by Robert O'Haver and Matt Weber, who are both SEO experts with years of experience. Through this podcast, they share their first-hand experiences and examples on various SEO-related topics.
Their goal is to teach people ethical SEO practices, instead of easy, unethical ways of improving their search rankings. This podcast started in 2001 and has over 100 episodes t0 date.

This podcast is available on iTunes, Spreaker, and Stitcher.
Hosted by Kate Toon, this is a content marketing, social media marketing, and SEO podcast. She started this podcast to promote her online courses and to educate her followers on the best SEO tactics.
Kate provides useful tips and recommendations on a variety of SEO and digital marketing topics. And, she keeps the content simple and easy-to-understand, so that even SEO beginners can learn from her podcast. In some episodes, she also calls other industry experts and interviews them on topics that they're experts in.

This podcast is available on iTunes and Stitcher.
Keira Davidson hosts guests to offer their contributions and experiences with another angle of SEO. We love that this niche SEO podcast focuses specifically on technical SEO and link-building tactics. In that sense, this is different from many of the other podcasts on this list as most cover a broad range of topics.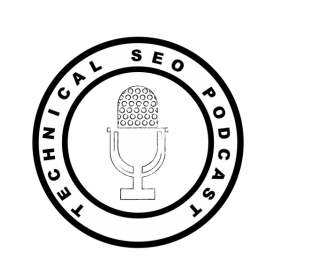 MozPod is the brainchild of the SEO expert, Brian Childs, who wanted to create content that is easy to consume. In today's era of information overload, it is difficult for people to go through numerous blog posts to learn the basics of SEO. So, he started MozPod as an easy way for people to learn SEO on the go.
Brian follows an interview-style for his podcast and invites leading SEO and marketing experts to share some insights on SEO and digital marketing topics. He keeps his questions simple to cater to SEO beginners who are still learning the nuances of SEO.
While the podcast series ended in 2018, it is still an informative SEO podcast series with plenty of timeless advice.

The podcast archive is available on its own site.
I love the unique angle that these professionals offer. The hosts and their guests cover honest experiences about human-to-human interactions in the business. It's not just about implementing SEO but also about how to break into the business, obstacles people have overcome, or working through challenges with clients who don't understand SEO. This outlet is meant to build and support community--sharing stories about experiences in the industry that many SEO pros can relate to but might have never heard discussed before.

Wrapping Up
Listening to SEO podcasts is a great way to learn about SEO tactics from experts and stay updated on the latest SEO trends. And, the best part is that you can listen to these SEO podcasts on the go, without spending too much time and effort.
These are our picks for the best SEO podcasts that you should follow to learn and expand on what you know about SEO. Whether you're a beginner or an experienced SEO professional, you can find something to learn.