Think about the emails and newsletters you get from businesses. Right at the bottom of these emails, we see a common name popping up across many of them: Mailchimp. Many of these businesses grew with Mailchimp from its email-only beginnings, but some are using it for wider purposes. In the past few years, Mailchimp shifted from an email-only platform to a marketing force thanks to some well-executed maneuvers.
It's admirable to see their growth, but it also holds a few lessons you can pull into your own business. Mailchimp's content strategy is just the start of converting free users into paid customers.
By strategically using marketing terms on its web pages, Mailchimp shows up at the top of SERPs alongside marketing-only platforms—the only email platform to do so. Its content, and now its brand, appeals to users who want to run ads, build websites, and upgrade their social media presence, not just to those who want to send emails. Mailchimp has established itself as a strong contender in a competitive (and lucrative) niche.
That important shift means nothing if Mailchimp doesn't capture and convert their new audience. That's what we'll cover here.
In this article, we're going to look at the unique way Mailchimp uses content to attract users and convert them into paying customers. We'll use competitive analysis from SpyFu to understand Mailchimp's organic and paid strategies. Specifically, we'll look at their keyword and Google Ads strategies to see how content attracts and converts users.
Organic performance is off the charts
Mailchimp ranks for more unique keywords than its organic search competitors. The sheer number of keywords Mailchimp ranks for means it attracts a wider audience than competitors like Campaign Monitor or Send Grid. In fact, people are just as likely to encounter Mailchimp content when searching for email terms as they are when searching for marketing terms.
For example, Mailchimp ranks for keywords about podcasts that link to its Mailchimp Presents content, a podcast and a series of videos that follow the journeys of entrepreneurs. As a result, Mailchimp stands out to small businesses, entrepreneurs, and freelancers who want to learn about business management and marketing—not just email marketing.
Organic keywords: Mailchimp pages show up in Google alongside non-email marketing results
The more organic keywords you rank for—that is, words and phrases that draw people to your site from a search engine results page (SERP)—the better. Organic keywords are free, help improve online visibility, and attract quality traffic.
Mailchimp ranks for 627,335 organic keywords. This is considerably higher than email platform competitors like Campaign Monitor and Drip, which rank for 209,000 and 41,700 organic keywords, respectively.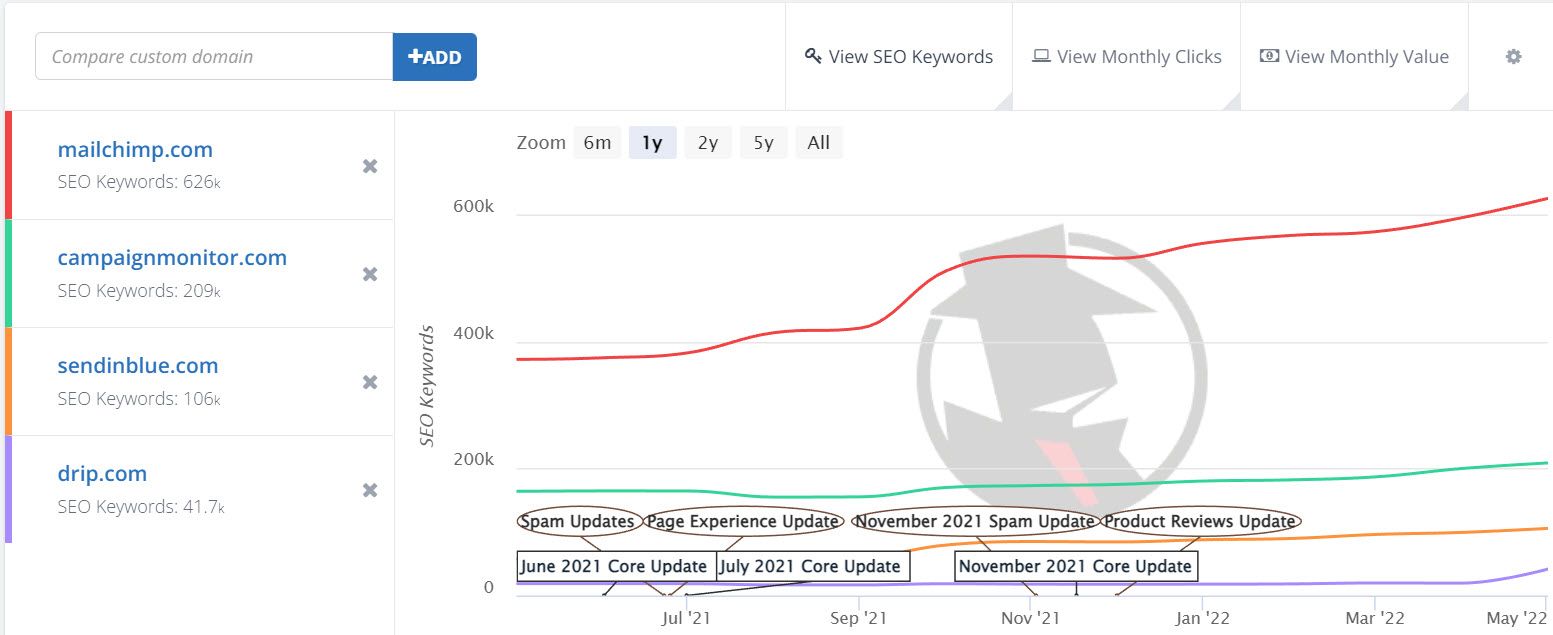 While many of Mailchimp's keywords reference email marketing, some cover other features that their platform offers. These might be their CRM, website builder, survey, and landing page capabilities. That broader reach has Mailchimp ranking alongside marketing-only platforms on the same SERPs.
For example, Mailchimp is the only email platform on page 1 of Google search results for the keyword "page landing." Instapage and Unbounce also appear on page 1. But unlike Mailchimp, they aren't free to use—small businesses that want to build their brand have to pay to learn more about these platforms.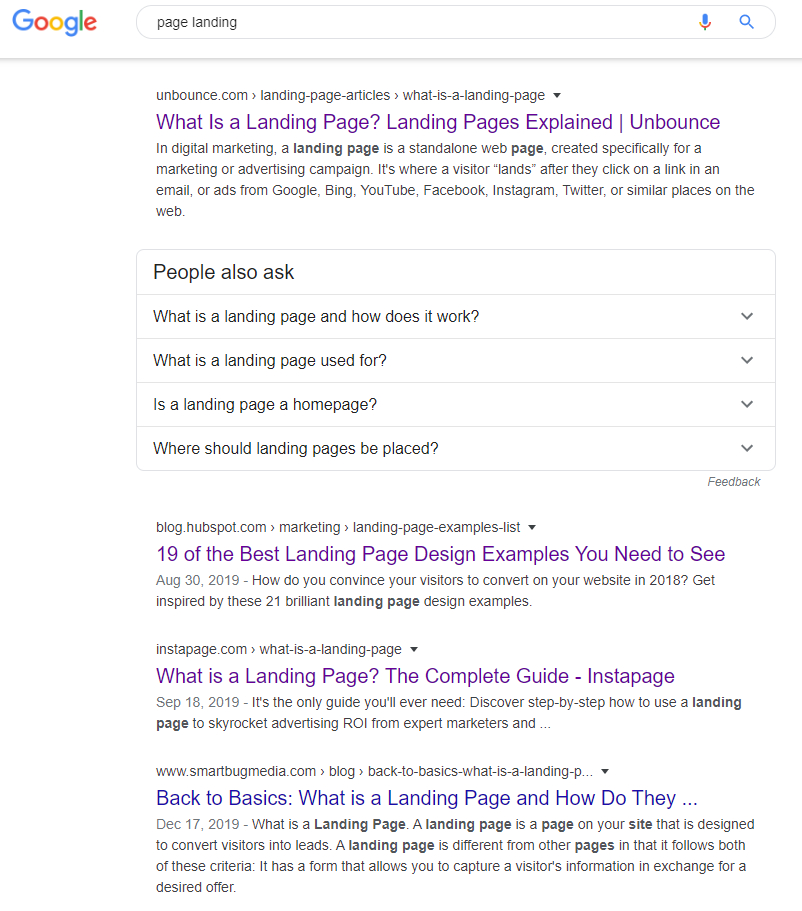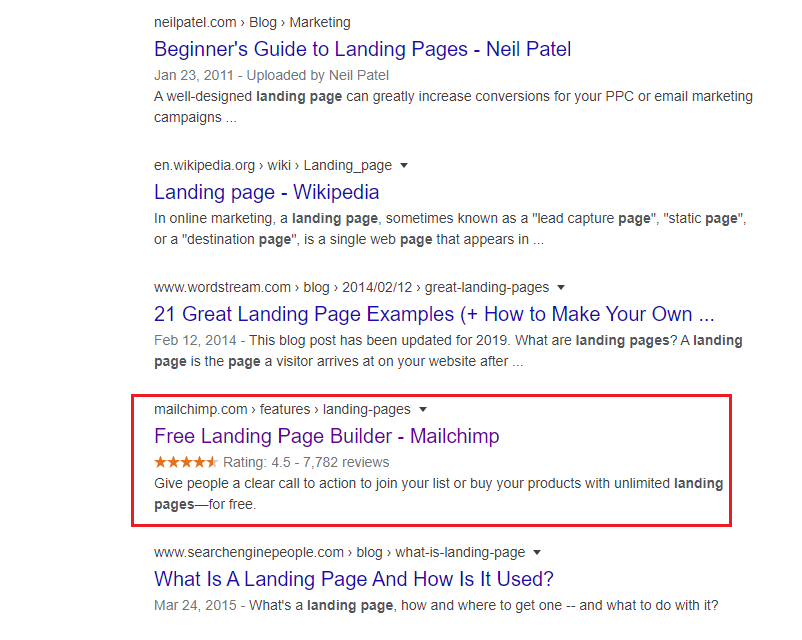 When people click on Mailchimp's link, they're taken to a landing page resource guide with free templates, branding options, and analytics.
Throughout the guide are multiple calls to action (CTAs) encouraging readers to learn more and sign up. Once readers sign up, they can create as many free landing pages as they want. This is the start of the hook. Freemium users can then publish their landing pages as is or, with a premium plan, they can change the URL to a more customized and verified domain.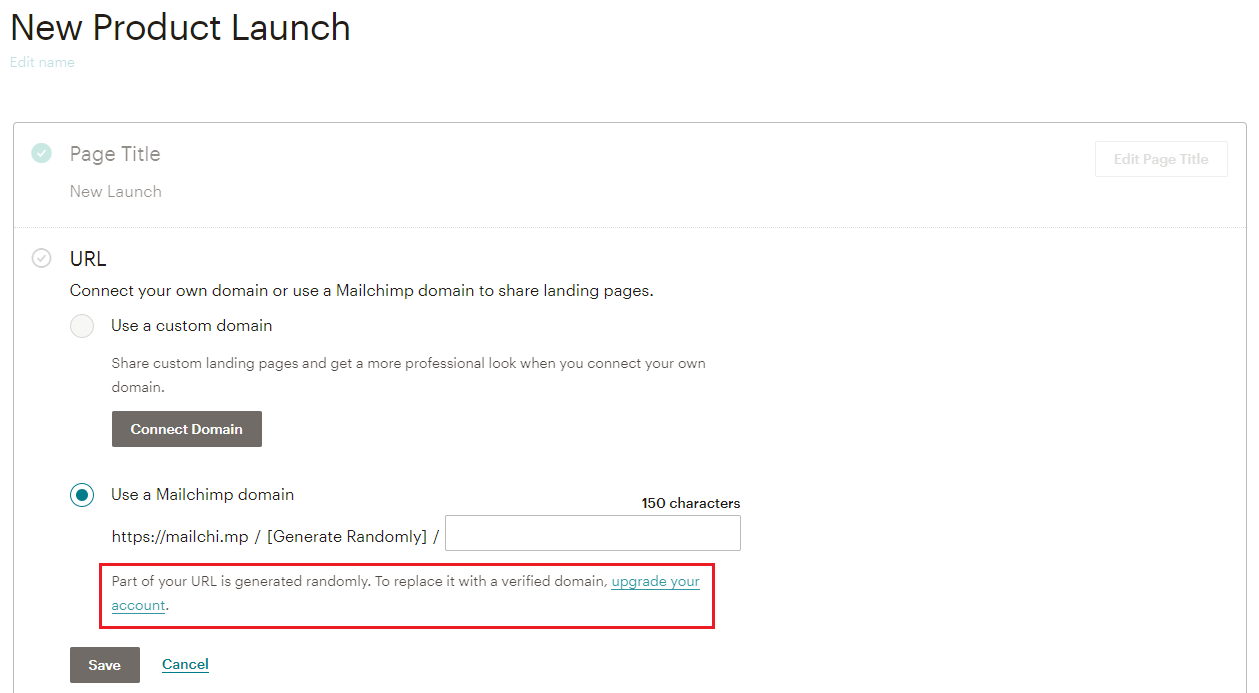 When users click on "upgrade your account," they're prompted to choose a plan and enter payment information. Remember that users who reached this landing page got there from a search, and the result was on the first page of Google. That itself lends credibility to the page. These users are more likely to convert thanks to that level of authority.
The guide ranks high, in part, because of its own URL structure, which includes the target keyword:

When Google ranks pages, it prioritizes sites with short URLs that make the page content clear.
In addition to ranking for thousands of organic keywords found throughout its content, Mailchimp also ranks for keywords that its competitors don't.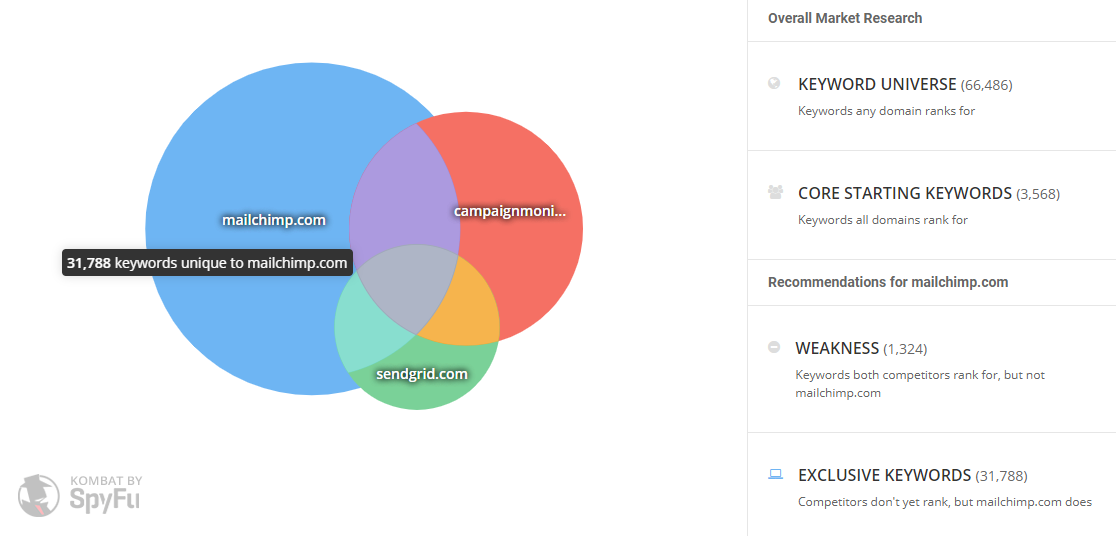 Campaign Monitor and Drip are left to battle for a smaller segment of users—even outside of Mailchimp's shadow, those two competitors share 6,428 keywords.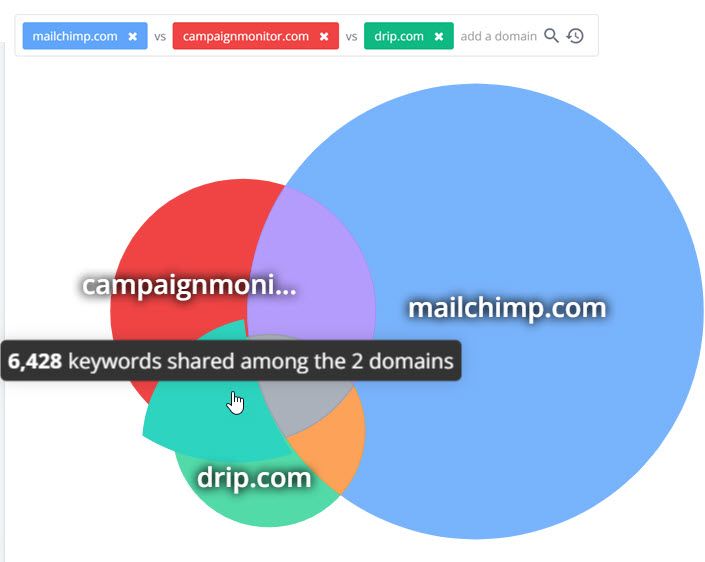 To better understand how Mailchimp uses content to set itself apart from its competition, consider the fact that Mailchimp and Campaign Monitor both rank on the first page of Google for the keyword "re-engagement campaign."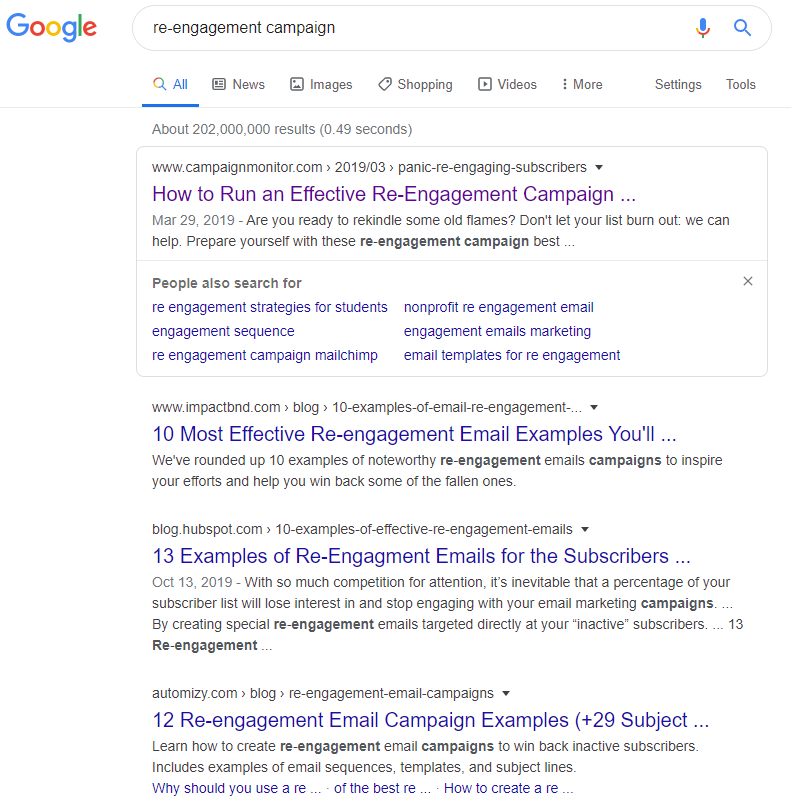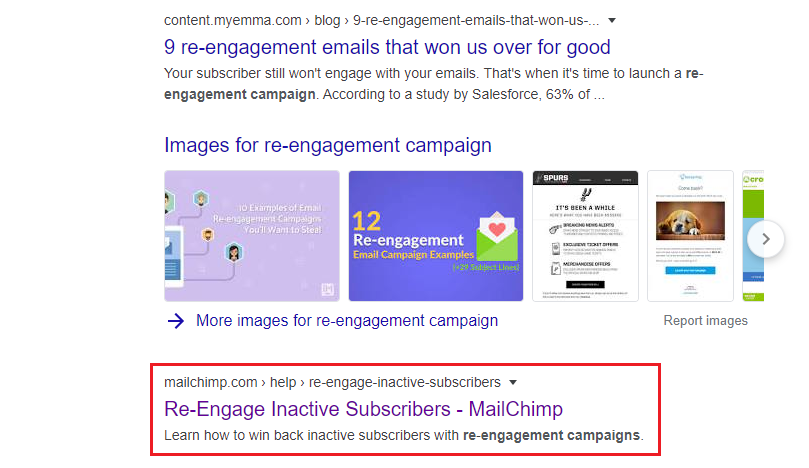 The Campaign Monitor result links to an article titled "How to Run an Effective Re-Engagement Campaign." It's a solid piece that generates lots of traffic. However, it isn't written to convert readers into paying customers, because it doesn't contain any CTAs encouraging readers to sign up for the service.
Mailchimp's guide offers answers to a specific problem; that's why the page is titled "Re-Engage Inactive Subscribers." The content is written for users who are ready to level up and improve their campaigns and analysis. Mailchimp stands out because its content is action-oriented. Their content also offers details about how to identify inactive subscribers, how to decide how to target them, and how to use reports.
Also, the keyword density—the number of times a keyword appears in relation to total word count—on this page is strong (without overpowering the content). The primary keyword "re-engagement campaigns" appears four times, but secondary keywords like "re-engagement tools" and "re-engagement strategy" also appear. Keyword density is another factor Google uses to judge relevance and rank certain pages higher than others.
Freemium Mailchimp users are offered basic analytics like subscriber size, open rate, and click-through rate. But this re-engagement guide introduces readers to more-complex reports—like comparative reports, A/B testing reports, and multivariate reports available only on paid plans.
Paid performance: Low ad spend yields high payoff
Mailchimp uses some of its content budget to promote new content using Google Ads targeting keywords that attract a specific audience and maximize ad return on investment (ROI).
Mailchimp runs paid ads on nearly 42,000 keywords, and it has increased its Google Ads investments from where it was in summer 2021.
What's notable is that when you look back to summer 2020, you can see that Mailchimp tightened its keyword list (which could have cut out non-performing keywords and bad matches) but still cranked up their spend.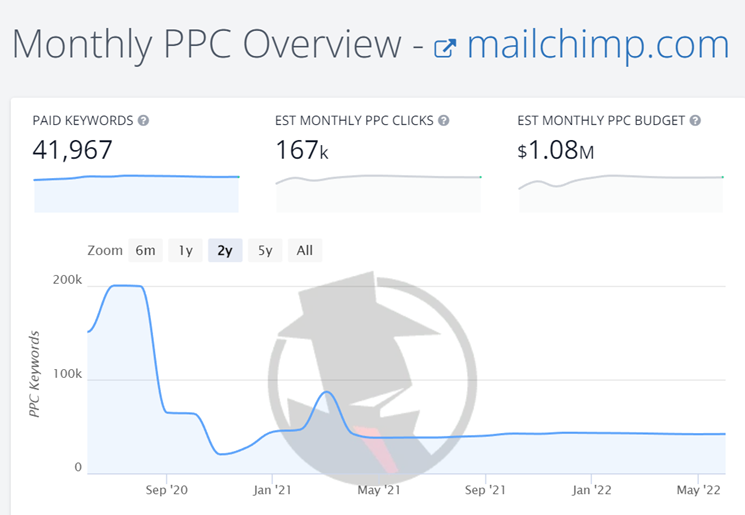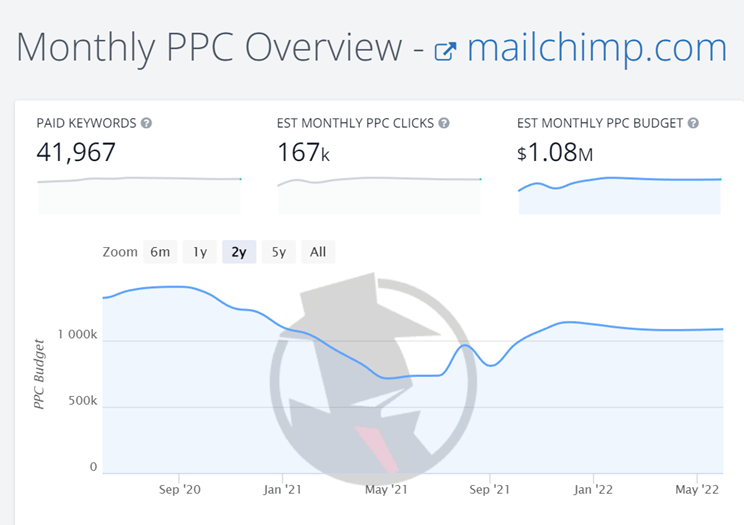 They have a significant budget, with Mailchimp investing in high ad positions on its keywords.
Mailchimp was doubling down on its investments, and we wanted to see what drove a content-focused marketer to swing so heavily in its PPC work. A look at their keyword list told us that Mailchimp was investing in its branded and niche keywords.
The brand has thought of every possible combination of "Mailchimp" + feature or function, and it buys 776 branded keywords. (Their competitor Constant Contact buys 267 of their own branded terms.) Mailchimp ranks for more than 3200 competitive branded terms.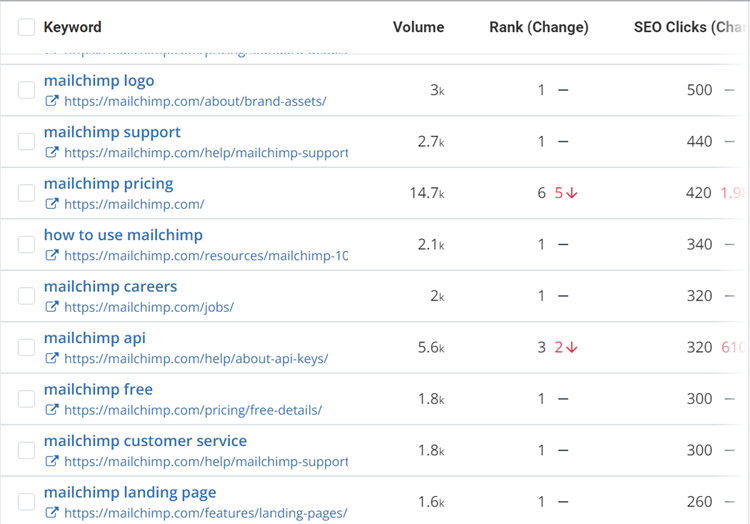 This points to the tactic of creating strong content and using a combination of organic + paid efforts to get people to it.
Another example: Mailchimp appears first on page 1 of SERPs for multiple variations of "what is the landing page of a website" with at least one displaying the top ad and a coveted featured snippet. Sites that actually specialize in landing page templates, like Wix and LeadPages, also appear on page 1.

Mailchimp is first on the list because it has a high quality score—which lowers cost per click (CPC).
Mailchimp relies on a landing page that highlights the Mailchimp's landing page template types and features, like branding and design.
The page also includes multiple CTAs asking new users to sign up, as well as resources about new features to help existing users improve their landing pages.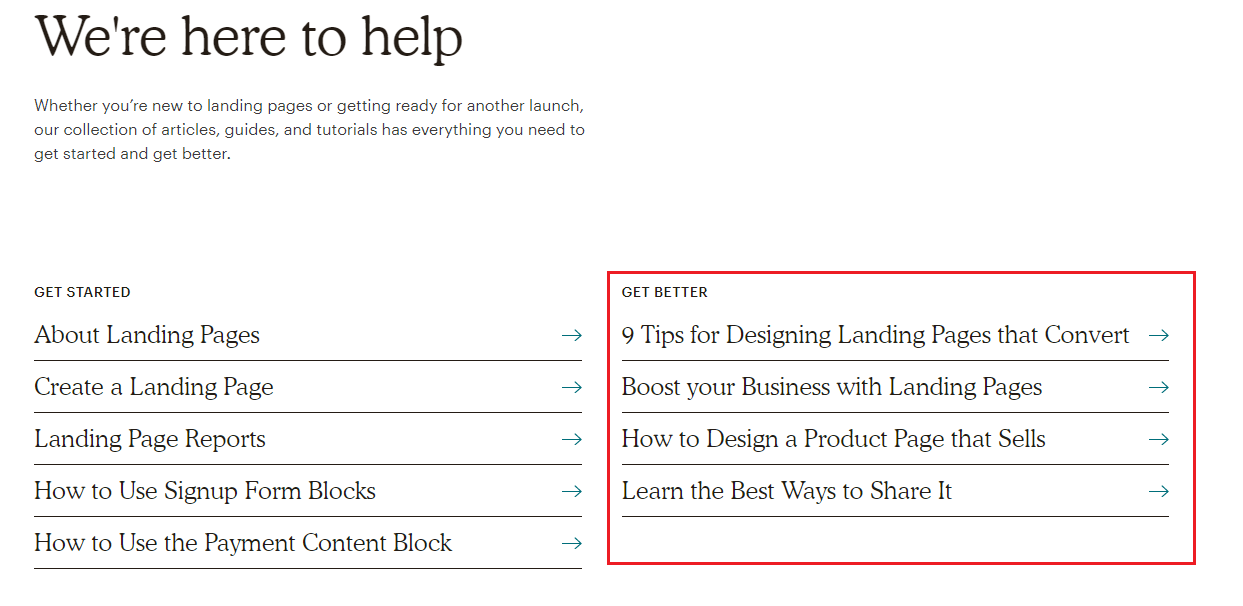 When users scroll to the bottom of the landing page guide (pictured above), they are drawn toward articles that link to detailed resource pages that introduce features on the paid plan. For example, the article titled "Learn the Best Ways to Share It" talks about the Instagram and Facebook ads feature, which is available on only one of the paid plans.
You'll also notice that five of the nine articles above include "landing pages" in their titles. Including target keywords on the landing page also improves the quality score and keeps this guide high on SERPs.
Ad copy: Expensive keywords attract specific users
PPC Managers target the right balance of search volume, competition, and click rates for their paid keyword choices. Done right, they attract a high number of customers who are likely to click the ad and convert once they are on the page.
Mailchimp targets expensive, low- to mid-volume keywords related to its core business: email marketing. More specific keywords like "email marketing autoresponder" and "newsletter creator" allow Mailchimp to focus on the people most likely to use the email marketing product and convert to a paid plan.
The right combination of expensive keywords is key to stretching their budget—a smart approach for Mailchimp.
The keyword "newsletter creator" costs $7.44 per click, has 1,600 searches per month, and a difficulty of 94. Mailchimp is the first ad result on page 1.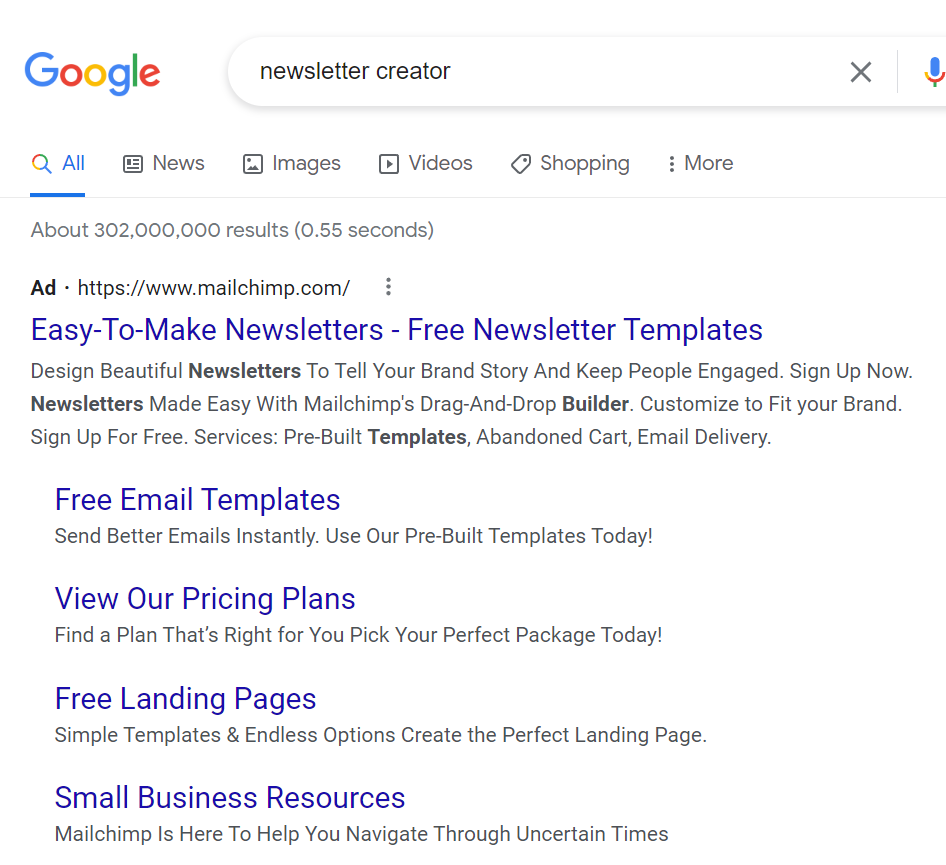 "Newsletter creator" is most relevant to users who've done their research and are ready to sign up for a service, so Mailchimp's landing page is short and to the point—there aren't any distractions, just a link to a sign-up landing page.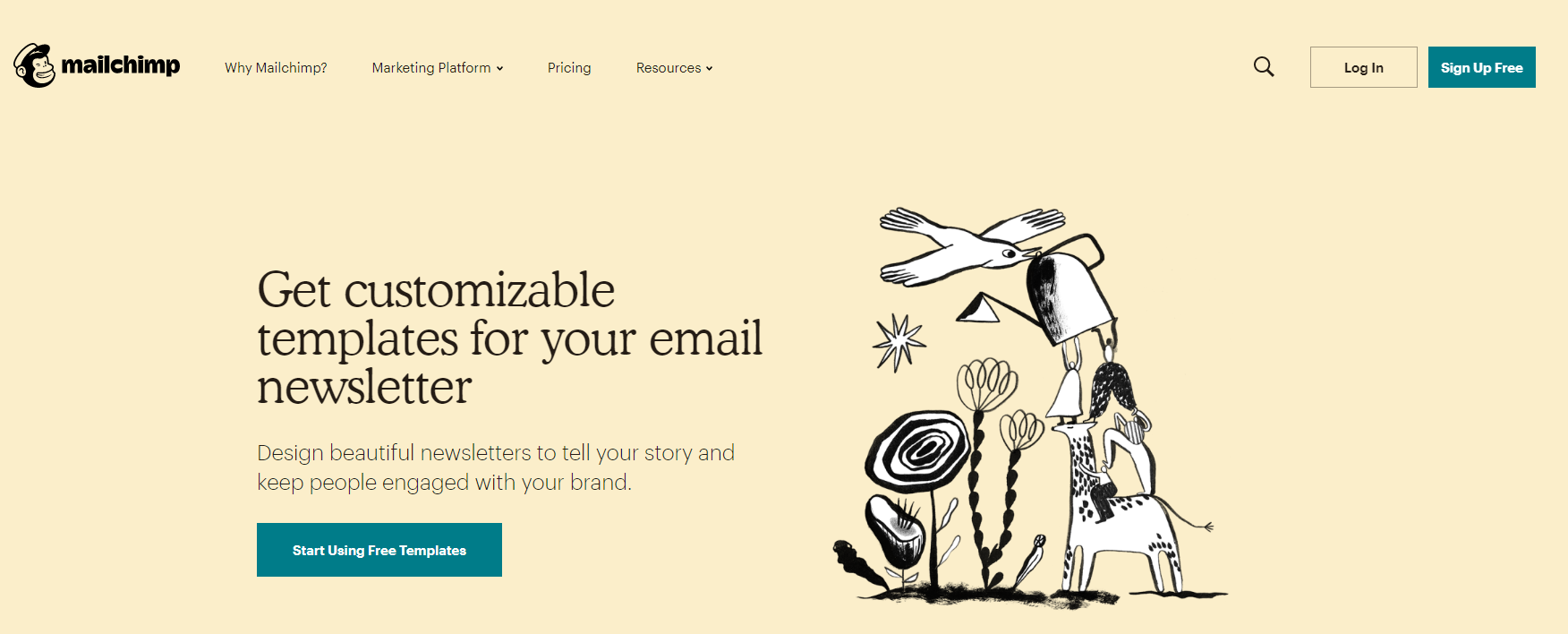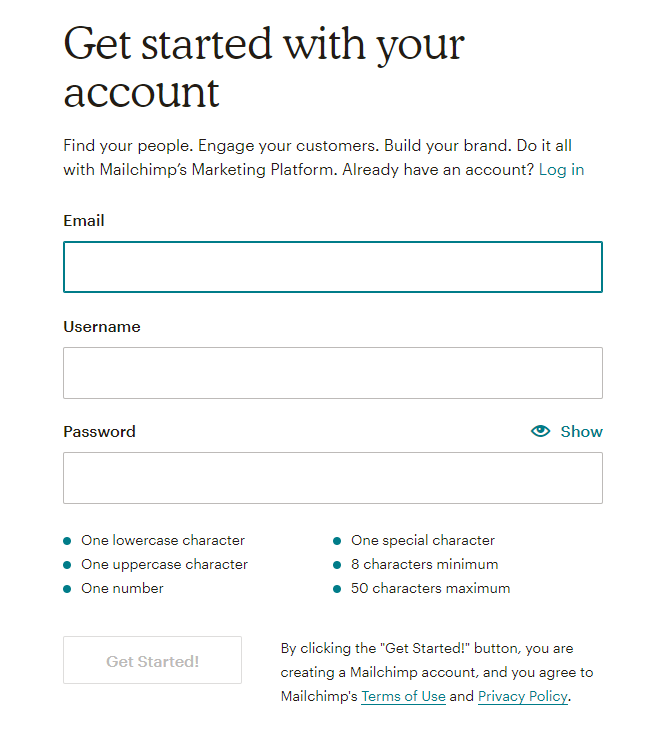 New users sign up and then create and send their email campaign. Not surprisingly, if they want to improve their email open rate, new users must upgrade to a paid plan. That allows them to use features like batch delivery and send emails based on subscriber engagement or time zones.
During almost every interaction in Mailchimp, like creating email campaigns or landing pages, users have the option to unlock more features—for a price. For example, when users schedule their email campaigns, Mailchimp gives them four opportunities to upgrade to a paid plan.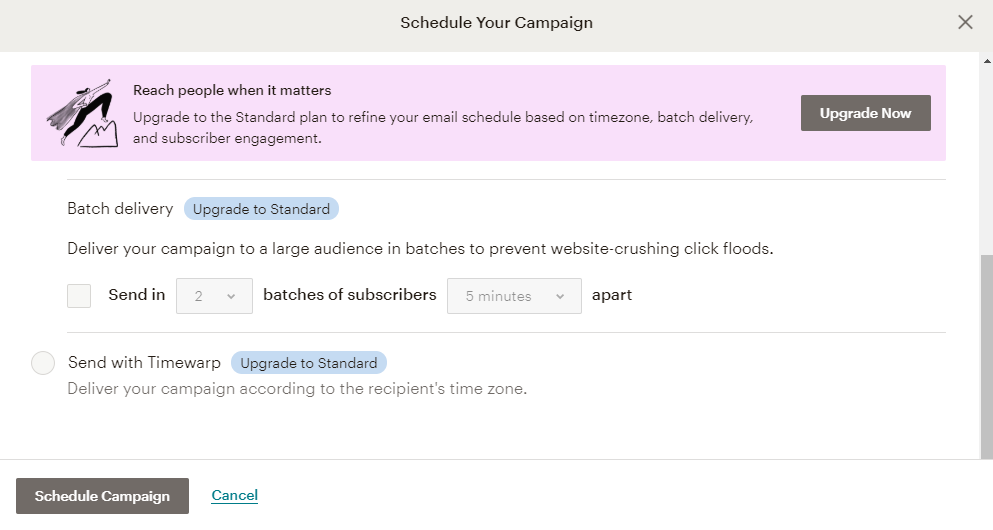 Mailchimp makes the upgrades quick and seamless so that they can return users back to the campaign scheduling page. That removes friction and immediately rewards them for taking action.
Content creation boosts user conversion rates
With the help of organic and paid keywords, Mailchimp has set itself apart from not only email marketing platforms but, in some cases, non-email marketing platforms.
They researched the audience's needs and curiosities, finding knowledge gaps that weren't addressed by other sites. Keep in mind that any successful keyword strategy takes time to show results. Mailchimp's success is built on consistently learning from its users and adjusting its keyword strategy over time.
Be clear on the benefits you offer, the target audience you want to attract, and the action you want them to take. You'll find it's easier to create content that guides users and gets you the results you're after versus creating campaigns without a clear plan.