The average PPC conversion rate across all industries is about 3.75% for search (Google Ads). And it is at about 0.77% for display networks. This conversion rate, of course, varies with each industry. In that report, the conversion rates for the Dating and Personal industry is as high as 9.64% for search. On the other hand, for Advocacy, the average conversion rate is shallow, at just 1.96%.
The PPC conversion rate for all industries is significantly lower on the Google Display Network. With the Dating and Personal industry leading at 3.34% and home goods performing poorly at just 0.43%.
Of course e-commerce conversion rates vary by product type, market, and device, among other factors.
Unbounce collected different conversion rates by industry, showing that what works for Legal is not necessarily the case for Real Estate.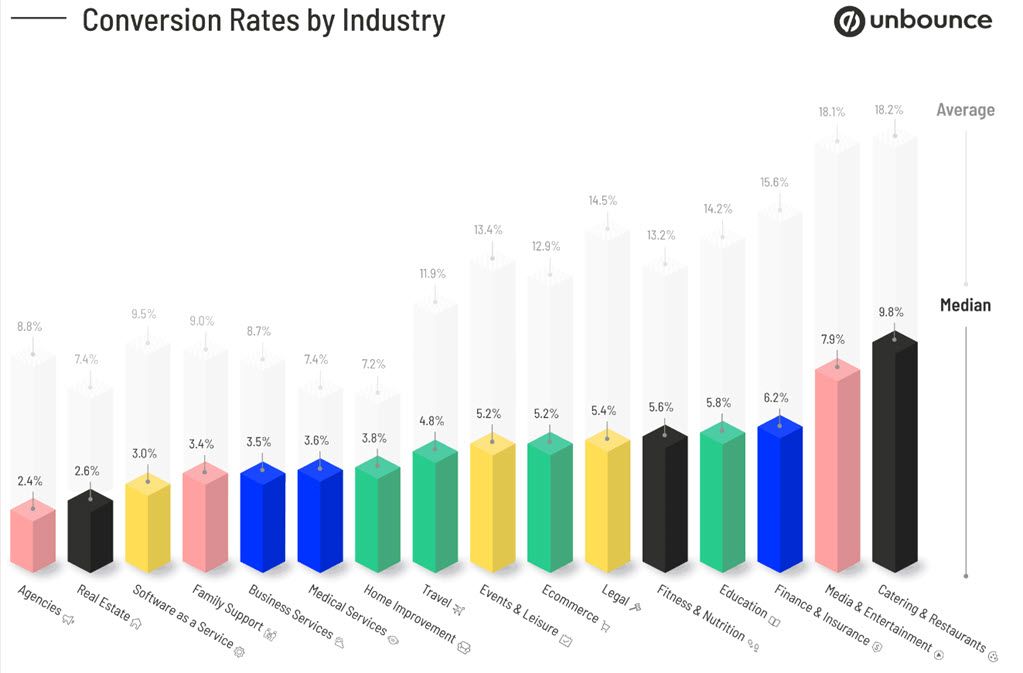 Because the benchmarks for every industry will vary, a good PPC conversion rate between 2.5 and 5% is a good target. Once you establish a conversion rate, though, you will want to continue to make different adjustments to improve it where you can.
If your PPC conversion rates are below your industry's averages, or they don't bring you enough traffic to test campaign strategies, you need to put in some extra effort to improve them. In this post, you'll get a clear idea of the most useful tips to increase your PPC conversion rate, so you know where to start.
What is a PPC Conversion Rate?
Google calculates your conversion rate for you. It measures the number of conversions divided by the total clicks on your ad. If you get 3 sales off 100 clicks, that is a 3% conversion rate.
As you hear about other advertisers' conversion rates or read about how they fluctuate across industries, you are going to be juggling a lot of numbers. Keep in mind that marketers measure conversion rates at various points in the sales funnel. The customer has to make choices along the way, so each one is worthy of measuring and tracking:
They see your ad and then click the ad: that's an ad conversion.
They click your ad and then make a purchase or sign up: that's a PPC conversion (as defined above and measured by Google). Your ad and landing page work together in this scenario.
A general marketing rule is that you improve what you measure. When addressing their ad copy, some marketers will be more interested in an ad conversion rate. That doesn't exclude them from measuring the conversions from their landing page, but that narrow focus helps them track specific performance from the ad itself.
Steps to Increase Your PPC Conversion Rate
Let's take a look at 13 of the most effective ways you can increase your PPC conversion rate.
1. Create Better Landing Pages
Your landing page is the first impression people will have about your business once they click on your PPC ad. It is, therefore, one of the most critical factors that affects your PPC conversion rates. That is why it is crucial to optimize it to get more conversions.
You need to first have a clear goal in mind when designing your landing page. Decide on the action that you want visitors to take. And create a page to help you drive that action. For instance, if you show multiple offers, there may be a chance that visitors will get confused. Make sure you create separate landing pages for each PPC offer.
Additionally, the headlines that you create should be short and impactful. They should be easily visible. Which means that you should keep their font size large without taking up the page entirely. And don't go overboard with the length, as shorter headlines will be easier to process. Your headlines should typically be between 6 to 12 words.
Your landing page should also attract the attention of visitors and should thus have stellar content. You need to create landing page copy that will resonate with the audience. That means you should talk about how your product or offer will benefit them. It should push the visitor to take the action that you want them to take, and it should also maintain your brand voice.
For instance, Lyft does this exceptionally well with crisp and catchy content that uses subheadings too.
Image via Lyft

The call-to-action (CTA) should be large and clear so that the visitors don't need to put in much effort to find it. This will show them exactly what step to take next and smoothly transition to a conversion stage, thus boosting your PPC conversion rate.
Your landing page should load fast as well. This is because every second's delay in page loading speed can reduce your conversion rate by almost 6%. According to Portent, a firm that analyzed conversion data "At anything above 5-second page load time, you're talking about roughly half the conversion rate of a fast website."
Faster page loading speeds can also help with your SEO.
To test your page loading speed, you can use Google PageSpeed Insights. This will give you recommendations on the changes you need to make to improve page speed.
Lastly, if the landing page requires your visitors to fill out a form, ensure that it is easy for them to complete. You must avoid long forms at all costs. They can test the patience of the visitors and may stop them from providing their details.
If you cannot collect all of the information you need without a long form, you can turn it into a multi-page form instead. The goal is to make sure that people don't abandon your page before completing the signup or conversion. So you should display a progress indicator to show people that it's going to take only a few steps to complete the process.
See how the Pull and Bear checkout page displays a progress indicator at the top of the page. You can use a similar tactic on your landing page to increase your PPC conversion rate.

Image via Pull and Bear
2. Know Your Current PPC Conversion Rate
Before you can start improving your PPC conversion rate, you have to measure a baseline first so you know exactly where you stand. This also gives you a better idea of how your current actions are delivering results.
To do this, start tracking all of the conversions that you're getting from your existing PPC campaigns. You can get all of the data from Google Ads if you're using it to run your campaigns. Tracking your conversions will help you find the conversion rate of each campaign.
This, in turn, can help you figure out which campaigns are performing the best and which ones are failing. So you'll understand which keyword groups and tactics you should continue using and which ones you should avoid. It'll also help you come up with your average PPC conversion rate based on your campaigns.
However, if you're running just one campaign, you should compare your current conversion rate with that of the previous month. This will help you come up with an idea of your average PPC conversion rate.
This isn't a set it and forget it method. You need to keep track of your emails and social media as well. There may be some prospects who get in touch with you via email or social media after seeing your PPC ad.
They may not have filled out the form on your landing page but may still purchase from you after communicating via email or social media. If you don't consider them, you won't have an accurate picture of your total PPC conversion rate.
Once you've started tracking your PPC conversion rate, you can move on to making changes to improve it.
3. Analyze and Optimize the Purchase Funnel
People may take different paths to reach the final step of purchasing. Most of them may follow the typical conversion funnel by starting at brand awareness and ending with a purchase.
However, there can be many different ways through which they pass through the sales funnel. If you can figure out those paths, you may be able to optimize them and improve your PPC conversion rate.
Image via Chatbot News Daily

Google Analytics can show you the conversion flow, behavior, and acquisition. By going through this report, you can figure out the path which most of your shoppers are taking.
There may be different pages they are visiting before making a final purchase. Each of these pages should be optimized well so that the path is smooth for your customers.
It is also essential to take mobile devices and desktops into account to see which device is the most effective at generating sales. You can find this information through cross-device reports on Google Ads.
The reports will also show you which channels are influencing their decisions to buy from you. Based on the results, you can accordingly improve the ones that are lagging behind and increase your PPC conversion rate.
4. Create Relevant Ad Copy
If you want to convert people through your PPC ads, your ad copy should match your offer. The landing page should have exactly what the ad mentions.
For instance, Oxylabs has an ad for their private proxy. The ad clearly states that you can start your 7-day free trial right away. When you click on the ad, it directly takes you to a page where you can click on "Get Started" and fill out a form for the trial.

Image via Google

On the other hand, if you were to click on the ad and it took you to a page where you could see multiple proxies, you might be put off. You must ensure that you don't let that happen with your ad.
Don't assume that your customers are clicking on the ad to purchase. If you can get the prospect on the right landing page, there will be a higher chance of them making a purchase. As mentioned before, a well-optimized landing page will help you improve your PPC conversion rate even further.
Further, put some time into crafting compelling calls to action. This is often a button or a link, but the CTA itself is the actual language you use the close the sale. It can make a big difference in your conversion rates. We tend to use simple phrases like "Sign up" and "Buy now" because they are clear and strong. However, you might try testing personalized, emotion-driven CTAs that will resonate with your audience and encourage them to act:
Put an end to boring summers
Start today with $10 off
Get a smile you're proud to show
Eliminate that pain for good
5. Improve Your Ad Quality Score
If you can improve your ad Quality Score, your PPC conversion rate can shoot up significantly. The reasons for this are simple:

Reduction in the Cost Per Click (CPC) which increases your reach.
Shows you how good the overall ad experience is for the visitor.

The three main parameters that affect your Quality Score, according to Google, are:
Based on these factors, you can improve the Quality Score through the following ways:
Improve the experience of the landing page.
Target the right keywords.
Write high-quality ad copy.
Organize the ad groups well.
Target the relevant target audience and focus on the quality of the ad.
Align your ad copy with the landing page.
Keep your Google Ads profile well-organized.

When your Quality Score improves, you will have a better chance of getting more clicks and conversions from your PPC campaign.
6. Invest in Remarketing
Remarketing is one of the best ways to make the most out of your PPC campaigns and improve your PPC conversion rate. It involves showing the ads again to people who engaged with your brand before but didn't make a purchase.
This method can help you get their attention back and may push them to make a purchase. Since they have shown an interest in your brand and/or product in the past, there's a good chance that you can quickly engage them again. Which is why about 89% of marketers spent money on remarketing campaigns in 2018-19.
Image via Hanapin Marketing (now Brainlabs)

You can further improve your remarketing campaigns by segmenting your lists. Google AdWords lets you segment the lists and then remarket to people based on the landing pages they previously visited.
You can send them back to the same landing page they interacted with to push them to make the purchase. This way, you can increase your PPC conversion rate with relatively lower spending since you're targeting people who have already shown an interest in the past.
A variation of remarketing is a cart abandonment strategy. A significant number of visitors abandon their shopping cart without completing a purchase. However, you can recover some of these lost customers. There are 3rd party tools that help you track these customers along with the product that was in their cart. That information lets you present them a highly targeted offer. By offering deals, or even just reminding them to come back, you have a shot at reclaiming a sale that otherwise would have been list.
7. Choose the Right Keyword Match Type
There are three types of keywords you can use in Google Ads. They are:
Phrase match
Exact match
Broad match

Broad match keywords will display your ads to people searching for that particular keyword. For instance, if the keyword is "black boots," your ads will show up to anyone who has searched for it. It shows up regardless of the order of the words too. So it will also show for people who search for "boots black." This can increase your reach and get you more clicks.  
For phrase match keywords, the ads are only displayed to those searching for that phrase or a part of it. For instance, if you have the keyword, "how to find Samsung phone price," your ad will be shown to a smaller group of people. This type of keyword can help you get significant reach and yet target a more specific audience.
Lastly, the exact match keyword is the most specific type of keyword. When you use this keyword, the ad will only be displayed to those who input the exact keyword. Even the structure of the search term has to be the same. This keyword is highly targeted and has thus better chances of a high conversion rate.
However, if your main goal is to expand reach, broad and phrase match keywords might be better options.
8. Filter Out Negative Keywords
Identifying negative keywords and filtering them from your campaign is one of the best strategies to improve your PPC conversion rate. If you're wasting your marketing budget on specific keywords that aren't bringing any conversions, you can mark them as negative keywords. These are the keywords for which you don't want your ads to be shown.
Adding them to the negative keywords list on Google Ads can help you save your budget. It can even reduce your cost per conversion and may help improve your PPC conversion rate too.  
To find negative match keywords, you can go to your search terms report. Then look for the keywords which are underperforming and add them to the negative keywords list.
To do so, go to Google Ads and go to the "Keywords" section. You can then click on "Search Terms" to see the queries which have triggered these keywords. From these search terms, select the one you want to add and in the box that opens up, click on "Add as a negative keyword." You can then select the match type and its level of assignment and click on "Save."

9. Use Enticing Offers
If you want to drive more leads and conversions, you should consider creating special offers. These should be offered to consumers who register or purchase from you. The offer could be anything ranging from a free trial to a discount.
You can use this special offer to your advantage to increase your PPC conversions too. You can incorporate the offer into your PPC ads and use it to lure prospects to buy from you. This may be all the push that they need to buy from you.
However, make sure that you only do so if you do indeed have a special offer. It is best to stay true to your customers and offer them something of real value.
Zoho, for instance, offers a free webinar for app development in their PPC ad. This could be a very compelling offer for their target audience.
And once you know you have a special offer, test whether a popup on your site might be a good fit. Popups are an effective way to grab the attention of your visitors and prompt them to take action. By placing the popup at the right time and offering an incentive, you can increase your conversion rates significantly.
10. Target Your Competitors' Top Keywords
Your competitors' keyword data can give you valuable insights on how to improve your PPC conversion rate. If you manage to find the top keywords for which they're ranking, you'll get an idea of which keywords seem to be successful in your industry. You'll be able to understand which keywords your target audiences are searching for and which ones they are clicking on.
You can use SpyFu's competitor analysis feature for this. The tool will pull up a comprehensive list of all the organic keywords for which your competitors are ranking. It will also show you the number of clicks they're getting for those organic keywords, which gives you an idea of which keywords your target audience is most responsive to.
Target these keywords in your PPC campaign so you'll get better click-throughs and improve your PPC conversion rate. You can also use the paid keywords data to get ideas on how to further optimize your PPC strategy.
Other Conversion Rates
In the same way that PPC ad conversion rates differ with text ads vs display, Google Ads conversion rates are different than those of Amazon advertising or email conversion rates.
For Google Ads, a good conversion rate ranges between 2% and 5%. Amazon's conversion rate is relatively high, with an average of 10%, making it an excellent platform for businesses selling physical products. Finally, when it comes to email campaigns, the average conversion rate is around 20%, while a good conversion rate is considered to be above 25%.
If you have the ability to expand internationally, you will want to pay attention to conversion rates by region or country. For example, ecommerce conversion rates in the UK exceed those in the US, on average. It might allow you to allocate more budget to international marketing than what you might have estimated.
It's important to remember that these figures are not absolute, and several factors can influence the conversion rate, including the quality of the ad copy, the target audience, and the landing page's design. Businesses should focus on creating a compelling and relevant ad content that resonates with their target audience to increase their chances of converting leads into customers.
Final Thoughts
If you're running PPC campaigns, you need to keep track of your conversion rate. This isn't just to make them good. This is to keep them performing well. Measuring and improving your conversion rate should be part of an ongoing optimization cycle. This cycle only works if you commit to testing, measuring, and tweaking your efforts based on those findings.
Remember that your ad conversion rate and your landing page conversion rate both deserve careful attention. They affect each other:
You should optimize your landing page and align the ad copy with your landing page. Additionally, you must focus on increasing your Quality Score so that you can utilize your budget efficiently.
All of these efforts should eventually sync up to work toward getting you the most efficient PPC campaign as possible.