How can I find my competitors' affiliates and reach them myself?
Your competitor's affiliates make money by sending traffic to the selling site and getting a commission from any sales that come from those referrals. To do this, the affiliates link to your competitor's landing page (or product page), and that means that those are technically inbound links to your competitor's site. When we look into those links, it tells us who the affiliates are, and you can find all of that info in just a few clicks.
We're going to use SpyFu's backlinks tool for this job.
How to find Competitors' Affiliates – the Fast Answer
Search a domain in the search box on spyfu.com.
Click the Backlinks tab.
Filter to "Has Affiliates" on Page Type.
Exclude pages that already link to me.
Export.
Yell "Done!" to no one in particular. This last one is optional but feels really good.
I'll explain it in steps, but first a word about affiliates in general.
What are affiliates?

Affiliates promote a business on their own site (with a special link on the page) in hopes of earning a commission for any sales they send through that link. Having Affiliates for your business helps you drive more traffic outside of ads and your own SEO.
If you're running your own program (or considering it), you can build up your Affiliate group by finding (and taking) them straight from your competition. Don't worry, it's totally cool. If you have any reservations about stealing them, read below. (*Kindly points out that you're reading this on the SpyFu blog where we encourage stealing from getting inspired by your competitors. Clears throat.* Ahem.)
See here's the thing about taking them: Affiliates don't have to be exclusive to one brand.
Sure, we might look at them as a small army of people promoting your product, but the cool thing about Affiliates is that they can be two (or 3 or 57) people at once, selling multiple products on their pages.
The more likely situation is that one Affiliate promotes competing products within the same industry. This is totally legit and often means they are probably sharing unbiased reviews and opinions. This is also why asking your competitors' affiliates to promote your site/product for a commission is a fairly easy sale.
How to find Competitors' Affiliates – The detailed answer

You know that Inbound Link tool I mentioned earlier? It's going to find only the links that are Google-indexed. That keeps you safe from connecting with pages that come from link-farms and malicious junk that can backfire. Sites we give you in the results are already organically ranked in the first 5 pages by Google on comparable keywords (to the domain that was searched), so they have domain authority.
1. Start with your competitor's domain
Our search starts with the backlinks that your competitor gets. Type their domain into the search bar from the Backlinks tab on SpyFu.

2. Limit the results to affiliate links

The results that you get from that search will list the pages that link TO airbnb.com.  Even better, these are ranked pages that show up on a Google search, so they're vetted to not be link farms and penalty-stricken pages.
Since you're looking specifically for affiliates, we're going to use the filter on the left to single them out. Check the box "Has Affiliate Links."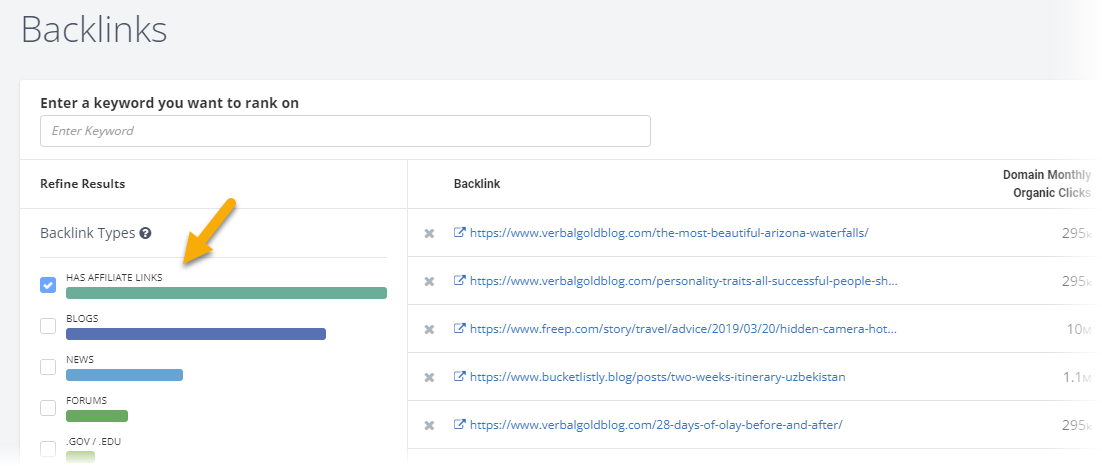 Now we're seeing inbound links that have affiliate links on them. Don't stop here, because the links are not necessarily part of airbnb.com's affiliate program, though they are Affiliate link pages of at least one seller. For example, a travel blog about planning a Nashville getaway weekend might include an affiliate link to a tour group on the same page as a non-affiliate airbnb.com link.
However, this next step can help improve your odds of finding the right Affiliate matches.
3. Filter by a relevant keyword

The keyword filter at the top of the page will cut through the large list of results. Remember the part about your results being SERP-ranked pages? Choose keywords that are topical to your business, and that will limit the pages to ones that are relevant to you.
Don't go right for branded terms, though. Start wide. Choose a keyword or two that are tied to your industry. Here I used industry (vacation) and a specific category or topic (New York). The goal of this step is to cut out the pages that link to your competitor that might not fall into your wheelhouse.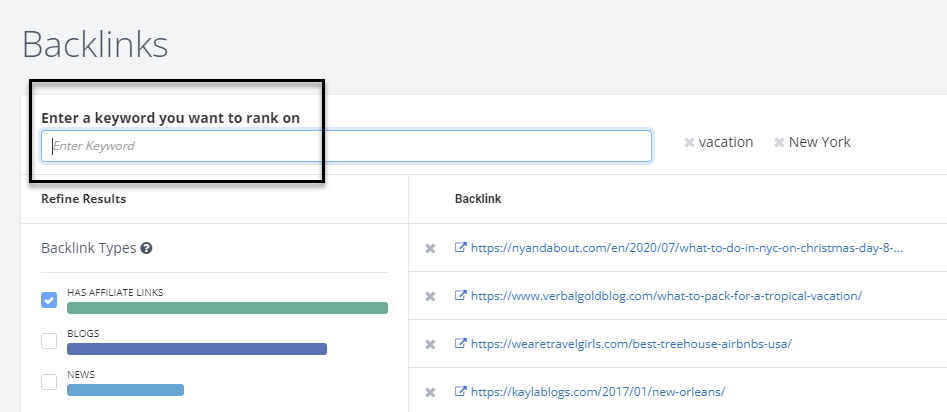 Now instead of a graphic design blog (with an affiliate link to software on its page) linking to airbnb.com only to mock its logo, you can be sure to find pages more relevant to your own business. Translation: they're likely to join your Affiliate program.
4. Cut the duplicates

Many Affiliates promote more than one business, so don't be surprised if some of these pages are already part of your affiliate program. The biggest harm there is that you'd waste time reaching out to them (and probably causing them to lose a little faith in you for not realizing they're one of your promoters. Awkward.) So now you've got to get your affiliates out of this "new" list.
Instead of cross-checking your affiliate list, you can use our shortcut to cut out any sites that already promote you.
For example, if I'm Flipkey (Airbnb.com's competitor), I should enter my domain flipkey.com into the "exclude" box toward the bottom. It takes out any inbound links that I'm already getting directly.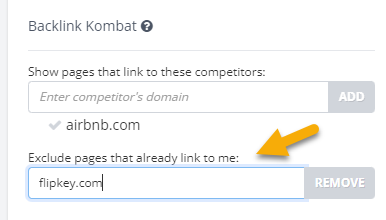 5. Now Grab 'Em
You can export this list (export backlinks button) into a handy CSV file, but if you stay on the interactive page, you can click the "add" button on the far right column. This will load these links into a "project."
The organization that comes with a new project is helpful, but the big payoff is that we can find contact information for these websites once they're in a project. It fast-forwards you through the initial steps to reach out to these potential Affiliates. If you haven't set one up set, learn more in this video about how the project manager makes it much easier to connect with other websites (and their owners).
That gives you the list of vetted, not-linking-to-you, competitor affiliates to target. From here, send them a concise, inviting email about your affiliate program benefits, and highlight your current incentives to join. Don't forget a single, clear call to action like "join us today" or "start making 30% commissions now" so it's obvious what the next step should be.
That's All it Takes to Find Your Competitor's Affiliates
When I tell you "it's easy," that is not a hidden way of saying "just do these 11 hacky steps and then rely on your best guess." Because that's what finding your competitors' affiliates used to take. Our link discovery tool makes it push-a-button, ridiculously easy. (Really.)