Competitive research plays a major role in SEO improvement. If you are searching your competitors, you're ultimately going to compare their keyword rankings to your own. So what if we rolled that into the tool?
That would put the comparisons right there on the page.
That's exactly what we did for the SEO Keywords tool. The new "compare" feature in the filter section adds your site and pulls in all of your rankings on the keywords that we show your competitor ranking for.
Compare Your Organic Rankings
If a competitor outranks you, it should be clear which keywords of yours to prioritize with fresher content or better depth to what you've offered. If these competitors are creeping up on new keywords, you can see which of their pages to guard against. Sometimes this means covering questions that they haven't.
In the article ahead, we cover those tactics in depth. First, let's look at which features to use in the SEO Keywords Tool to get there.
How to Compare Your Site
First, search your competitor's SEO keywords by typing their domain into the SpyFu search bar and navigating to SEO Research>SEO Keywords. Turn to the filters tab on the left of the tool, and look for "Compare to Your Site's Ranks."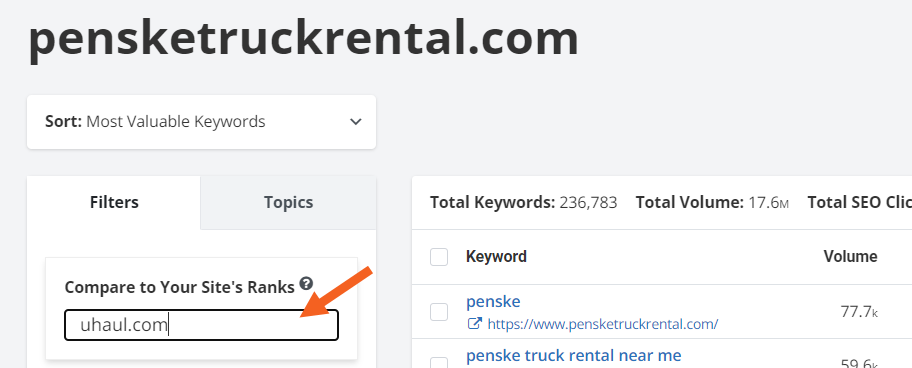 Enter your own domain here. Remember that we're initially looking at your competitor's organic keywords, so the comparisons will include your rankings on the same keywords that they rank for.

In other words, we won't see all of your branded keywords if your competitor doesn't also rank for them.

How This is Different From SpyFu Kombat
The SpyFu Kombat tool compares sites to show which keywords they share. The flip side of that is when Kombat shows keywords your competitor ranks for that you don't. It's especially insightful when you are comparing multiple competitors at one time, because the keywords you are "missing" feel more important when other relevant sites share them.
In this SEO Keywords comparison, you are comparing sites 1-to-1. It's not meant to weed out keywords you're missing but instead to focus on what you can do with the keywords you share. Consider it a guidepost for actions to take so people find get to your page before getting to your competitor.
New Metrics in the Results
Using the "Compare to Your Site's Ranks" feature adds a new column to the result:
Your Rank (Change)
This column keeps track of your site's most recent organic position for this keyword. This uses the domain entered into the "Compare Your Site's Rank" field, and it shows any shift in position from the last time we saw your rankings.

What To Do With the Comparisons
Even when you don't rank as high as they do, that's shot at meaningful improvement. In fact, all of these different situations--them outranking you, you outranking them, etc.--set up different ways to take on your competitor.
You can run both offense and defense against a competitor depending on how your rankings compare.
Let's highlight some of the key segments.
Most Valuable Keywords
The tool offers preset views that categorize the keywords. The largest set is "most valuable" as it will use all of the site's rankings but put the high-volume, high-ranked keywords toward the top. That combination makes these the keywords that earn them the most clicks. (You can also assume that these are highly-relevant keywords, too, when the domain ranks so well.)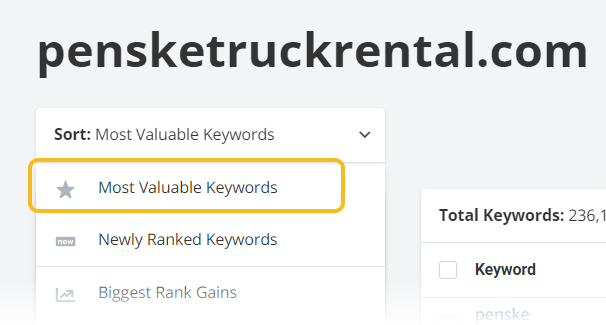 Here is where you find the site's highest priority keywords. These searches bring in the most clicks on topics that the site can deliver on. That solidifies their authority and sets the stage for strong conversions.
That authority snowballs into stronger rankings where they matter.
For example, ClickonHR.com offers virtual human resources services. As they rank on keywords like "recruiting" and "hr online services," it increases their chances of ranking for related terms in the industry.
As their competitor, the same can be said for your site. Many of these keywords help you pull in a relevant, engaged audience when you rank high enough on these searches. That makes the match-ups against your competitor more meaningful.
This comparison also helps you separate their strengths from your strengths. It's a small step in competitive analysis.
What You Should Watch For
Compare your site against their most valuable keywords, and watch for high-producing keywords (the ones that bring in a high amount of clicks) that you don't already rank for (or you trail them significantly). Your goal should be to siphon clicks from your competitor by outranking them here, but only if these are relevant to your business.
What You Should Do
Single out the right keywords to target, and create content in your biggest step toward ranking.
We'll outline how to do that ahead.
To recap, you would have already done these steps:
Search the competitor's domain and pull up SEO Keywords
Enter your domain into the "Compare to Your Site" feature
From there:
Go to the results and click the Rank (Change) column header. This sorts the entire list with their highest ranking keywords at the top. The domain appears first in Google results for these searches.
You should also see the column with your domain's ranks. You can't sort by that column, but you can use the empty field to find the high-click keywords that you don't already rank for. (*See note at the end of this section)
Those steps identify the keywords to target. At this point you might see a big list that can feel overwhelming. We have two tips to figure out where to start.
First, look at the change part of the Rank (Change) column. The figure is a comparison of the competing site's current rank vs the number of spots they moved (up or down) from the last time we searched. If you see their current rank at 1 next to a green 3 with an up arrow, then they are in the top organic spot for that keyword search, and they moved up from spot #4.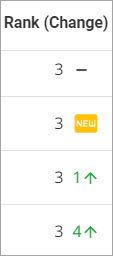 You should use the change metric to figure out the site's momentum. It tells you if they are on their way up, down, or holding steady. As we talk about with deeper organic ranking history, ranking movement can help you gauge how difficult it might be to overtake this competitor and whether or not to emulate their content.
Ranking movement can help you gauge how difficult it might be to overtake this competitor and whether or not to emulate their content.
Our best tip to manage large keyword lists is to attack the keywords in groups or clusters.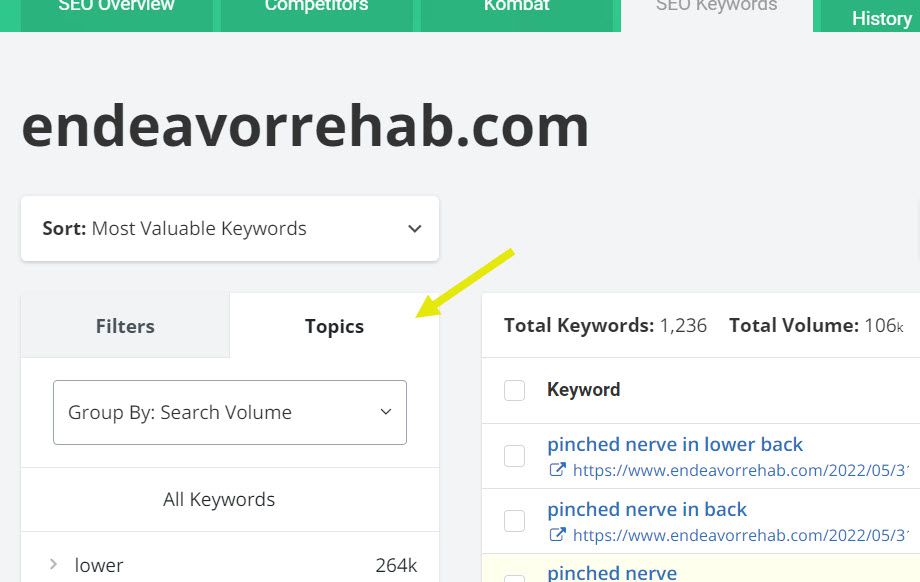 Flip to the Topics View, and it sorts those same keywords in a more manageable way. You can narrow your field down to subtopics until you have enough searches on the topic without it being too broad. Take this Texas-based physical therapy practice, Endeavor Rehab.
They rank for more than 1200 keywords related to "nerve." All of the topics tied to it like pinched nerve, compressed nerve, and even what a damage nerve feels like are strong, relevant topics on their own.
Since the default setting is to group these keywords by search volume, you see that the "pinched nerve" subtopic covers more than 63,000 searches per month across 639 keywords. Click on the subtopic "pinched" to see the related content that endeavorrehab.com's content ranks for.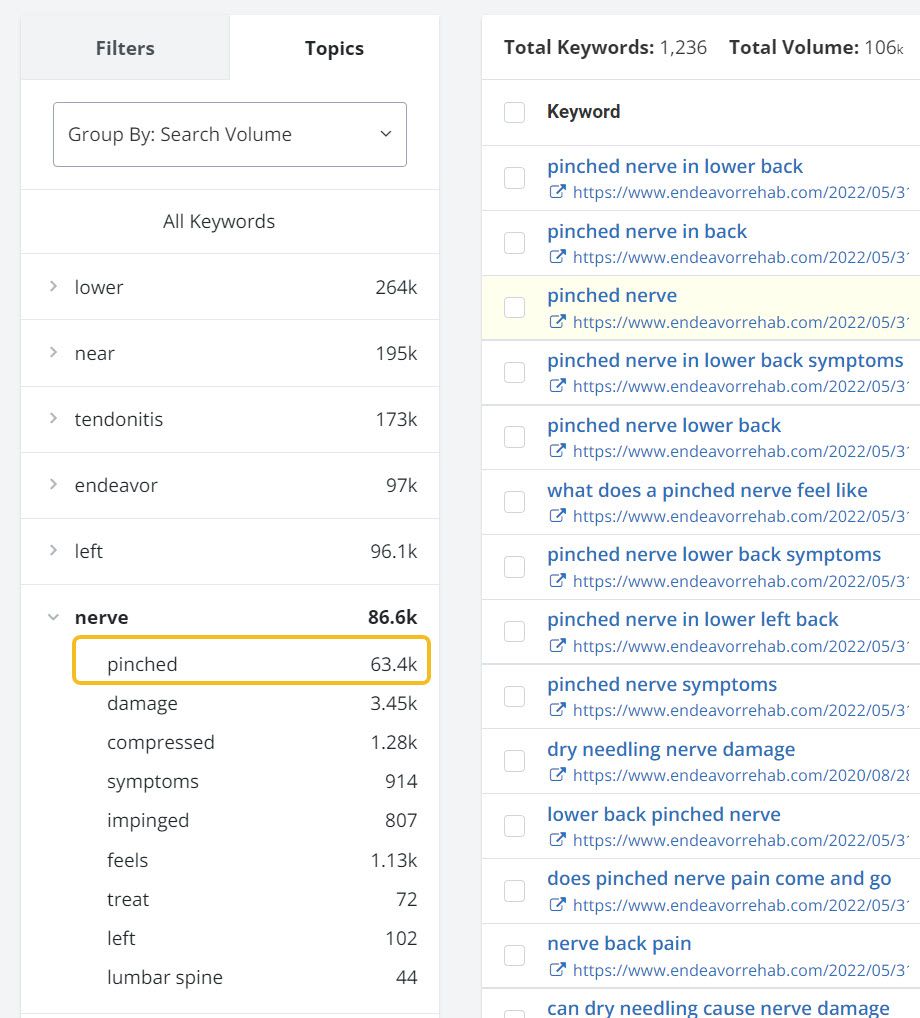 Keywords in this category like "pinched nerve lower back symptoms" (500 searches per month) and "how to treat a pinched nerve in lower back" (660 searches per month) are good long-tail searches to target. However, they are both on the lower end for searches, so look for adjacent keywords that you can cover with the same content. You should be able to devote sections in your article to  "pinched nerve lower back symptoms" and "how to treat a pinched nerve in lower back" to give your readers helpful info on them that can also help you rank for those keywords. Pay special attention to the keywords with nothing in the column for "Your Rank."
Remember that you are trying to build up a competitive presence where you don't already have one. Use those individual keywords (within a subtopic) to create an outline of what your article will cover.
* Note: We gave some tips to build up content where you don't already rank, but  you have other options. Maybe they rank on the top page and you rank 34th. Don't overlook that opportunity. In that case, click the keyword in the list and follow the steps listed below (starting at step 2). Or, if you're returning to it later in your research, try this:
Type the shared keyword into SpyFu's search bar. Your default results will take you to the Keyword Overview.
Scroll to SERP Analysis tab (view Top 100 results) or click the tab.
Find your own site in the list (CTRL+F or Command + F)
See the URL listed. This is the page that ranks for that keyword.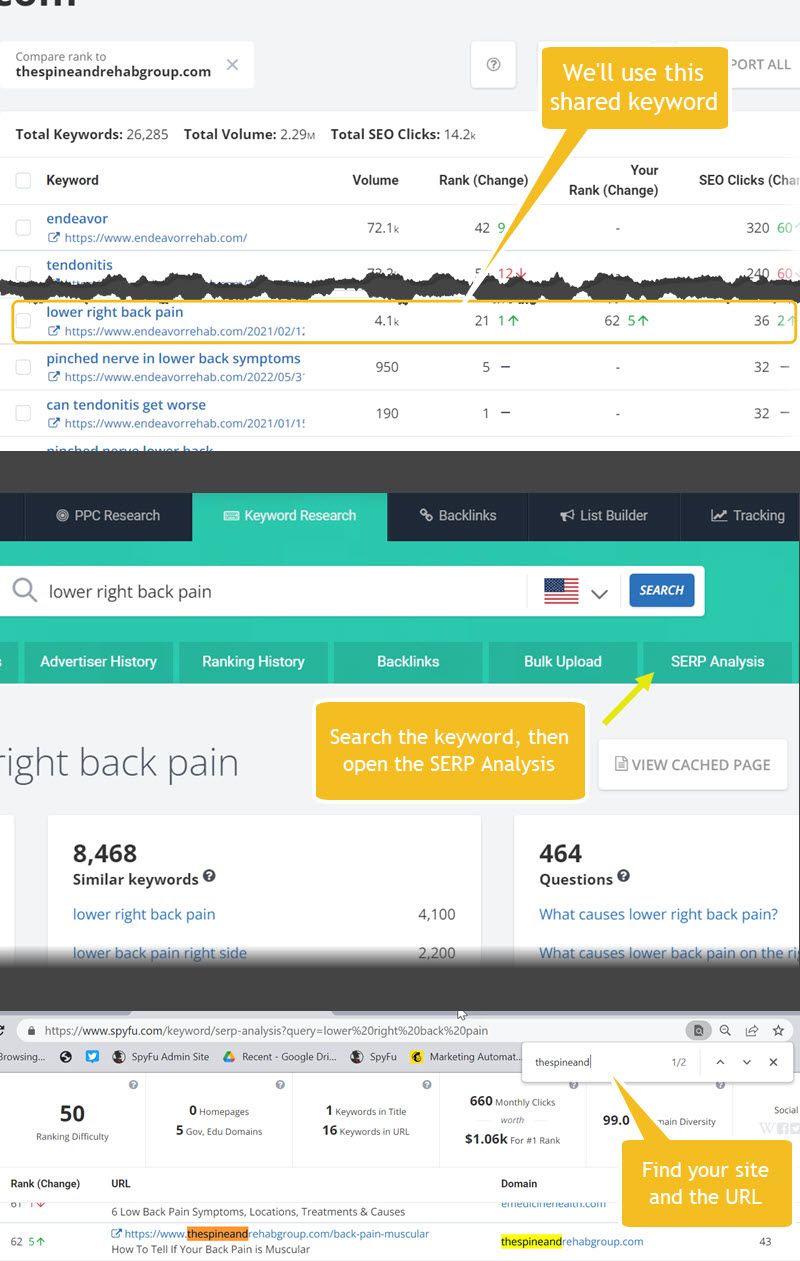 The URL that you find in step 4 is your target. In the example above, we found www.thespineandrehabgroup.com/back-pain-muscular. That URL sounds like it's on the right track to rank for "lower right back pain" and to grow into a more authoritative piece. The managers of this site could add deeper explanations about muscular pain in specific spots and even augment the piece with helpful images or video. That should help it grow higher on this search with just a bit of effort.
As you look at longtail keywords that have you ranked beyond the top 50 spot, you will probably be surprised with what you rank for. This could be your home page that doesn't dedicate a lot of detail to the topic. Or maybe it's an offshoot page that happened to touch on the topic briefly. You could still create something new to surpass your current spot with a meatier, more authoritative piece.
Newly Ranked Keywords
Let's focus on where your competitor's site just started ranking in the past months. It won't matter if your site has been ranking on these for a while; as long as you have it in your organic keyword set, we will show your site's rank alongside the competitor's new ones.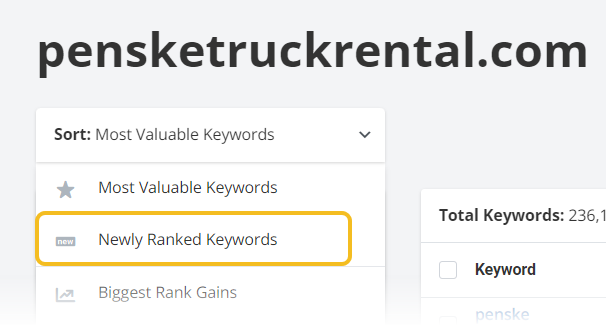 Why These Matter
New rankings usually mean new content. First, that's an indicator. It tells you that your competitor is actively targeting topics where they can gain a foothold.
New rankings are also timely. You can push back against any gains from your competitor, because there's little history here to give them any advantage with established, linked content. In other words, you have just as good a shot as they do at winning in the ranks.
What You Should Do
If you don't already rank for these keywords, try the steps we outlined in the section above. New rankings can be treated much like "most valuable keywords" when it comes to you doing what you can to capture some of those clicks.
To review, the tip is to create content based on topics: write one article per topic listed.
For a variation, try sorting by SEO Clicks instead of by Rank. It's not an entirely different outcome, but it's helpful to train your mind to consider different angles of what keyword rankings can bring.
Search the competitor domain and pull up SEO Keywords
Enter your site into the "Compare To Your Site" feature
Go to the results and click the SEO Clicks column header. This sorts the entire list by the number of clicks that the domain should get from their position on the SERP. (You might need to click one more time to sort the higher clicks on top.)
You should also see the column with your domain's ranks. Use the empty field to find the high-click keywords that you don't already rank for.
Considering that these keywords are new--which likely makes the content new--you're in a good spot to go after links before your competitors grab them. Look for pages that help other sites rank for this very keyword by searching for the term's backlinks. This is a twist. You're not chasing your competitor's links, per se. You're jumping ahead of them to focus on Google-indexed pages that give link juice to the pages that rank for that keyword. Reach out those Google-indexed pages for a link.

If you do rank for their new keywords, that changes things. As an existing site that's ranking on the SERP, you're the one they are going after (whether that was intentional or not).
Don't be too reactive. In this situation you hold a power position, but you need to be on alert for their growth. That won't even be a big time investment. We suggest you set up a watch list to keep tabs on their growth for you.
Set Up a Keyword Watch List
Even if you are tracking your own keywords already, you can set up tracking on these specific keywords you're watching--with updates on your ranks as well as separate updates for theirs.
This video shows you how to do that in SpyFu. Set it up once and add keywords as you find new ones to stay on top of.
Additionally, make sure that your content is fresh and part of your well-constructed internal linking pattern. We have some tips for these things in the next section.
Keywords Where They Just Surpassed You
Once you start comparing your ranks to your competitor's ranks, you will notice battles you've had on the same terms where both of you optimize and adjust. This segment includes the rankings where they might have fallen behind you, but now they just started outranking you.
If that's the case, there is room to fight back. You probably have a good foundation with your active content to edge them out quickly, too.
There are defensive actions open to you where you do rank:

Rule out any drop in rankings.
You could be looking at a situation where your competitor did nothing new to raise their standing, but for some reason your rankings dropped. Check our Ranking History tool for your own site--we'll show you how--and look for that topic (a group of related keywords) that you uncovered in your competitor research. If your rankings have plateaued, follow our tips below to try to bring new life to your content. If your position fell, it's time to diagnose that drop in your standings.
Here's our best guide to spotting where your rankings started to drop so you can reverse it. Fortunately, any dips are probably recent, and recency is on your side. You should be able to recall (or retrace your steps) what you did on your site that might have triggered a drop in rankings.

Raise your standing with new links
Link building is still as crucial as ever. We like a blend of traditional and outside-the-box methods to build your backlink profile. Try these suggestions for link building methods to test for your site.
And sometimes the hardest part for people is the actual asking. Brush up on these tips to write better pitch emails to help with your outreach.

Shore up your internal linking from relevant content
A strong internal link pattern on your site shows quality and authority on a particular topic. That helps you rank higher, build backlinks, and tap into the snowballing value of your content surrounding those related keywords.
Freshen your content.
Content will lose its freshness over time, and it starts to drop organic traffic. This content decay happens gradually, but sometimes updates can revive it. Find ways to bring in newer perspectives or fresh examples in your content. Read more here about how regular updates can give your pages for a shot at a ranking boost.
A note about "New" Rankings
It's possible that your competitor has been trying to rank for some time with older/existing content. It's possible, but if we tag this as a new ranking in the SEO Keywords tool, it likely came from new content. We keep an eye out for rankings up to the 100th position. If they put out content that ranked beyond the 10th page, it would take a major overhaul to get it to jump up. As a rule of thumb, consider it new.
Keywords Where They Outrank You
Unlike the first two segments (Most Valuable Keywords and Newly Ranked Keywords) these last two segments only show keywords if you compared a site, and if both domains rank for them.

This final segment leads us to more of a tactical session. You have narrowed down the words where you are the underdog, but unlike with the "Just Surpassed" group, you have likely been trailing your competitor for a while on many of these. In this case, let's pull from lessons we learned in the previous sections.
Approach the keywords as topics.
That allows you to take a broad view to ask: do these keywords matter? This is an important question, and it's a bit of a relief, too. Your competitor won't share every topic with you. If these are somewhat related to your business, it makes sense to devise a plan to create content for these topics. However, there's no need to invest time into topics that you won't be able to deliver on. Remember, your content is there to earn you clicks and to build your authority. Tangential topics won't serve you well in the long run.
Most of that process will come from your judgment. However, if you are on the fence, try using the SEO Kombat tool to help you gut check the topics. You can compare multiple competitors at once, and Kombat will look for the Core Keywords that they all share.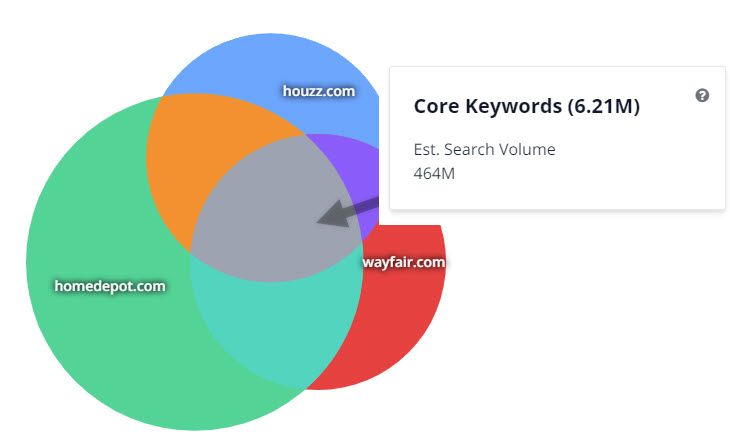 Click that group to select those keywords, and then scroll down to switch to the Topics view just like you do with SEO Keywords. That way you can skim the entire set faster. If other competitors are also ranking for the topics you've been questioning, then you have more confidence about their relevance.

Consider Movement and Direction
When we talk about movement, it's similar to newness with what's happening on the SERP. The previous segment focuses on the rank changes that just happened--the competitor just surpassed you on a keyword where you previously outranked them. That's movement. It's more active, and that means the rank changes are more of a response to what recently happened with their page or with yours. Movement is a valuable element in determining what happened. Recent movement usually means recent change.
Direction is the other part of that. It's important to note if you trail them on the SERP because they moved up, or because your site moved down. That direction could tell you how forcefully to respond to the change AND what to change.
For example, we had a piece on Google Search Operators that sat at #1 on the SERP for months, and it slowly started to drop clicks as well as its position. That was a combination of our page losing freshness and other sites mimicking our page. When we saw our page falling faster than other sites rose, it was clear that something in our content was causing the drop. That calls for more drastic changes to the article.
If your competitor has outranked you on a relevant keyword that you have not been able to get traction on, you might consider the most drastic change. Wipe out what you have and start over. The best reason to update the page (instead of replacing it with something else) is to protect any links you have gathered.

Learn From Them
Finally, look at what they might be doing right. For example, if they moved up, look at their content to see what they have that you don't. Is it a multi-media addition like an explainer video? Don't forget about tips from featured snippets--even if they don't come from this specific competitor. Those show you what Google considers helpful blurbs of information, so it's a good idea to pull those into your page updates.

Wrap Up

Your SEO work should include ongoing keyword research. Comparing your site's ranks alongside your competitor's performance gives you a new layer to that research. It's time to look at your competitor's growth as a chance to inspire your own content updates. With that perspective, your strategy will be focused on the right actions and priorities.