Improving your SEO helps you get more traffic, acquire more customers, and grow your business faster.
But, you can't improve your SEO passively. You need to put in real effort to improve your website fundamentals, create content, and build backlinks to your key pages.
In this guide, we'll show you why you should be running SEO outreach campaigns, and the key steps involved in running a successful one.
Let's jump in.
What is SEO Outreach?
SEO outreach is the process of identifying link building opportunities and reaching out to decision-makers or content managers at the company who can help you move your SEO initiative forwards. More specifically, you're persuading the right people to link to your content.
At some point in your company's growth, you'll need to run SEO outreach campaigns. Even if your on-site SEO is optimized, you'll still need to build links, secure co-promotion, and contact other website owners to help you continue your growth trajectory.
There are lots of good reasons to use SEO outreach. Let's take a look at some of them:
Why Run an SEO Outreach Campaign?
Outreach is a key part of link building, but it's not the only payoff. Here is what you can accomplish through stronger outreach.
1. Secure Guest Post Opportunities and Build More Links
Guest posts are a powerful way to build links, with 86% of content marketers using them as part of their SEO strategy.
You'll reach out to a website owner and ask if you can contribute content to their blog. In your blog post, most website owners will let you include one or two links back to pages on your company website--as long as you stay on topic.
Be prepared to offer examples of your work to get your foot in the door. Offer 3-4 relevant ideas when you pitch a collaboration. These should be on topic for your contact's audience and also strongly within your wheelhouse.
2. Get Links Back to Your Content to Boost Your Rankings
Building backlinks to your existing content is a powerful factor in ranking higher in the SERPs and getting your content in front of more potential customers.
A popular link building strategy you can follow to achieve this is called the "Skyscraper technique", coined by Brian Dean back in 2015. Even though it's been around for years, it still works.
The premise is simple: if you have an incredible resource on a topic (like a supporting video or infographic), you can reach out to website owners, SEOs, and content managers and ask them to link to your resource. If your content provides value to their audience, they will likely give you the link.
It's vital to know that you can't run this strategy without having exceptional content that's worth linking to.
So, how do you know when you have content worth linking to?
First, look at the competing content ranking for your target keyword. Spend time identifying quality gaps in the content you're competing against, and then, make sure your content answers it more comprehensively.
In reality, that could mean:
Your content has more detail and extra relevant data points compared to competing resources
You share a unique story or personal experience in your content that makes it more interesting than the competition
You've repurposed your content into a video or podcast embed it into the page to make it more engaging
If you know that you've created an incredible piece of content, you can leverage this technique to build links.
When you reach out to website owners and ask if they'd consider linking to you, they'll review your content and will instantly see that it can add value to their audience. In return, they'll be happy to link to it.
It's a powerful strategy and an excellent way to improve your rankings.
3. Grow Your Network for Future Collaboration Opportunities
Your SEO outreach doesn't just need to be about requesting links.
You can run networking campaigns using cold email to connect with other SEOs in your industry and make a friendly introduction.
Over time, you'll build your network and meet people who might be future coworkers or be able to collaborate with your company on troubleshooting issues, referring new hires, or even working on link building campaigns.
There's no limit to the potential of your SEO outreach, but it's essential to follow a proven process – which is what we'll look at next.
Step-By-Step Process to Run High-Performing SEO Outreach Campaigns
1. Decide on Your Campaign Goals
Defining your strategy and goals is an essential first step in any successful SEO outreach campaign.
You'll need to define:
What marketing KPIs do you need to hit
What the ideal outcome looks like
What key pages you want to build links to
How many links you want to build
What type of websites you want links from
Once you know these things, you can plan your outreach more effectively.
2. Build a List of Target Prospects
A critical step in your SEO outreach is choosing the right people to contact.
If the people you reach out to can see that you're pitching a highly relevant opportunity, they'll be glad to respond.
To find relevant link prospects, use an SEO tool like SpyFu to identify backlink opportunities. Traditionalists like to leverage their competitors' backlinks, but there's another method that lets you start with a topical keyword.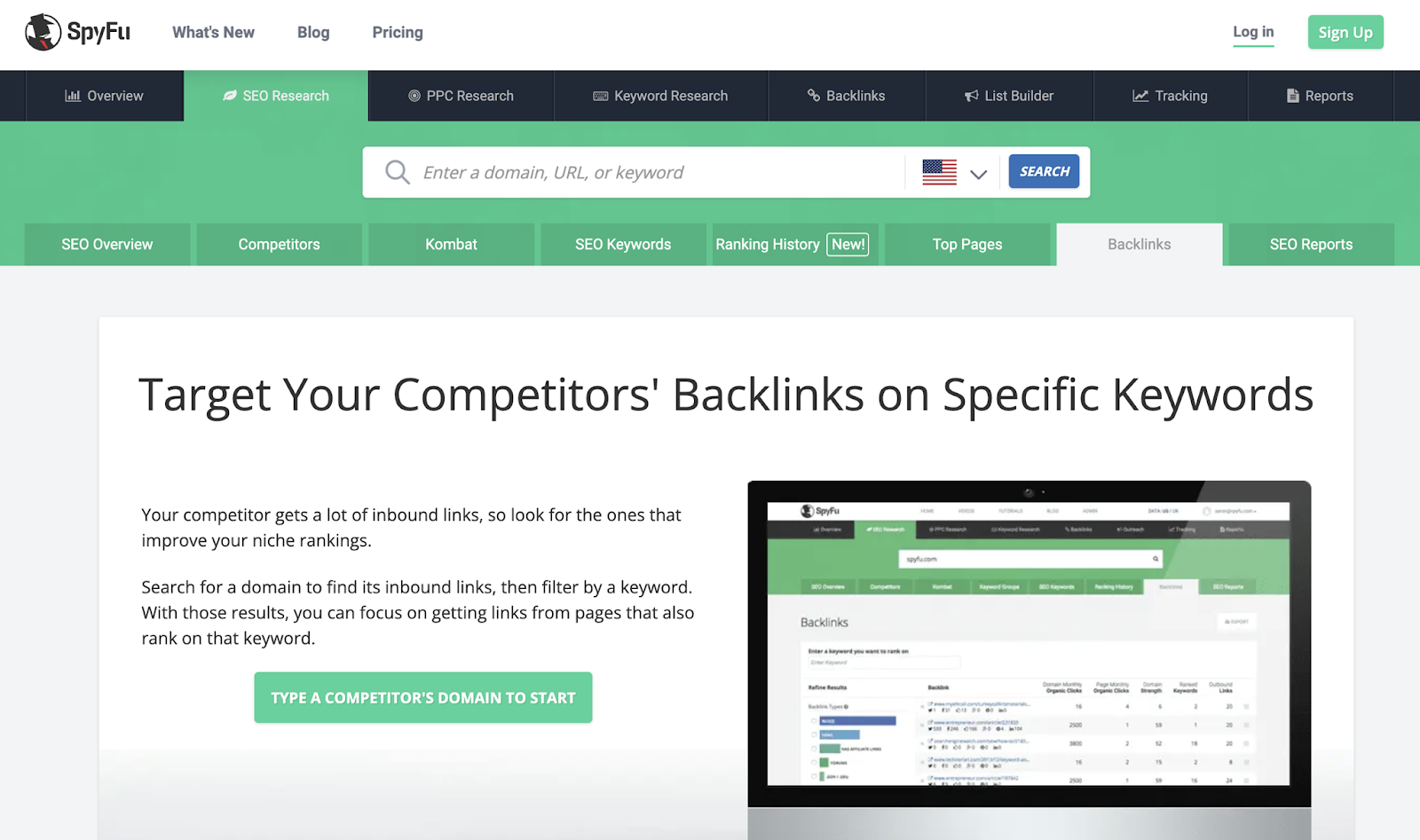 A simple way to start is to add your competitor domains into SpyFu. It will then surface all of their backlinks. You can filter those down based on keywords to find the most relevant links.
Next, you'll need to find the right person at each company to reach out to. Sticking with the SpyFu tools, you can find contact information for the people who manage the website you're targeting.
One other way to do this is to use LinkedIn to prospect for anyone with a job title relevant to your request. In most cases, this will be someone with a job title matching: "CEO", "Head of Marketing", "SEO Specialist" or "Content Marketer".
It's also worth noting that not everyone you reach out to will reply, even if you have the right person and your email is personalized. Because of this, make your prospect list bigger than you think you'll need to.
3. Source Accurate Email Addresses
You won't get replies if you're reaching out to a generic email address like marketing@company.com.
It's essential to find personal email addresses for each person you contact at a business.
The easiest way to do this is using email-finding tools, such as UpLead, ZoomInfo, or FindThatLead. They all offer similar features, so the most important thing is to pick one and get started.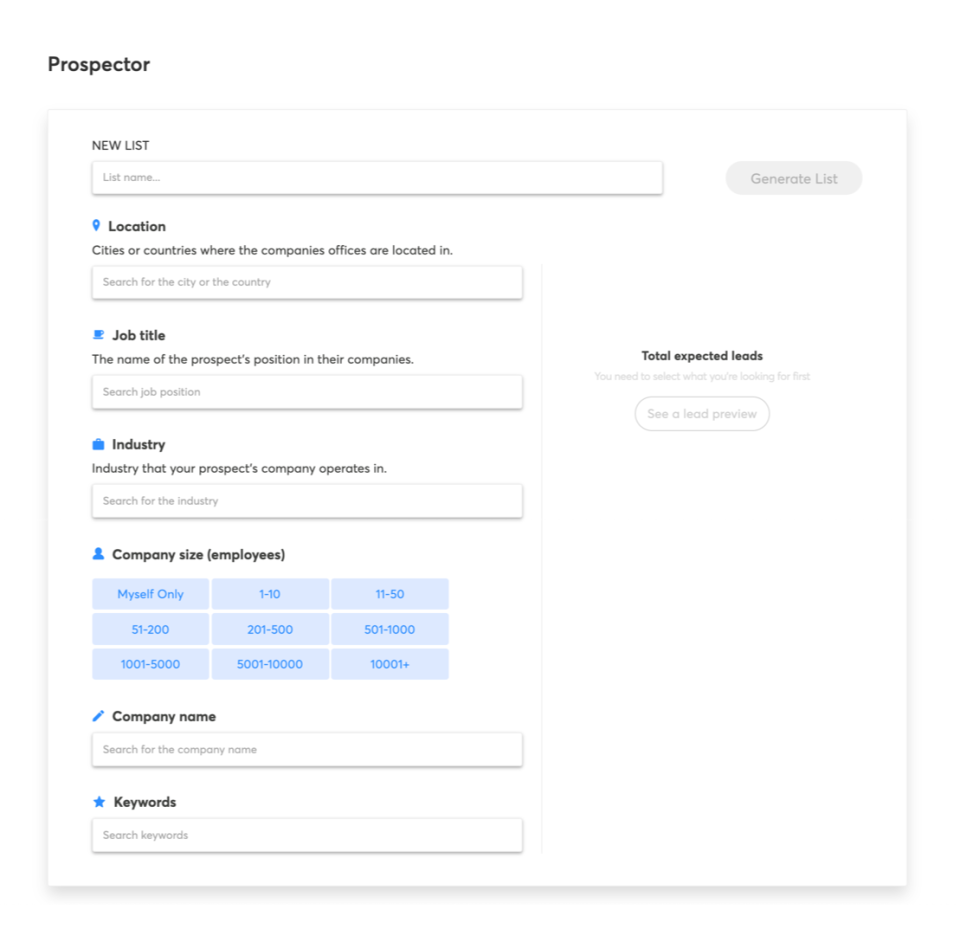 These tools scrape the internet for email addresses and categorize them based on company names and job titles.
You can then run a simple search such as "Head of SEO" at "Salesforce", and the tools will show you the most relevant person, with a matching email address.
You can then download the email address and add it to your spreadsheet.
It's important to note that B2B email databases suffer from database decay, at a rate of around 20% per year due to people changing jobs and companies.
To avoid sending emails to non-existent addresses, use an email verification tool like NeverBounce, ZeroBounce, or Bouncer, to verify each email address.
These will run checks on email addresses and identify if they can receive emails.
This extra step will reduce your email bounce rate, improve email deliverability, and ensure you're always reaching out to the right person.
Now that you have a list of prospects and email addresses ready, it's time to write your SEO outreach templates.
4. Write SEO Outreach Templates That Get Replies
When you reach out to your link prospects, you need to prove that it's worth their time to reply.
The best outreach templates tend to incorporate four key ingredients:
A personalized opening line to show you're only reaching out to that individual
A brief explainer on why you're reaching out
Social proof that shows you're a real, trustworthy person
A call-to-action that's easy to respond to
Let's break these down.
First, your opening line. This acts as an icebreaker – as soon as your recipient sees your email, they'll know you're specifically reaching out to them, and not anyone else. When writing these, look for a unique event or news story about your prospect, then reference that.
For example, did they recently publish a new podcast? Have they shared interesting company news you could mention? Whatever your opening line is, it needs to be unique to every recipient. It will improve your open rates and response rates, as well as building goodwill with your recipient from the moment they open your outreach email.
Second, your prospect needs to know why you're reaching out. You need to make your purpose clear, but still keep it simple enough that it doesn't cause confusion. If you over-complicate this, it's more likely to lead to objections that will be hard to overcome. Once your recipient replies, you can elaborate further and share the details.
Next, social proof. This is important because when you send cold SEO outreach, your recipient may not know who you are. Consider adding social proof in the form of a sentence like: "I recently worked on a similar SEO campaign with [notable company] and we saw [results].
Your recipient will see that you're credible and be more likely to reply.
Finally, your call-to-action (CTA).
This needs to make it easy for your recipient to reply. It can be as simple as "Does this sound interesting?". The key is that your recipient can reply almost immediately and they don't need to overthink it.
Once they reply, you can set up a meeting or share more details about the campaign you're running.
If you include these four ingredients in your SEO outreach template, you'll see consistently high reply rates and can land as many new links or opportunities as you need to hit your goals.
5. Use Software to Send Your Emails and Follow-Up
Once your outreach templates are ready, it's time to send them.
This process can be automated using sales cadence tools, like QuickMail.
The benefits of using software for sending your emails are:
You can send more than one email at once
Send automatic reminder emails if someone doesn't reply to your first email
You can add personalization to every email using attributes
To get started, you'll need to create a new campaign and write your email templates.
You can use attributes to personalize your emails based on information about each recipient, which will improve your response rates.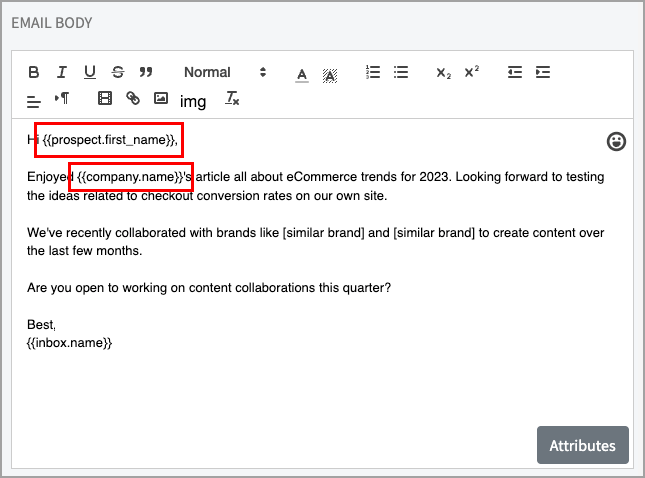 Once you have your first template in place, you can then add a delay, and a new follow-up email.
If someone doesn't respond by the time your next email is ready to send, it will go out automatically.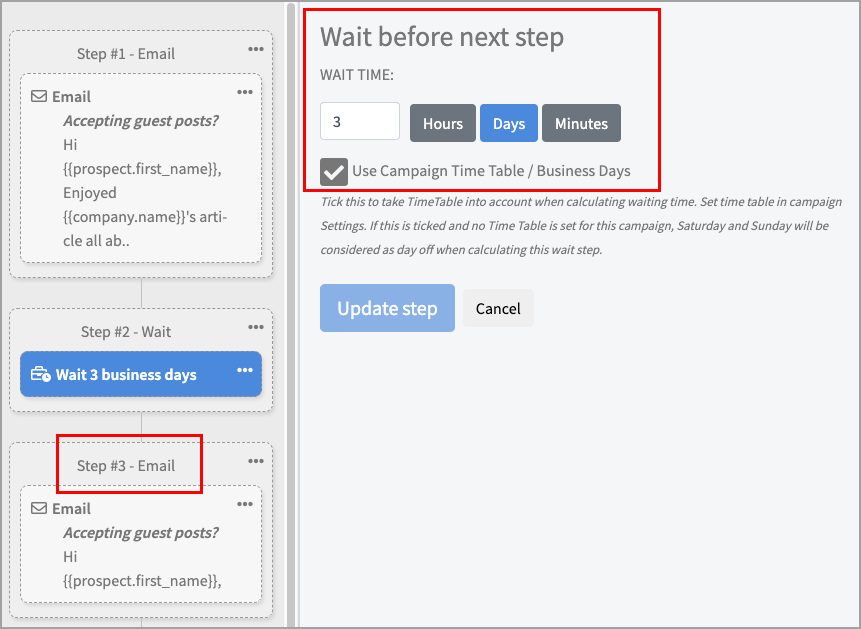 Over half of replies to cold email campaigns come from a follow-up email, so it's an important step.
Your cold email platform will also track your key metrics, like open rate, reply rate, bounce rate, and more. You'll always know how well your campaigns are performing as you need them to.
6. Track Each Opportunity and Finalize Each Link
SEO outreach can be a slow process.
Even if you receive a positive response, you still need to help move the process forwards and convince them to add your link to their website.
The best way to manage this process is using a CRM or lead management system.
You can keep track of every link or collaboration opportunity that you're working on.
If you haven't heard back from someone in a few days, you'll know that it's time to follow up with them.
As well as tracking your leads, you can use tools like Screaming Frog or even Search Console to track how many new links you're securing every month and assess the impact that each link has on your website traffic.
The SpyFu project manager can also keep tabs on updates for you. Load in the links with any notes about your outreach status and your wins.
You can then report back to your team and show them the benefits of continuing with your SEO outreach process.
In Summary
SEO outreach is an excellent way to generate new links to your website and blog posts, as well as giving you a way to connect with other SEOs in your industry.
There's no simple way to run SEO outreach. It requires time, effort, and personalization if you expect to see results.
If you follow the steps we've outlined in this guide, you'll be on your way to getting results using SEO outreach.
Before you start, make sure to use SpyFu to identify high-potential opportunities to ensure your outreach plan is data-driven and will get the results you need.
***  
About the Author
Jeremy is the founder of QuickMail.io, a SaaS company that enables personal one-to-one conversations at scale through automation – for outbound outreach, inbound leads, trial/onboarding, customer communication, and more. Before founding QuickMail, he worked for more than 15 years as a developer in the video game industry and in finance.