Whenever we want to go to a restaurant, call a technician, or even go to a supermarket, we usually check out the first few results on Google. Many of these top local businesses have invested in local SEO to ensure that they reach the top of the SERPs for their localities.
So what exactly is local SEO? It's the process through which you can optimize your online presence to get more local customers.
If you have a local business and want to turn cold prospects into customers, local SEO is your best bet. A well-planned and executed local SEO strategy can help you get more visibility in your immediate surroundings.
It will even help you outrank your competition. But before we get into how you can do it, let's first see why it is necessary.
Why is Local SEO Important
1. People Rely on Google for Information
Back in the day, people would normally go through the Yellow Pages to find relevant local businesses. However, Google has quickly replaced that and become the go-to place to search for local businesses. In fact, BrightLocal found that 69% of consumers search online for local businesses at least once a month.
On the other hand, only 8% of people never search for a local business online. This means that to reach approximately 92% of consumers in your area, you need local SEO.
2. Free Organic Traffic
When you rank high up in the search engine results pages (SERPs), you can get more clicks. This means free organic traffic for your website. This free traffic not only gives your business better visibility but also gives you a chance to generate leads.
You can then put your marketing efforts into converting those leads into paying customers for your business.
3. Ease of Ranking
It can be tough to get your website to rank well when you're competing with other businesses on a wide scale. Make no mistake, they are still your online competition. However, when it comes to local SEO specifically, you are competing mainly with small and medium-sized businesses around you. That makes it easier to rank higher up in some search engine results.
If you can incorporate all of the local SEO best practices, your ranking in local SERPs may quickly jump up several positions.
Now that you understand why local SEO is important, let's take a look at how you can improve it and outrank your competition.
How to Research and Grow Your Local SEO
1. Keyword Research
It is important to do thorough keyword research before creating your website content. You need to come up with a list of keywords relevant to your business. Put yourself in the shoes of your target customer and think about what words and phrases they might use to find your business.
You can check out the keywords for which your competitors are ranking using SpyFu. This will give you an idea of what keywords you should leverage as part of your own local SEO strategy. Additionally, you can get keyword ideas from the Google Keyword Planner.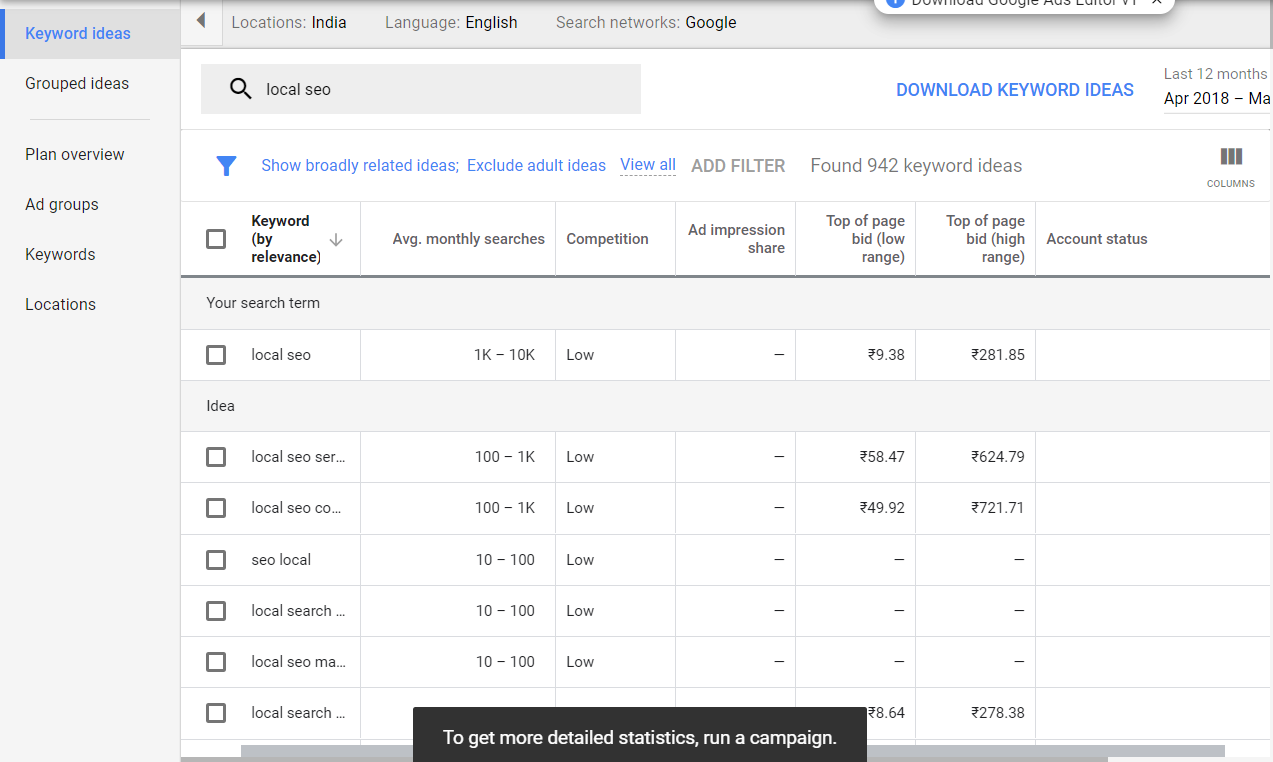 Image via Google Keyword Planner
Yet another way of finding keyword ideas is through Craigslist. You can simply head to their services section and check for services relevant to your business. This will give you lots of results from which you can find a bunch of keywords.
Then use the keywords to optimize your website content. Additionally, you should use them to optimize other important parts of your content such as:
SEO titles
Meta descriptions
Page titles
URLs
Alt text of images
2. Stay Ahead of Local Keyword Trends
Keyword popularity changes over time and by area, so it's crucial that you do your keyword research and understand what people in your area are actually searching for. One of the best tools for finding regional keyword trends is Google Trends. Google Trends visualizes what people are searching for, letting you narrow your searches geographically, sometimes down to city level. To use Google Trends, start on the homepage and type in the topic you want to learn about.
You'll then be shown a graph displaying how interest has changed over time. The numbers on the side of the graph do not represent search volume; instead, they're there to show you relative popularity, with 100 being the peak. You can then tweak this graph by adjusting the place, time range, categories, and search categories. You can even add a second term to compare two trends against each other.
For us, the most important factor will be geography. Click on the drop-down menu, select the country you're in, and then hit the arrow beside that country to be taken to subregions. Depending on where you are, you can dial down to state or city level.
Afterward, scroll down the page until you see the "Related queries" section, where you can start to find the keywords that are most important to your community.
These search terms are the most frequent in your area when it comes to your searched-for topic. When the table says "Breakout," this means the topic is new. Older topics will have percentages showing how much they've grown or shrunk in popularity.
Using these keywords, you could begin to craft content for your local audience like "Top 10 Best Selling Books of 2020" or "A Beginner's Guide to Avatar Books."
Once you have some local keyword trend ideas, it would be a good idea to dive deeper into their keyword difficulty, overall search volumes, and value to your business. To learn more about keyword research,  you can read our guide on understanding keyword difficulty and how to find the best long-tail keywords for your business.
3. Look to Bigger Competitors for Inspiration
This makes for a good point to show you how to use SpyFu to do local SEO, at least to tackle some of these items on the local SEO audit like finding strong keywords.
"From a SpyFu usage standpoint, local SEO isn't all that different from researching wider SEO."
That's insight from Jeff Axton, our in-house Customer Account Representative who teaches new SpyFu customers how to use the site's tools to accomplish their SEO and PPC goals. We asked Jeff to share how he uses SpyFu for local SEO, and he pointed out that the larger competitors are your best guides.
Emulate them, but with a twist. You won't necessarily beat the bigger guy on a national scale, but by adopting their best practices, you'll beat your local competitors who aren't doing that level of research.
4. Local Citations
Local citations are essentially mentions of your business on the internet. These can be found on popular directories like Yelp which may list your website. It is a good idea to build up your local citations in a correct manner as they are extremely important for local SEO.
Also, look at your city resources and regional directories. The local Humane Society has a strong bed of recognition and awareness. Local pet services should connect with them. Regional festivals and put out calendars to promote area businesses. Local news magazines award area restaurants "Best in the City" tributes and include them in write-ups. Don't overlook these grounded, trusted gems.
If you already have some citations, make sure that you audit them to find inconsistencies, if any. This is because citations that have inconsistencies may spell trouble for your local SEO.
5. Link Building
Link building is an important aspect of SEO and that is true for local SEO as well. For local organic results, link signals are the most important ranking factor. To build links, you'll need to come up with high-quality content that is relevant to your niche and is helpful for your audience. This will improve your chances of getting more shares and link backs.
You can even write some guest posts on other relevant websites and get high-quality backlinks from them. Remember to choose websites that have a high domain authority (DA). The quality of the links matters more than the quantity. Local blogs or industry-related blogs can be a great option for a guest post.
Link building is a continuous process. But along with it, you need to keep track of your rankings too. For this, you can use SpyFu's Rank Tracking Tool. It'll show you all of the keywords you're ranking for along with any changes in your rankings.
6. Encourage Reviews
Reviews work as social proof for your business. About 86% of all consumers read reviews when researching local businesses. Additionally, 57% of them will only choose a business if it's rated more than 4 stars.
Review platforms aren't the same for every industry either. Hospitality businesses thrive under Trip Advisor reviews but might have moved away from Yelp. Dry cleaners will embrace Google Reviews, and a software provider could embrace G2 Crowd more.
We like Google Reviews because of how the interaction ties into our Google Business Profile.
This feature helps local businesses to get listed on Google. It helps searchers easily find nearby businesses, and --as we mention in our guide to running a local SEO audit– it's perhaps the most important factor affecting your local SEO.
The process for registering on Google Business is pretty simple too.
All you need to do is enter your contact information such as the name, address, and phone number of your business. Additionally, you'll be asked to provide your business hours and the category of business along with your location. It is also a good idea to add a few photos of your business.
Google Business Profile will then start showing your business in local search results. It will even show you keyword details about how consumers found your listing, so you can feed this information back into your local SEO research.
Make sure that you remain active and respond to reviews and questions about your business. You might even create a review campaign.
Encourage your customers to write good reviews about their experience with your business. Include a link to the review site that you'd like to promote. The link removes the friction of asking customers to look up a review page. We've seen this done through email campaigns, point of sale QR codes, and receipt attachments. Local business owners are creative and savvy.
If customers do end up writing a negative review, make sure that you respond in a professional manner.
This is because as many as 89% of consumers read the responses given by a business when they read reviews. If you respond well, they may still choose to do business with you in spite of some negative reviews. Customers understand that things go wrong, and they'll read more into how you handle bad situations before writing you off.
7. Run a local SEO Audit
We never feel that research is something you do only at the start. It should be part of an improvement-focused cycle. Research your local competitors, research keywords, research customer habits, and put what you can into practice. Then, look at what's working and what's not. Make adjustments from there. As a business owner, that isn't new to you. However, it's easy to miss some elements of what to watch for. We recommend this guide to a running a local SEO audit. It includes some general checkpoints (like the reviews and Google Business Profile that we just mentioned) as well as some technical on-site tips.
Final Thoughts
Local SEO may not be as complicated as SEO due to less immediate competition. However, it can be quite challenging in its own way. In fact, for small businesses we recommend that you stay on top of SEO best practices that some small business owners tend to overlook. Plus, it's important to ensure that your on-page SEO is done well. Google Business Profile and link building shouldn't be ignored either. Finally, encouraging your customers to write reviews can help build social proof, which can get you more customers.