Knowledge may be power, but you can always have too much of a good thing. In digital marketing, a sea of data on your competitors is only a Google search away, but just because you can find data doesn't mean you can easily learn from it.
Competitive analysis tools are the key to clearing away the endless chaff of meaningless, low-value information found on the web, leaving you with the grains of knowledge you need to outcompete the rest of your field.
Since there is no perfect one-size-fits-all tool in competitor analysis, you'll need an entire set of tools, each specializing in its own area of competitor research. This stack of six competitor analysis tools is for people who are serious about understanding their competition, giving them the tech they need to pick apart strategies, understand intentions, and find marketing weaknesses that can be exploited for a competitive edge.
1. Competitor Overview: SimilarWeb
When you start researching a competitor, SimilarWeb should be your place to start. When you type a competitor's URL into SimilarWeb, you'll get a complete breakdown of who they are, where they get their traffic, and which websites they're competing with.
---
Overview:
Understand where your competitors' traffic comes from
Get an overview of your competitors' engagement and social media statistics
See who else your competitors are competing with
---
After you search a competitor, you'll get a snapshot of who they are and how strong their web presence is.
Start your analysis with SimilarWeb's overview of traffic sources. This data can tell you where you'll need to beat them if you want to start moving traffic from their website to yours.
In the above example, we have used data on SpyFu's traffic. There isn't much you can do about direct traffic as it usually isn't clear exactly where it's coming from, but search traffic, SpyFu's second-largest source, can be captured through organic SEO campaigns that target valuable keywords. If a competitor excels in other areas, think about how you can start to butt in on that traffic or take advantage of traffic sources your competitors have not yet tapped to their full potential.
Next, examine their social media presence. Which sources are bringing in the most traffic for your competitors?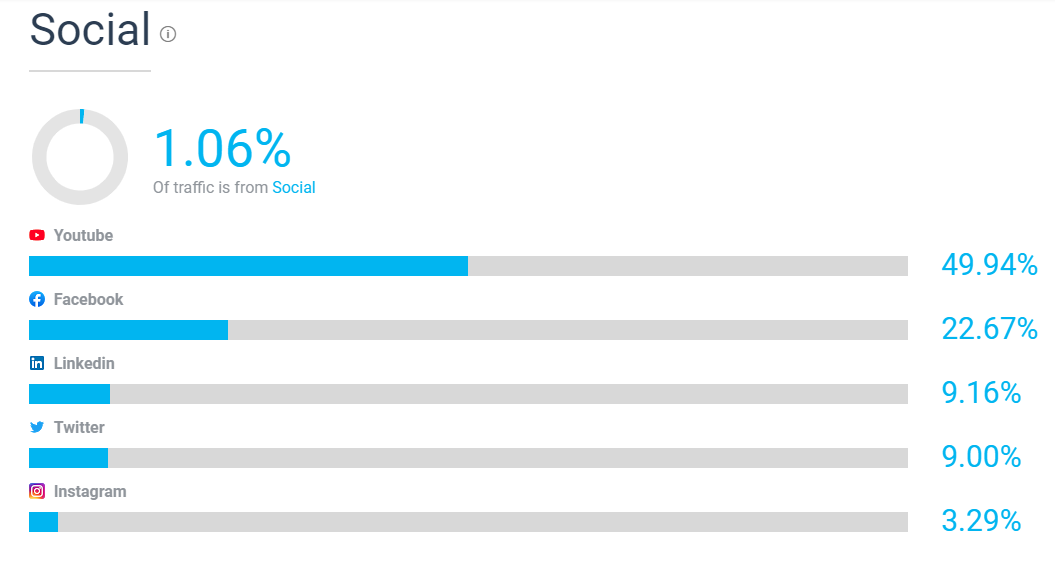 As with traffic sources, you want to look at this data and determine where you can compete with your rivals. If you think you're capable of it, take them on in their top source head-to-head. If you are a smaller website with fewer resources, consider going after softer targets that haven't been fully tapped yet.
Finally, take a peek at the Competitors & Similar Sites section. If this is your niche, you probably already know the competition, but it can't hurt to take a second look. You might be surprised at who is competing with you either directly or for organic search.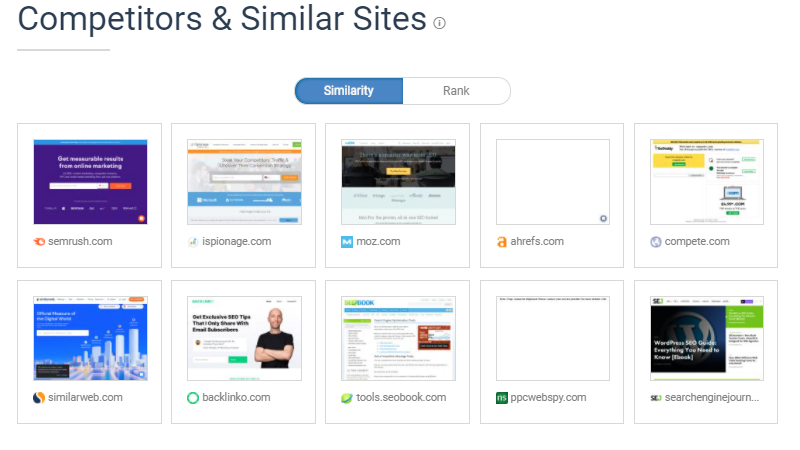 Repeat this process for all of your competitors and periodically check and see how things have changed. This knowledge can inform your future strategies, helping you choose to either climb the ranks by attacking the soft areas in bigger websites or shoring up your defenses against new upstarts in the field.
2. On-Page Metrics and Domain Authority: MozBar
MozBar has been a longtime favorite of SEOs for its ability to quickly tell you the domain authority (DA) of a website. Although DA is a nice benchmark of a website's relative strength, there's a lot more MozBar can do when it comes to picking apart your competitors' content.
---
Overview:
Quickly see an approximation of how strong competitor websites and pages are
Analyze on-page metrics for a competitor's content to learn how to outrank them
---
If you haven't already, download MozBar and sign up for an account so you can get started.
The first way to use MozBar is as a shorthand method of seeing how strong the competition is for any given keyword. Start by punching in your chosen keyword in a search engine and then scroll through the results to see how strong the DA and PA (page authority) rankings are.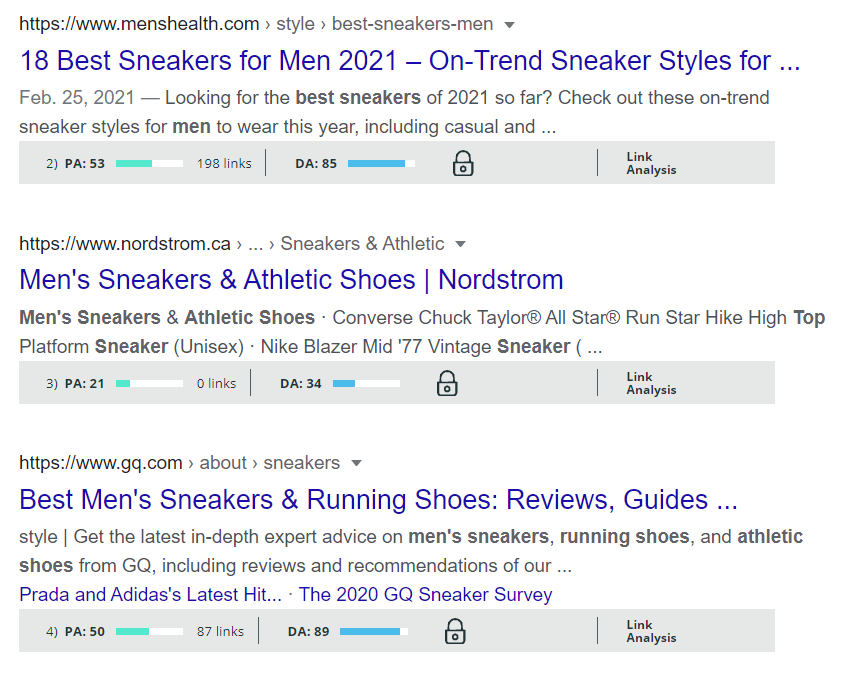 Domain authority and page authority are not the be-all-end-all of ranking, but having a SERP with consistently high DAs and PAs should indicate to you that this is a highly competitive keyword that you'll need to invest the time and resources in to have any chance of ranking.
MozBar can also help with on-page analysis, as it puts all of the research in one place, essentially doing all of the heavy lifting for you. Open up the page you want to know more about, and then click on the first icon on your MozBar to see the page analysis.

Start by taking a look at the on-page elements. Pay attention to the Meta Keywords list and any of the headings to get an idea of what topics or keywords you may want to include on your competing page.

Next, shift over to the Link Metrics tab to see how many domains and backlinks this page has.

You can go more in-depth into what kind of links these pages have with other tools on this list, like SpyFu and BuzzSumo, but for now, you can get a benchmark number of how many you may need to rank.  
After you're done reading through all of the data MozBar collects, don't forget to read the page itself.
Shorthand data is perfect for giving you an outline of what you're up against, but it's always useful to color in those details by going through the page to see what works about it from a reader's perspective.
After you're done reading through all of the data MozBar collects, don't forget to read the page itself. Shorthand data is perfect for giving you an outline of what you're up against, but it's always useful to color in those details by going through the page to see what works about it from a reader's perspective.
3. Keyword Comparisons: SpyFu
SpyFu can be used as a competitive analysis tool to get unique insights into a competitor's organic and PPC (pay-per-click) strategy, giving you the info you need to decide on what keywords you should try to rank for organically or bid on to counter a competitor's content strategy.
---
Overview:
See your competitors' organic and PPC strategies
Find keyword opportunities for future content
---
Use SpyFu's Kombat feature to compare the keywords you rank for with the keywords your competitors rank for. Type in your own domain and SpyFu will add the competitors it thinks are most appropriate for your keyword research (you can add to or remove these afterward).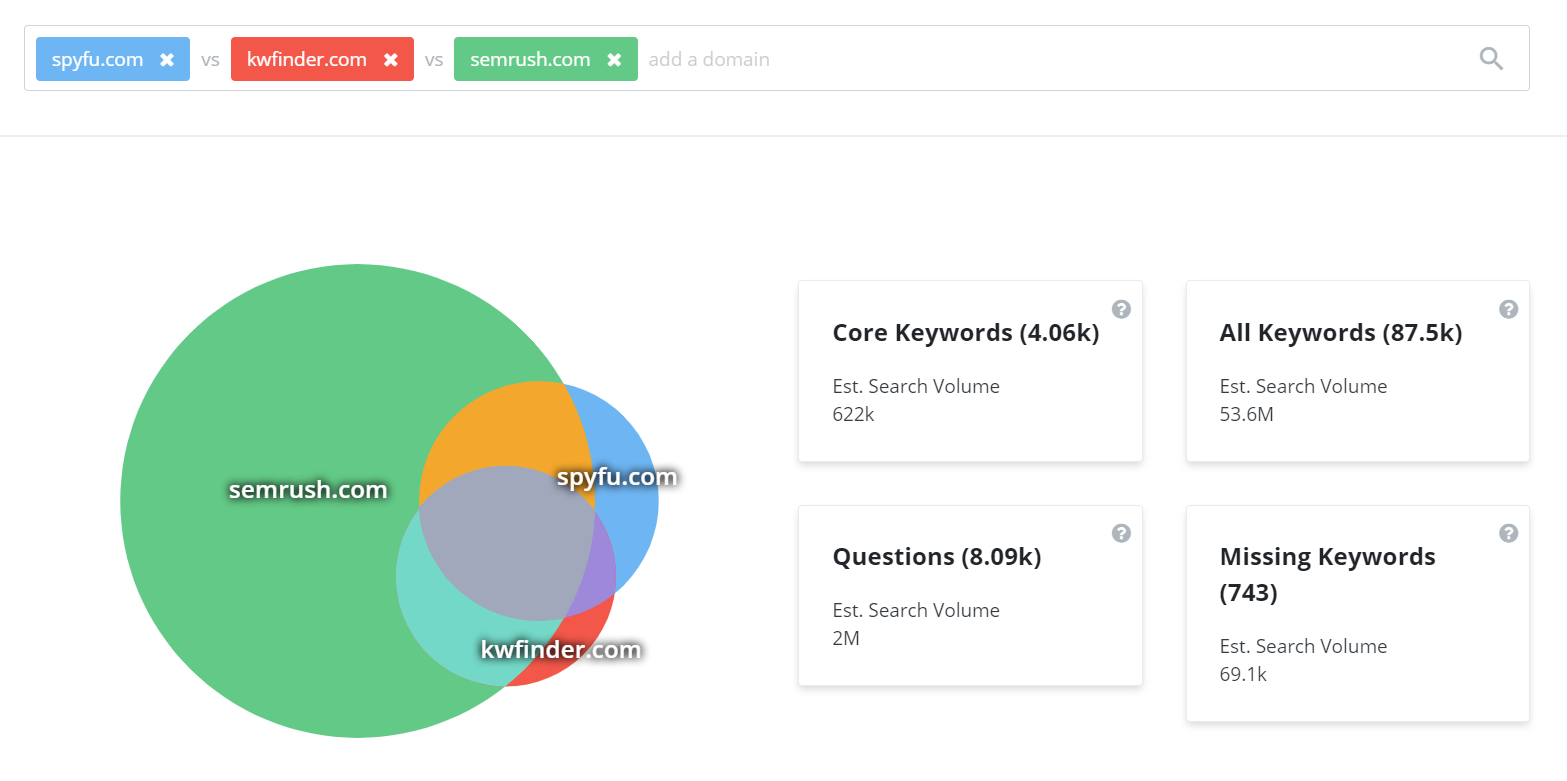 The most important data you can pull from here is in the Missing Keywords section. Click on that box, and SpyFu will show you all of the keywords your competitors rank for that you don't.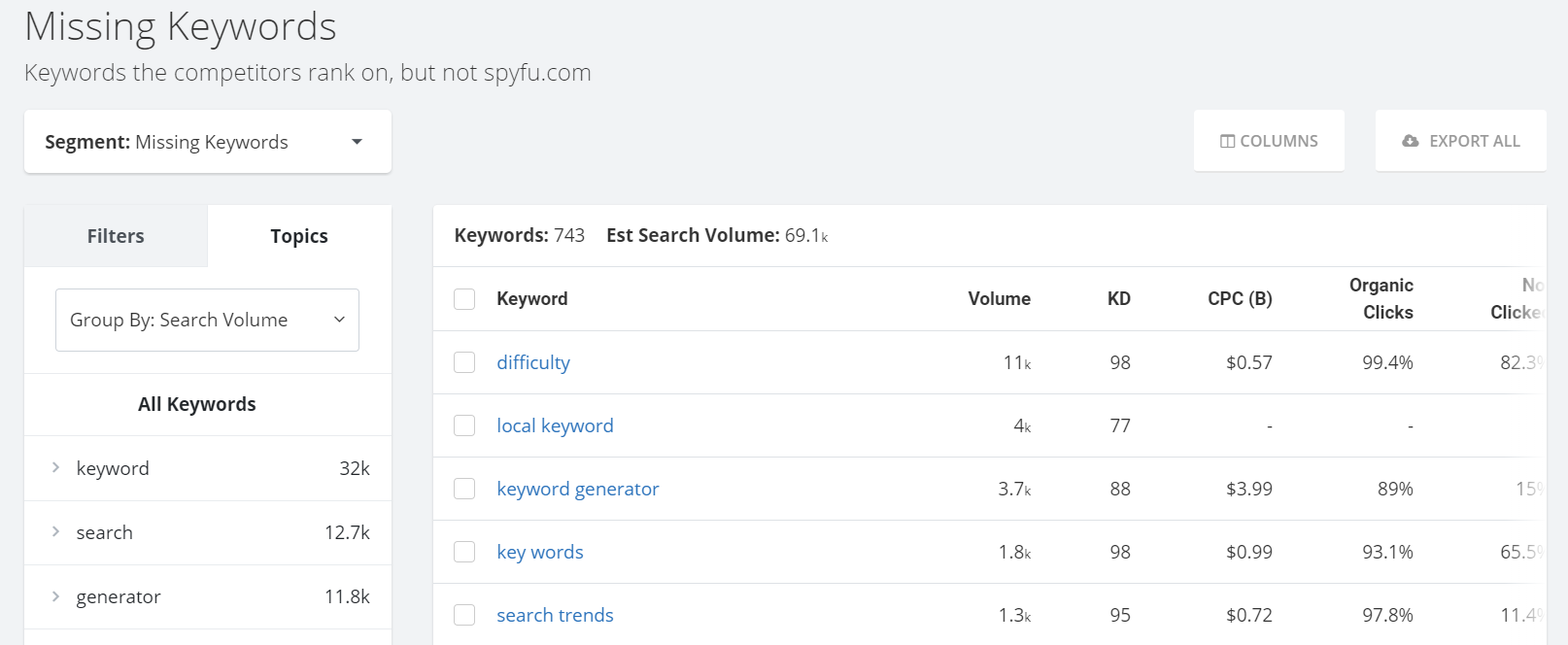 Pick out valuable keywords you don't yet rank for and make plans for future competing content. To really find the key to your competitors' success, you can sort their keywords by SEO value on the SEO Keywords tab.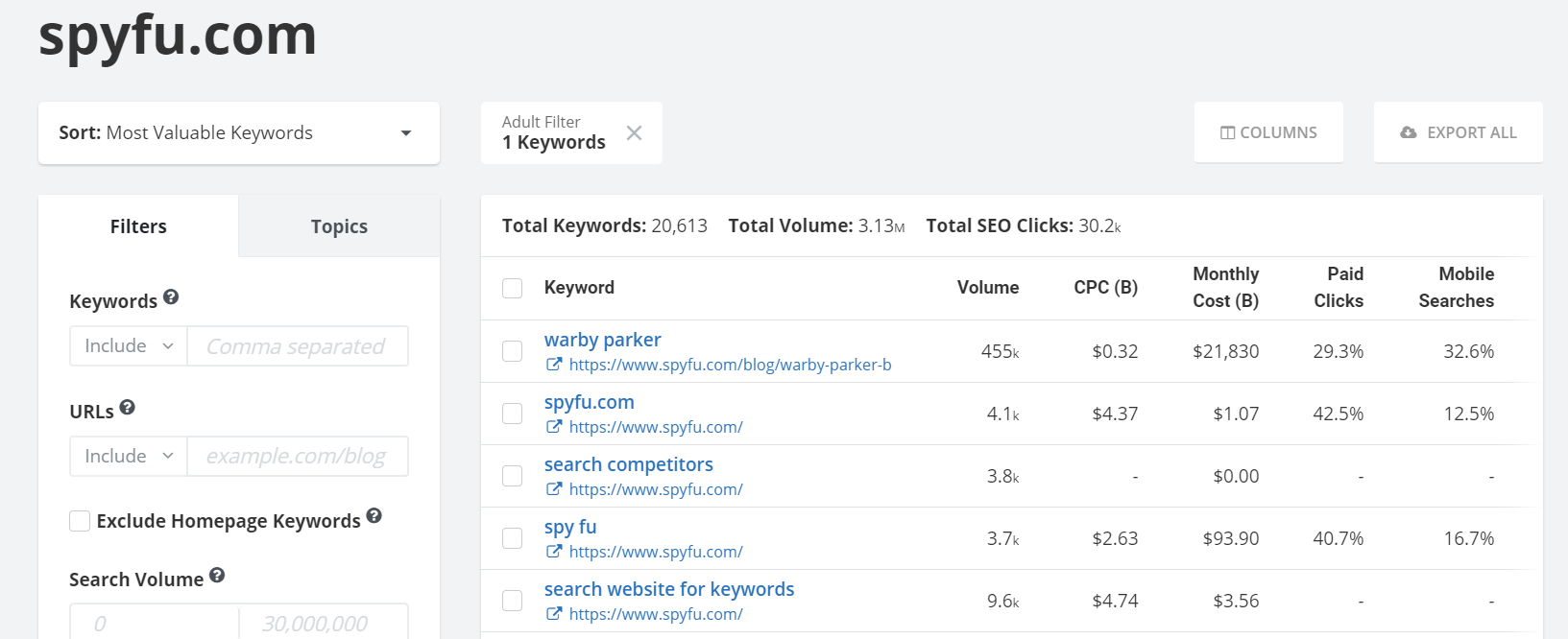 From here, you can sort by topic to see which keyword clusters are driving traffic to a competitor's site.

For SpyFu, one of our top clusters has to do with Google Adwords. After clicking on that topic, you can see the top keywords that give us authority on this subject. If you were our competitor, you could then make plans to outcompete us on the pages that help us rank for these keywords.
SpyFu can also help you look in on a competitor's PPC campaign strategy. Move to the PPC Keywords section of SpyFu, type in your competitor's domain, and you'll get a list of their top-performing PPC keywords.

This list should give you an idea of some of your competitor's content priorities. If they're paying money for clicks, they must feel that searching for these terms will lead to conversions down the road.
When you finish here, sort the list by new keywords to get a sense of where their PPC strategy might be going.

Keeping an eye on new keywords that your competitor is buying ads for can tell you a lot about their current digital marketing strategy. In this case, we're buying ads for keywords of competitor names, hoping to build awareness of SpyFu as a rival SEO tool.
4. Content Analysis and Keywords: BuzzSumo
BuzzSumo is all about content: helping you keep an eye on your competitors' content while making sure yours is relevant and ahead of the curve.
---
Overview:
Look at top posts by engagement
Curate feeds to keep on top of new trends
Check out competitor backlink profiles
---
To get a bead on your competitors' top content, put their domain URL into the Web Content search. Then, scroll down to the Top Pieces of Content by Engagement section.

These posts may not have the most traffic, but they're the posts that have gotten the most engagement on social media. Check out these articles and see what they have to say. Do they have hot takes? Original research? Unique content? Once you know what has worked for them, consider how you can add to the conversation. If a hot take has set social media abuzz, then craft a rebuttal and spark the kind of conversation that will get people talking and visiting your site.
BuzzSumo can also be used to stay up to date with the newest posts and trends in your niche. Not only is this great for new content ideas based on trending topics, but it also helps you keep tabs on your competitors' content marketing efforts.
Use BuzzSumo's monitoring function to set up an alert each time your competitor makes new content that's gaining traction. Click on the "+" button and then fill in the details about your competitors.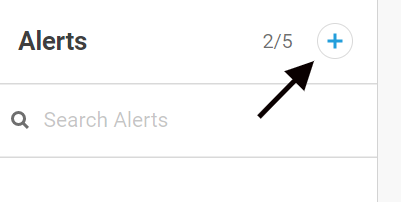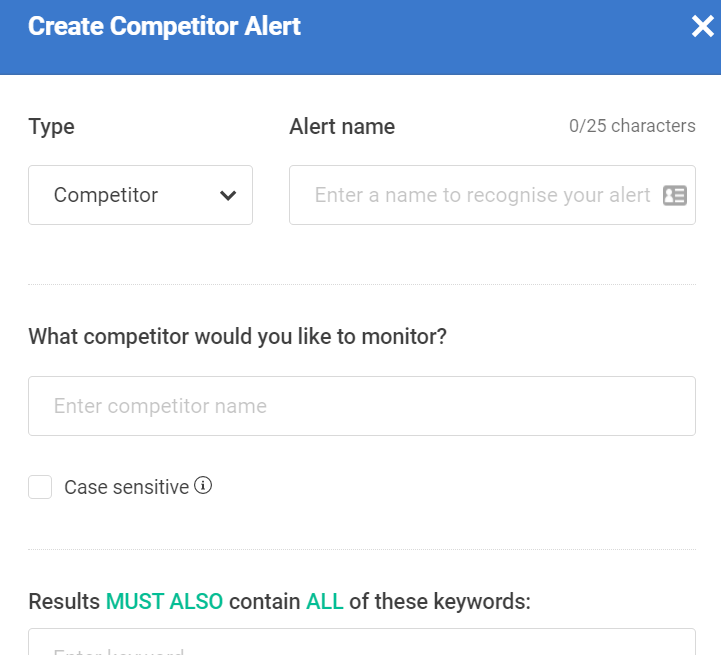 If you want to cast a broader net that includes all trending articles in your sphere, then create a custom curated feed focused on topics important to your business.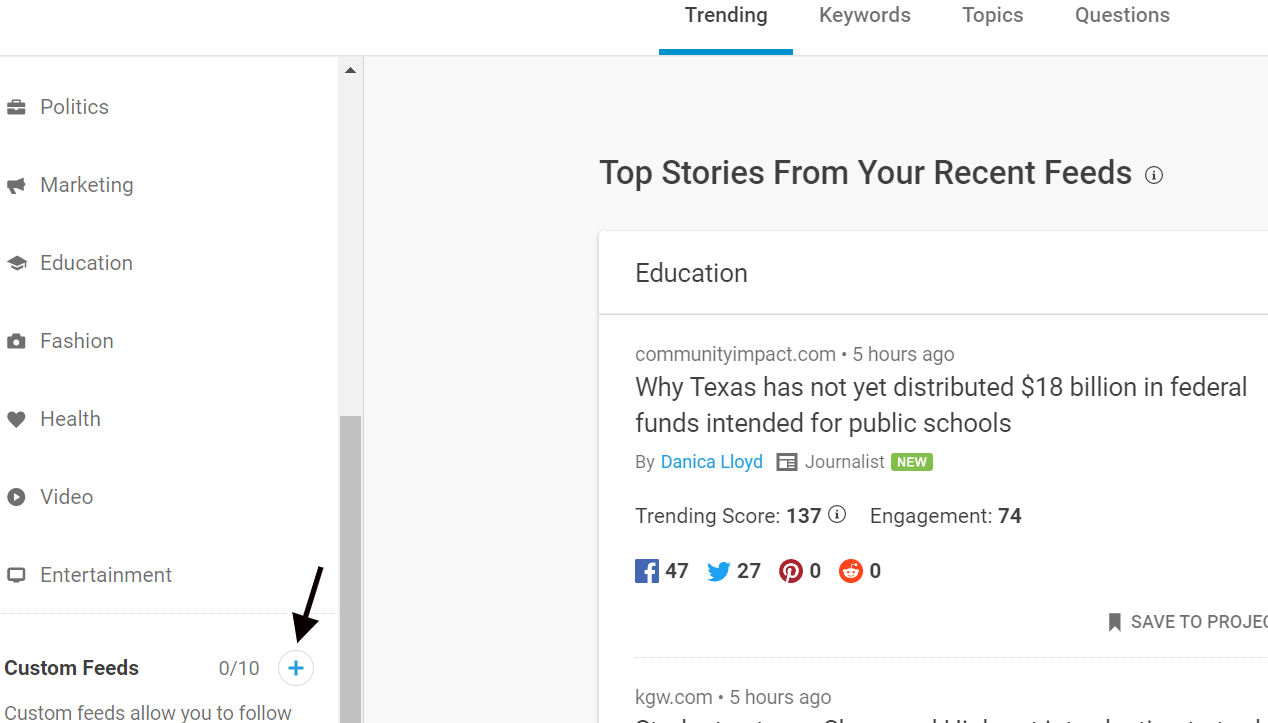 With both a curated feed and custom alerts on your main competitors, you'll have all the data you need to keep ahead of the newest pieces of content hitting the web. This information lets you know what conversations are currently the most important to your niche and can give you ideas on what you need to do to stay relevant and growing.
Lastly, use BuzzSumo to do deep dives into your competitors' backlink profiles. Using their backlink tracker, see a list of top backlinks by domain or by individual URLs that could be ripe for link-building efforts.

You can use this kind of data against your competitors by trying to get your own backlinks from these sources. Or, you can create better content and steal the backlink altogether.
With BuzzSumo's backlink analysis data, you can prioritize only the most valuable backlinks or find low-hanging fruit and pick up some easy wins to get your new content rolling.
5. Social Media: Sprout Social
Sprout Social is an all-in-one social media program that lets you plan, post, and analyze your social media accounts. You can also use Sprout Social as a competitive analysis tool to peek inside which social media sites your competitors are getting success on and why they're getting that success.
---
Overview:
Make competitor reports on rival social media accounts
Get insights into competitor social media strategies
Use Listening to understand your social media niche
---
Start your competitive research by looking up social media reports on a competitor's Facebook, Instagram, and Twitter accounts. Click on the Reports tab on the left sidebar, and then scroll down to the Competitive Analysis section.

From this report, you can see how you stack up against your top competitors. This view not only tells you how you're doing now but also how you've been doing against them over time.
Use this high-level overview to monitor how your current strategies are doing. After implementing a new strategy, wait a couple of months and then see how it's playing out. Are you gaining fans? Are your fan numbers growing at a faster rate than your competitors'?
Another section to explore is the number of posts per day by you and your competitors.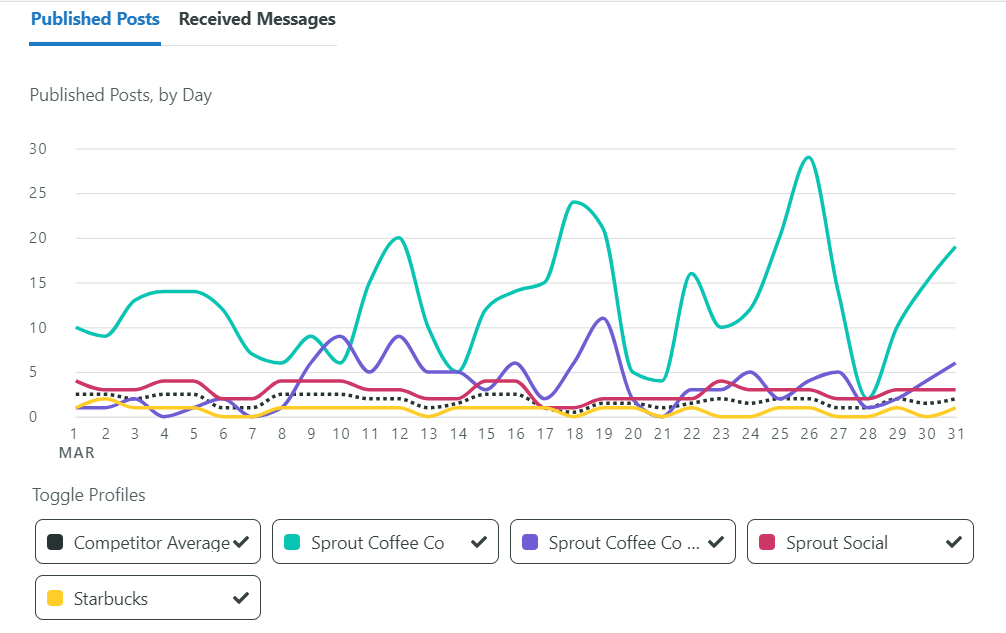 With this overview of posts per day, you can compare your own output with your competitors'. Are you posting more often or less often than your competitors are? If you're posting more but getting less engagement, considering a shift to more quality posts could pay dividends over time.
The other feature that you can use to understand who you're competing with on social media is the Listening tool. With Listening, monitor topics on social media and get a snapshot of who exists in your niche, the total size of your niche, and what share of the niche each competitor currently owns.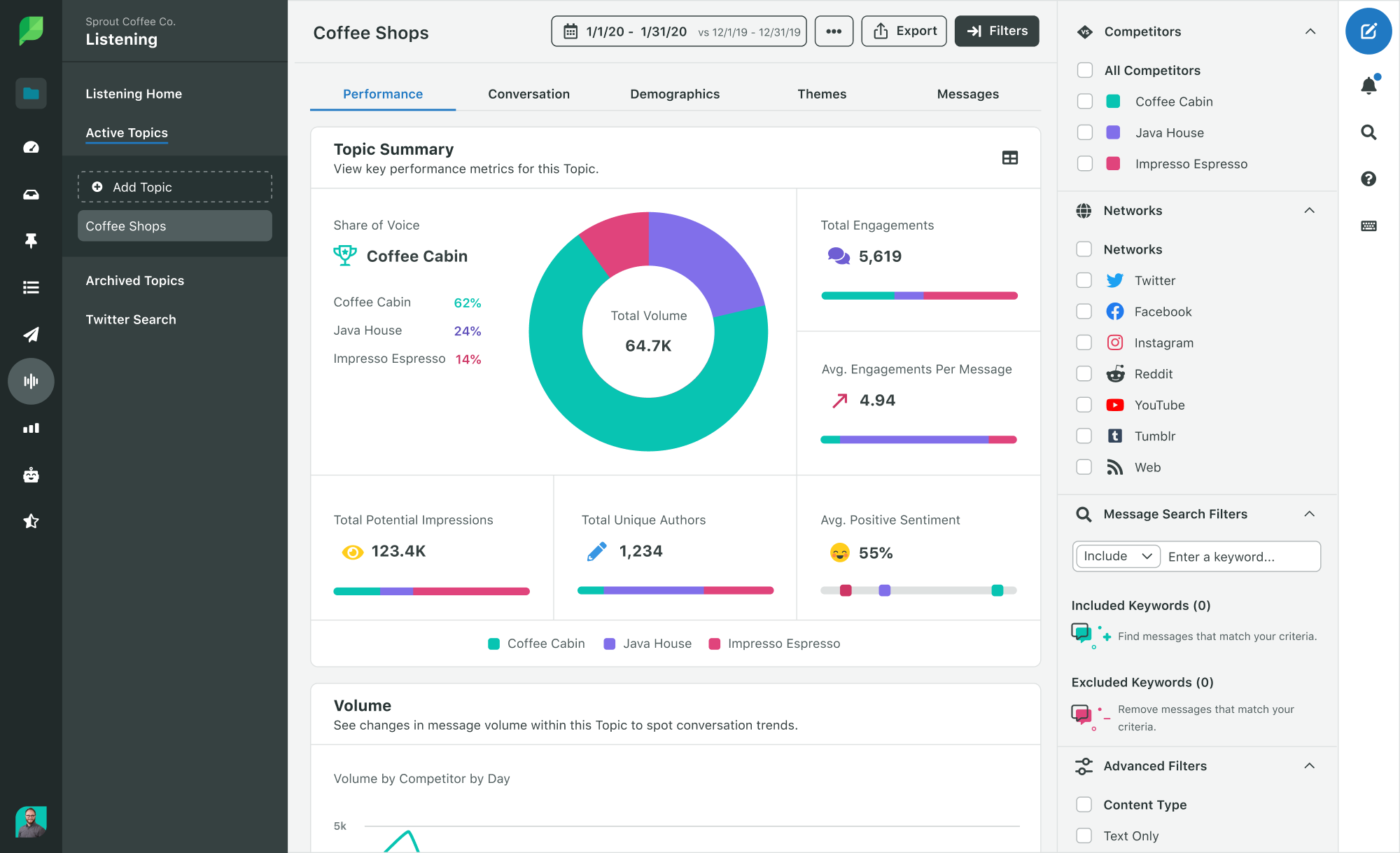 If you flip through the tabs at the top of the page, you can see data that spells out which demographics are involved in this sphere and what they're talking about right now.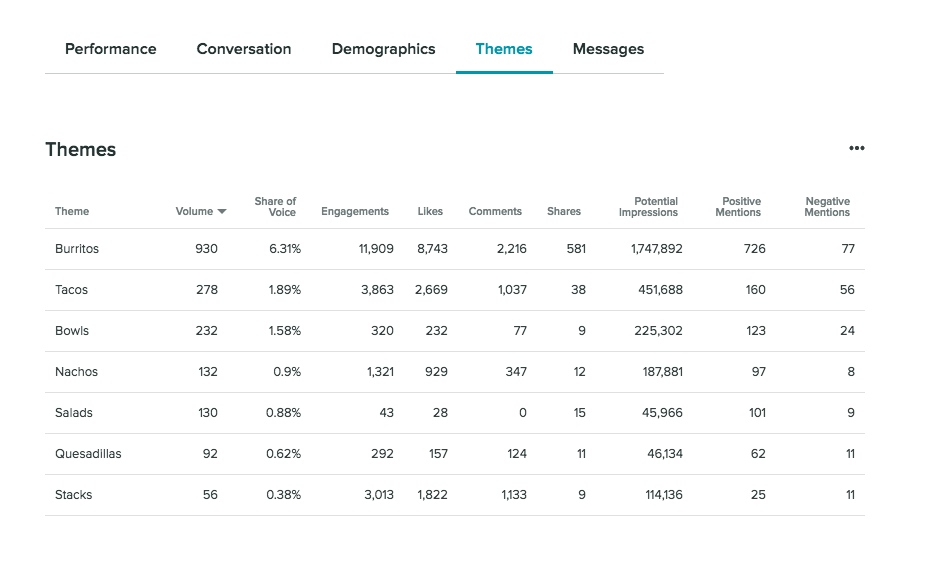 If you have direct competitors, you want their social media fans to be your social media fans. Use Sprout Social's in-depth social media reports and conversation monitoring to build social media content that sparks conversation and brings readers to your pages.
6. Tech Stack Insights: BuiltWith
Competitive analysis tools help you keep pace with your competition. Use BuiltWith to keep up with the latest and greatest tech online so you can offer an unparalleled experience to your users.
---
Overview:
Get a list of all the tools competitors' websites are using
Find websites that have churned from your competitors' SaaS product
---
With BuiltWith, just plug in a competitor's website, and you'll get a rundown of everything their website is using.
Scroll through your competitors' technology and note any differences when compared to yours. If you're using different apps or tech, consider why. If you're confident you still have the better product, then stay the course—but if all of your competitors are using a certain tool, you should consider why you aren't.
Remember that tools change all the time. What used to be the best may no longer be. Schedule biannual checkups on BuiltWith to make sure you aren't being left behind.
For SaaS companies, BuiltWith is also a powerful competitor research tool that can help you identify new leads. Type in a competitor's product name—for example, Intercom—and see a list of every website that uses their product.

You can download the whole list, including company data and potential contact info you can use to reach out to your new leads. You can go even further by using SpyFu to fill in more data about your potential leads, giving you that edge you need to go after your competitors' current or churned customers. Specifically, try using the Project Manager to import a website into the Outreach section. SpyFu will look for any domain-connected contacts for you to reach out to.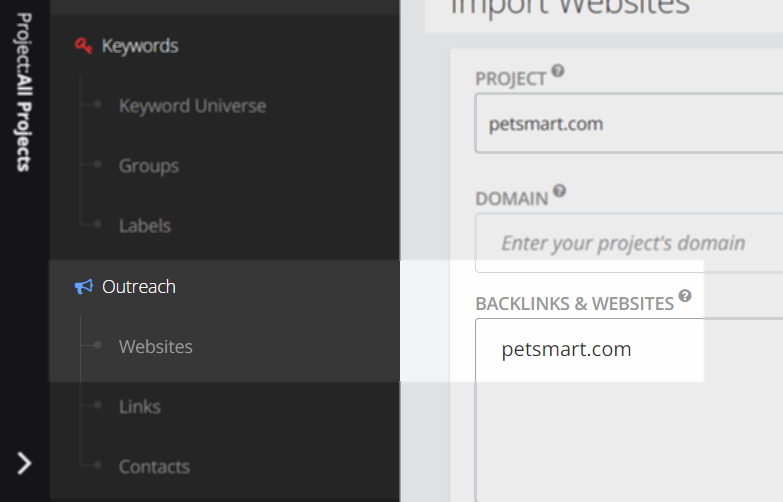 How to Use Your Competitive Analysis Tools to Gain Market Share
Much of competitive analysis is understanding your competitors and knowing how you currently rank against them.  These six tools, when used together, aim to give you this information, contextualizing your strengths and weaknesses against the websites you hope to outcompete.
Start with SimilarWeb to discover competitors and gauge their overall site strengths and traffic sources. Then, use SpyFu's keyword tools to uncover the secrets of their SEO and PPC campaigns. MozBar and BuzzSumo can handle competitor content research, while Sprout Social will do the same for social media. Finally, BuiltWith will keep your site up to date, so you're never at a competitive disadvantage.
When combined, these tools offer you the insights you'll need to understand what your competitors are doing, from PPC to social media. However, never forget that while tools make life easier, they're never a substitute for experience or intuition. When you're done using your tools, take a moment to read your competitors' articles, ad copy, or social media posts—what you learn may surprise you.
Great competitive analysis tools don't make you a great marketer, but they can help a great marketer do excellent work. Now that you have the tools to see inside your competitors' strategies, you might want to learn how to best use them. Check out our guide on how to research your competitors' marketing strategy to take your next step in outperforming your competitors.